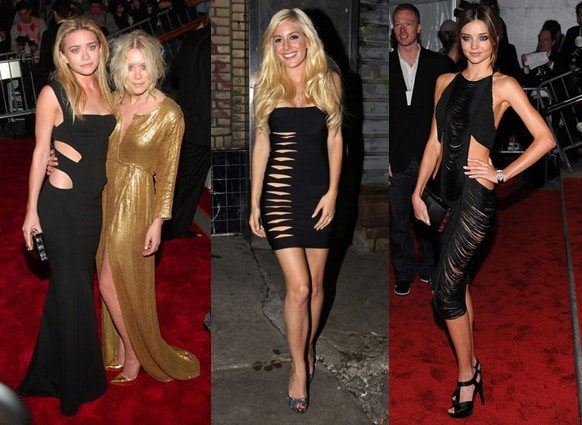 We talked a few weeks ago about cutout leggings, and here's another hot trend involving cut outs – the cutout dress. Spotted on celebrities like Ashley Olsen and Miranda Kerr, the cutout dress is an unexpected way to show some skin this summer – but is it another example of a trend reserved for the rich & famous only?
My take? I love Ashley Olsen's DVF cutout dress and I think it works on her and especially works for the red carpet. Heidi Montag's Herve Leger version, however, shows off way too much skin – not cute (although I do love her glitter Louboutin heels). A couple of well-placed cutouts can be unexpected, fashion forward, and fun, but there is definitely such a thing as too much in this case.
Now I want to get all of your takes on this trend. Would you wear a cutout dress? If so, how would you wear it and for what occasion? Do you think this look is real-life wearable?
Leave a comment and let me know your thoughts! Can't wait to see what you guys think.