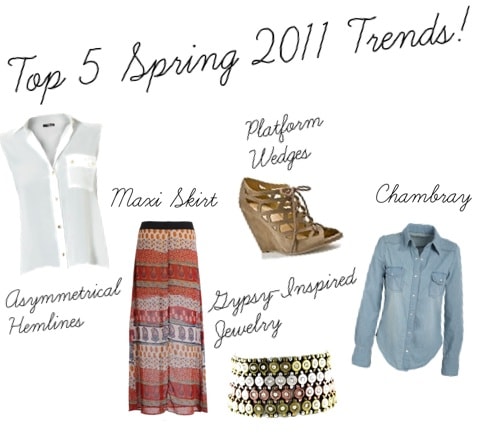 Fashion's favorite season has finally arrived! The weather is getting warmer, in around eight weeks, the semester will be officially over, and there are tons of hot new clothing items just hitting the stores every day. Yup, it's officially time to start building that spring wardrobe, if you haven't started already!
This season, the hottest trends all center around looking interesting, effortless and carefree. If you plan to follow your spring cleaning with spring shopping and want to add a few of the season's trendiest pieces to your wardrobe, read on! We'll show you the top five hottest fashion trends for spring 2011 to add to your shopping list.
1. Platform Wedges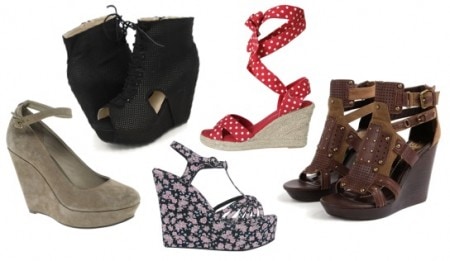 Product Information: Ankle Strap Wedges – ASOS, Bumper Zena21 Wedge Booties – Cutesy Girl, Floral Platform Wedges – Forever 21, Polka Dot Espadrilles – Payless, DV by Dolce Vita Gladiator Wedges – Lori's Shoes.
A nod to the'70s-inspired trends that dominated the season's runways, platform wedges are a chic way to give yourself some height and make your legs took great. The throwback style is feminine and flirtatious, and because of a huge variety in styles, (choose from espadrilles, clog bottoms, wooden heels, ankle straps, or wedge booties!) they can be worked into almost every wardrobe and individual outfit for a fun touch of spring.
Among the easiest-to-walk-in varieties of height-enhancing shoes on the market, platform wedges can work both on and off campus in warmer months: Simply keep your skinny jeans and a light scarf, trade jewel tones for pastel or floral print, and toss winter boots in favor of the wedge! It couldn't be an easier transition.
2. Asymmetrical Hemlines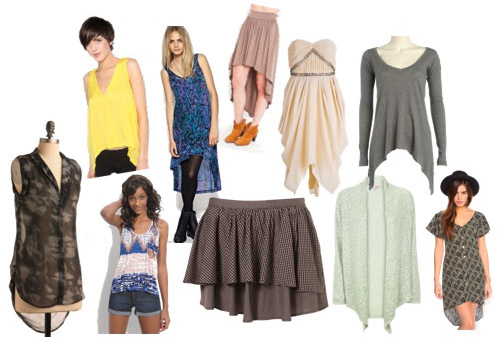 Product Information: Sheer Top – Modcloth, Uneven Yellow Tank – Karmaloop, Print Tank – Nordstrom, Ditsy Plunge Dress – Nasty Gal, Minkpink Uneven Tunic Dress – Fashion Beans, Grey Check Layered Skirt – Topshop, LnA V-Neck Tee – Repertoire Fashion, Embellished Dipped Hem Dress – Fashion Beans, Dipped Hem Sequin Cardigan – Debenhams.
Think of this season's asymmetrical hemline trend as a "reverse fashion mullet" — short in the front, long in the back! Asymmetrical hemlines (also known as "dip" or "tail" hems), made their last appearance in the crop top trend, but the style has expanded and now includes cardigans, tank tops, skirts, and dresses.
Uneven, loose proportions and unbalanced tops paired with tight bottoms (or the reverse – asymmetrical bottoms and tight tops) create a look that's effortless and captivating — the best of both worlds! Layer up under tops to minimize skin exposure and go for flat shoes or sandals for a subtly-sexy vibe. Skater-inspired, asymmetrical skirts and dresses will show off toned legs and a summer tan and look great with strappy flats.
3. Chambray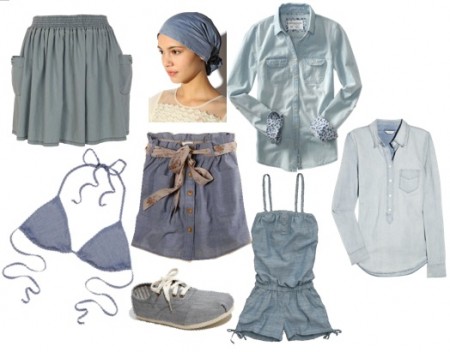 Product Information: Chambray Skirt – River Island, Chambray Bikini Top – Net-a-Porter, Chambray Headscarf – Urban Outfitters, Chambray Skirt – Aerie, TOMS Chambray Sneaker – Nordstrom, Chambray Button-Up – Aeropostale, Chambray Romper – Hollister, Crosshatch Chambray Shirt – Net-a-Porter.
An all-season fashionista favorite of 2010, chambray is back in a big way for Spring 2011! The casual denim fabric is showing up everywhere from shoes to dresses to accessories.
Our favorite way to wear it, however, is with a classic chambray shirt, a style that's flattering, super comfortable, and looks chic year round. Whether you're doing a summer Sperrys + shorts + chambray combo on the boat, or a quirky double denim look with dark wash skinnies and a turban headband, the chambray shirt is a new college classic! Learn more about this trend with our tips on how to wear chambray.
4. Boho-Inspired Jewelry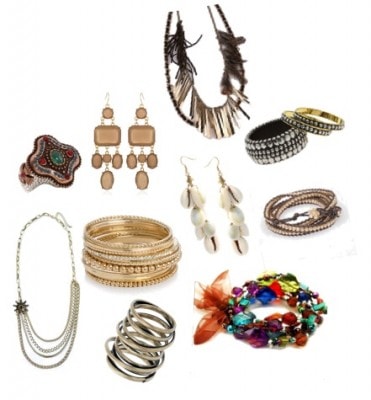 Product Information: Crystal Ring – Zappos, Multi-Layer Necklace – Piperlime, Multi-Stone Chandelier Earrings – Charm and Chain, Bangle Set – G by Guess, Multi Band Ring – Topshop, Chain-Link Feather Necklace – GoJane, Conch Shell Drop Earrings – ASOS, Multicolor Beaded Bracelet Set – Fantasy Jewelry Box, Studded Bangle Set – Zappos, Multi Wrap Bracelet – Need Supply Co.
From our favorite feather hair extensions to draping chain necklaces, boho-inspired jewelry is one of Spring 2011's hottest trends in accessories. If your style is simple but largely accessory-driven, this look is for you! Stock up on pieces with fringe or feathers and mix things up by combining multiple textures and materials — try a thin, hammered gold ring + a wooden bracelet.
Of course, the "boho-inspired" heading need not only apply to the type of jewelry you purchase, but also how you style your accessories. Go for stacks of bangles, multiple rings, and layer upon layer of necklaces to portray a glamorous, gypsy-inspired vibe.
5. Maxi Skirts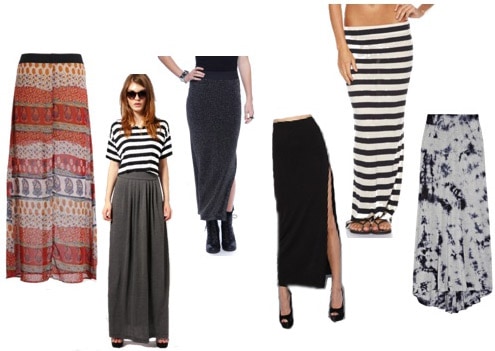 Product Information: Paisley Maxi Skirt – Ruche, Full Maxi Skirt – ASOS, Starlight Maxi Skirt – Forever 21, BB Dakota Hutchinson Skirt – Karmaloop, All About Eve Marina Maxi Skirt – Surfstich, MICHAEL Michael Kors Tie-dye Maxi Skirt – Net-a-Porter.
An alternative option to the mini skirt/asymmetrical hem trend, the maxi skirt is huge for spring! Totally bohemian and a model-off-duty staple, this particular incarnation of the trend calls for soft flirty jersey, a hemline that just grazes the feet, and a low waist, and rejects excess volume, ankle hems, and granny prints. It's a near-perfect alternative to sweats to throw on for days that you wish you could have stayed in bed — you'll be cozy, but look awesome! It doesn't get better than that!
Your thoughts?
What are your favorite spring trends? Did your picks make the list? Want advice on how to wear any of these pieces? Leave a comment and let us know!