This post may contain affiliate links, which means we may receive a commission if you purchase through our links. Please
read our full disclosure here
.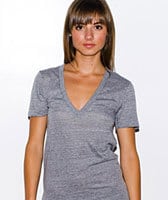 Since Summer 2008 is almost here, I'm excited to say that this will probably be one of the last spring 2008 fashion trends that gets covered here on College Fashion! That's a good thing – make way for summer!
With the weather heating up across the country, flip flops are coming out of storage, skirts are getting shorter, and, surprise surprise: necklines are getting lower!
Today I want to tell you about one of the biggest trends this season: The V-Neck Tee. It's been spotted on celebrities and fashion icons alike, and it's a such a great basic to have in your wardrobe!
I'm currently obsessed with my new deep-v neck tees from American Apparel because they are very chic and can be worn so many different ways! They're casual cute with jeans and flats, or dressy with a skirt and heels. Did I mention they're oh-so comfy? The perfect tee, I'm telling you!
How To Wear V-Neck Tees
Yes, there is sort of a right and wrong way to wear these. Here are a few pointers to keep in mind when you're wearing a v-neck shirt, but feel free to totally disregard these and wear yours however you want if you think you can pull it off.
Don't bare too much skin elsewhere. The key to wearing a top with a super low neckline is to make sure you don't wear it with a super short skirt (unless you're out partying or something.) When it comes to showing skin, less is usually more!
Experiment with jewelry, but not too much. Low v-necks can be a great way to show off a cute necklace, like Nicole Richie and Lauren Conrad have been pictured doing. Take note, though, that they don't wear earrings too: that would be overkill! Pick one piece of jewelry that you want the focus to be on. Note: bracelets are okay here, you can wear them too without taking away from the rest of your look.
Don't be afraid of color. While the trendiest shade for this tee is definitely white, don't be afraid to rock one in a bright color too! These shirts are fairly inexpensive, so I recommend getting one in a bunch of your favorite colors if you're indecisive about that kind of thing!
Try one tucked in to a high-waisted skirt! The look is very Mary-Kate Olsen, super high-fashion and really stylish. I like white with black because it's classic, but you could try a brightly colored tee tucked in to a high-waisted pencil skirt as well!
Wear a v-neck tee with casual jeans. This would be a great outfit to wear to class because it's dressed down yet still fashion forward. Accessorize with a bright shoe or bag, and you have an outfit that's comfy and cute for every day.
Where To Buy V-Neck Tees
What I love about these trendy tops is that they are available all over the place. My favorite is from American Apparel, but many different retailers are making their own versions lately! There are even a few high-end v-necks available for those of you Ivy League College Fashion readers.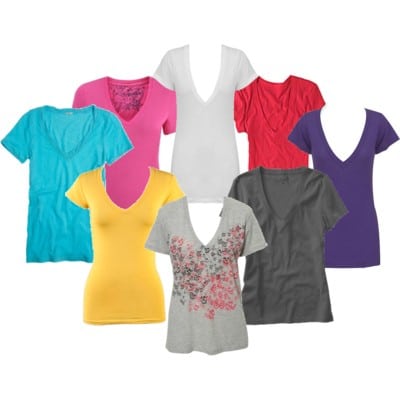 Product Information (Clockwise from Top): American Apparel Short Sleeve Deep V-Neck ($18), AZ Jeans Favorite V-Neck Tee ($5.99), LnA Deep V Tee ($65), Old Navy Perfect Fit V-Neck ($10.50), Skulls V-Neck Tee ($20), Wet Seal Stretch V-Neck Tee ($6.50), J Crew Linen-Cotton V-neck Tee ($36), Nollie V Neck Tee ($14.50)
Your Thoughts?
What do you think? Do you think you'll be wearing v-neck tees this season, or are you taking a pass on this trend? Let me know in the comments.