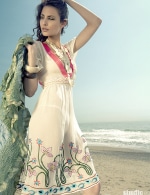 Photo by studio.es
Over the next few weeks, College Fashion is going to feature all of the most popular spring 2008 fashion trends, to spark your style inspiration for this season and make shopping a breeze.
I want to start with what was one of the top trends on the Spring 2008 runways: a revival of "Boho Chic."
Boho, as in Bohemian, is a free spirited, laid back style of dressing that's reminiscent of 1960's and 70's hippie fashion. This look was big a few years ago, when Sienna Miller was everyone's gypsy style icon. After a few seasons of well-tailored mod looks featuring neon colors and lots of black, the return of the easygoing Boho look is a nice change of pace for Spring 2008.
Don't break out the heavy-duty peasant skirts just yet though: this season's boho chic is a little more to the chic side than it was in the past. In fact, the trend is a little more "foho" or "la-boho", as fashion mags are calling it, than it is full-on 2005 boho.
Did that all sound like gibberish? The terminology is weird, but it's all simple, I promise. Spring 2008 boho means long dresses, psychedelic prints, earthy colors and natural materials with a hint of 70's flair. I've broken down the look more specifically below to make it super easy to understand.
How To Get The Boho Look:
You don't have to go all out to incorporate a little hippie style into your spring wardrobe. Just pick up a few key items and mix them in with what you already own.
The Right Dress Dresses and skirts are a big part of the boho look. This spring, some of the dress trends are super long dresses, prints, florals, and bright colors paired with earthy tones. Some examples:
Embroidered & Printed Tops Another boho basic. Look for tops with beading, embroidery, floral prints, crochet details and super-trendy butterflies to wear with wide leg jeans or cut off shorts. Pair tighter tops like the purple one below with a coordinating loose skirt.
Nature-Inspired Jewelery Accent your boho outfit with jewelery made out of natural materials, or in shapes inspired by nature. Try a necklace with a feather charm, wood bangles, or earrings made out of shells. Jewelery can be as loud or as understated as you want with the boho look. Anything goes, really.
Cute Casual Sandals It's not sandal weather out yet, but it will be before you know it! A big part of the boho look is the comfortable and casual sandal. Usually this means sandals in neutral tones, but pops of color can be a fun way to make this trend your own.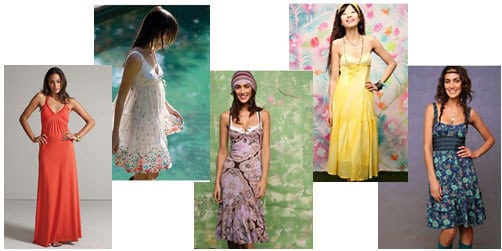 From Left:Maxi Braided Halter Dress ($39.50) , Lux Daydreamer Dress ($58) , Stained Glass Tencel Dress ($108) , Sheer Voile Ocean Wave Dress ($168) , Cumberbund Dress ($128)

From Left:Jovovich-Hawk for Target Dot Belt Top ($24.99) , Crochet Lace Tank ($38) , Boho Babydoll Tube Top ($24.50) , Ella Moss Cecilia Top ($88) , Split Sleeve Tee ($68)

From Left:Shell Heart Studs ($8.99) , Flower Ring ($18) , Wood & Beads Hoop Earring ($5) , Turquoise Beaded Leaf Earrings ($18) , Metallic Dot Wood Bangle ($6.50)

From Left:O'Neill Ruins ($37.95) , Roxy Chica ($51) , Roxy Ariel ($45) , Cobain Jubilee ($36) , O'Neill Tex Mex ($34.95) , Bongo Drama ($46)
So there you have it – the fundamentals of the new Spring 2008 Boho Chic trend. I'm definitely looking forward to rocking this look soon. What about you? Take the poll below and let me know what you think of the trend!