Update: While we stand by this advice from last year, we have an updated guide for 2020 — check it out here: Top Fall Trends We're Loving for 2020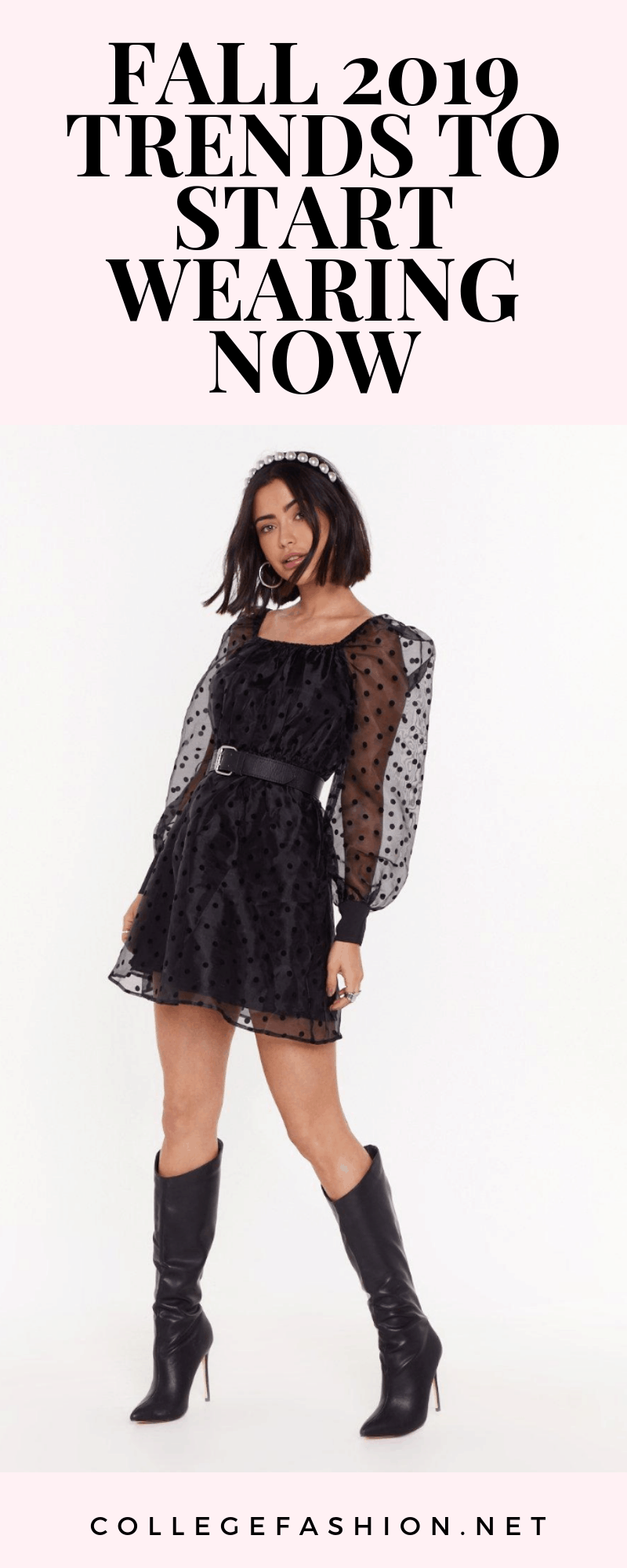 I'm happy to report that where I live, the weather got cooler as soon as September hit. That's right, as I'm writing this fall 2019 trends post, I'm wearing a cozy fall cardigan and sipping on a pumpkin spice latte.
Whether you're in the same cozy boat as I am, or you're stilling working with warmer weather, this post is for you. Even though summer doesn't officially end until late September, there's no reason to hold back on sporting some fall trends!
Here are 10 fall 2019 trends that you can start wearing now, no matter the weather.
(For more fall wardrobe inspo, check out our articles on the top fall shoe trends and the cutest fall jackets.)
Cardigans
Yes, cardigans are wardrobe staples, but they're also going to be everywhere this fall, so stock up!
Cardigans are the perfect trend to start wearing now, because they don't add too much extra warmth to your outfit. I love the look of cardigans worn as cropped tops, but they're also a cozy topper for days when it's a little chillier.
Best of all, they can be worn with anything, so you can reach for them when you're off to your early morning lectures.
Shop the trend: Cropped Button Cardigan – Nasty Gal, Black Cardigan – H&M, Cropped Cardigan – Missguided, Slouchy Cardigan – Missguided
Animal Print
I feel like I don't even need to tell you this — animal print has been trending all year, and it shows no signs of slowing down.
But you don't have to rush to pick up new pieces just yet — early fall is the perfect time to wear your spring and summer pieces, just layered with a cardigan or denim jacket!
Shop the trend: One Shoulder Top – Pretty Little Thing, Midi Skirt – Nasty Gal, Knot Shirt – Missguided, Zebra Print Dress – Missguided
Prep-Ready Prints
I'm so ready for this trend! This is basically the resurgence of Blair Waldorf, with a modern spin. It's all about classic, yet simple, pieces.
The essentials for this trend are things like plaid blazers and chic suit sets in check prints — think of it as upscale campus chic.
A great way to start wearing this trend now is to use a plaid blazer as a topper, in place of your denim jacket. Or, wear a checked skirt with a light fall sweater.
Shop the trend: Pink Blazer – Pretty Little Thing, Shirt-Dress – Missguided, Plaid Blazer – Princess Polly, Pinafore Dress – Zara
Millennial Purple
Move over, millennial pink and gen Z yellow – this year, it's all about purple!
This fall, we are breaking out the lilac and orchid tones to add pop to our ensembles.
What I love about colors being trendy is that they're the easiest kind of fad to style: If you don't have any light purple pieces, opt for a lilac nail polish. If you like to go bold with your makeup, use millennial purple in your eyeshadow looks, or as a lipstick.
Shop the trend: Nail Polish in Lilacism – Essie, Jacket – H&M, Satin Headband – Zara, Corset Top – Missguided
Shades of Green
Another color trend!
Olive green is classic fall tone, and it will definitely be all over your Instagram feed, but consider adding a light, pistachio tone to your transitional outfits for a dainty and feminine look.
Or, add green accessories to your outfit for a subtle pop of color.
Shop the trend: Blazer Dress – Nasty Gal, Corduroy Shirt – Nasty Gal, Utility Dress – Missguided, Sweater Dress – Pretty Little Thing
Mini Bags
This is another summer trend that's stuck around!
This is definitely not the most useful bag to have during back to school season, but it's a chic choice for your days off and nights out.
If you don't already have one of these, get the most out of your purchase by picking one in millennial purple or animal print!
Shop the trend: White Bag – Nasty Gal, Oval Crossbody – Zara, Croc Bag – Nasty Gal, Animal Print Bag – Pretty Little Thing
Mesh and Organza
Mesh is going to be a major style essential this season.
From mesh sleeves to organza blouses, this trend is whimsical and free. In shades of onyx and burgundy, it gives us all the dark, romantic vibes — perfect for the witchy weather.
Mesh is so breathable too, so it's an easy piece to style in your transitional wardrobe.
Shop the trend: Organza Scrunchies – Zara, Sheer Blouse – Zara, Organza Dress – Nasty Gal, Mesh Sleeves – Nasty Gal
Utility
Another fall classic returned! This trend is all about pockets and contrast-stitching. I'm particularly partial to cargo pants and utility jackets with this detail.
This look is all about comfort and functionality, so bring out your favorite oversized jackets, and maybe even a pair of overalls.
Shop the trend: Contrast Stitch Pants – H&M, Utility Romper – Nasty Gal, Cargo Pants – Nasty Gal, Overalls – H&M
Belted Jackets
Also known as "cinched suiting," if you're a fan of alliterative titles.
I think this trend is perfect for colder temperatures – I love a trench coat as much as the next gal, but it's easy to feel a little boxy in the fabric. Cinching a loose coat with a chic belt gives your outfit structure, and defines your waist. Plus, it's such a great way to show off your belt collection.
Shop the trend: Leather Belt – Zara, Belted Blazer – Nasty Gal, Belted Trench – Nasty Gal, Snake Print Jacket – H&M
What are your favorite fall 2019 trends?
Which of these are you going to wear first? Let us know in the comments if you'd like to see an in-depth styling feature on one of these trends!