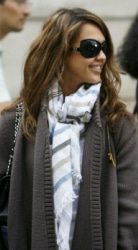 Jessica Alba loves her scarves
Even though college students all over the country are getting ready for spring fashion to hit, the sad fact is that winter is definitely still here. For those of us in the northern half of the US, college trends are mostly limited to whatever is warmest and comfiest right now. And let's face it: style isn't always the priority when you're walking to class in 30 degree weather.
That's why cute scarves are such fashion lifesavers: they keep you warm but still look stylish. Scarves are also so versatile: they add color and style to any outfit and can change the look of an ensemble almost immediately! And of course, you can't forget the practicality factor. Even if you live somewhere warm year round, lightweight scarves are still must-have accessories.
Even better: now is the best time to stock up on winter wear. Right now, most retailers are clearing out their winter stuff and slashing prices like crazy to make room for spring looks. This means you can get great savings on adorable scarves, which are still going to be wearable for the next few months and of course next winter!
Here are some of the hottest and trendiest scarves out there, with affordable options as always.
Love Quotes Scarves
These star favorites have been seen on celebs like Lindsay Lohan recently. Brightly colored and supersoft, Love Quotes scarves are classic and cozy. BUT, they also cost $85 each. If that's not in your price range, fear not – there are tons of similar looks at much lower prices.
Patterned Scarves
A scarf with a bold pattern is a perfect way to spice up an otherwise plain outfit. Brands like Tolani and Missoni do the patterned look to perfection, but if you don't have a hundred dollars to spend on a scarf, you can always get "the look for less."
Classic Plaid Scarves
Timeless Burberry-style plaid scarves are forever in style, and will be very important next winter. Plaid works in any colors, so choose a shade mix that flatters your skintone and works with your favorite coats. In this case, Burberry brand is a splurge, but plaid scarves are everywhere for a fraction of the price if you don't care about the label.
As always, let me know what you think of the cute scarves trend. Do you use scarves to dress up your outfit or not? What's your favorite type – classic plaid or crazy patterns? Let me know in the comments and happy shopping!