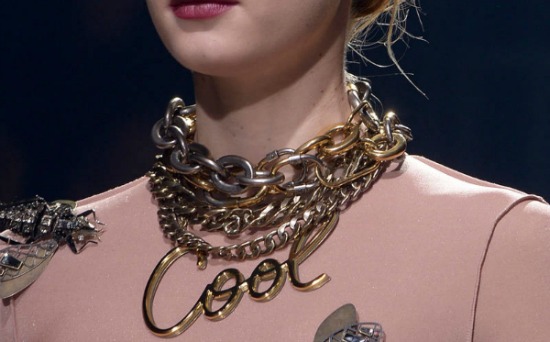 Jewelry at Lanvin Fall 2013 | ELLE
The fall semester is nearly upon us, and while it may be tempting to ignore back-to-school shopping and stay parked by the pool, it's time we start thinking about what we'll be wearing once September rolls around. Inspired by this year's Fall 2013 runways, here are four hot jewelry trends to try this season:
1. Lanvin's Classic Chains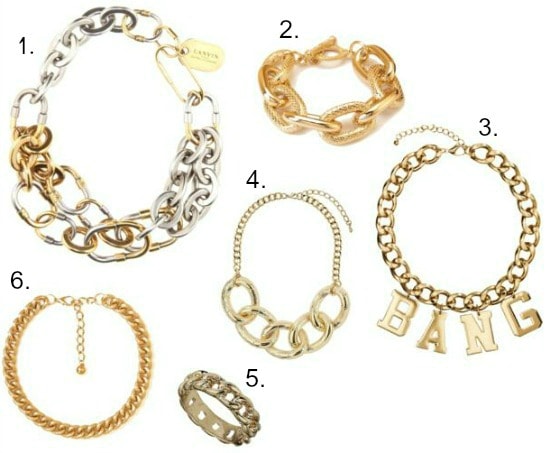 Clockwise from top left: 1. Lanvin, 2. Forever 21, 3. H&M, 4. Topshop, 5. Topshop, 6. Forever 21
Lanvin's runways featured big, bold chain necklaces and accessories, which are a glam, yet subtle addition to just about any outfit. The classic gold and silver chains featured here can be dressed up or down, while oversize plastic versions can be fun for nighttime.
2. Dior's Big, Bright, Stacked Rings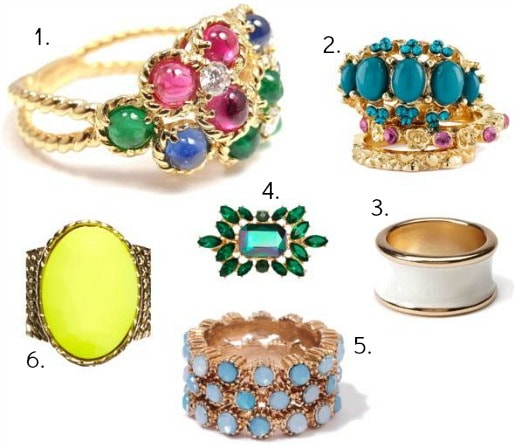 Clockwise from top left: 1. Dior, 2. H&M, 3. Forever 21, 4. ASOS, 5. Forever 21, 6. ASOS
Dior's A/W '13 runway show in Paris highlighted a more subdued version of this bright, bejeweled bauble on top left – but don't let that stop you from rocking super-saturated hues this autumn. To perk up a dark fall wardrobe, pick out some colorful rings in different shapes and sizes – extra points if they're stacked!
3. Chloe's Animal Farm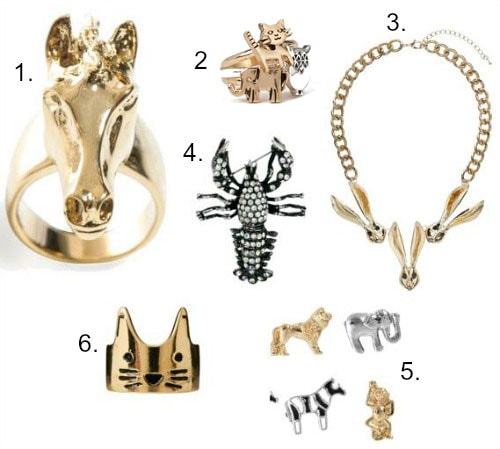 Clockwise from top left: 1. Chloe, 2. Forever 21, 3. Topshop, 4. ASOS, 5. H&M, 6. ASOS
The animal trend – we're talking prints, patterns, and Grumpy Cat memes – seems to be never-ending. If you are head-over-heels for furry friends, take a cue from Chloe and add some wildlife to your wardrobe. It's a cute and quirky addition to any look.
4. Emilio Pucci's Statement Pieces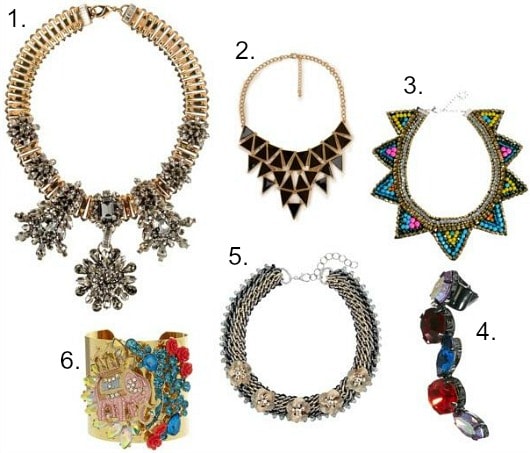 Clockwise from top left: 1. Emilio Pucci, 2. Forever 21, 3. ASOS, 4. ASOS, 5. Topshop, 6. ASOS
Emilio Pucci's ornately beautiful necklace makes a huge statement. Pieces like these – which are noticeable for their fab colors, big shapes, or intricate details – are ideal for busy days when you want to amp up a plain white tee and jeans. Throw one on and your outfit is automatically upgraded – and with practically zero effort!
Tell us your thoughts:
Fall 2013 has some seriously good jewelry trends – with an emphasis on fun! What are your favorite trends for fall? Would you wear any of these pieces? Leave us a comment below.