The holidays are the perfect time to experiment with new trends. Not only do you have a lot more free time to tinker with your style after finals are (finally) over, there are also plenty of parties, dinners, dates, and other occasions for you to rock your new look (and gauge your comfort level before you sport it next semester.)
Here's a look at three holiday-inspired trends to try this winter break:
Tinsel-Inspired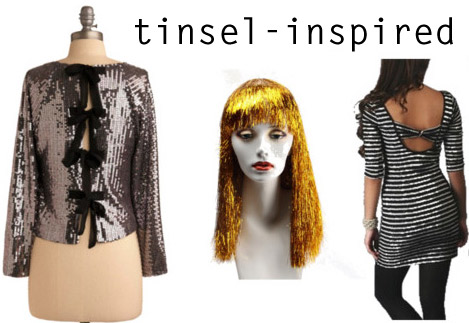 Product Information: Top, Tinsel Wig, Dress & Hair Tinsel (not shown)
Not to be confused with sequins or glitter, tinsel-inspired trends take their name (and appearance) from the classic holiday adornment. Tons of A-list celebrities have been photographed wearing something called hair tinsel — strands of metallic tinsel that can be glued or tied into your hair. Hair tinsel is available in a variety of colors so you can be as crazy or conservative as you'd like (or your grandma will allow at her dinner party.) You can also find tinsel-inspired shirts and dresses which can double as NYE garb, too!
Bows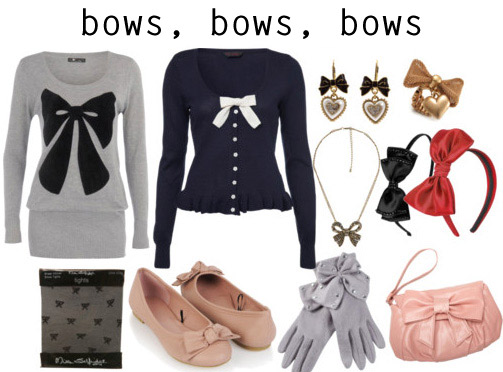 Product Information: Bow Sweater, Navy Cardigan, Bow Tights, Flats, Clutch, Stretch Ring, Earrings, Necklace, Gloves, Red Headband, Black Headband
Clothing adorned with bows is adorable any time of year, but the holidays provide an extra (legit) reason to dress yourself up like a gift ('cause let's be real, that's what you are to this Earth, right?). Rock a pair of bow-adorned tights or a lovely little headband and you'll look as pretty as a present.
Holiday Colors, Ornaments & Glitter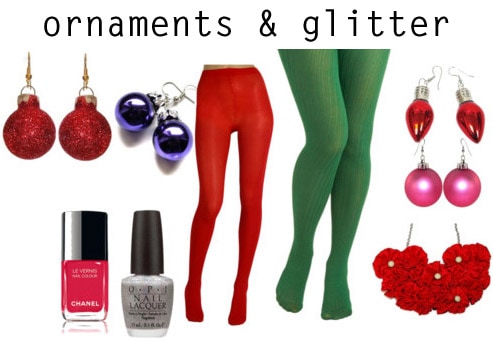 Product Information: Green Tights, Red Tights, Bib Necklace, Purple Bulb Earrings, Pink Ball Earrings, OPI Holiday Polish, Chanel Holiday 2010 Polish
When I think holidays, I immediately think sparkle. While New Year's Eve might as well be called "Wear-Something-Sparkly-Day," you can work a little glitter into your other holiday soiree ensembles, too. Turn a classic, conservative long-sleeved dress into a festive frock by adding some Christmas tights or bulb earrings (just keep the rest of the ensemble classic to avoid looking Christmas tacky). Oh — and you can't forget the glittery nail polish!
Would you wear these holiday trends?
So you can probably only get away with wearing ornament earrings for a very specific amount of time (say, two days before Christmas and two days after?), we know. But some holiday trends can easily morph from holiday-only to all-winter-long trends with a few tweaks here or there.
So let us know what you think – Would you wear tinsel hair? Or bright green tights? Share your thoughts about holiday trends in the comments.