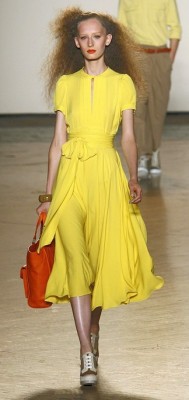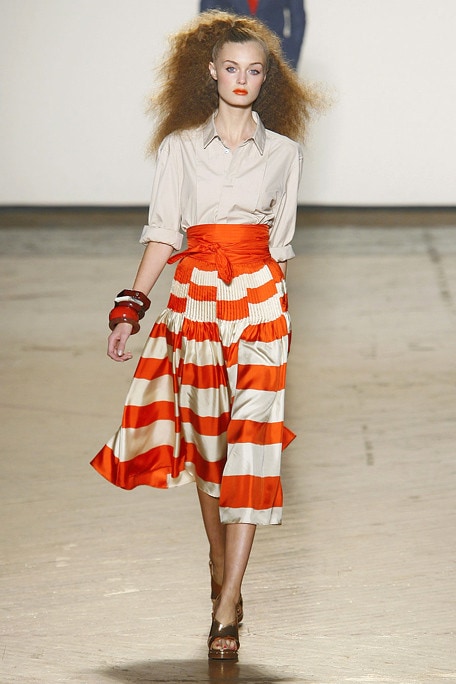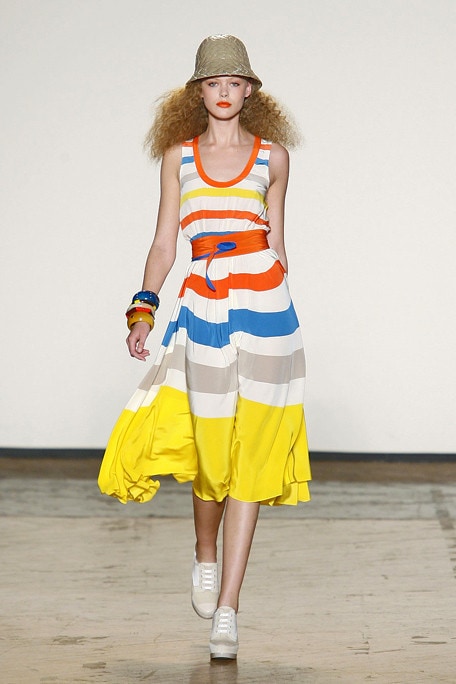 As fashion fans, we all eagerly await the newest collections each season, oohing and ahhing over the looks we see on the runways. However, as college students, our budgets usually keep those runway looks out of reach. But with a little digging, you can create similar ensembles without emptying out your bank account. Every week, I'll show you how to get a different runway look for less.
First up is the Marc by Marc Jacobs Spring 2011 collection. Back in March, his runway show featured an assortment of multi-colored striped pieces and brightly-colored accessories paired with neutrals. Jacobs' show featured two hot Spring 2011 trends: bright colors and minimalism.
Want to learn how to get the Marc by Marc Jacobs Spring 2011 look for less? Read on!
Look One: Multi- Colored Stripes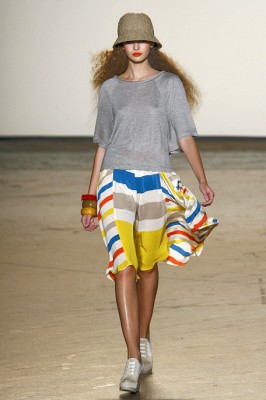 This Marc by Marc Jacobs Spring 2011 look embodies a stylish mix of bold colors and neutrals. This look incorporates multiple trends – namely color blocking and minimalism – with great success. Its stylish simplicity makes it the perfect laid-back summer look.
Get the Look: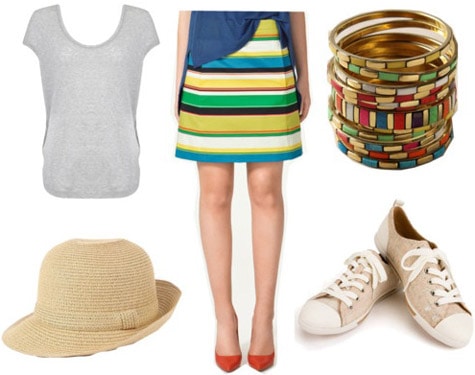 Top, Hat, Skirt, Bangles, Shoes
To recreate this outfit, start with the ensemble's focal point: the striped skirt. This striped skirt utilizes colors similar to those on Marc's skirt, and is of a similar length. To give the outfit its laid-back feel, pair the skirt with a slouchy grey shirt: This boyfriend fit tee helps tone down the technicolor bottom. Finish off the outfit with a straw hat, colorful bangles and some canvas sneakers.
Look #2: Patterned Skirt and Button-Down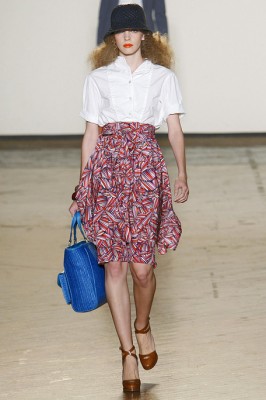 This look is a perfect example of a classic summer ensemble. A crisp button-down paired with a patterned skirt is an undeniably stylish combination, but Marc made it a bit more unique with the addition of a trendy bright blue bag.
Get the Look: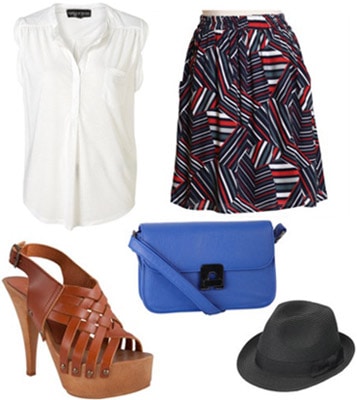 Blouse, Skirt, Bag, Heels, Hat
For this all-American look, again, start with a patterned skirt. This red and navy skirt is very similar to Marc Jacobs' version for a fraction of the cost. Pair it with a white button-down for a classic feel – this one is sleeveless and incorporates ruching, bringing it a step beyond basic. Finally, accessorize with a bright blue bag like this cross-body style, and add a summery feel with a black straw fedora and some brown strappy heels.
Look #3: Orange Skirt and Stripes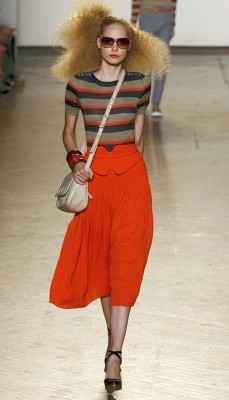 The best part about this Marc by Marc Jacobs look is the punchy orange skirt. It's a bold piece on its own, but Jacobs makes it pop by pairing it next to an orange and brown striped shirt. Not only is this look great for summer, but it could also easily be worn into fall. After all, orange and brown are classic fall colors that look great together. All you would need to do to transition this look into fall would be to swap the strappy heels for booties and throw on a light jacket.
Get the Look: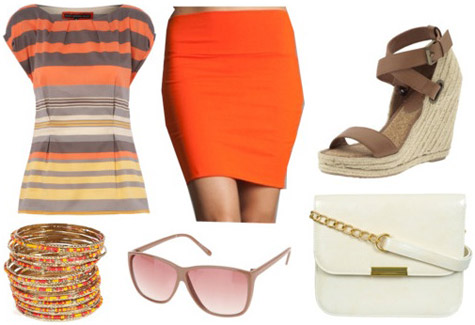 Blouse, Skirt, Wedges,Bangles, Sunglasses, Bag
Once again, the foundation of this outfit is the skirt. Marc Jacobs used a flowing midi skirt, but we are getting our punch of orange from a knee-length, form fitting skirt. Next, add a striped blouse – this one embraces those classic fall colors to perfection. With such a bold ensemble, it's best to keep the accessories simple. This beige cross-body bag helps tone down the bright skirt. For summer, pair it with brown strappy wedges and brown sunglasses. Finish the look off with some fun orange and yellow bangles for a little extra zest.
What Do You Think?
Would you wear this look? Do you like the Marc by Marc Jacobs Spring/Summer 2011 collection? Leave us a comment and let us know.