This post may contain affiliate links, which means we may receive a commission if you purchase through our links. Please
read our full disclosure here
.
What's your signature scent? As you get older, a signature scent can become as associated with your personality as your favorite color or name. Also, it's quite glamorous to have some lovely smell be enough to remind your adoring fans (classmates and friends, haha) of you. And think about how attractive a guy's cologne can be and the lovely memories that come to mind after you catch a whiff – isn't it romantic to think that your scent might drive boys crazy when you're near or far?
Personally, I'm a firm believer that any perfume I wear must do more than just smell delicious – it should also look beautiful wherever it is perched. This means that when you spritz it on, the feeling of glamor already begins before you even step out of the door! And why shouldn't your perfume bottle be a conversation piece as well as something that smells exquisite?
There are dozens of pretty, pretty perfume bottles out there. But the 10 perfumes below are just like your mother taught you to be – pretty on the outside AND the inside. In other words, these fragrances are certain to turn heads whether you smell them wafting through the air or see them sitting on the shelf.
1. Lola by Marc Jacobs
Smells like: pear, rose, and vanilla
Vibe: flirty
2. Sunshine Cuties by Harajuku Lovers
Smells like: each is a little different, ranging from "Love" with hints of nectarine and lemon blossom to "Music" with hints of tiger orchid and jasmine petals
Vibe: carefree
3. L'Air du Temps by Nina Ricci
Smells like: iris, sandalwood, and gardenia
Vibe: modern
4. Be Delicious by DKNY
Smells like: grapefruit, apricot, and jasmine
Vibe: fresh
5. Betsey Johnson by Betsey Johnson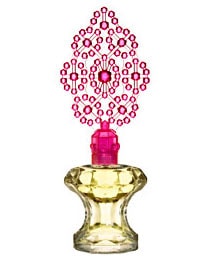 Smells like: pear, grapefruit, and tangerine
Vibe: playful
6. Oscar Violet by Oscar de la Renta
Smells like: dark chocolate, cinnamon, and citrus
Vibe: sensual
7. Glam Princess by Vera Wang
Smells like: honey, vanilla, and orchid
Vibe: pure glamor!
8. Feérie by Van Cleef and Arpels
Smells like: violet, red berries, and Egyptian jasmine
Vibe: whimsical
9. Organza by Givenchy
Smells like: honeysuckle, amber, and iris
Vibe: elegant
10. Délices by Cartier
Smells like: bergamot, pink pepper, freesia
Vibe: exotic
So, what are your favorites?
Tell me what your favorite scent is! I personally love the scent of Lola and the aesthetic of Feérie the most. Does the bottle you'd most want to have on display contain the perfume with your favorite scent? Did I leave any of your favorite beautiful bottles off of the list? Make sure to leave a comment and tell us your thoughts!