This post will show you the prettiest perfume bottles on the market right now, with a list of the best perfume bottles to add to your collection.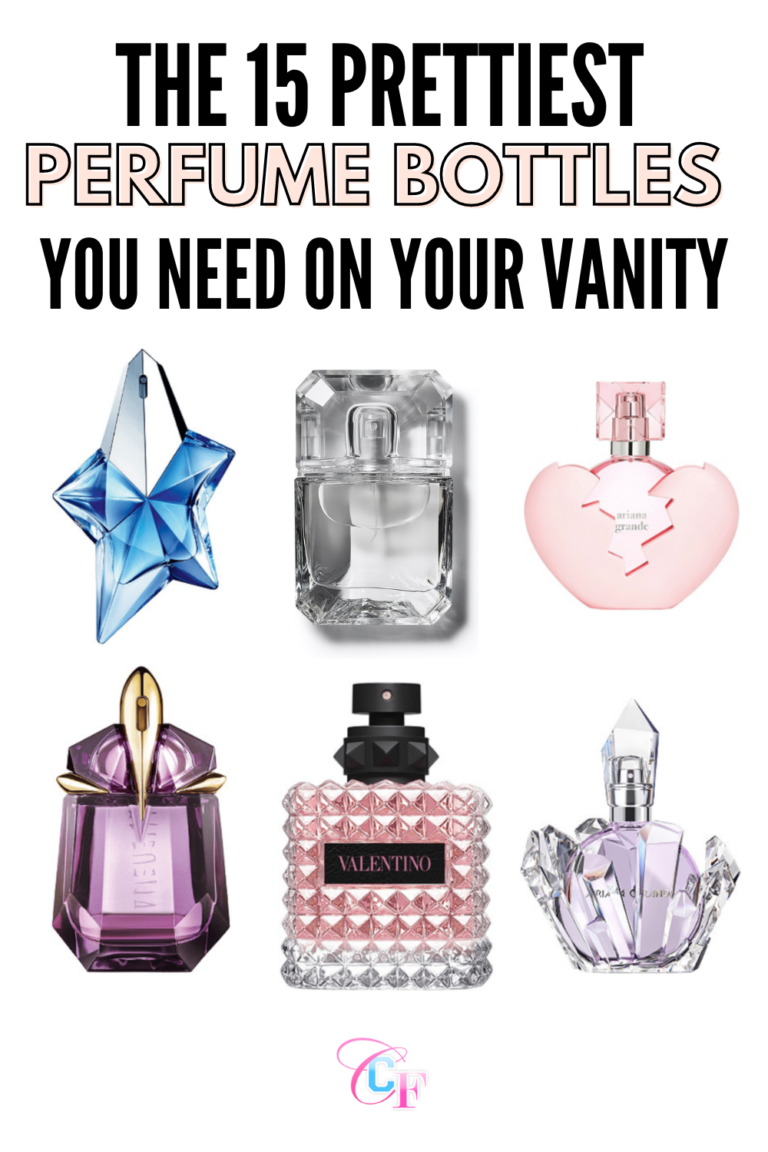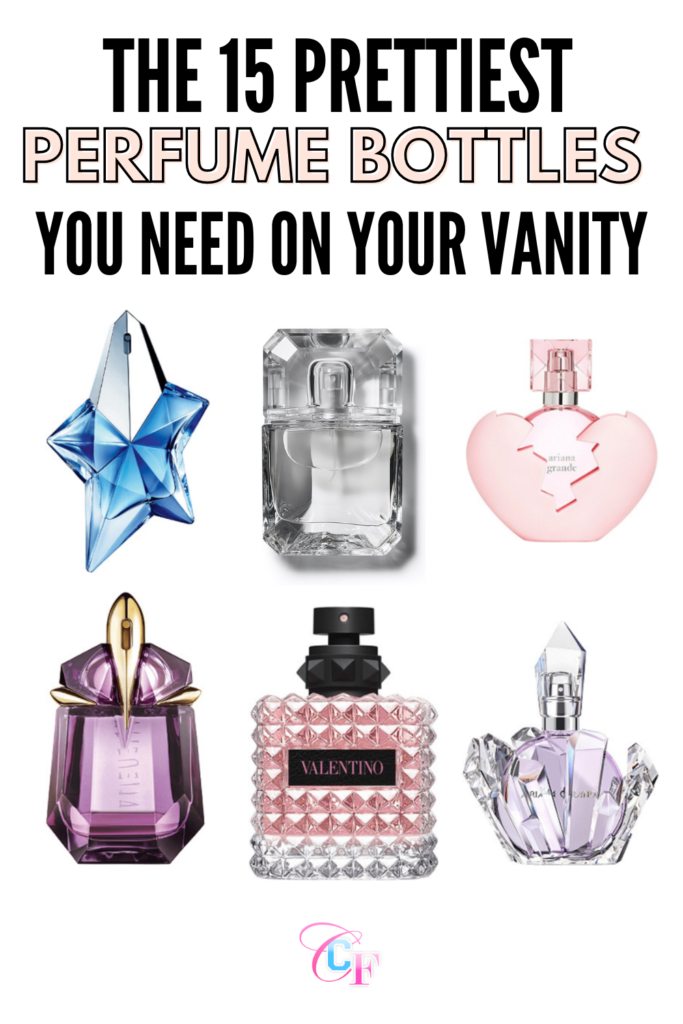 What's your signature scent? As you get older, a signature scent can become as associated with your personality as your favorite color or name.
Also, it's quite glamorous to have some lovely smell be enough to remind your adoring fans (classmates and friends) of you.
And think about how attractive a guy's cologne can be and the lovely memories that come to mind after you catch a whiff – isn't it romantic to think that your scent might drive boys crazy when you're near or far?
Personally, I'm a firm believer that any perfume I wear must do more than just smell delicious – it should also look beautiful wherever it is perched. This means that when you spritz it on, the feeling of glamor already begins before you even step out of the door!
And why shouldn't your perfume bottle be a conversation piece as well as something that smells exquisite?
There are dozens of pretty, pretty perfume bottles out there. But the 15 perfumes below are pretty on the outside AND the inside. In other words, these fragrances are certain to turn heads whether you smell them wafting through the air or see them sitting on the shelf.
1. Carolina Herrera Good Girl
If you are really into fashion, I would highly recommend you try out the Carolina Herrera Good Girl perfume because look at how absolutely stunning this perfume bottle is.
Who would have thought that you could get perfume in this super cute stiletto-shaped bottle? This is the perfect perfume bottle to decorate your room if you are a fashionista.
This luxe scent is described as follows:
The sweet, alluring qualities of jasmine give Carolina Herrera Good Girl Eau de Parfum its brightness and femininity. The darker side of Good Girl is created with richly fragrant cocoa and intoxicating tonka. Almond and coffee bring Good Girl its immediate vibrancy. Tuberose, extracted in a new way that creates a rich delicacy is the fragrance's wild card, bringing fluidity and femininity. Good Girl exemplifies the effortless elegance and wit of the House of Herrera. 
2. Ariana Grande Thank U Next
Most people know Ariana Grande for her amazing voice, but what you may not know is that she also makes perfume. Her perfumes are becoming extremely popular because they give off the perfect girly vibe — and the bottles looks great, too.
The Ariana Grande Thank U Next is perfect for those who are looking for a girly perfume and who also want an adorable bottle shaped like a heart.
This sweet and girly scent is described as follows:
Optimistically outspoken. Playful yet cool. Introducing Thank U Next Eau de Parfum by Ariana Grande. The ultimate fragrance for moving on and looking up. Thank U Next bursts opens with juicy notes of sparkling white pear and wild raspberry that soften with a heart of creamy coconut and delicate pink rose petals. Divine velvety musk infuses classic Ari sass, while macaroon sugar adds playful femininity. Full of attitude, full of sweetness.
Mugler Angel is also another fashion girl perfume that comes in a gorgeous bottle. I love the star shape because it really stands out on any vanity.
This perfume is on the pricier side since it's designer, but you will be getting your money's worth because it will last you all day long.
This sensual scent is described as follows:
Be exhilarated with MUGLER Angel Eau de Parfum. The magic of an everlasting star bottle, thanks to refill bottles or your perfumer's source. Between heaven and earth, the Angel woman dares to live up to her dreams. Her star guides her on this thrilling adventure. Her Angel fragrance -both sensual and gourmand – invigorates her determination. Angel is an ode to femininity that allows you to be guided by your lucky star. Angel Eau de Parfum belongs to the oriental gourmand fragrance family and is revealed in three successive facets: celestial, delicious, and voluptuous.
4. Miss Dior Blooming Bouquet
Dior has exploded in popularity in recent years, especially for its fashion items. But Dior's perfumes are just as amazing as their clothes and accessories. If you haven't tried them yet, you've been missing out.
This Dior Miss Dior Blooming Bouquet is a classic favorite we've loved for years. It comes in an adorable pink bottom with a bow on the top to give you all the girly vibes you need to add to your perfume collection!
This girly floral scent is described as follows:
The sparkling and fresh floral perfume of Miss Dior Blooming Bouquet Eau de Toilette pays homage to Christian Dior's legendary passion for flowers.
5. KKW Pink Lips
Everyone knows the Kardashians, but have you tried out the KKW Fragrances? This KKW pink lips perfume almost doesn't look like perfume because it comes in this lips bottle.
This will make it a perfect decor item for your room if you love statement pieces. Plus, the scent is so unique.
Here's a bit about this fun and romantic fragrance:
Solar Floral Coconut. Pretty in Hot Pink. Show stopping hues of mandarin and Italian bergamot are playfully revealed with flirty notes of tiare flower and solar gardenia. A delicious cocktail of thirst-quenching coconut is swirled into a pool of pink musks, sandalwood and liquid amber. Now, go ahead and make your move.
6. Marc Jacobs Daisy Love
Looking for a floral scent with a fashion girl edge? You should try out the very popular Marc Jacobs perfumes!
This Marc Jacobs Daisy Love perfume is one of my favorites because it has a beautiful, classic floral scent while also having an adorable bottle with a daisy on it to match.
Here's a description of the scent:
Marc Jacobs Daisy Love Eau de Toilette fills the air with radiant florals and sparkling gourmand twists that evoke the bliss of watching the sun reflect on the ocean under blue skies. Undeniably feminine with a youthful yet sophisticated composition, Daisy Love opens with a bright pop of crystallized cloud berries that exude a multi-faceted sweetness. At the heart, the solar yet creamy floralcy of petals from the Daisy tree mingle with the warmth of cashmere musk and driftwood for a delicate and memorable dry down.
7. Ariana Grande R.E.M.
Here's another Ariana Grande perfume to take note of because of its gorgeous bottle. I'm obsessed with the new Ariana Grande R.E.M. perfume!
Look at how pretty this bottle is! I don't think I have ever seen a bottle prettier than this one. It looks like it was chipped out of a piece of crystal.
You should definitely try out this perfume if you want a really unique bottle to add to your vanity. Plus, the scent is a "dreamy floral" that practically screams Ariana.
Here's some more about the scent inside:
Introducing R.E.M. Eau de Parfum, the dreamy fragrance by Ariana Grande. An intergalactic dream of femininity and power, R.E.M. draws you in with a cosmic blend of juicy fig and warm salted caramel. Lavender essence takes you to dreamy new heights, while sparkling pear blossom explodes like a supernova in the night sky. Intoxicating musk wrapped with sandalwood creates the perfect ending to your unforgettable journey.
8. Juicy Couture Viva La Juicy
I bet most of you know about Juicy Couture's perfume because they used to be super popular years ago. Now, that Juicy Couture has been coming back in style as a trendy brand, you should take notice of some of their throwback perfumes.
You could go for the classic Juicy Couture Viva La Juicy that also comes in this adorable bottle with a pink bow on top! It's so 2000s, so it's great for getting that throwback vibe on your vanity.
Here's a quick description of the scent inside:
Lively fragrance features notes of wild berries and juicy mandarin followed by honeysuckle, gardenia, and jasmine. Juicy Couture Viva La Juicy Eau de Parfum finishes with notes of amber, caramel, vanilla, sandalwood, and praline.
9. Yves Saint Laurent Mon Paris
Yves Saint Laurent is definitely known for its dark, sophisticated vibe. So, if you are looking for a pretty perfume bottle to add to your collection with that sultry feel, you should go for Yves Saint Laurent Mon Paris.
You will be getting this pretty bottle with pink perfume and a black bow, which you will love if you are into a more alluring perfume.
Here's more about the scent, inspired by the City of Lights:
Mon Paris Eau de Parfum by Yves Saint Laurent is a passionate, sweet floral women's fragrance of romance, inspired by Paris – the city of love. Sweet notes of red berries are softened by a heart of datura flower, anchored by a base of white musk. Sparkling with all the passion and romance of Paris, this Yves Saint Laurent perfume captures the exhilaration of falling head over heels. A fruity floral long-lasting fragrance for women and the ultimate French perfume, YSL Mon Paris tops the list of the world's most enticing and sexy perfumes.
10. Mugler Alien
If you have ever smelled the Mugler Alien you know that this is definitely a unique scent! You will know immediately if someone is wearing this scent because it is so powerful and unlike anything else.
If you want a really alluring scent, go for this perfume. You will not only have an amazing signature scent but also you will get this pretty purple bottle that it comes in for your collection.
Here's a quick description of the scent, to give you an idea:
Sparkle in Alien with the Eau de Toilette by MUGLER. The ephemeral pleasure of a bottle that is a precious stone with radiant, dazzling and enigmatic powers that only lives once.
11. Viktor&Rolf BONBON
Want the ultimate girly perfume bottle to add to your collection? Get this Viktor&Rolf BONBON perfume.
This perfume will give you all the girly vibes that you want because the perfume is a sweet gourmand scent and it also comes in a romantic bottle.
Here's everything you need to know about BONBON:
A gourmand fragrance with a fresh twist, this addictive women's perfume effervesces with the citrus scent of mandarin and orange slices alongside a paradise peach accord. Sweet caramel creates delicious depth atop a woody base in a surprising balance of sweetness and creamy notes of woody amber.
12. KKW Diamond Kim
We couldn't do a prettiest perfume bottle list without the perfume that looks like an actual jewel.
If you really want your perfume collection to shine, purchase the KKW Diamond Kim perfume.
This perfume is literally shaped like a diamond with perfume inside. It's so classic and sure to look great on any dressing table. Plus, the scent is just as beautiful.
Here's some more about the fragrance inside this insanely beautiful bottle:
Catching the light in ways you've never dreamed of, white diamonds is the ultimate self-indulgence. Delicately tracing the outline of your skin, the fragrance opens with a signature, tropical floralcy that is faceted with notes of wild armoise and sugar-coated ginger. At the heart, an extra-fine bouquet of luminous ylang-ylang, orange flower, and exotic Sampaguita bloom for an instant glimmer that simply shines with you. A sensual base of splashy coconut milk cream and heavenly white musk linger in a way you won't get enough of.
Perfume bottles with charms on them are so much fun! If you want to add a perfume like this to your collection, go for the Coach Floral perfume.
It comes in this pretty pink bottle with the coach logo on it and it also comes with this cute flower charm to go with the floral scent.
Here's a bit about the scent inside, to match the signature Coach feel of the bottle:
Coach Floral Eau de Parfum is inspired by Coach's signature leather tea roses. The feminine scent opens with a splash of citrus coeur and a touch of effervescent pink peppercorn with radiant pineapple sorbet. The heart reveals a bouquet of fragrant flowers-rose tea, jasmine sambac and gardenia-before an enveloping dry-down to elegant creamy wood, patchouli essence and musky notes. This unique fragrance perfectly embodies Coach's feminine, free spirit.
14. Valentino Donna Born in Roma
Looking for a pretty perfume bottle that really stands out? This Valentino Donna Born in Roma will be the perfect one for you!
Valentino is known for its rockstud spikes, so the design is echoed on this stud-shaped perfume bottle. It's the ultimate perfume to have in your collection if your style is on the edgy side.
Here's some info about the scent inside this edgy bottle:
Valentino Donna Born In Roma Eau de Parfum is a modern haute couture floriental. Three qualities of jasmine bring a luxurious femininity that is blended with vanilla bourbon, the most expensive extract in the world. This is twisted with radiant trio of modern wood, giving an edgy touch reminiscent of Rome street culture.
Looking for a super sweet scent? You should go for the Prada Candy perfume! This perfume will definitely have you smelling as sweet as candy!
Prada is also an incredibly popular brand right now, so I love the idea of indulging in a little Prada with this perfume. You definitely should add this pretty perfume bottle to your collection if you want something that stands out.
Here's everything you need to know about Prada Candy:
Prada Candy Eau de Parfum is a symbol of joyful femininity: delighting in sparkling pop and tropical heat, exploring the shimmer of gloss and seeking fantastical florals. She has never been one to shy away from extremes, always indulging her impulsive, whimsical spirit. Prada Candy is impossible to ignore. Explosive, excessive and sensual.
What do you think of my list of the prettiest perfume bottles?
Which ones are you going to add to your collection? Which perfumes are you excited to try out?
Editor's note: This post was originally published in 2010; it was completely updated and revamped in 2021 with new photos and information.