For most of us, the semester has just begun, bringing about that easy time of year when homework assignments are short, exams are still far away, and free time is (comparably) abundant. But with winter temps keeping most of us indoors, it can be all too easy to waste your weekends watching reality show reruns – boring!
We've covered our top 5 favorite fashion books in the past, but fashion-related movies can be just as inspiring and brain-stimulating as their paper counterparts. So turn off that Kardashian marathon (please!), grab some popcorn, and indulge in some much more satisfying screen time.
In no particular order, here are our top 5 must-see documentaries about the fashion industry.
1. Bill Cunningham New York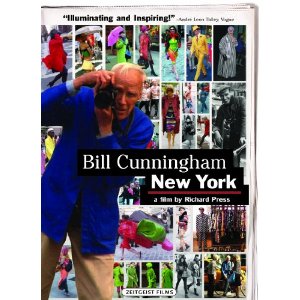 Bill Cunningham New York is a charming, touching and funny chronicle of fashion's first street style photographer.
Cunningham has been a photographer for The New York Times for over thirty years, photographing celebrities, socialites, and most importantly, the people of his beloved city. Rain, snow or shine, he is on the corner of 57th street every morning, ready to shoot stylish citizens.
I have to admit that I purchased tickets for my entire family to see Bill Cunningham New York a month before it came out in theaters, and none of us were disappointed. It includes interviews with everyone from Anna Wintour to the people Cunningham photographs in their elaborate ensembles, all gushing about their love for him. The best part? Cunningham comes across as a genuinely good person. The film probes for a deeper look into his life, questioning his reclusive existence. If you aren't a Bill Cunningham groupie like me, I promise you will become one once you watch the movie.
2. Marc Jacobs & Louis Vuitton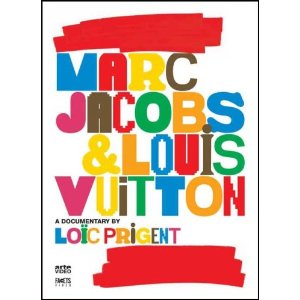 This action-packed, fast-paced film chronicles the creation of a Louis Vuitton collection, headed by Creative Director (and fashion legend in his own right) Marc Jacobs. It is the first glimpse of Jacobs' work process in film and is filled with images of Jacobs' hard-partying activities, his celebrity and model friends, and his work for both his own label and Vuitton. It follows the clothes that Jacobs meticulously creates from their first inception to their first showing on the runway.
This documentary is truly a must-see for fans of Jacobs or Louis – if you love either label, you'll love this movie. (Note: The film looks to be unavailable to purchase on Amazon, however it may be findable on Youtube, and if you have a Netflix subscription, it's available to rent there!)
3. Valentino: The Last Emperor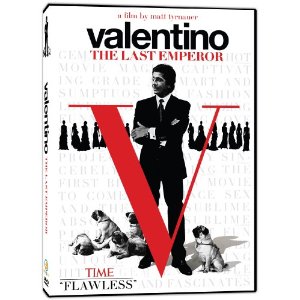 An intimate look into the everyday life of one of the most famous fashion designers in the world, this documentary is eye candy in every way, from the dazzling couture dresses in Valentino's atelier and his enormous, gorgeously decorated homes around Europe, to his perfectly tanned visage.
Though intimidating to many, Valentino comes across as witty, uncannily creative and, frankly, adorable. From parties at his estates to working on dress designs and planning fashion shows, Valentino's life is filled with beauty, which he tries to bestow upon every woman he dresses.
4. The September Issue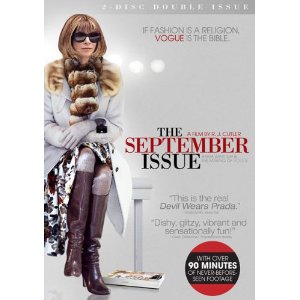 When the film starts with Anna Wintour uttering "there is something about fashion that makes people very nervous," you know that you are in for an incredible ride.
This acclaimed documentary shows the creation of the September 2007 issue of Vogue, and details all the work by all of the editors that goes into it. Filled with witty quotes, amazing cameos and even more amazing clothing, it gives a behind-the-scenes look at what goes on in the always bustling Vogue offices, how the decadent photoshoots are created, and the way that the magazine finally comes together. Plus, the viewer gets to know the less famous, but still just as intriguing editors and stylists who run the magazine, such as Grace Coddington and Tonne Goodman. (Just TRY to watch this movie and not come out loving Grace; it's impossible.)
5. Seamless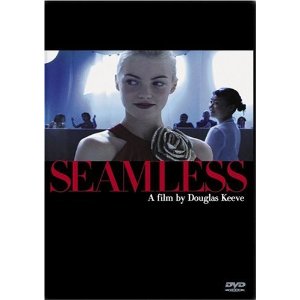 This documentary gives viewers a behind-the-scenes look at three young designers as they vie to win the Vogue and Council of Fashion Designers of America (CFDA) prize, of both money and a mentor, to help them grow their businesses.
The competitors are names you probably know: Doo Ri Chung, Alexandre Plokhov, and the designers of Proenza Schouler, Lazaro Hernandez and Jack McCollough. All are equally talented, working just as hard, and are trying to make a business out of doing what they love most. But only one can win the prize, which will help ensure that their businesses will survive. If you love any of these established designers, or just want a look at what it takes to launch a fashion line, you need to watch this one!
Your thoughts?
Now that you've seen our list of our favorite fashion documentaries, we want to hear from you! Have you seen any of these films? Which would you recommend to other readers? What other fashion documentaries would you add to the list? Tell us in a comment.