This post may contain affiliate links, which means we may receive a commission if you purchase through our links. Please
read our full disclosure here
.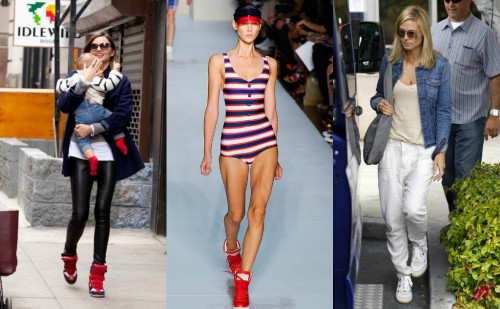 Although it may be tough to see the wedges in the sneakers above, both Miranda Kerr (left) and Heidi Klum are wearing Isabel Marant versions, and the model is wearing Marc by Marc Jacobs. Credit: 1, 2, 3
Behold… the sneaker wedge. Luxury designers and celebrities have taken a liking to kicks with height, so we must begin to ponder if these shoes will be hitting the mainstream anytime soon. This trend can partially be credited to Isabel Marant: Her versions, with concealed wedges, seem to be the most popular – Beyonce wore them in her "Love on Top" music video, as did Heidi Klum and Miranda Kerr on the streets.
I would have written this trend off as an obscure, passing fad until I noticed Topshop had fashioned its own version (pictured below). Topshop is known for being a trendsetting shop, so I'm keeping my eyes open for now.
In my opinion, these sneaks are simply statement pieces. After all, they pose no functional benefit; let's hope no one chooses these shoes for squat jumps or marathon running! But there are some benefits to having sneakers with height: They are probably considerably more comfortable than normal heels, and are a great low-key way to give yourself a few extra inches.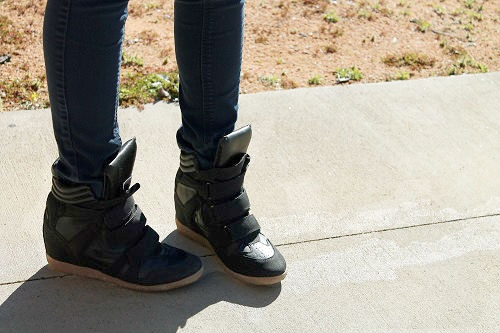 The popular Isabel Marant "Willow" version, Marc by Marc Jacobs, and Topshop.
These wedges aren't popular enough yet to have spawned cheaper knockoff versions, so right now, the only way to get this look is to spend some serious money. But if the trend takes off, we anticipate seeing inexpensive versions everywhere – only time will tell.
Will you be rocking sneaker wedges?
Leave a comment below and let's talk about it! What are your thoughts? Is this a passing trend or could you see yourself wearing these shoes? How would you wear them? Where would you wear them? We want to know!