This post may contain affiliate links, which means we may receive a commission if you purchase through our links. Please
read our full disclosure here
.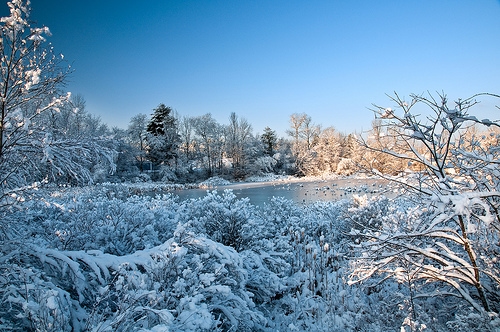 My mother once told me that if you're going to splurge on any item in your wardrobe, it should be a coat. And I completely agree – having several styles of coats to choose from may seem extravagant, but during the winter, your outerwear is what people see. Not to mention, spending more usually yields a warmer coat. That said, if you don't have the budget for an ultra-warm coat collection, you'll want to experiment with cold weather layering.
Us college girls have to be creative with our restricted budgets, so today I'm helping you out with tips for dressing in warm layers. Each outfit contains a key tip for staying warm in the winter, combined with an outfit (sometimes including coat) under $100.
Note: These outfits are intended to work for the majority of our readers, who reside in the continental US. If you live farther north or in an extremely cold place, you will want to spend more for pieces intended for extreme weather. For more extreme cold weather tips, see our "coldest" outfit here, our tips on what to wear under your super warm jacket, and The CF Guide to Layering Without Looking Lumpy.
Outfit 1: $97.80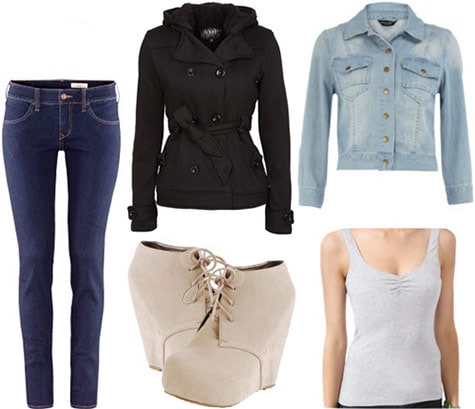 Product Information: Top – Forever 21, Coat – Delia's, Jacket – Dorothy Perkins, Jeans – H&M, Shoes – Make Me Chic
Don't be afraid to layer a jacket under your coat, or wear multiple jackets in winter! One of our favorite looks is a denim jacket underneath a basic black coat – it's a great way to rock a summer staple in winter while staying warm. Add funky ankle booties for extra style points.
Outfit 2: $93.04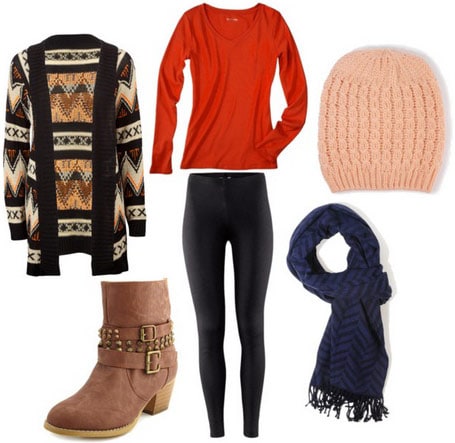 Product Information: Top – Target, Sweater – Tilly's, Leggings – H&M, Shoes – Charlotte Russe, Hat – Forever 21, Scarf – Forever 21
If you're not dealing with freezing temperatures where you live, sweaters can work as warm outerwear! Some textiles are incredibly cozy, comfortable, and great for cold days in the southern half of the country. However, sweaters do retain moisture, so don't wear one on a rainy day. If your sweater and top are long enough, opt for cozy, opaque leggings on the bottom. Then, be sure to layer on the accessories. Hats, scarves, and gloves are no-brainers for chilly weather.
Outfit 3: $93.65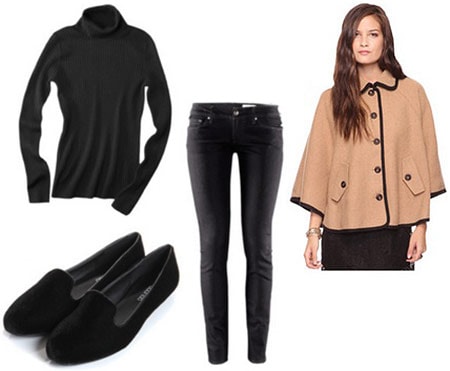 Product Information: Coat – Forever 21, Top – Target, Jeans – H&M, Shoes – Boohoo
Here at CF, we love turtlenecks. If you haven't tried one, you are missing out on a tremendously warm alternative to a scarf. They keep your neck toasty! A cape coat may not be as warm as one with sleeves, but a warm sweater underneath makes this coat style a staple.
Outfit 4: $99.48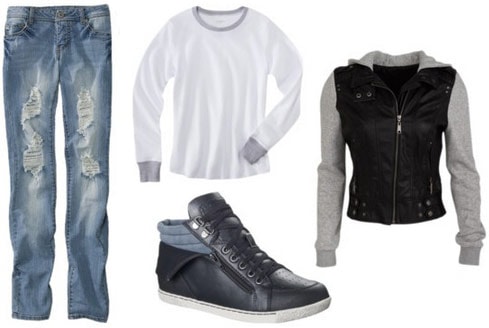 Product Information: Top – Target, Jacket – Delia's, Pants – Target, Shoes – Target
Layer long sleeves underneath a coat for extra warmth. We love this jacket from Delia's with its contrasting sleeves and mixed materials. It is ultra-trendy and a great piece for winter. Add trendy boyfriend jeans and cool kick to finish the outfit.
Outfit 5: $98.11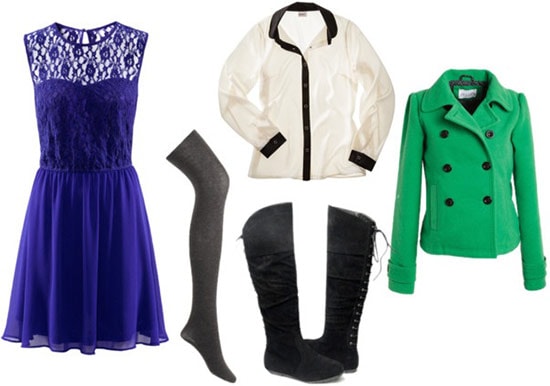 Product Information: Dress – H&M, Shirt – Target, Coat – Delia's, Tights – Forever 21, Shoes – Sears
If you want to dress up a little in winter, it's possible to stay warm while doing so! The key? Add tights, of course, then, for extra warmth, layer a long-sleeve blouse underneath your dress. We love the look of a bow or contrasting collar peeking out from a crew neck. Then, for extra style points, wear a colorful coat. There's no need to stick to neutrals in winter: a bold hue brings some needed brightness to the dreary streets!
Now we want to know your thoughts!
How do you keep frugal and fashionable in the winter? What are your tips & tricks for layering to stay warm? Which outfit above is your favorite? Leave a comment below and let's discuss!