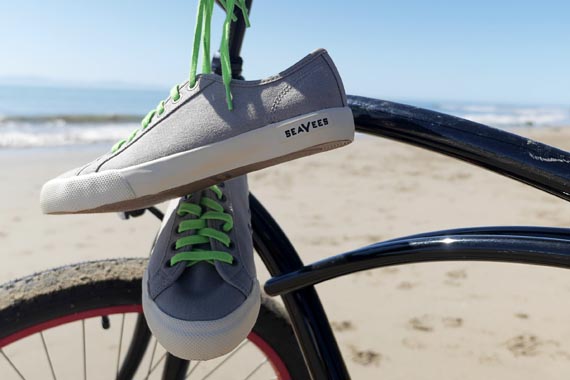 Photo: ELLE
They say what you wear on your feet reflects your personality. While we don't know what sneakers would say about our lives, we certainly do like them. For a long time, people said sneakers were just for working out. Now that there are so many cute, non-active versions out there, we can't resist trying this trend for ourselves.
If you are still slightly confused on how to wear sneakers outside the gym, look no further. Below are four looks featuring four different types of lace-up sneakers! The best part? Each outfit rings in at under $100. (However, if you already have similar items in your closet, the total price will be way less.)
White Keds – $99.53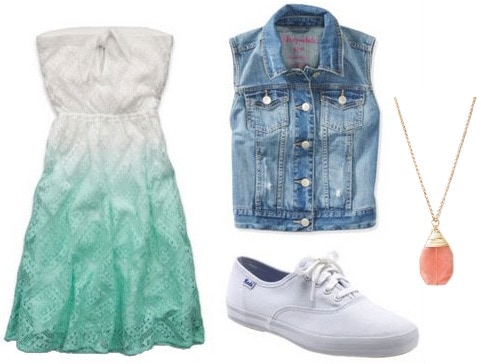 Product Information: Dress – Hollister, Vest – Aeropostale, Shoes – Nordstrom, Necklace – Forever 21
If you thought you couldn't wear a skirt or dress with sneakers, think again! We love the idea of a cute summer dress worn with clean white Keds. It's the kind of look you'd see a girl wear on a bicycle on her way to the beach.
Keep it casual with a denim vest. If we were to predict closet staples for summer, denim vests would be at the top of the list. Think Southern California when you choose your jewelry; an easy gemstone on a long chain is all this ensemble needs.
The Sporty Shoe – $97.69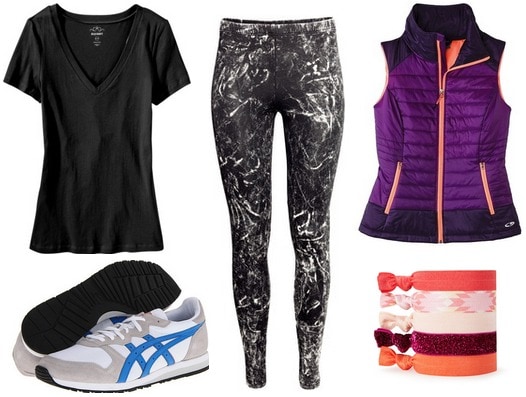 Product Information: Top – Old Navy, Vest – Target, Leggings – H&M, Shoes – 6pm, Hair Ties – Forever 21
If you already have colorful runners in your closet, don't feel like you have to rush out and get a separate pair of kicks to wear with your street clothes! You can rock them in a sporty way while looking somewhere between going-to-class and going-to-the-gym.
Grab a quilted vest. Even in spring, it can get too chilly to just wear a basic tee. Choose leggings in a unique print for some extra style points. Don't forget sparkly twistbands for your wrist and hair!
Fold-Over Converse – $96.92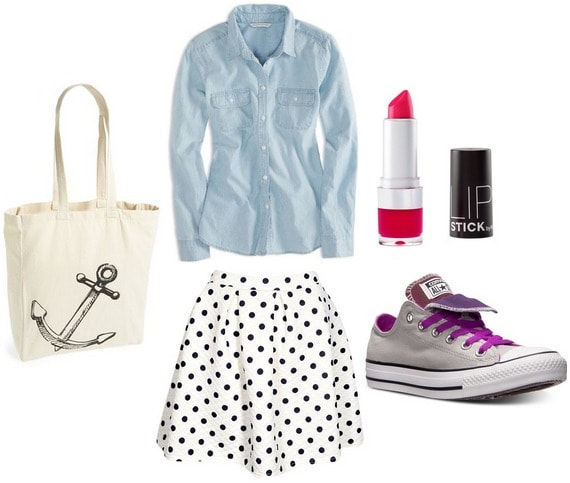 Product Information: Top – American Eagle, Skirt – Boohoo, Shoes – Macy's, Bag – Nordstrom, Lipstick – H&M
Is there anybody on the planet that doesn't like Converse? We certainly haven't found anyone. Converse are just plain cool, and there's a style for everybody. If you want to doll yours up with bright laces and a folded tongue, we say do it!
We especially love pairing them with something quintessentially girly, like a polka dot skirt. A tucked-in chambray button-up is perfect for keeping this look casual, while a bright pop of lipstick will make it look like you belong in Teen Vogue or Glamour magazine. Grab a cute tote on your way out the door to stash your must-haves.
Cool Kicks – $98.95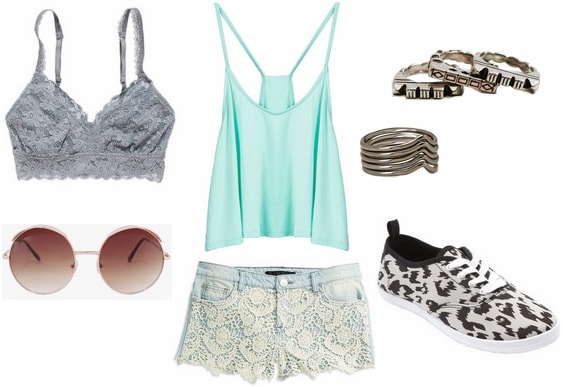 Product Information: Top – 2020 Ave., Shorts – Lord & Taylor, Shoes – Charlotte Russe, Bralet – American Eagle, Sunglasses – Necessary Clothing, Rings – Forever 21 and Nasty Gal
Some sneakers were just made for a darling springtime ensemble, and these leopard print cuties are no exception! For a look that's perfect for a hot day at a music festival, (Coachella, anyone?) throw them on with lace-front shorts and build your outfit from there. We like the idea of a breezy tank top with a lace bralette.
As far as accessories are concerned, keep it simple. Stackable rings and John Lennon-esque shades are all you need to complete the look.
Are you rocking kicks this spring?
Or do you think they should belong in the gym only? Which outfit is your favorite? Are you a Keds or Converse type of girl? How would you wear sneakers with street clothes? Leave us a note below and let us know!