From Madrid to Barcelona, Spain has become an epicenter for all things stylish. For those who desire the higher quality and class of Spanish designer fashion, we have put together a selection of 14 luxury brands that possess all the necessary elements to keep you on-trend.
Spanish luxury brands offer an unparalleled selection, from timeless staples to highly fashionable pieces. No matter what you're searching for, these designers have it all, providing each season with something fresh and invigorating. Here are the must-know brands to shop in Spain.
For more on luxury fashion, don't miss our guides to the best luxury fashion brands from the UK, France, the USA, and Italy.
Best Spanish Luxury Fashion Brands
1. Balenciaga
Since its inception in 1917 by the legendary Cristóbal Balenciaga, the iconic Spanish luxury fashion house has become renowned for its incomparable quality and craftsmanship, as well as its timeless designs.
This iconic brand offers luxe ready-to-wear and couture collections, unique accessories, and shoes that are worth the investment. With over a century of experience creating luxury garments, Balenciaga remains synonymous with quality, classiness, and high-end fashion. Additionally, their timeless pieces are a must-have for any savvy style enthusiast.
2. Loewe
Loewe, a Spanish fashion house that has been around for centuries, is renowned for its exquisite leather goods and fashionable ready-to-wear collections. The luxury brand crafts each piece with only the finest leather and materials, adding a uniquely sophisticated touch to any outfit. Loewe has generated a reputation for sophistication, excellence in craftsmanship, and incomparable quality.
They meticulously craft every leather piece with a blend of traditional and modern designs, using materials like calfskin, python, and crocodile skin. This renowned brand consistently leads the way with innovative approaches that separate them from its competitors. From glamorous jewelry and sunglasses to elegant gifts, every item embodies this iconic label's dedication to excellence and sophistication.
3. Manolo Blahnik
For over four decades, Manolo Blahnik has been creating exclusive footwear, accessories, and bags. As a result, he has earned global recognition as one of the most impressive creators in high-end fashion. Notably, the fashion house is renowned for its use of premium materials, intricate details, and bold colors. Furthermore, with a range of collections inspired by unique locations, the brand transcends traditional boundaries. This allows them to bring you something truly unique and special.
The Manolo Blahnik brand has become a worldwide sensation, with boutiques to be found in many countries. Its iconic heels have also been featured on popular shows such as Sex and The City, Gossip Girl, and The Devil Wears Prada. Invest in a timeless piece from Manolo Blahnik and enjoy the exquisite quality and superior craftsmanship of this iconic Spanish luxury fashion brand.
4. Delpozo
Delpozo is renowned for its exquisite, feminine apparel crafted with sumptuous fabrics, timeless silhouettes, and intricate embroidery. Using unique and innovative designs, fabrics, and silhouettes, Delpozo creates timeless yet modern pieces that can be worn for years to come.
Since its inception in 1974 under the exceptional guidance of Josep Font, Delpozo has become a groundbreaking force within the high fashion industry. Their signature pieces are decorated with exquisite and intricate adornments that include beading, sequins, embroidery, and lace. All are exquisitely crafted to create sensational collections ranging from ready-to-wear apparel to haute couture designs. With a loyal following of celebrities and royalty, Delpozo is sure to remain a leader in the world of luxury fashion.
5. Castañer
Crafting its signature wedge and sandal espadrilles since 1927, the Castañer family has established a long-held legacy of exquisite quality. Known for its stylish summer shoes, Castañer has created a distinct style with its traditional materials and modern designs.
The distinctive espadrille design of Castañer has something for everyone: men, women, and kids alike. From its basic styles to more daring designs with bold colors, prints, and details such as fringes or studs, Castañer caters to all tastes. Invest in a classic Castañer espadrille and add a touch of Spanish style to any summer look. From wedges to sandals, each pair of shoes from Castañer are designed with comfort and stylish sophistication in mind.
6. Adolfo Dominguez
Since the 1970s, designer and author Adolfo Dominguez has been celebrated for his pioneering designs. His Spanish label brings forth a minimalist style paired with bold pops of color that make it both timeless and modern. With quality craftsmanship at its core, this renowned brand is synonymous with sophistication embracing the current trends while staying true to its roots.
Adolfo Dominguez has gained renown for his timelessly elegant and gracefully tailored apparel. Moreover, all of the brand's collections, ranging from classic suits to trench coats, are of superior fabrics and receive expert attention in each stitch. Whether you're looking for clothing or accessories fit for men or women, Adolfo Dominguez offers a selection that provides nothing less than luxury top-to-bottom.
7. Bimba Y Lola
Experience the luxury of Spanish fashion with Bimba Y Lola. Launched in 2005, this trend-forward brand has quickly grown in popularity and become a leader in the Spanish luxury market. Combining top-quality fabrics with unique, bold designs and accessible prices, Bimba Y Lola offers something for everyone who loves fashion. Today, the brand is renowned for its stylishly subtle yet playful patterns and beautifully feminine cuts across Europe, the Middle East, South America, and Asia. Twenty-something women are raving about this trendsetting apparel choice!
Bimba Y Lola is known for its iconic prints, statement jewelry, and modern yet timeless pieces. Their collections vary from polished business wear to laid-back, leisurely options, as each piece is crafted with perfection and superior craftsmanship. When you want to be fashionably bold, their signature silhouettes can give you a classic or modern look that will stand out from the crowd. With these designs, make a statement with your wardrobe. Get ready to make a statement with Bimba Y Lola's unique and bold designs featuring vibrant colors, intricate detailing, and unrivaled craftsmanship.
8. Majorica
For over a century, Majorica has been fashioning exquisite jewelry, watches, and accessories with its signature handcrafted artistry. The iconic Spanish brand has been popular since 1890 for using only top-tier materials to create pieces that stand the test of time. Captivating and everlasting, Majorica is the place to go for brilliant jewelry that never fades. This collection of timeless luxury features shining earrings and rings, as well as their signature pearl bracelets and pendant necklaces, which won't disappoint you.
No matter the occasion, Majorica has all the pieces you need to make a statement. From dazzling necklaces and earrings crafted with meticulous attention to detail to classic watches made from quality materials – there is something for everyone here! Whether you are looking for an eye-catching piece or something more subtle, this designer jewelry will complete any look.
It's no surprise why Majorica pieces are a must-have for fashion influencers around the world. Their exquisite designs have been ageless and stunning, setting them apart from other luxury brands. For over 100 years, this company has managed to stay on top of trends in the industry.
9. Paloma Barceló
Since 1975, Paloma Barceló has been the go-to Spanish brand for fashionably timeless shoes. From sneakers and boots to sandals, this esteemed footwear artisan provides a varied selection of premium products that are both comfortable and stylish. With its groundbreaking approaches to materials, colors, and textures, it's no wonder why its pieces always stand out in the crowd! Everyone can find something perfect for them.
Utilizing only sustainable materials and ethical production methods, Paloma Barceló's footwear has witnessed increased traction in the fashion industry. Celebrities as well as influencers have gracefully worn their shoes and sandals, which have been showcased on renowned runways and frequently appeared on red carpets.
10. Massimo Dutti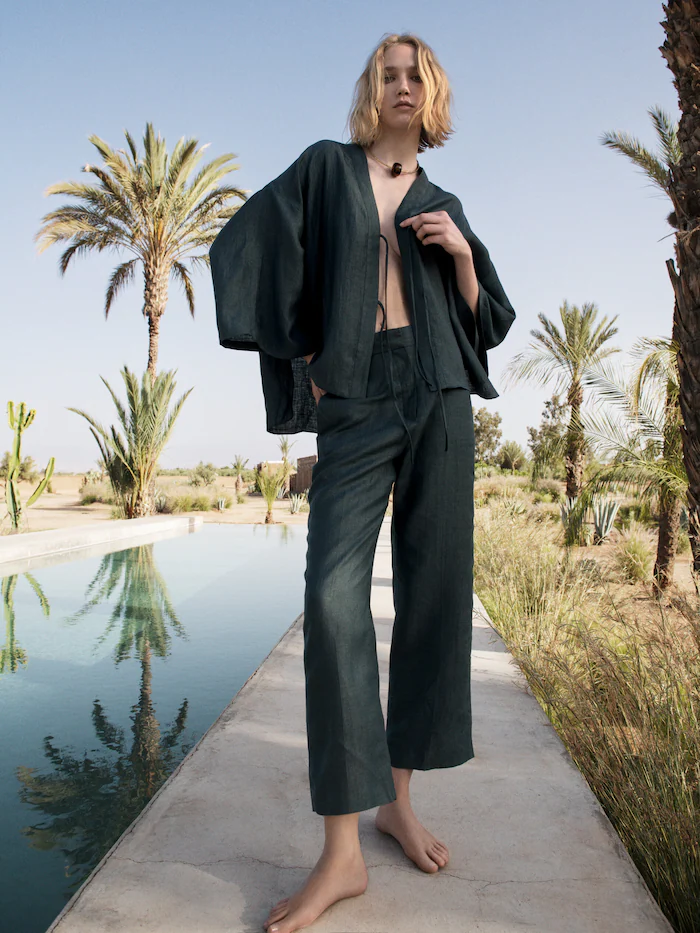 With its Italian-sounding name, the Spanish clothing manufacturer Massimo Dutti has quickly become renowned for their timeless wardrobe essentials and is now available globally. For today's fashion-savvy, Massimo Dutti stands as a premier brand from Spain.
The brand's designs blend classic elegance and modern trends, offering clothing and accessories for all genders. Embrace your style and make an impressive statement with one of the remarkable pieces from Massimo Dutti. Massimo Dutti, now a part of fashion powerhouse Inditex, has over 790 outlets spanning 75 countries worldwide. In addition to clothing, Massimo Dutti offers accessories and unique fragrances for all genders, tantalizing one's senses.
Massimo Dutti boasts a vast array of fashion-forward pieces that will undoubtedly excite any sartorial enthusiast. From classic white shirts to exquisite shoes, they present an unbeatable selection for special occasions as well as everyday wear. They fashion all their products from high-quality materials, ensuring long-term durability.
11. Paco Rabanne
Paco Rabanne is a renowned French fashion house that has been inspiring the world for over fifty years. Its exclusive designs and modern-meets-traditional pieces have cemented it as one of the most sought-after labels in the industry. The brand ushers timeless elegance across catwalks all around the globe. A global brand with an innovative vision, Paco Rabanne celebrates Spanish flair through its iconic collections.
Paco Rabanne offers cool streetwear to timeless high-end couture, establishing itself as an iconic fashion force. Their signature style offers statement sneakers, blazers, casual looks, gowns, and unique jewelry to all. With exquisite artistry and opulent fabrics, Paco Rabanne stands out among the array of luxury brands.
12. Patricia Nicolás
Patricia Nicolás, a creative and imaginative jewelry designer, is the mastermind behind this sophisticated brand. Patricia draws inspiration from her unique style to create timeless and luxurious pieces with a modern touch.
After completing her studies at Central Saint Martins in London in 2006, she founded the Patricia Nicolás Jewelry label. They hand-craft each piece with perfect precision and imbue them with beauty using materials such as gold, rose gold, silver, and diamonds. The result is exquisite beauty that makes it utterly unique
13. Chie Mihara
Chie Mihara, a Spanish footwear brand, has completely transformed the way contemporary women contemplate shoes. Since 2001, the brand has been known for creating chic and comfortable designs that cater to diverse tastes. Due to its use of natural materials and well-crafted silhouettes, this brand is now a leading name for stylish footwear.
Their collections feature a contemporary twist on traditional footwear styles, blending classic silhouettes with modern accents. Chie Mihara creates a stunning range of shoes, from ankle boots to sandals, with both practicality and comfort in mind.
13. Carolina Herrera
Carolina Herrera's brand exudes timeless elegance and sophistication. First Ladies like Jacqueline Onassis, Laura Bush, Michelle Obama, and Melania Trump admire her feminine designs and personal style. Many celebrities, including Renee Zellweger, Nicole Kidman, and Sandra Bullock, love her clothing as well.
In addition to her fashion line, Herrera has also expanded her brand to include fragrance and beauty products. She launched her first fragrance, Carolina Herrera, in 1988, and since then, she has launched numerous successful fragrances.
Today, stores around the world showcase Carolina Herrera's latest collections, which continue to embody opulence and sophistication. Moreover, Herrera's renown as a fashion icon and pioneer in the field affirms her skill and commitment to her art.
Conclusion
Spain is a luxury hub with iconic fashion brands like Balenciaga, Loewe, and Manolo Blahnik. From timeless pieces to modern designs, Spain has it all! If you're looking for something unique yet stylish, there can be no better place to shop than Spain. Don't miss out on exploring Spain's fashion-forward pieces when shopping for something special.
Make sure that Spanish fashion tops your list of must-haves when shopping around. You will turn heads and make a statement about who you are in the process. Invest in timeless elegance with these renowned Spanish apparel companies and experience exquisite beauty on an entirely new level.
If you liked this article about luxury fashion brands from Spain, consider checking out these other articles —