"Dressing for Dream Destinations" is a travel series that takes us across the world to daydream about what we'd wear to various locations. (See previous posts on what to wear in Russia, Morocco, South Korea, India, and Australia.)
Spain is probably on your bucket list of countries to visit due to its alluring culture and beautiful weather. This European country is home to a rich variety of diverse cultures and geography containing 17 autonomous regions. Spain holds the third-largest number of UNESCO World Heritage Sites.
If you're wondering what to wear in Spain, here's what I'd pack to visit popular parts of the country:
What to Wear in: Madrid 
Madrid is the capital of Spain and is the third-largest city in the European Union (after London and Berlin, respectively). Madrid blends modern culture with historical buildings like no other city. Must-visits include the Prado Museum, Plaza Mayor, and (just a few blocks away) the Puerta del Sol. Take a stroll in Retiro Park and eat to your heart's content at the beautiful and historic cast-iron-and-glass market, the Mercado de San Miguel.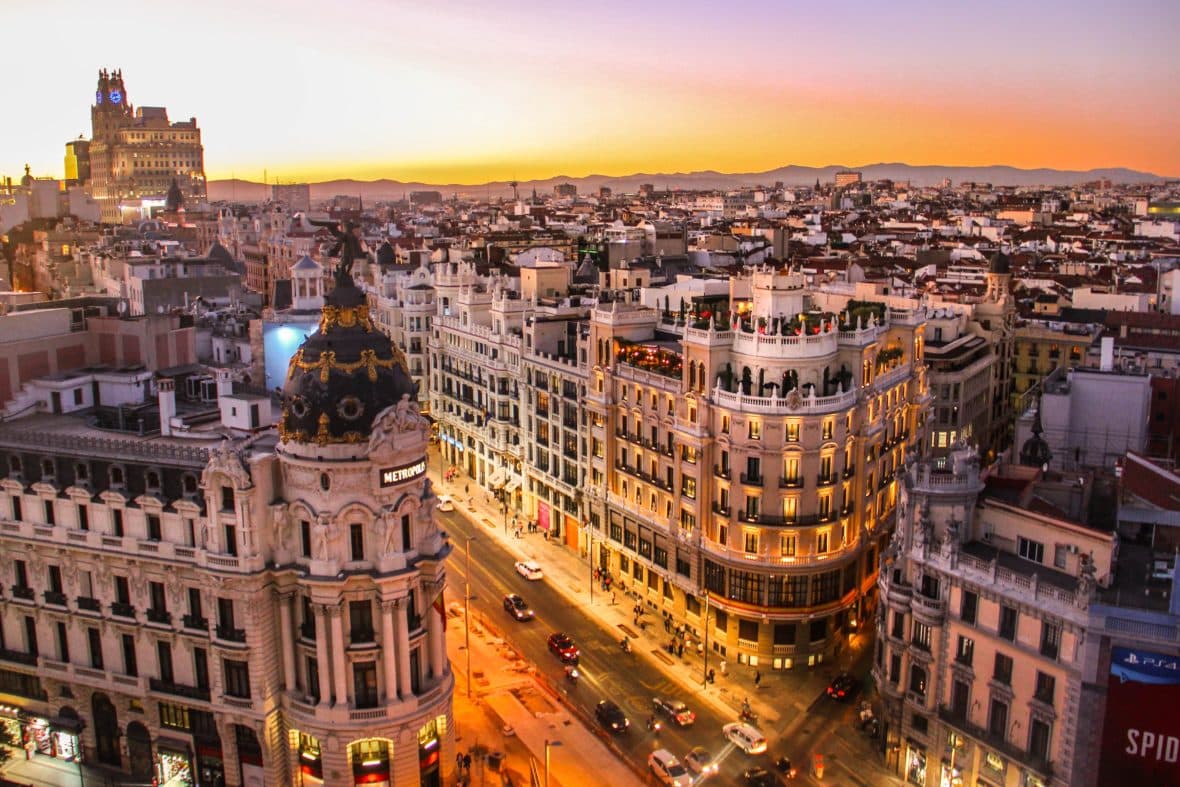 While many locals dress sharply, many younger locals dress in a relaxed, Bohemian style.
Here's some outfit inspiration for a blended combination of both styles so you'll never look out of place.
This maxi dress is gorgeous and easy to pack. A sturdy set of heels and a cross-body bag will be useful for a whole day walking on cobbled streets. A turquoise necklace will break up the monotony of an all-black outfit.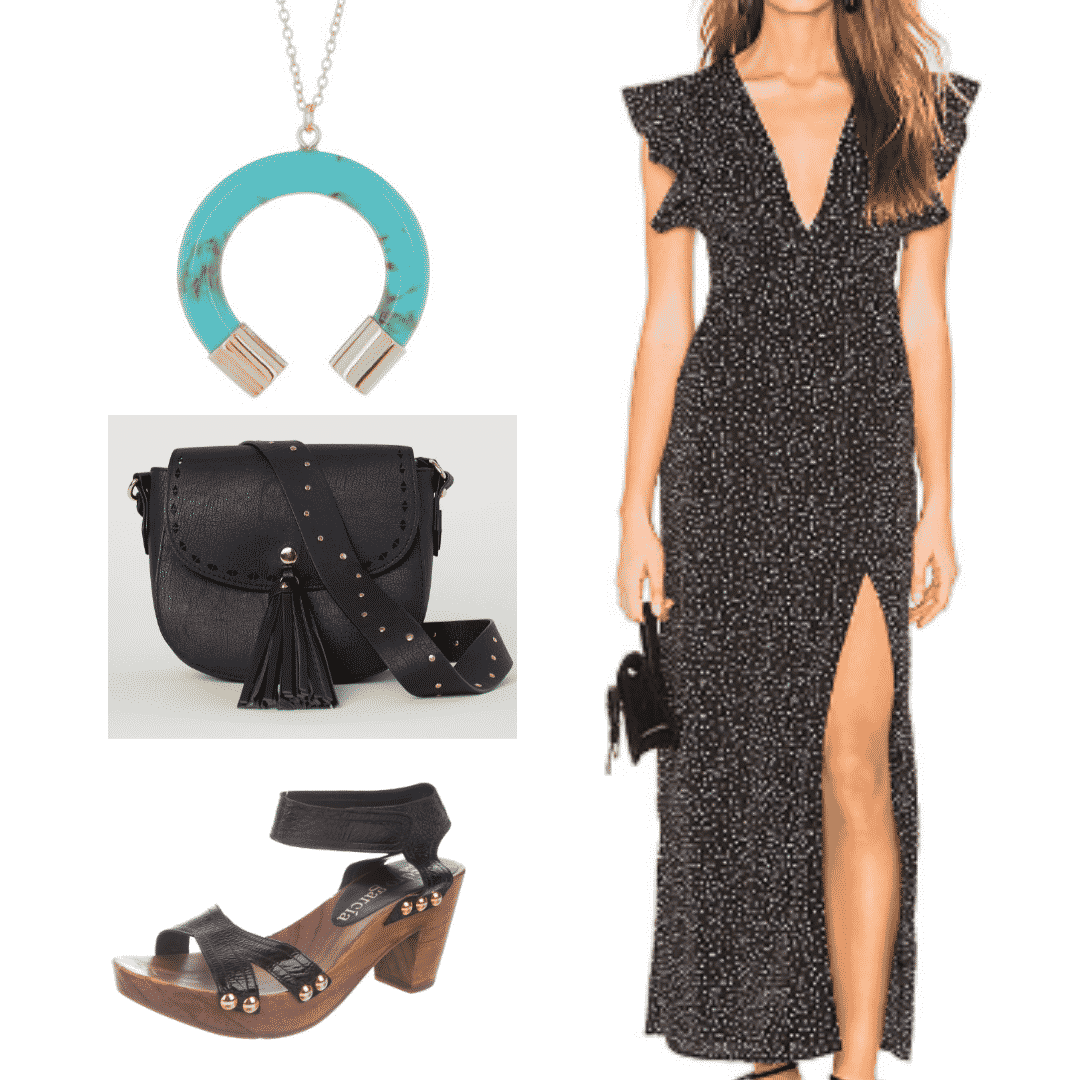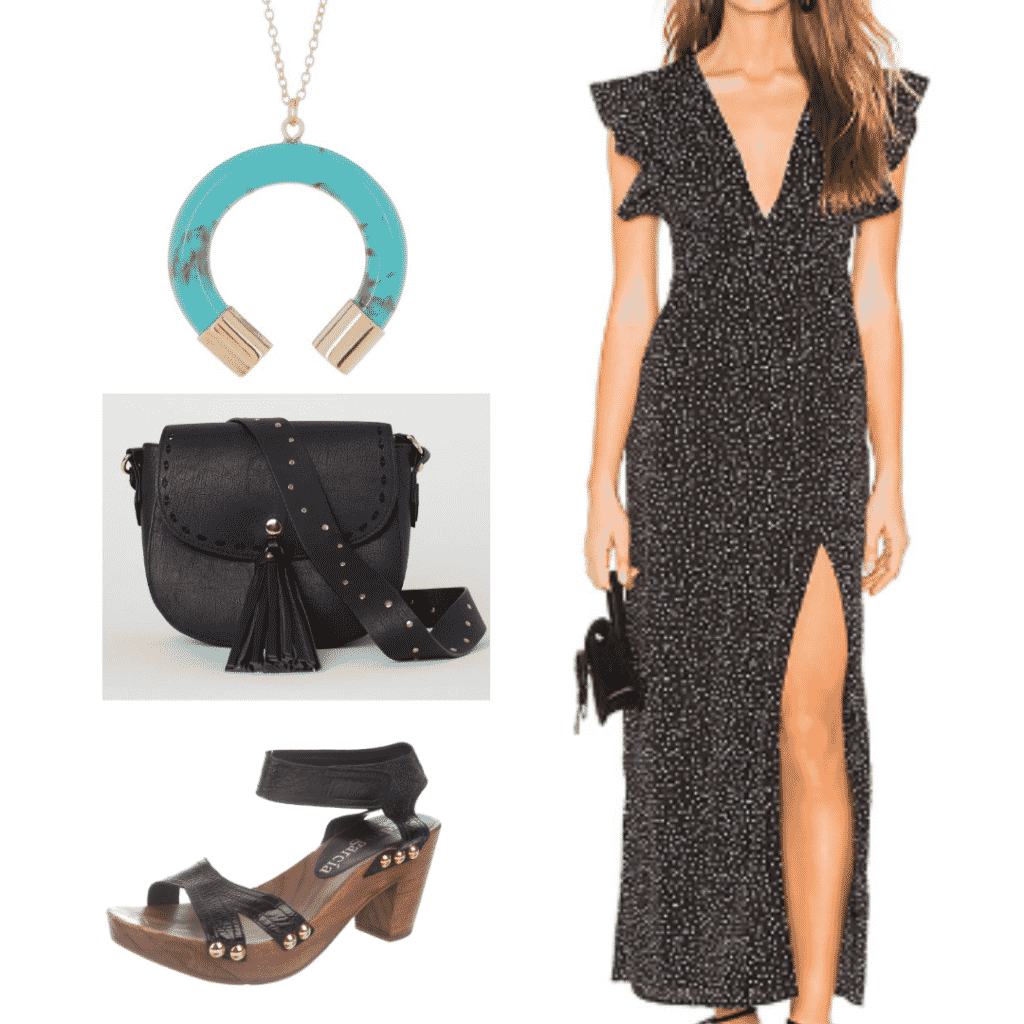 Products: Dress – Revolve, Shoes – The RealReal, Bag – H&M, Necklace – Nordstrom Rack
What to Wear in: Barcelona
Barcelona is the 2nd largest city in Spain and the capital of the autonomous region of Catalonia. Both Spanish and Catalan are official languages in this gorgeous coastal city.
The Mediterranean climate and unique architecture help pull in the third-largest amount of tourists in Europe, after London and Paris.
Most of the unique Art Nouveau architecture mentioned can be attributed to Antoni Gaudí, who is responsible for 7 out of 9 Barcelona UNESCO sites- La Sagrada Familia, Parque Güell, Palacio Güell, Casa Mila, Casa Vicens, Casa Batlló, and the Crypta Güell.
For sports fans, Barcelona is home to one of the most popular football (soccer) clubs, FB Barcelona.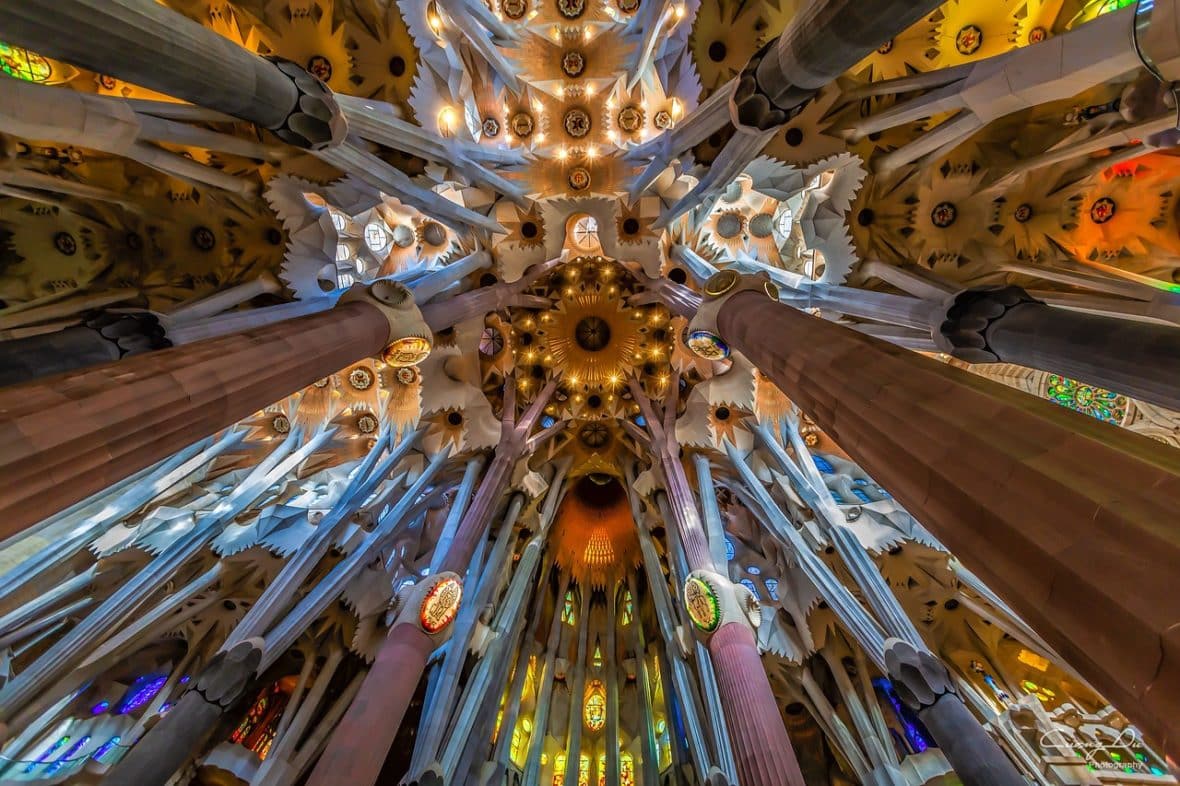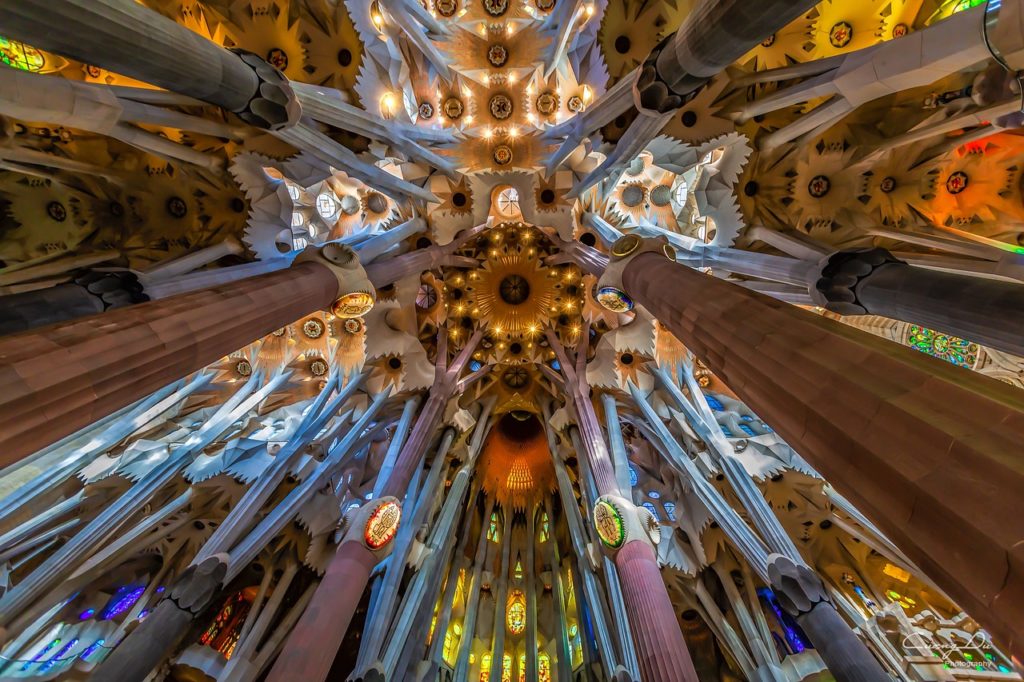 A blouse that covers the shoulders means you won't offend anyone when visiting the many churches.
This outfit is also comfortable enough even after eating all the tapas you want. Order a tapas dish called la bomba, a tennis-ball-sized potato croquette — you won't be disappointed.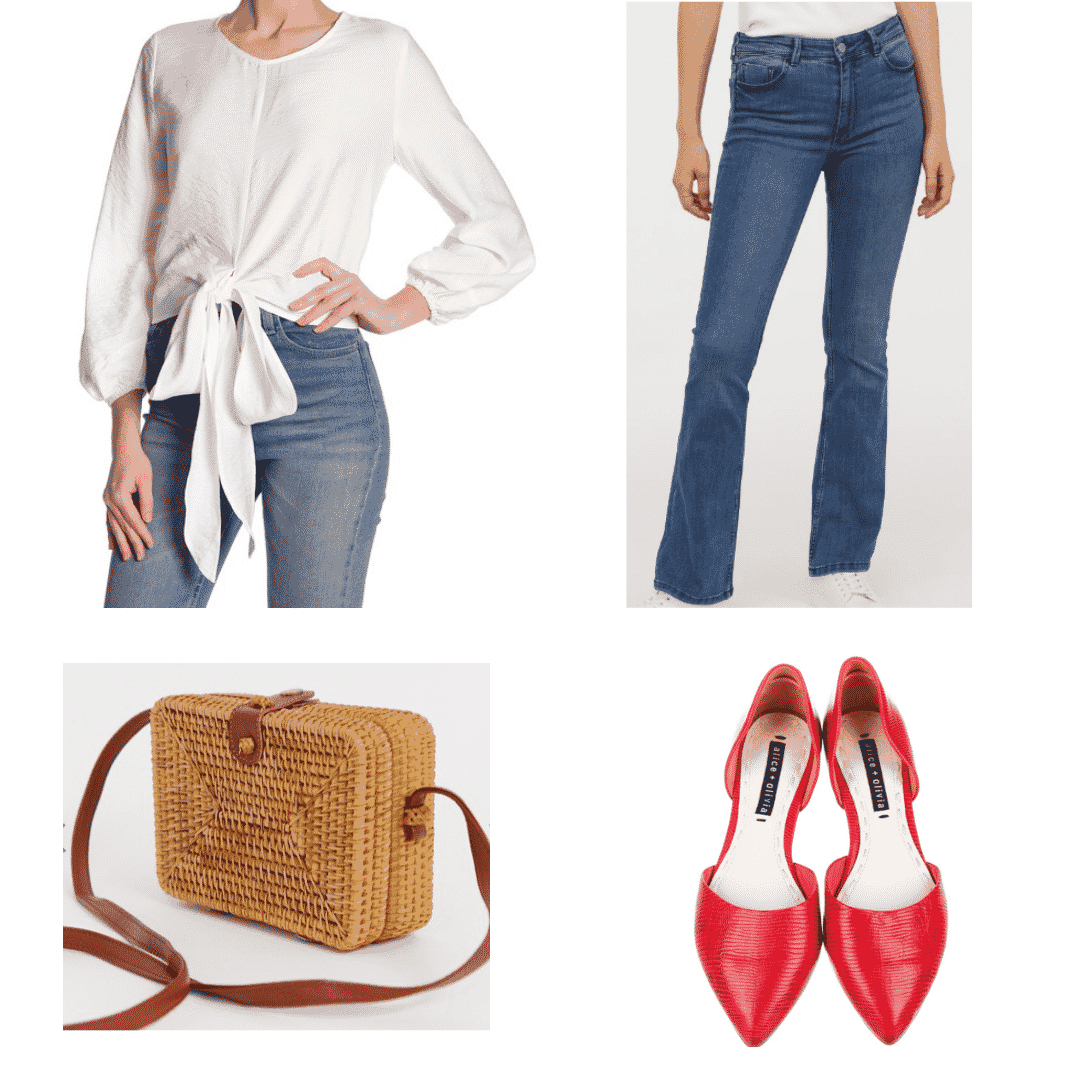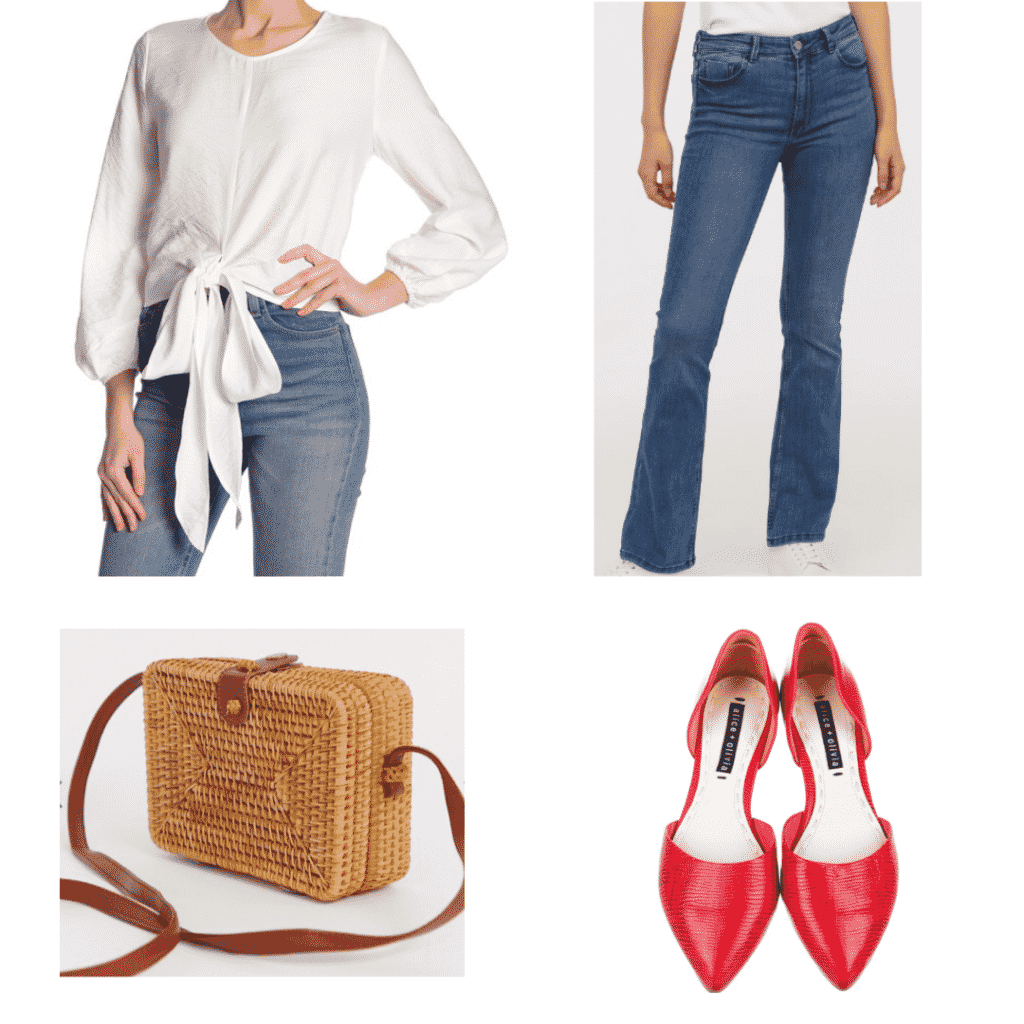 Products: Top – Nordstrom Rack, Jeans – H&M, Bag – ASOS, Shoes – The RealReal
What to Wear in: San Sebastián
San Sebastián is a Basque coastal city located 12 miles from the border of France. "Pintxos" is the Basque word for tapas, and there are plenty of places to enjoy them here.
Small portions and affordable prices make this city one of the best places for food-lovers, as you can sample all the different pintxos they offer. Basque cider is also a huge part of the gastronomical culture here, so make sure to stop by a brewery.
La Concha is often hailed as one of the best urban beaches in Europe, so you can relax here after exploring the Old Town and museums.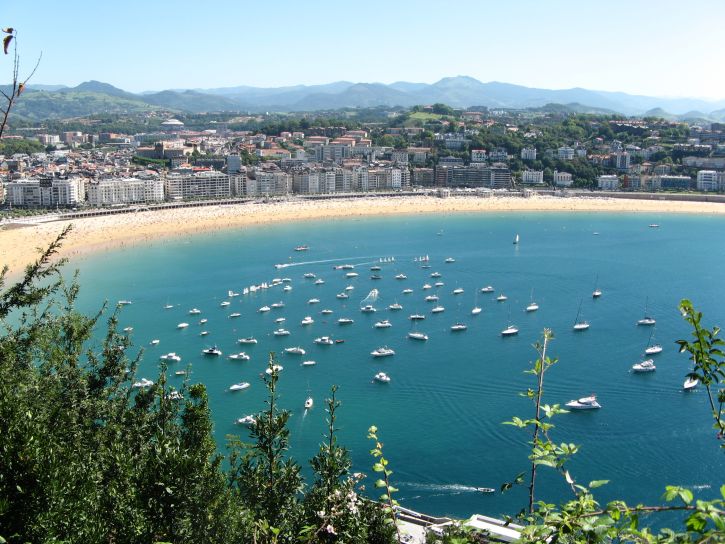 When you're thinking about what to wear in Spain, floaty skirts and ruffle tops might jump to your mind. These two, in contrasting but complementary patterns, will look great together.
Finish the look with seaside staples like comfy sandals and dainty jewelry.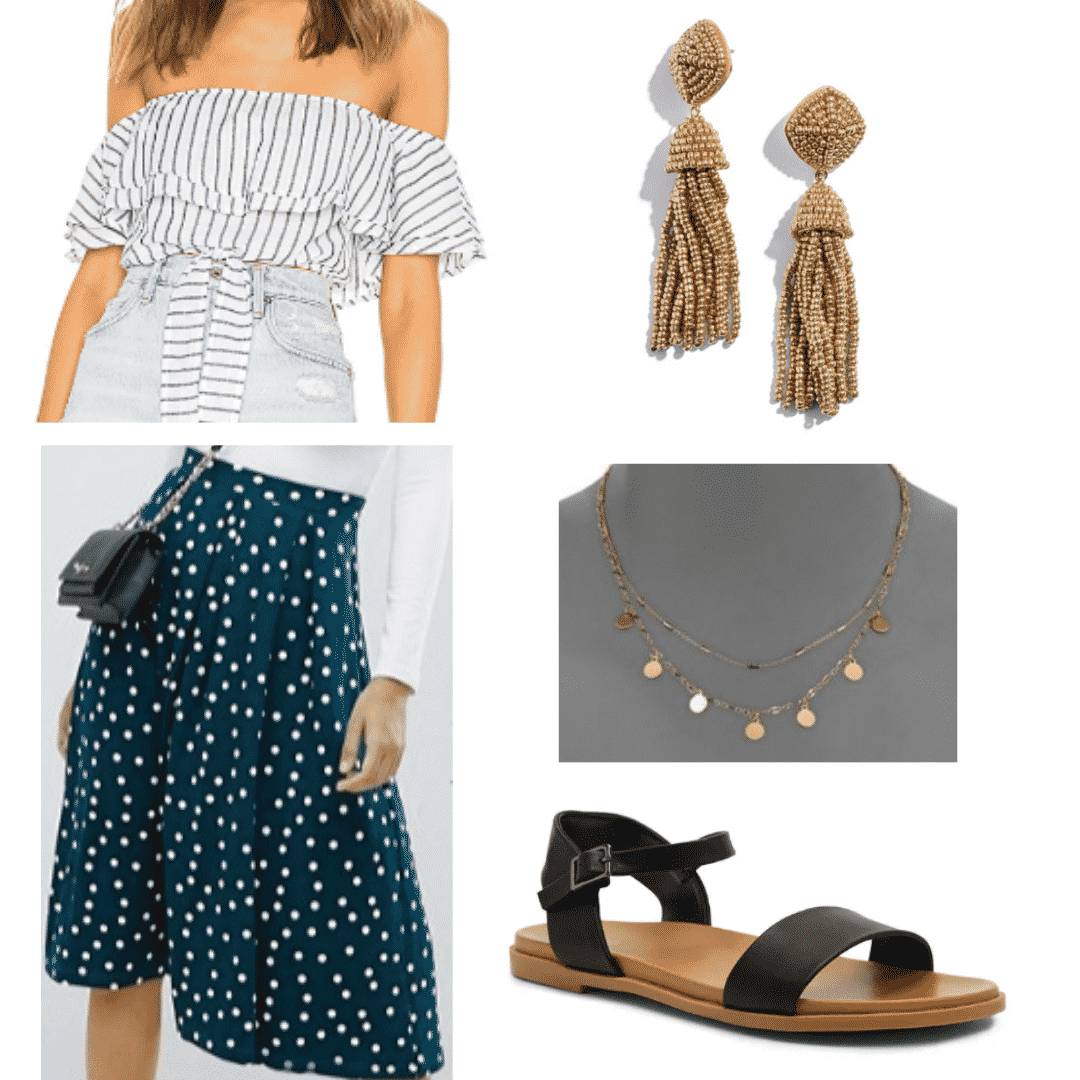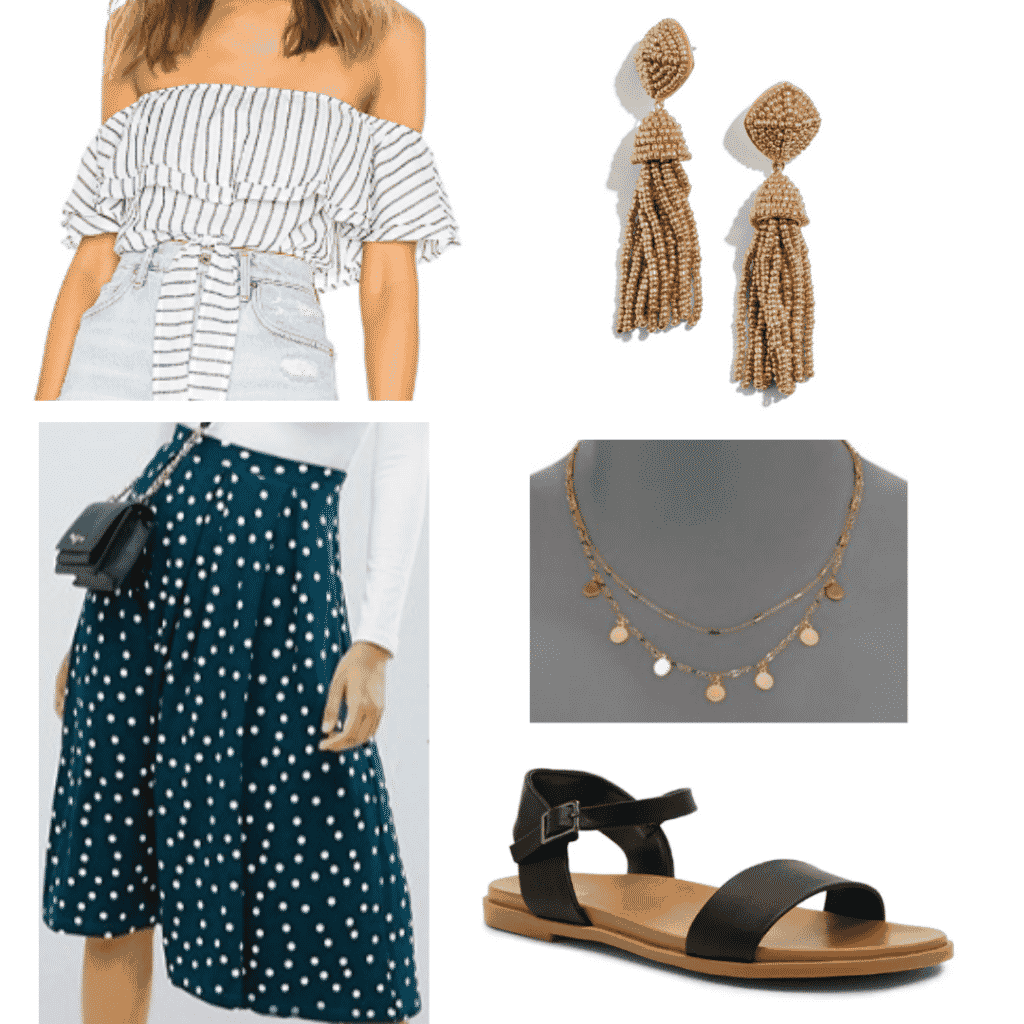 Products: Top – Revolve, Skirt – ASOS, Shoes – Forever 21, Earrings – Nordstrom, Necklace – Saks Off Fifth
What to Wear in: Seville
Seville is the capital of Andalusia and arguably the birthplace of tapas. The region of Andalusia is also the origin of flamenco dancing.
The city is full of wonderful architecture. The Real Alcazár (pictured below) is a Spanish royal palace still in use by the royal family. The Catedral de Sevilla is the largest Gothic building in Europe and the final resting place of Christopher Columbus.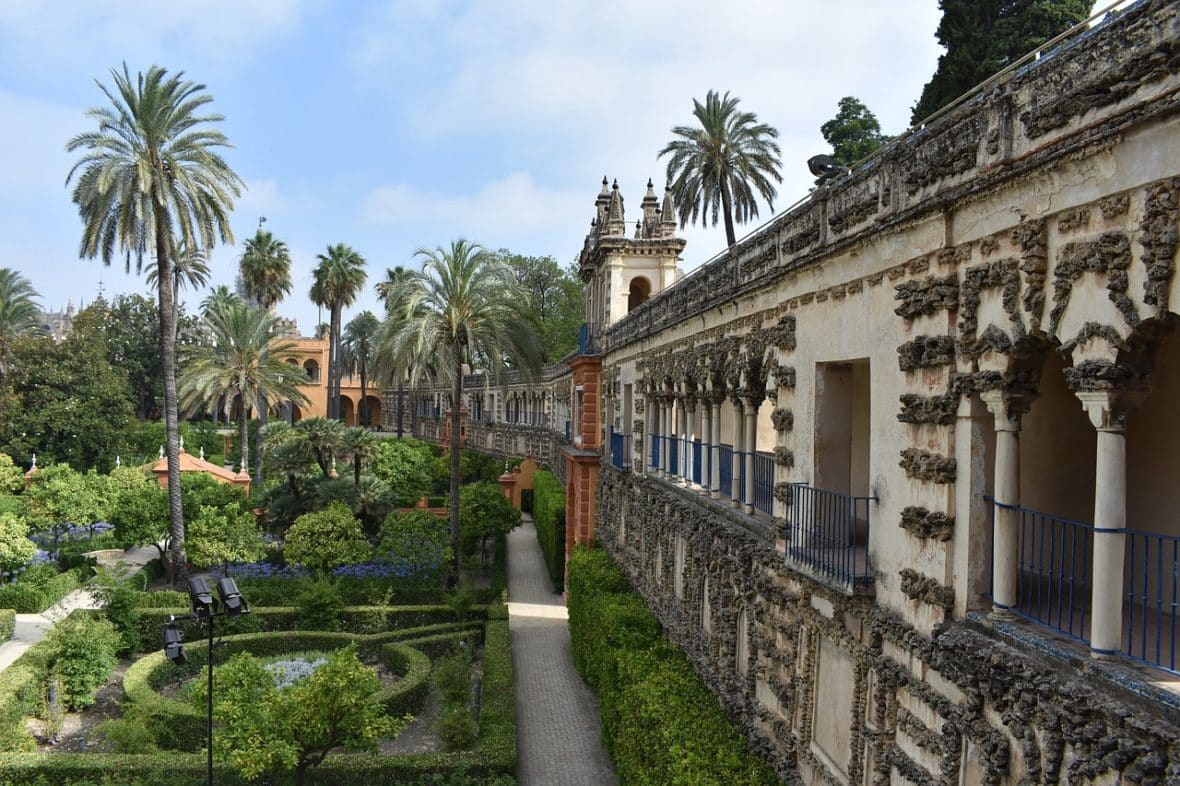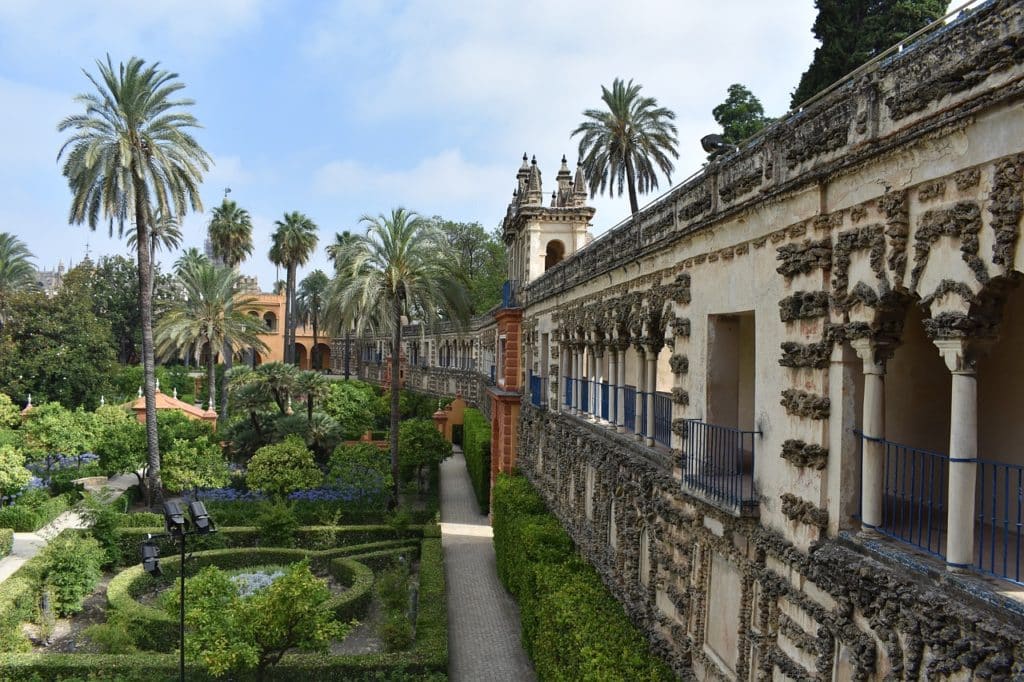 After exploring Seville in the day, this outfit will easily transition into a night out to see a flamenco show – especially if you want to join in on the dancing!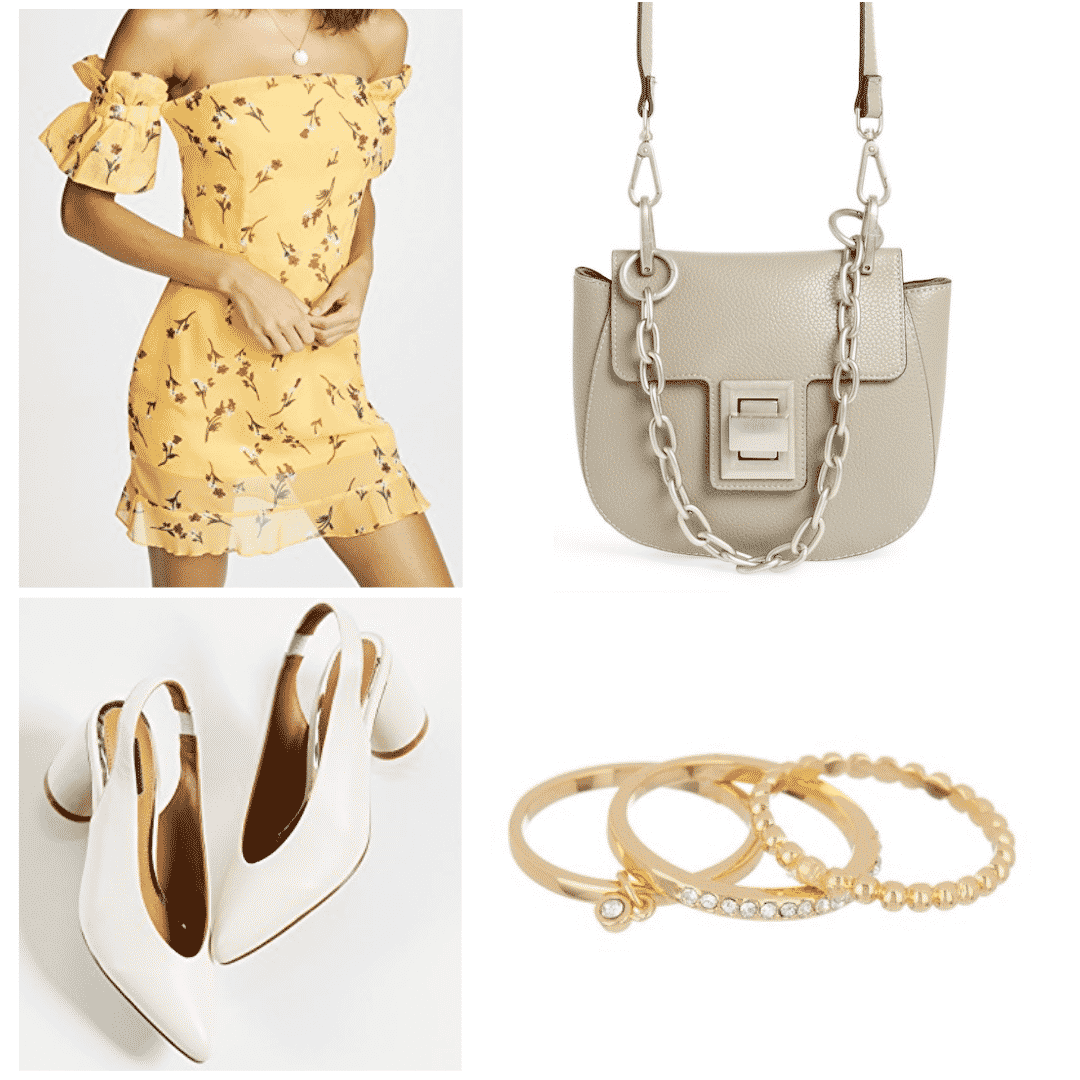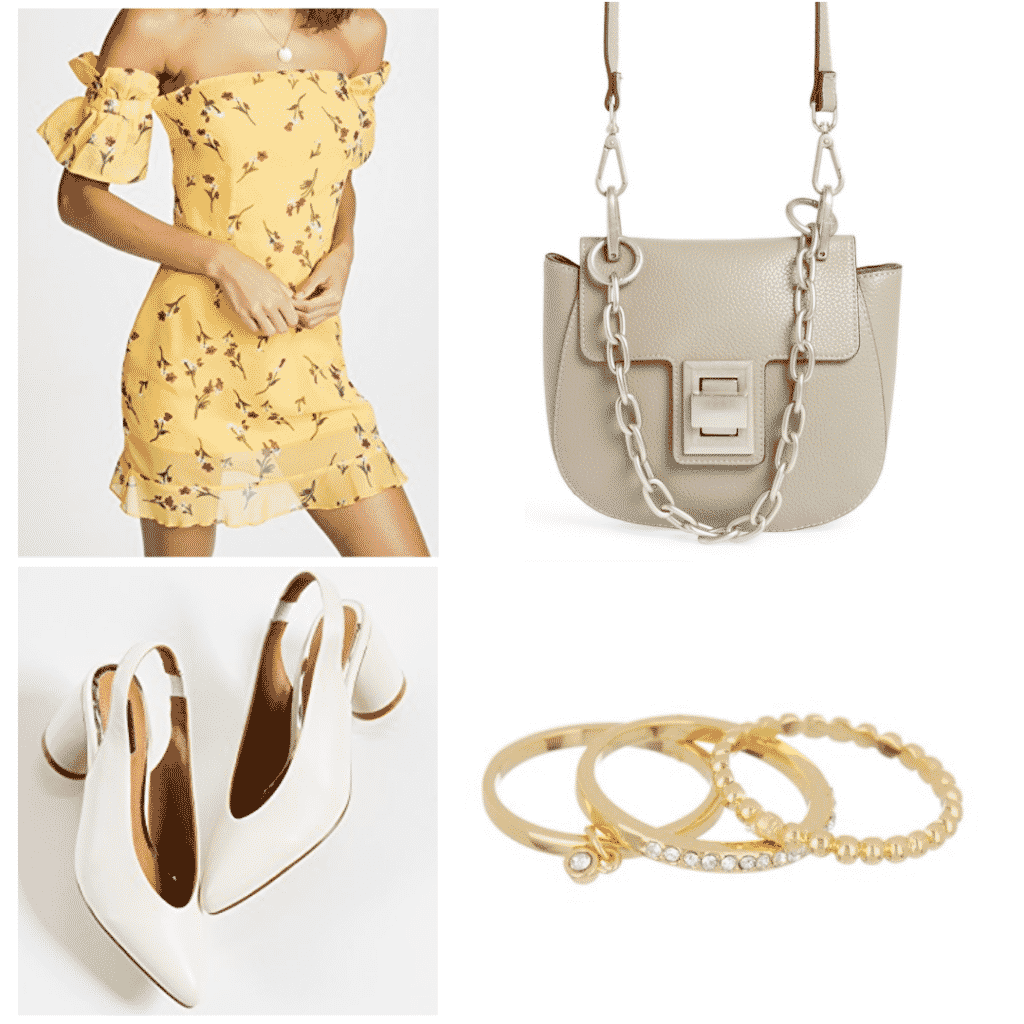 Products: Dress – Shopbop, Shoes – Shopbop, Bag – Nordstrom Rack, Rings – Nordstrom Rack
What do you think?
Did this help you decide what to wear in Spain? Have you been to Spain? If so, what did you pack? Tell us in the comments section below.