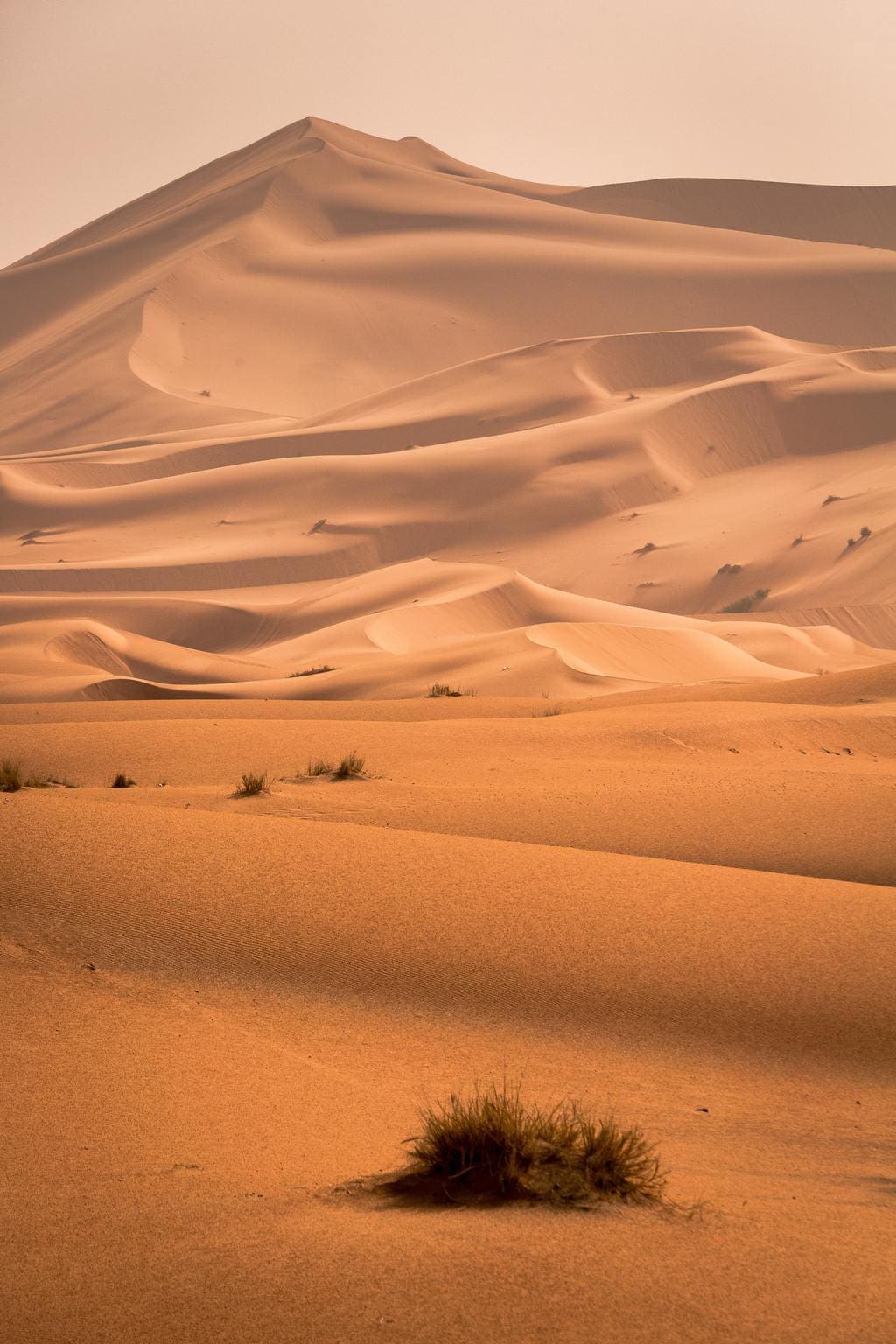 "Dressing for Dream Destinations" is a travel series that takes us across the world to daydream about what we'd wear to various locations.
Morocco is a beautiful country containing a unique blend of Arabian, European, Berber, and African cultures. However, visitors are expected to follow their custom of dressing modestly so that means packing lots of layers, long dresses, and breezy scarves! Respecting local dress will also make your trip smoother and more enjoyable.
What to Wear in: Marrakesh
Marrakesh is known as Morocco's "Jewel of the South" and is a bustling city with lots to offer to fashion lovers. The Majorelle Garden is a beautiful place for pictures and the final resting place of Yves Saint Laurent, who bought the property in the '80s.
With such beautiful backdrops, a bold, long-sleeved maxi dress with comfy sandals is perfect for trekking around the city snapping photos.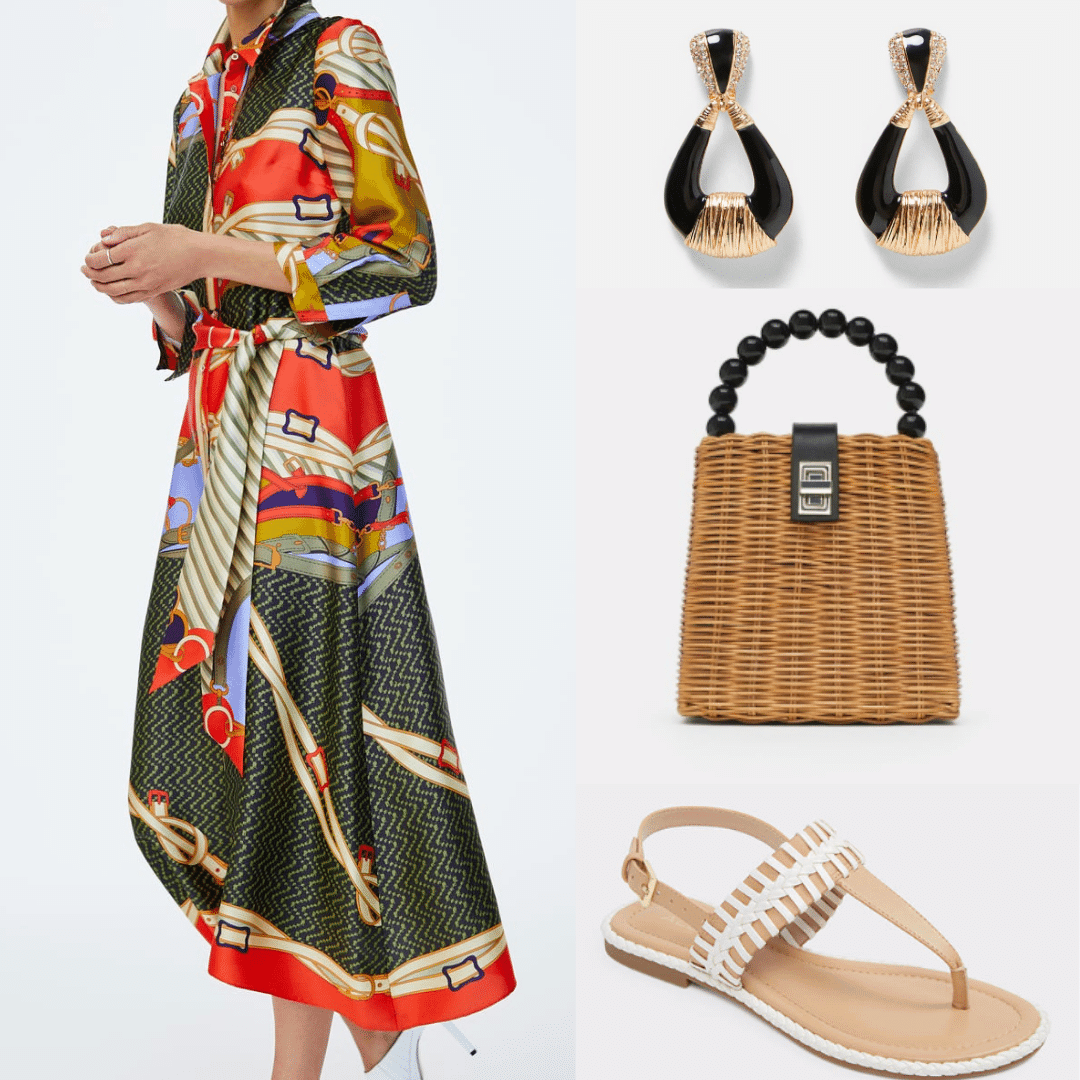 Products: Dress – Zara, Shoes – Aldo, Bag – Zara, Earrings – Zara
What to Wear In: Chefchaouen
The "Blue Pearl of Morocco" is a town that is, well, blue. Every building and set of stairs is covered in a distinct blue paint. You'll even see furniture in the blue hue!
A neutral dress will help you pop against the bright and colorful background, while sneakers will help you run up and down the hills and stairs.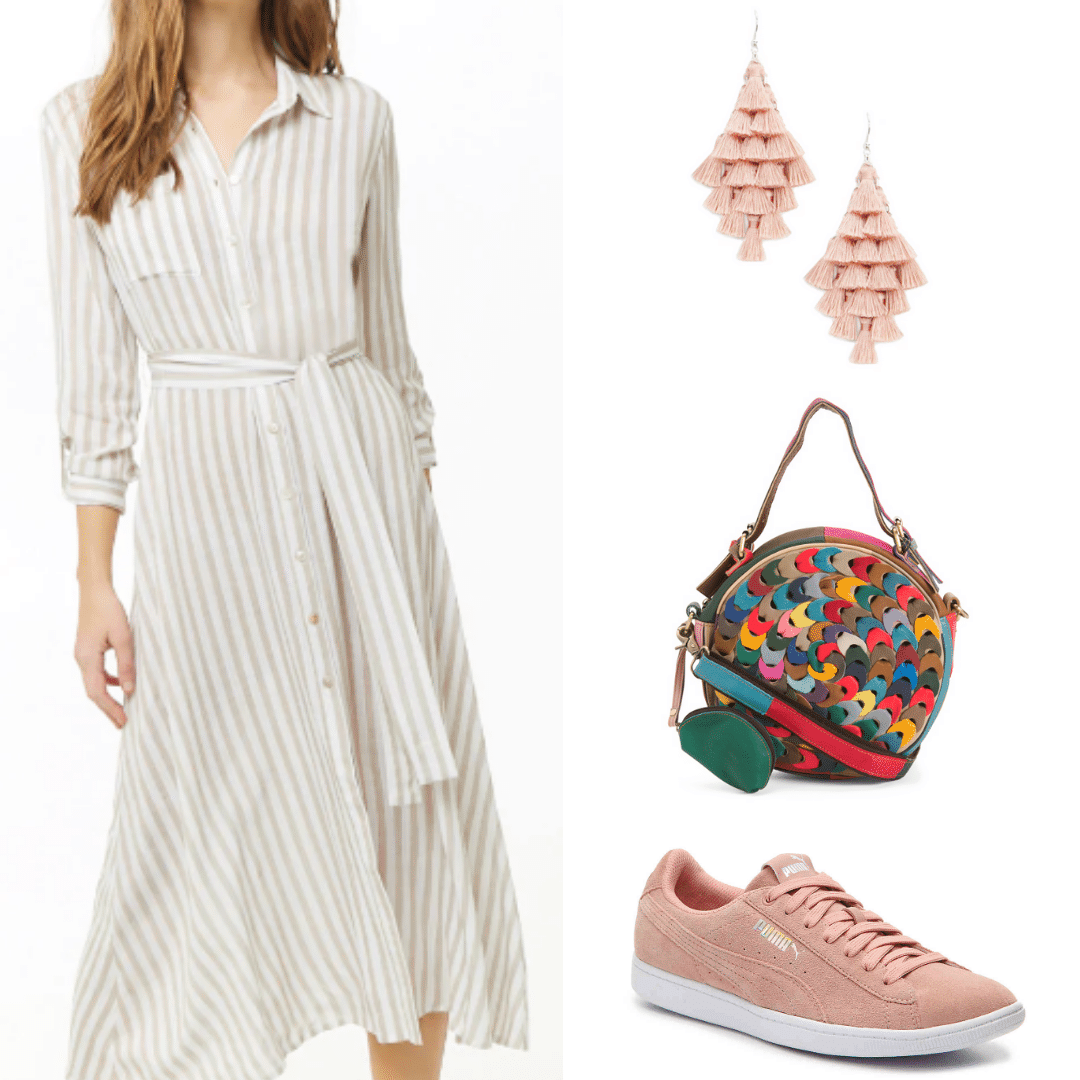 Products: Dress – Forever 21, Shoes – DSW, Bag – TJ Maxx
What to Wear In: Casablanca
The movie Casablanca might have been filmed in Hollywood but the city it's based on has its own charm. Located near water, it is the most populated city in Morocco. Exploring Casablanca is your chance to see Morocco through the eyes of a local.
Casablanca is a port city, so the temperatures can fluctuate throughout the day and night. Layers are your best bet so you can add and remove as needed. A hat to shield your eyes from the sun and comfy loafers will help you navigate a full day through Morocco's largest city.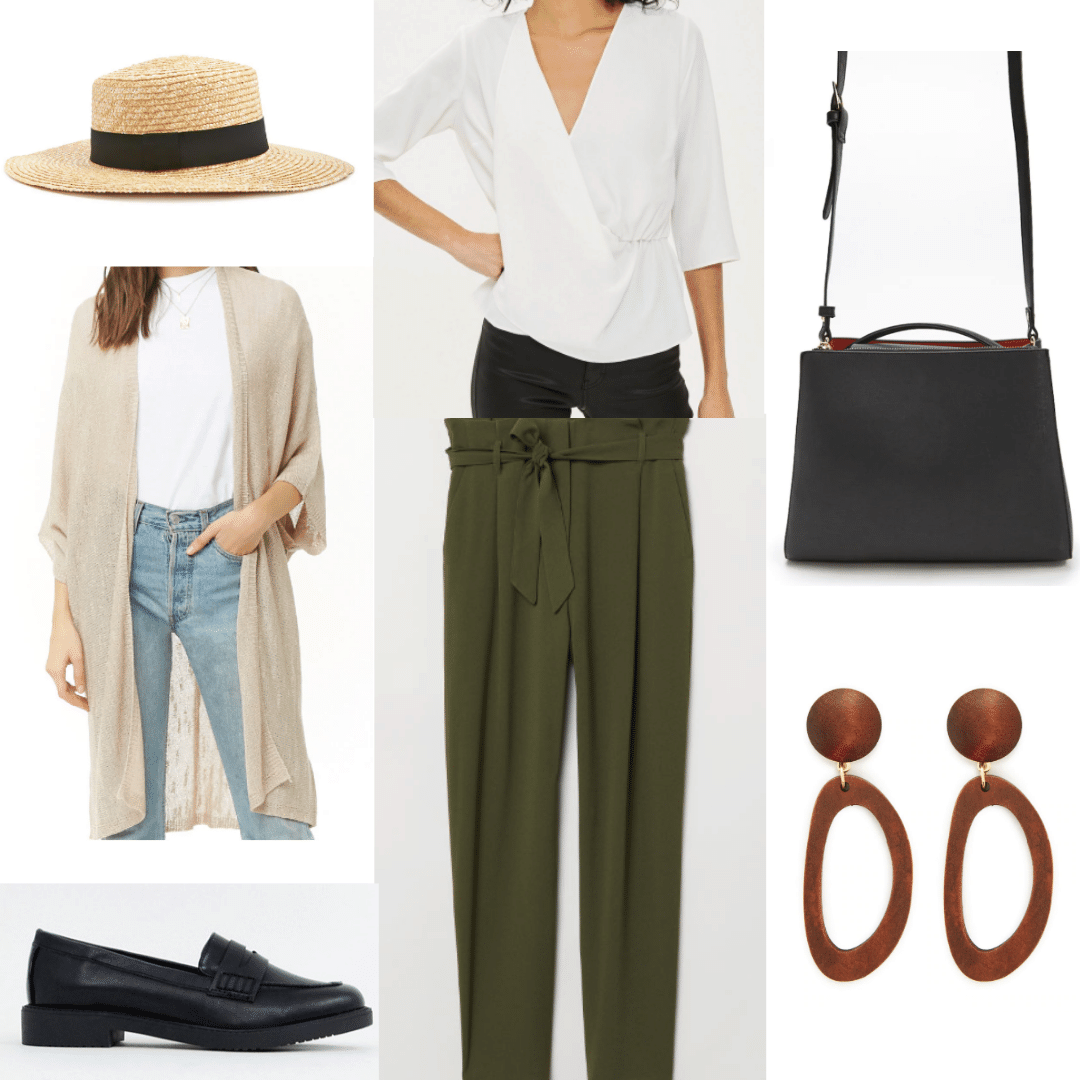 Products: Pants – H&M, Top – Topshop, Cardigan – Forever 21, Bag – Forever 21, Earrings – Forever 21
What to Wear in: Fez
Fashion history lovers will know that Fez is the originating source of the eponymous red, tasseled hat and is one of the most interesting cultural cities of Morocco. The medina is one of the largest car-free zones in the world and is a UNESCO World Heritage site. You could wander in this maze all day and still have more to explore the next day!
It's easy to get lost in the sprawling souks in Fez, so a crossbody is necessary to fit your external battery and extra maps – maybe even an emergency snack! You'll also do lots of walking so comfortable flats are a must.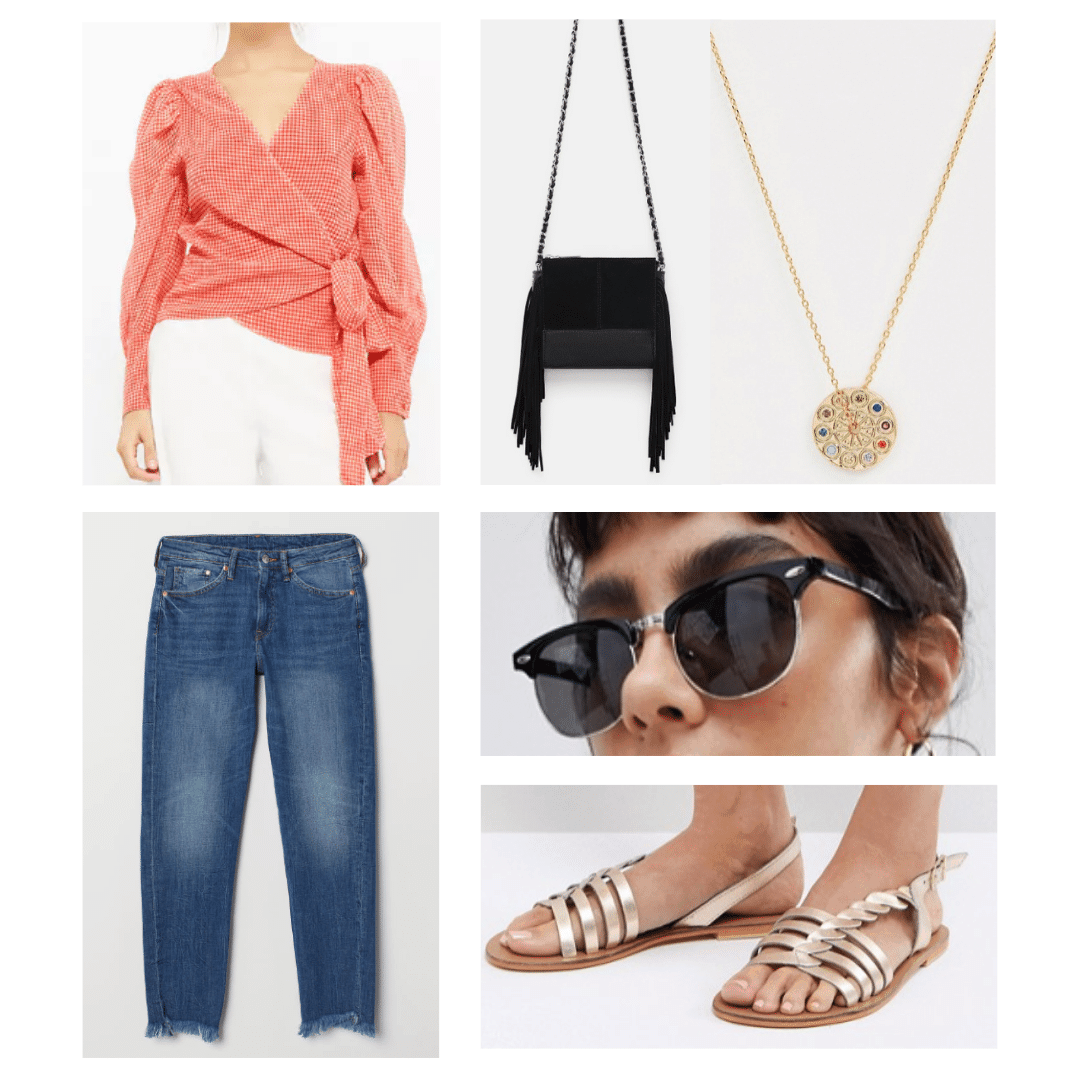 Products: Top – Forever 21, Pants – H&M, Shoes – ASOS, Bag – Zara, Sunglasses – ASOS, Necklace – ASOS
What to Wear In: The Sahara Desert
One of the most popular guided tours in Morocco is to the out-of-this-world Sahara Desert. You can spend the night or multiple nights living in tents set up in the sand. Due to the low light pollution, the stars are extremely clear at night and watching the sunrise over the dunes is a once-in-a-lifetime sight.
While hot in the day, it can get very chilly in the desert once the sun starts to set. Bring a hat for the daytime and a shawl for the evenings. A loose jumpsuit will help you hop on and off the dromedaries!
What are your dream destinations?
Have you ever been to Morocco? If so, what did you wear? What's your dream travel destination? Tell us in the comments section.