This post may contain affiliate links, which means we may receive a commission if you purchase through our links. Please
read our full disclosure here
.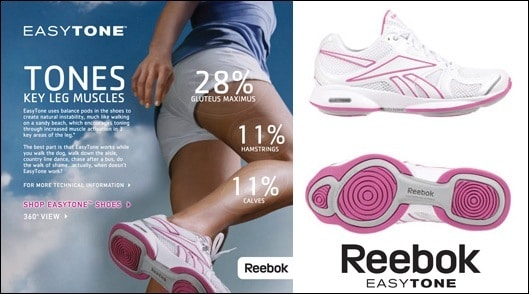 Well, it's been a month since I started the Reebok EasyTone Challenge, so I thought I'd post my final results. Read on to hear my thoughts on the shoes. Even better, EasyTone has offered to do a giveaway for CF readers, so make sure to see the end of this post for details on how you can win a pair of EasyTone sneakers for yourself!

The EasyTone Challenge
To recap, a month ago I decided to test out the new Reebok EasyTone shoes which are supposed to tone your legs while you walk around in them. I'm trying to get in shape for summer, so I figured if it was possible to tone my legs without any extra effort, it'd be worth it. I updated with my progress a few weeks ago, and now my final results are below.

My Results
After 30 days, I have to say, I haven't noticed any changes in the way my legs or butt look. I am honestly a little sad about this because I really wanted the shoes to work, but here's why I believe they didn't work for me.
First of all, I didn't wear them all the time. I am NOT a fan of running shoes with jeans, and I'm never going to sacrifice style just to tone up. So I decided to only wear the EasyTone's around the house – never outside. This was probably the main reason they didn't work for me. These shoes probably work best when they're worn for all your daily activities – but what stylish girl would want to do that? I'm not willing to wear athletic shoes outside unless I'm exercising, period.
Second, wearing them around the house didn't give me lots of time to walk around in my EasyTones. I spend most of my day working at the computer, so I don't walk around constantly when I'm in my apartment. I'm sure if I was more active at home during the day, they would have worked better as well.
That said, it did FEEL like the shoes were working my muscles. They are supposed to create natural instability similar to walking on the beach, and I did notice that feeling. It also felt like my muscles were working harder than usual when I was walking around in my EasyTones, so that might be an indication that they'd work if I wore them more often.

The Verdict
Overall, I think the EasyTone sneakers show promise – they definitely feel like they make your muscles work harder than normal. That said, I think they would work best for someone who would wear them all day for their everyday activities. This would be someone who didn't care about fashion and just wanted to get in shape. Unfortunately, that's not me.

The Giveaway – Win a pair of EasyTones!
Now on to the fun part – a giveaway! Even though the shoes didn't work for me, you might have different results. If you want to take the EasyTone Challenge for yourself, Reebok is giving away a pair of EasyTone sneakers to one lucky CF reader!
Here's how to enter: comment on this post (make sure to include your email address) and tell us the craziest thing you've ever done to get in shape for summer. Did you try some ridiculous fad diet? Run up and down the stairs constantly? Put weights in your socks? Let me know in the comments section and you'll be entered to win a pair of EasyTone sneakers in your size and preferred color.
The contest will stay open until midnight on Sunday, May 24th, and I'll randomly choose one winner from all the entries. Only one entry per person, please – duplicate entries will be deleted.
Good luck to all of you – I'll announce the winner on Monday!