This post may contain affiliate links, which means we may receive a commission if you purchase through our links. Please
read our full disclosure here
.
Welcome to awards show season, CF readers! For the next full month, we'll be recapping all of the major red carpet events — the SAG Awards, the Grammys and — of course — the Academy Awards. We're kicking things off with a fashion recap of last night's Golden Globe Awards. Scroll on to check out our favorite looks from last night:
Top 5 Best-Dressed
Here are my picks for best dressed at the 2012 Golden Globes, in no particular order:
Nicole Richie in Julien Macdonald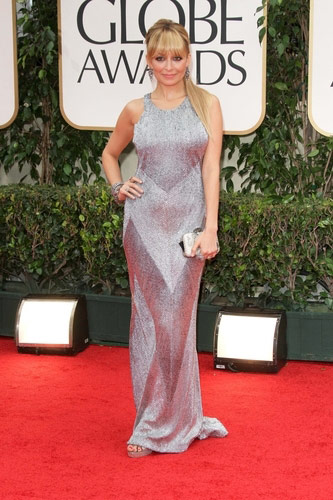 Photo: PR Photos
Presenter Nicole Richie donned a slinky, floor-skimming Julien Macdonald number at the Globes this year. Her super-shiny metallic gown looked lovely on the red carpet and Nicole completed her look with a voluminous, '60s-esque ponytail, vintage earrings and accessories from her House of Harlow 1960 line.
Claire Danes in J. Mendel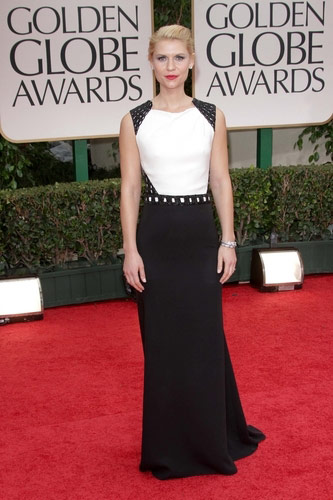 Photo: PR Photos
Last night Claire Danes rocked a J. Mendel gown that was meant to be viewed from behind. (Click here to view more pictures so you can get the full effect!) While the front her dress was a little tame, the gorgeous cut-out back skyrocketed it to the top of my list. The sparkly sequined detailing made this gown a true standout on the red carpet.
Emma Stone in Lanvin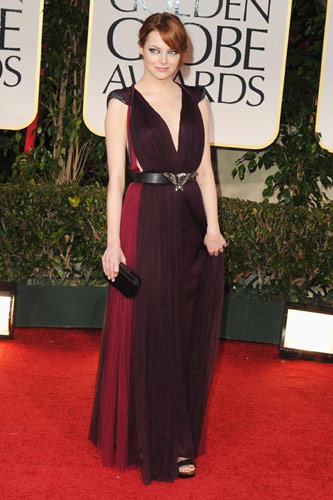 Photo: ELLE
Disclaimer: I have a HUGE girl crush on Emma Stone, however, I don't think that it influenced my decision to include her on best-dressed list. In fact, I would have loved this Lanvin gown on anyone, but the fact that Emma wore it made it all the more perfect. The luxe velvet, burgundy hues mixed with fuchsia, and eagle-adorned belt all made this frock a winner in my book.
Charlize Theron in Dior Couture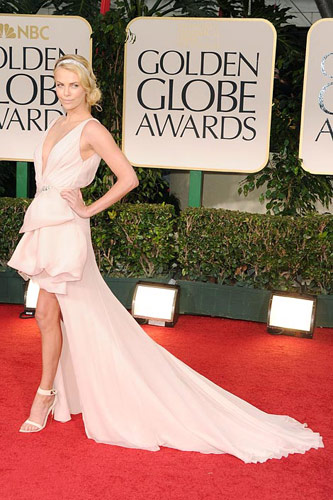 Photo: ELLE
Charlize proved that it definitely pays to be Dior's spokesperson by wearing a beautiful couture gown created by the design house. Her pale pink '20s-style gown featured a deep, plunging neckline and sculptural bustle, and she completed her look with a side-swept updo adorned with a jeweled headband.
Evan Rachel Wood in Gucci Premiere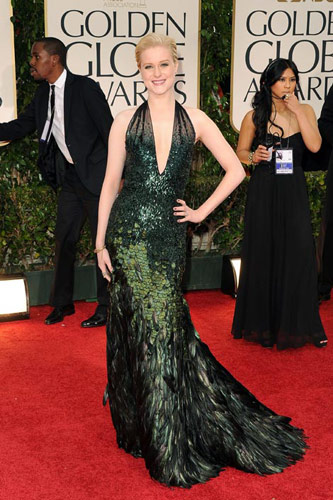 Photo: ELLE
Every red carpet needs a little extravagance, so I was happy to see Evan Rachel Wood rocking this couture gown at the Globes last night. This sequined and feather-adorned Gucci gown exuded Old Hollywood glamour with a modern twist. Texturally, it looks amazing and I really loved the gradient of dark green shades. What did you think of Evan's look?
Other Notable Ensembles
Although they didn't quite make my top 5 list, here are some other gowns that made a buzz on the red carpet last night:
Rooney Mara in Nina Ricci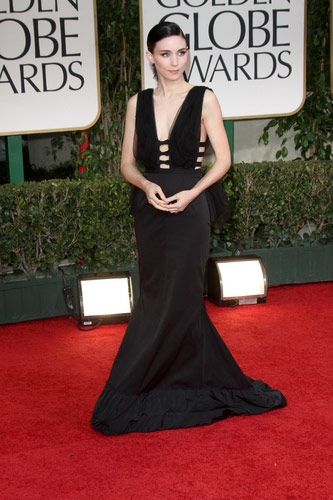 Photo: PR Photos
The Girl with the Dragon Tattoo actress went with an ever-classic LBD for last night's ceremony. Rooney's sleek Nina Ricci gown featured a plunging neckline and cutouts, which created a modern, sultry vibe. She kept the rest of her look clean and simple with minimal makeup, a sleek ponytail and zero accessories.
Sarah Michelle Gellar in Monique Lhuillier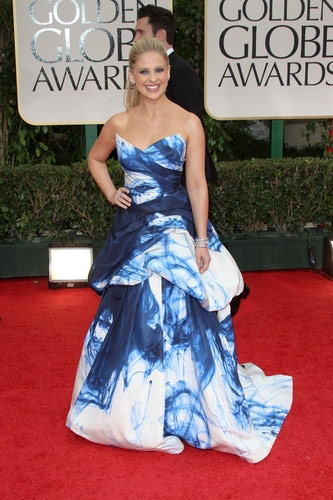 Photo: PR Photos
Sarah Michelle Gellar stepped out in a daring, tie-dyed Monique Lhuillier gown last night. This dress was pretty controversial among fashion commentators – it's one of those looks that you either love or hate, with no in-betweens! Sarah did explain her out-of-the-box fashion choice on the red carpet — it turns out her two-year-old daughter picked out the gown, which is pretty adorable (and makes a lot of sense!).
Angelina Jolie in Atelier Versace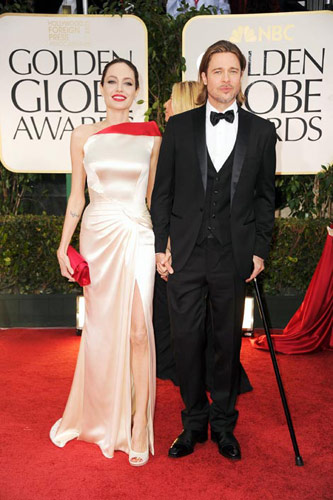 Photo: ELLE
Fashion-wise, Angelina Jolie can do no wrong in our eyes and she didn't disappoint at the Globes this year. She wore a silky, cream-colored Atelier Versace gown with gorgeous red detailing on the neckline and pulled it off in a way that only Angelina could. She even matched her red lipstick to her bag and dress, which is a prime example of color coordination at its finest.
Zooey Deschanel in Prada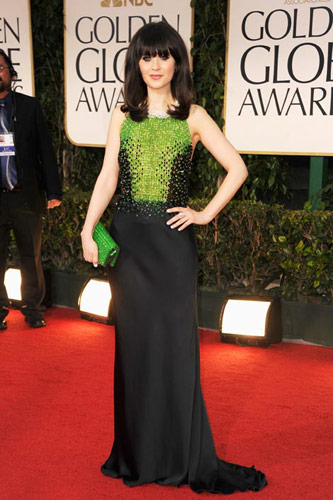 Photo: ELLE
New Girl's Zooey Deschanel got to wear custom-made Prada for her first trip down the Golden Globes red carpet and this fitted, floor-length gown was certainly a departure from Zooey's typical short, vintage-inspired A-line frocks. Personally, I loved the beading on the bodice, but wish it had extended a bit further onto the bottom half of the dress. Oh, and for all you nail art fans, Zooey also rocked a tuxedo mani last night — so cute!
Least Favorite Look
Unfortunately, not every celeb knocks it out of the ballpark when it comes to red carpet fashion. Here's one look simply didn't care for at last night's event:
Piper Perabo in Theyskens' Theory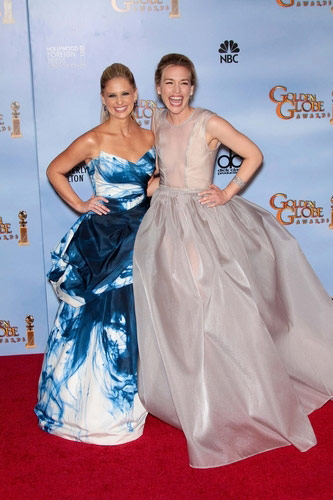 Photo: PR Photos
I really wasn't a fan of Piper Perabo's overly-voluminous Theyskens' Theory gown at the Globes. The size of the skirt was a little too Gone with the Windfor my taste and the semi-sheer grey fabric wasn't doing the look any favors either. Piper was all smiles on the red carpet, though, and proved that confidence is key when taking a fashion risk.
Your thoughts?
Now that you know what we think, tell us your opinion. Did you watch the Golden Globes last night? Who wins your pick for best-dressed? Any looks you didn't like? Be sure to leave a comment and let us know what you think!