This post may contain affiliate links, which means we may receive a commission if you purchase through our links. Please
read our full disclosure here
.
For many of us winter break has started, bringing with it both the gift-giving season and quite a bit of free time. If you're like me, you still have a couple of gifts to get, but nothing seems quite perfect. If that's you, skip the crowded mall and consider creating handmade gifts for your family and friends.
A few weeks ago, I showed you how to make beaded drop earrings, and today I'm going to share three mini DIY stocking stuffers for everyone on your list.
Decoupage Gift Box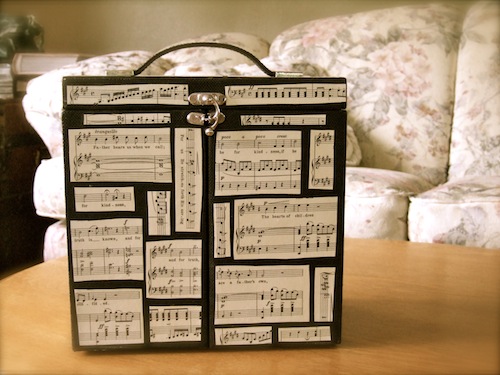 This is not only a great way to wrap a gift, but it's a keepsake that your friend can use for a multitude of purposes. The picture above is an example of a jewelry box I decoupaged with vintage sheet music, but you could use magazine cutouts, postcards, or anything else you wanted. For a stocking stuffer, you could use a small box to hold earrings or other small gifts.
You'll need: a small box or container to decoupage, pictures, magazine cutouts, or other items to decoupage with, Mod Podge, and a paintbrush.
First of all, make sure your box is clean. Wipe with a damp cloth to make sure it's free of dust.
Cut out the pictures you want to decoupage and plan out how you want to arrange them on the box.
Once you've decided on a design, coat a small area with Mod Podge and add the pictures on top, working in small areas across the box so that the Mod Podge doesn't dry before you add the pictures.
Add another two coats of Mod Podge over the pictures. Let dry between coats. That's it!
Mini Magnets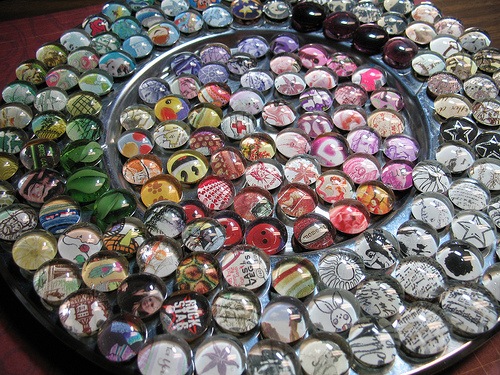 These make fantastic personalized gifts for your friends – you can really customize them to make something perfect for everyone on your list.
You'll need: clear glass decorative stones (sold near both the vase fillers and in the aquarium supplies), E6000 glue, pictures to use for the magnets, and magnetic strips.
Tip: I made all the magnets above with magazine cut outs. Scrap booking and quilting magazines have some great small pictures and patterns to use for these – glossy prints work much better than regular printed items because the glue will saturate regular paper, leaving you with a magnet that looks like it's always wet.
Make sure your decorative stone is clean. Put a little bit of E6000 on the back of the stone and press directly on to the picture you want to make into the magnet. Do not cut out the picture you want to use, but instead leave a good amount of space around the picture. Let it dry completely.
After it has dried, cut around the glass stone with a pair of scissors, getting as close to the edges as you can. Usually the glue has spilled out from under the stone and cutting it off right next to the edge ensures that there is a seal right up to the edge.
Cut a piece of the magnetic strip to fit the back of the magnet and, even if the magnet has a sticky back, secure to the back of the magnet with more E6000. Let dry completely.
Heating Packs for Cold Hands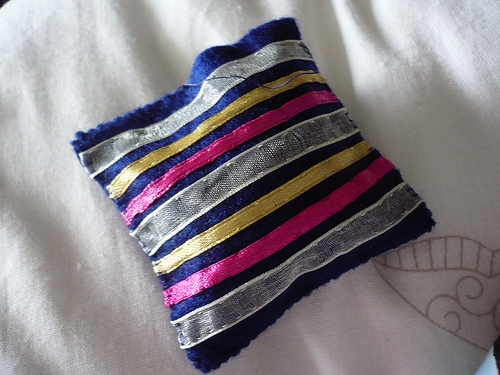 This is a super easy and really sweet idea that's perfect if you live in a cold climate. As a bonus, these are incredibly cheap to make, too.
You'll need: rice, some fleece fabric, and a needle and thread (or sewing machine).
Cut two identical squares of fleece.
Sew three sides of the squares together.
Fill the pocket with the rice.
Sew the fourth side closed.
To use, heat in the microwave for 30-40 seconds and then slip into your pocket to keep your hands warm. These are great for college students walking between classes or sporty types who spend lots of time out in the cold. I made some for my brothers to keep their hands warm during snowball fights!
What do you think?
What are you making for your family and friends this year? Do you often make your own presents? Do you think you'll try any of these stocking stuffers this year? Let us know in the comments!