Hanna Marin from Pretty Little Liars and Amy Farrah Fowler from The Big Bang Theory are both popular television characters, but they are also known for their senses of style. So for this Weekly Crossover, I'm going to mix their vibes.
Hanna's trendy-glam vibe mixed with Amy's modest, vintage-quirky style can seem like a really weird pairing at first (after all, people would think of Hanna as more fashionable than Amy), but I'm hoping these outfits will leave you pleasantly surprised. My goal is that you will see that it's possible to mix the styles of both women without looking frumpy.
Are you eager to see the outfits? Scroll down to look.
Hanna Marin x Amy Farrah Fowler Style Inspiration 1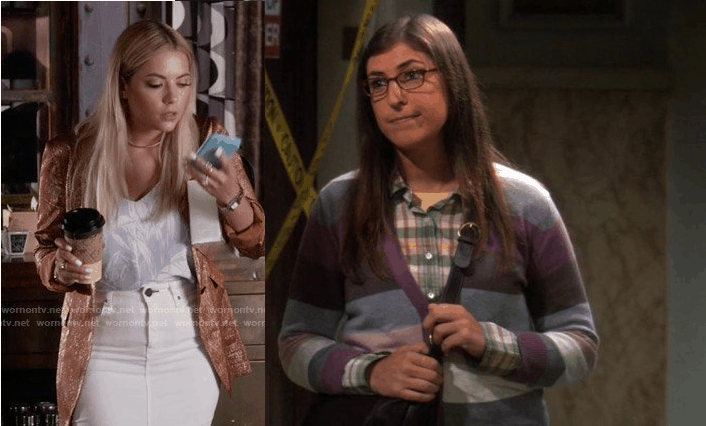 Hanna's style is trendy, fashion-forward and girly. She often wears bold accessories, tops with interesting details, and jackets of every style. Here, she wears a boyfriend blazer, a printed top, and a white denim skirt.
Amy's style is kind of a mix between Hanna's friends, Aria and Spencer, with a decidedly nerdy feel. Like Aria, she like to mix prints and patterns, while like Spencer she sticks to preppy staples. She's also quirky and definitely wears some things that are outside of the fashion norm — she is on a show about nerds, after all. Amy's usual outfit consists of a jacket or sweater worn over a shirt, a baggy skirt, dark tights, glasses, and brown loafers.
Outfit: Workplace Glam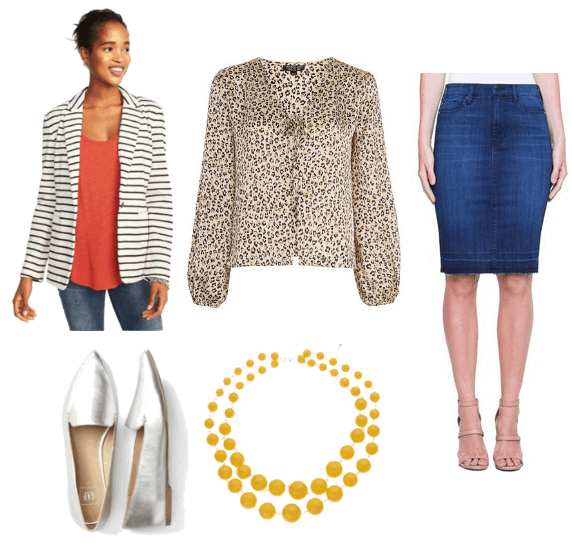 Products: Blazer – Old Navy, Blouse – Nordstrom, Skirt – Nordstrom, Shoes – Gap, Necklace – Kohl's
Amy is not afraid to mix prints (in fact, print mixing is kind of her thing), so start channeling Amy with a Hanna-approved leopard print blouse and a striped blazer. Yes, these two items are both bold, but mixing prints is all about leaving your comfort zone! You can pull them off, promise.
A denim skirt is a big staple in Hanna's wardrobe (as seen above) and a denim pencil skirt is a chic take on this classic style.
Hanna loves bold accessories so why not add a statement necklace? Put a Hanna spin on Amy's footwear of choice by adding metallic loafers.
Hanna Marin x Amy Farrah Fowler Style Inspiration 2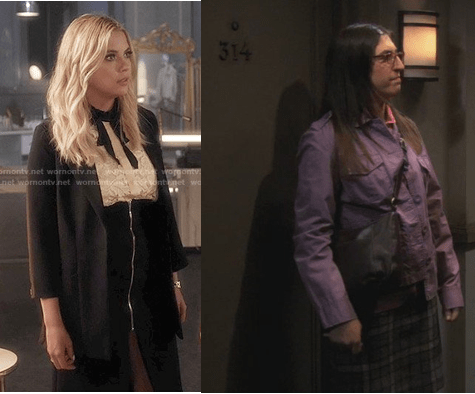 As the girly girl of the Liars, it's no surprise that Hanna wears a lot of lace. Here, she pairs her lace top with a zip-front pencil skirt for a trendy, feminine look.
Here, Amy mixes purple and plaid while sticking to her tried and true nerdy, academic style. Even though she wears basic and classic items, she still mixes colors, prints, patterns, and textures in a fearless manner.
Outfit: Trendy with a Twist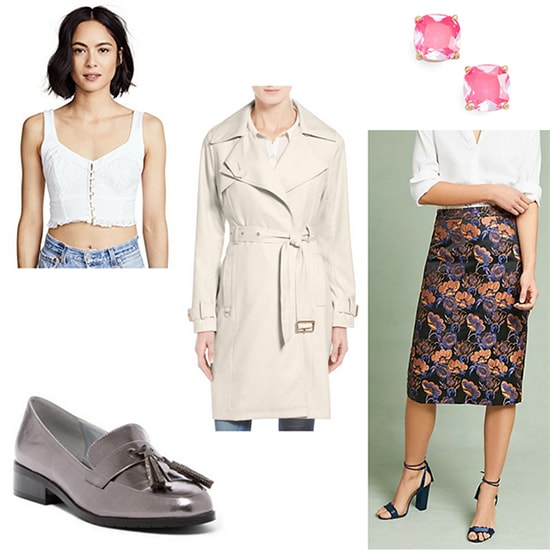 Products: Tank – Free People, Earrings – Kate Spade, Trench – Nordstrom, Skirt – Anthropologie, Loafers – Nordstrom Rack
This trendy take on a workplace look mixes the vibes of both women.
A sultry lace crop top screams Hanna and can be made more sophisticated with a cool printed pencil skirt. Hanna likes to wear pencil skirts and would approve of the florals on this one. Loafers are very Amy and add a bit of structure to the look. Pink stud earrings add a splash of Hanna and give the look some girliness. Finish the look with a trench coat that mimics Amy's in the look above, in a classic hue à la Hanna.
Hanna Marin x Amy Farrah Fowler Style Inspiration 3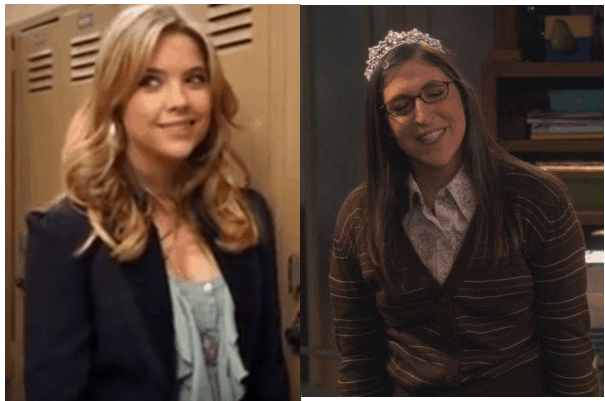 Another detail Hanna likes to wear is ruffles. In the screenshot above, she pairs her ruffled top with a black blazer to balance out the femininity.
Amy is shown wearing a brown cardigan with stripes and a printed shirt. She is also seen wearing a tiara that Sheldon gave her. Despite the fact that Amy doesn't wear the tiara often, it's a well-known staple of hers.
Outfit: Fun and Simple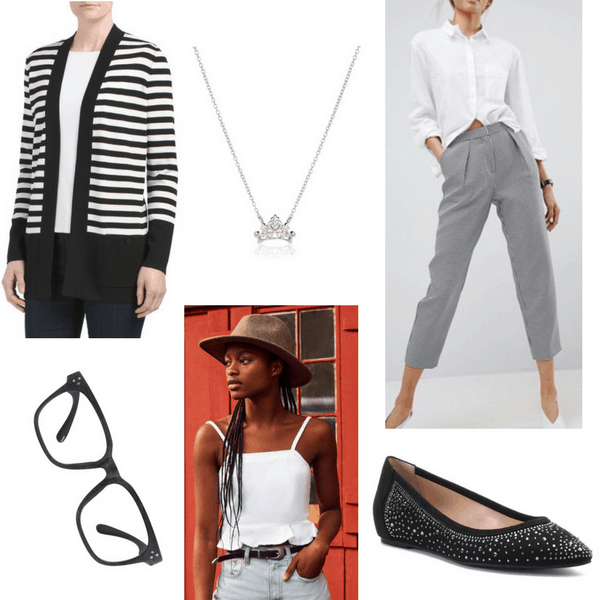 Products: Cardigan – TJ Maxx, Necklace – Amazon, Pants – ASOS, Glasses – Zenni Optical, Tank – Urban Outfitters, Flats – Kohls
This is the most simple outfit of the three, but the outfit still has personality and some bold print-mixing going on.
A sweet ruffled tank is very Hanna while a striped cardigan provides a quirky Amy feel. Add some cropped high-waisted pants for a dash of the brainy brunette. The mixed prints also provide a pop of Amy while feeling fashion-forward as a nod to Hanna.
Finish the look off with Hanna-approved accessories: embellished flats and a sparkly necklace, which also references the tiara Amy wears above.
Did you enjoy the crossover?
Did you like how I mixed the styles of Hanna and Amy? Do you like any of the outfits? Would you wear any of them? Are there any crossovers you want to see next? I'd like to hear your thoughts in the comments.