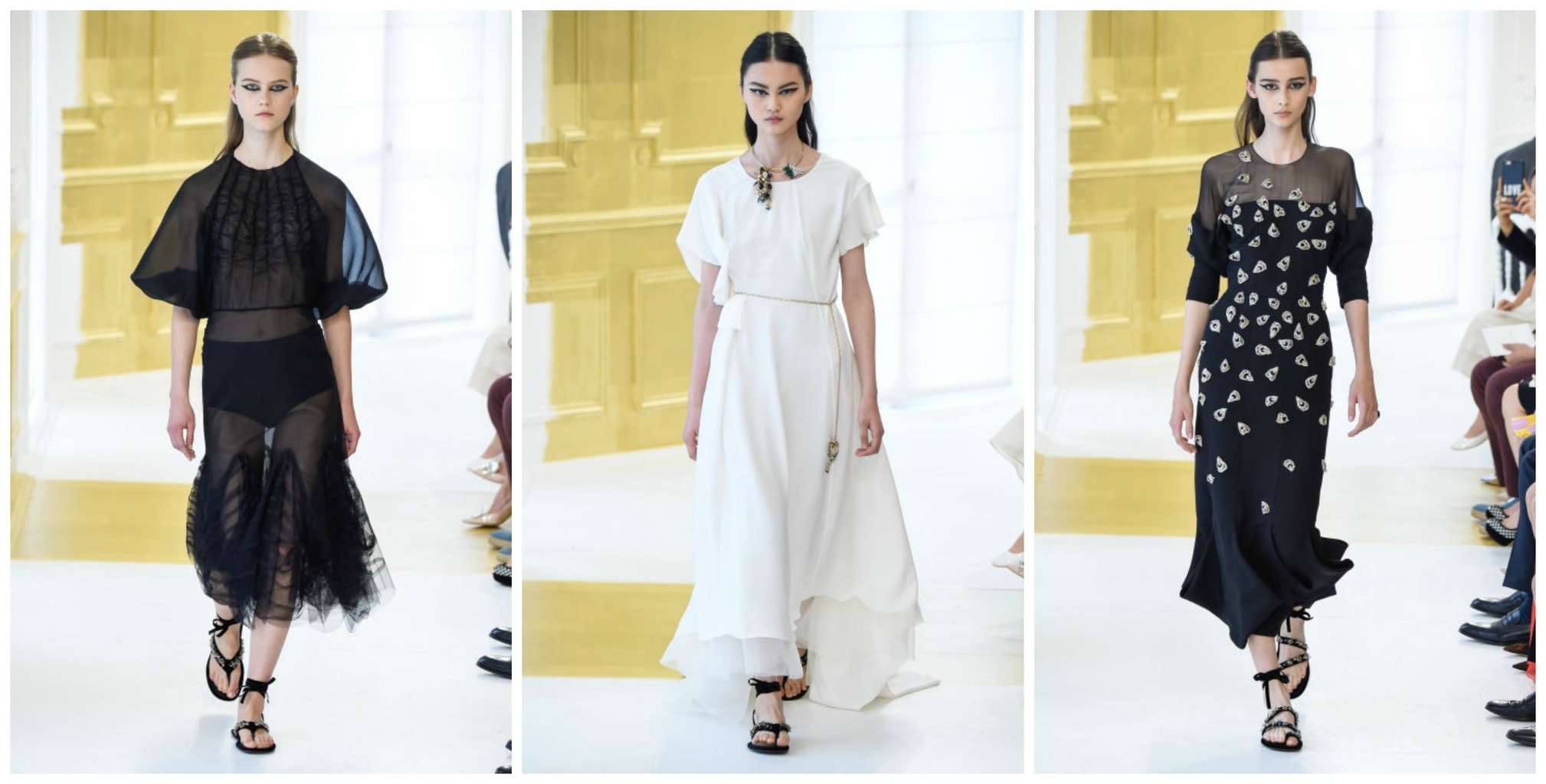 Sometimes, we all need a little help looking put together. It's fine, it's okay, I understand, I get it. Most days, it's so easy to just wake up, throw on a t-shirt and leggings and call it a day.
That's where collections like Christian Dior Fall 2016 Couture come in handy. Now, you may be thinking, couture? Me? Surely not?! Trust me though, this collection may be high fashion, but it's surprisingly accessible. It's full of gorgeous minimalist pieces that make it super easy to put together a simple, yet put together look. It also helps that it features my favorite color palette – blacks, whites, and neutrals.
So, let's get started with breaking it down into affordable, wearable pieces!
Look #1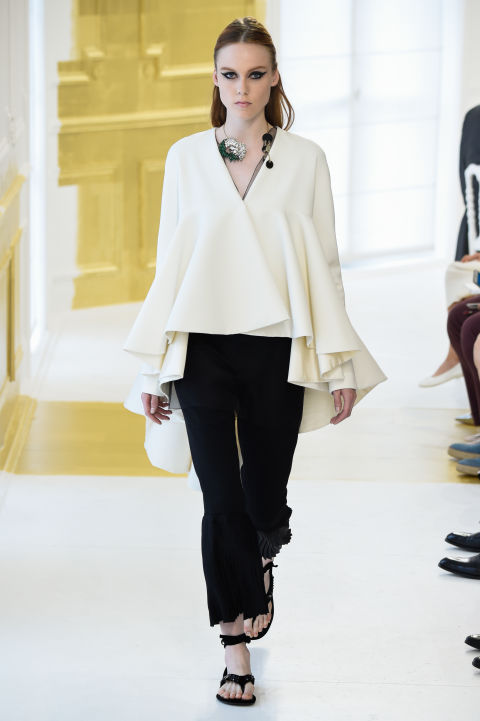 I adore this top. It's simple, yet makes such a statement thanks to the bell sleeves and dramatic back detail. It's paired with some cut-off flares, which I decided to swap for simple black trousers to make it more wearable. (If you're loving the flares though, here's a similar pair from Nasty Gal!)
Finish the look off with strappy sandals, slicked-back hair, some serious eyeliner, and a circle detail necklace to make this amazingly similar Asos top do the talking.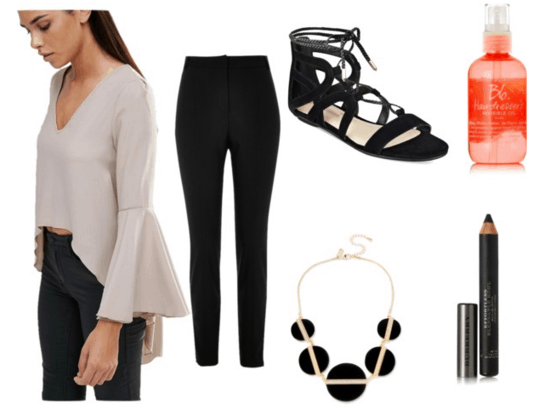 Products: Top, Trousers, Necklace, Shoes, Eyeliner, Hair Oil
Look #2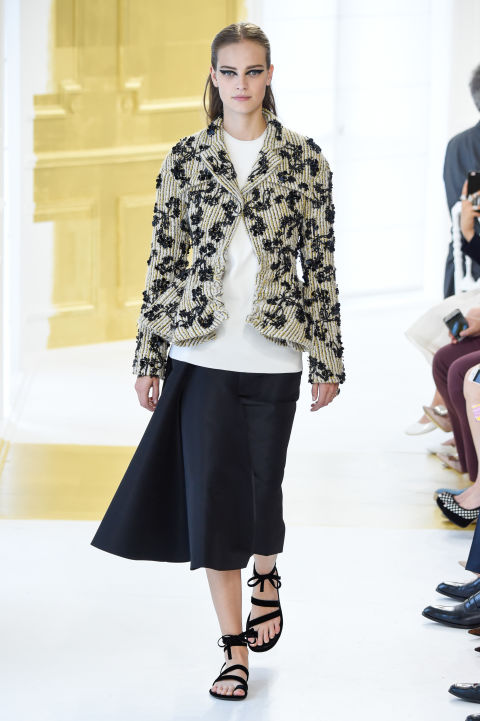 Statement jackets are always on trend. I paired this one with a skater skirt and plain white crop top to better balance out the proportions.
All the models at this show wore the same slicked-back hair, intense eyeliner, and similar flat sandals, all of which complemented the outfits. This look, which features all three, is casual enough for day but also a bit dressy, so it would take you right through to nighttime. (For more of that kind of outfit, check out our Class to Night Out series!)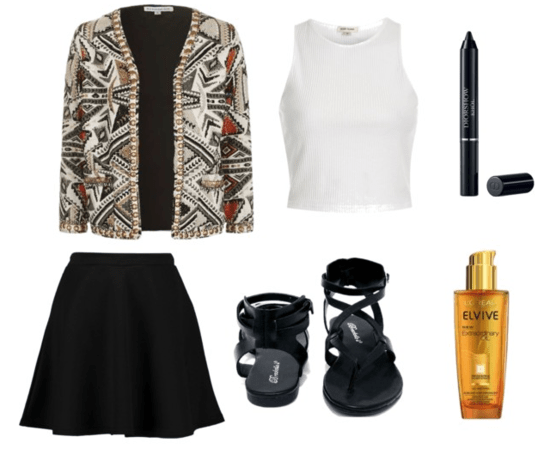 Products: Jacket, Skirt, Shoes, Top, Eyeliner, Oil
Look #3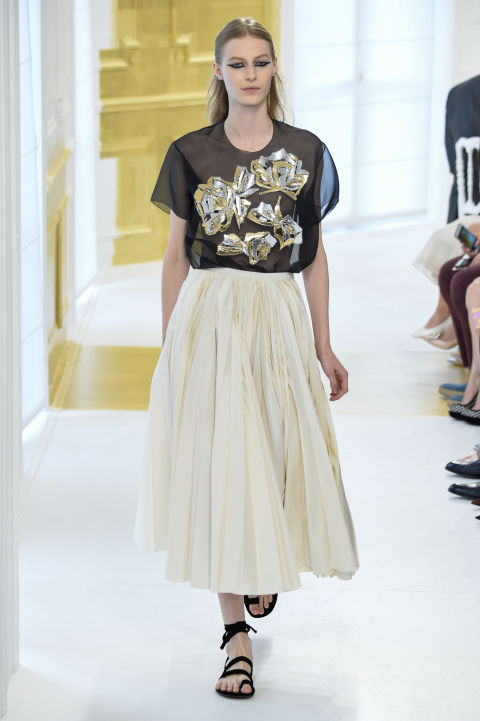 This is my favorite look of them all – I really, really love midi skirts and they're a huge trend right now.
I also love the juxtaposition of pairing a fancy skirt with a t-shirt. Even though this one is sheer, embellished, and gold and silver, it's still a t-shirt! Finish with comfy sandals and plenty of eyeliner.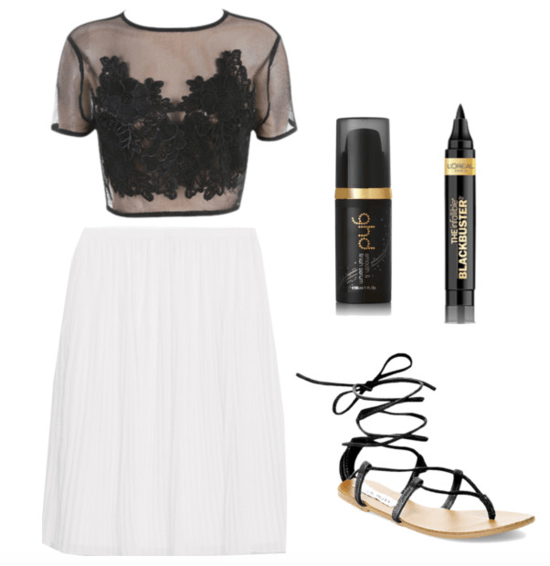 Products: Skirt, Top, Hair Serum, Eyeliner, Shoes
What do you think?
Would you wear these looks? Which is your favorite? What's your favorite trend right now? Let me know in the comments!