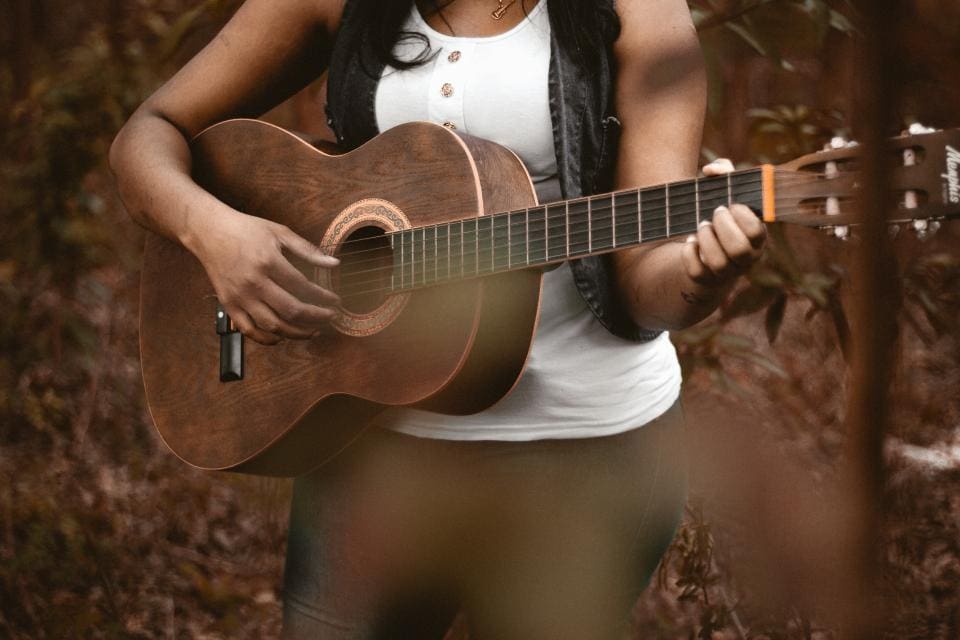 Music, like fashion, is all about creativity and expressing yourself. There are tons of different genres of music, much like there are tons of different style vibes to choose from in fashion. When fashion and music combine, great things happen. In fact, many music genres have their own fashion subcultures. Because of this, I thought I'd show you outfits inspired by music genres.
Below, you will see some brief explanations about the music genres as well as the fashion styles that are very common among fans and performers of the genres. You will also see outfits inspired by those genres. Let's get to it!
Pop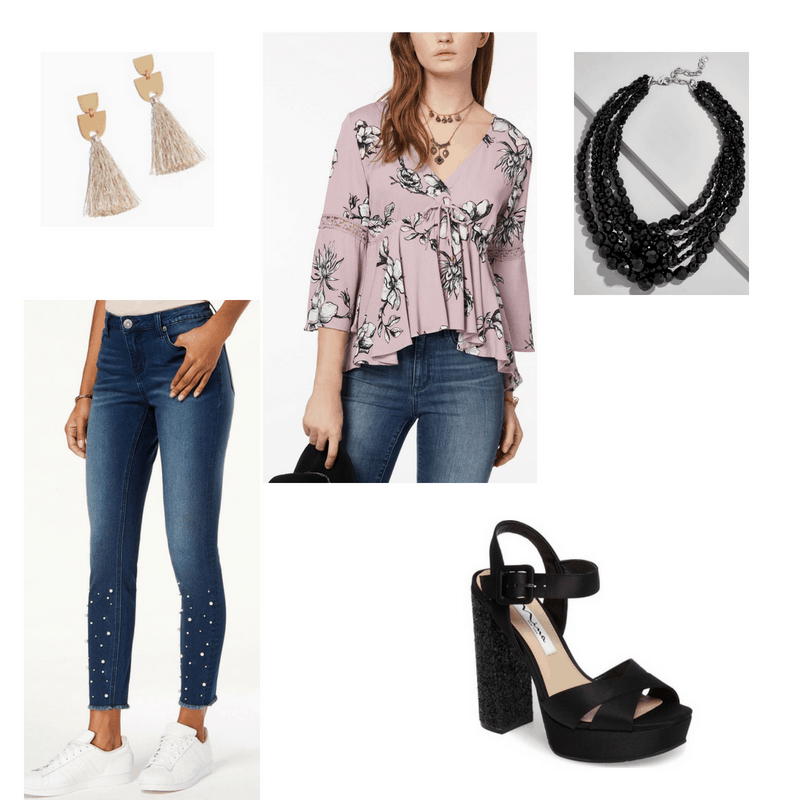 Products: Top – Macy's, Jeans – Macy's, Earrings – Madewell, Necklace – BaubleBar, Heels – Amazon
Pop is just what you'd think — the music that's popular on the charts.
Today's pop music is characterized by peppy beats and lyrics about love and relationships (typically). Fashion in pop is usually very flashy, with bright colors, bold jewelry, and standout clothes and accessories you wouldn't see in everyday life.
The outfit above is good for when you want to channel your inner pop star and can take you from day to night. This outfit has a bit of a 2000s vibe, channeling the golden age of pop music — think early Britney, Christina Aguilera, etc.
A printed babydoll top and embellished jeans are funky without being overdone. On-trend tassel earrings are neutral in color so they don't steal too much focus, while a black beaded necklace is muted while still being funky. Strappy block heels complete this pop star-worthy ensemble.
Rock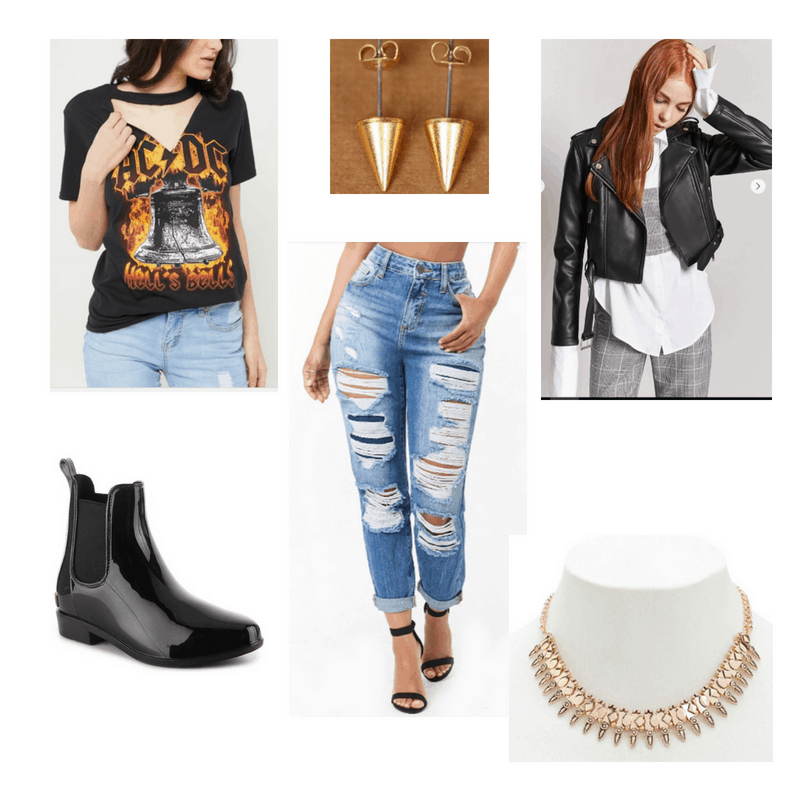 Products: Tee – Rue 21, Jeans – Forever 21, Boots – DSW, Jacket – Forever 21, Earrings – Etsy, Necklace – Forever 21
Rock music is classically characterized by guitars (often electric) and drums, and usually involves bands rather than individual artists. Fashion in rock often includes leather, band tees, ripped jeans, and edgy jewelry.
A cutout band tee and ripped boyfriend jeans are great rockstar pieces to start with. A cropped leather jacket and black Chelsea boots add more edge to the look. The Chelsea boots are also rain boots, so they are a great style staple to have in your wardrobe for those rainy days. Add some rockstar sparkle with metallic spiked earrings and a bib necklace.
Hip Hop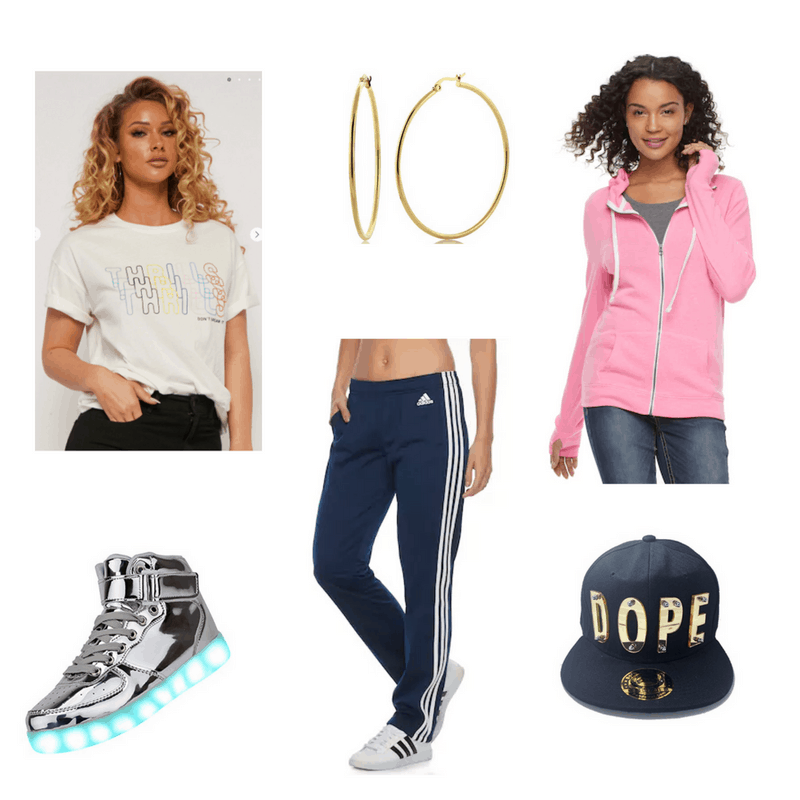 Products: Hoodie – Kohl's, Tee – Forever 21, Pants – Kohl's, Sneakers – Amazon, Hat – Amazon, Earrings – Amazon
Hip Hop first appeared on the scene in the 70s in New York and began to top the charts everywhere in the 90s and early 2000s. Today, hip hop remains one of the most popular genres around and shows no signs of slowing down.
Hip hop-inspired fashion was hugely popular in the 90s, thanks in part to the genre's popularity. '90s hip hop fashion was all about baggy pants, baseball caps (worn sideways or backwards), gold jewelry, oversized jewelry, neon colors, sneakers, sporty t-shirts, and hoop earrings. Many of these staples remain a part of hip hop's aesthetic today.
Turn your swag on with a graphic tee and a pair of track pants. Rock a pink hoodie for a pop of color. Metallic light-up high-tops are edgy and fun. They make a statement, as Hip Hop fashion often does.
Country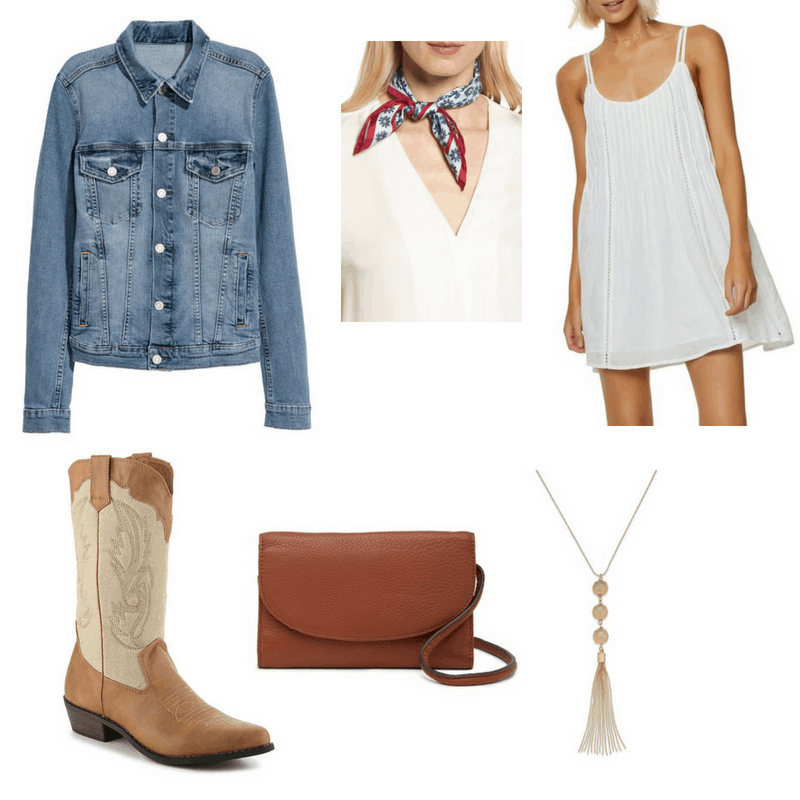 Products: Dress – Nordstrom, Boots – DSW, Jacket – H&M, Necklace – Macy's, Bandana – Nordstrom, Crossbody Bag – Nordstrom Rack
Country music is an American music genre that originated in Nashville, Tennessee. It is characterized by acoustic guitars, fiddles, and (typically) Southern accents that can be heard in the voices of the singers. Country fashion usually involves denim, cowboy boots, and other Western-style wear.
A denim jacket is a great Western-style piece and looks country-chic when paired with a pretty white sundress. Obviously, I had to add cowboy boots as well.
Anything with tassels is big in 2018 so I recommend a tassel necklace. Add some Western flair by tying a bandana around your neck. The dainty pattern on it looks so chic. Finish off the country girl look with a brown crossbody bag.
Related reading: How to Dress Country (+ Cute Country Outfits for Women)
Jazz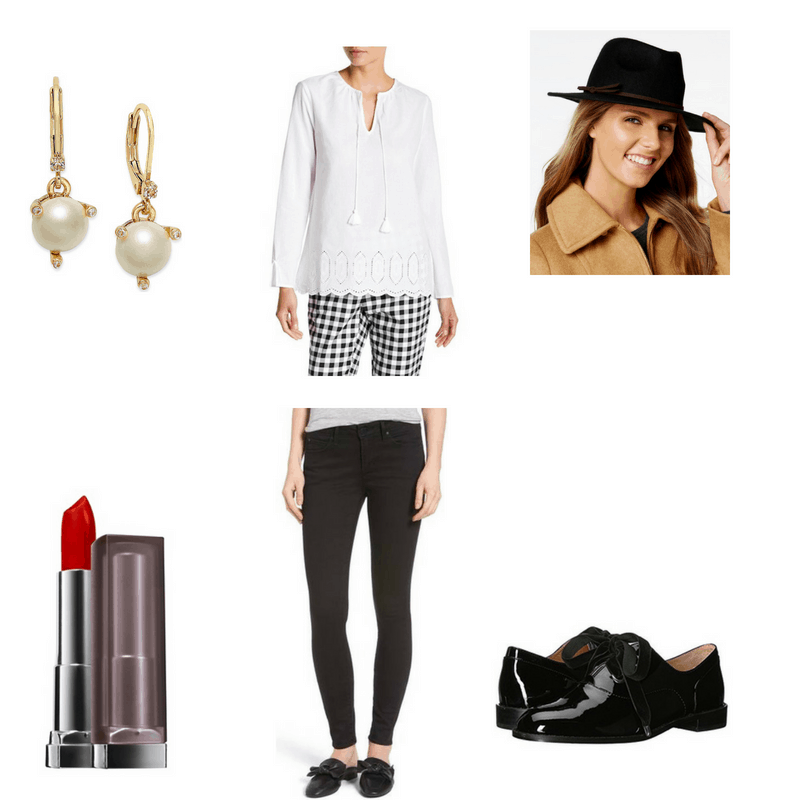 Products: Blouse – Nordstrom Rack, Jeans – Nordstrom, Shoes – Zappos, Fedora – Macy's, Lipstick – Target, Earrings – Macy's
Jazz music originated in the 1920s in New Orleans, Louisiana, developing from early Blues music. It was a big part of African-American culture in the days before Hip Hop. Jazz music is characterized by saxophones, clarinets, pianos, and other live instruments. Typically, vocals are kept to a minimum.
There might not be an official fashion subculture for Jazz, but I like to think of Jazz fashion as very classy, with androgynous elements and a dash of glamour. Think Janelle Monae for inspiration.
Pairing a white scalloped hem blouse with black skinny jeans provides a great starting point for a Jazzy outfit. Black oxfords look versatile when paired with the blouse and pants. A black fedora is great for a Jazz-inspired wardrobe and will hide any bad hair day symptoms.
This outfit is neither underdressed nor overdressed, making it versatile for a variety of occasions. It could easily switch from day to night: For a night on the town, you could add pearl earrings and red lipstick.
Reggae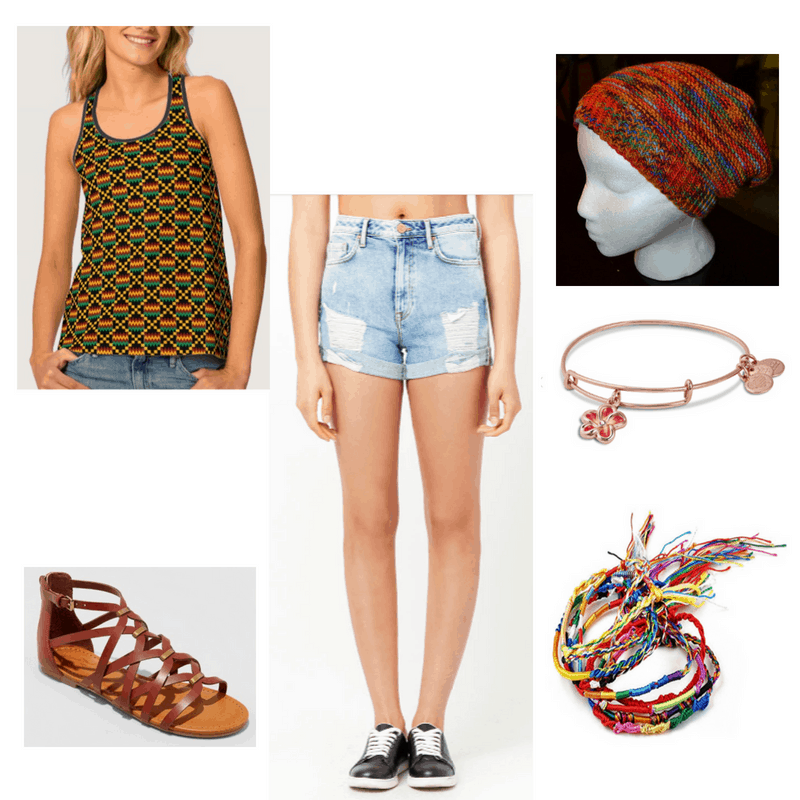 Products: Tank – Zazzle, Shorts – Forever 21, Sandals – Target, Beanie – Etsy, Flower Bracelets – Bloomingdale's, Multicolor Bracelets – Amazon
Reggae music originated in Jamaica and is full of tropical influences and drum and bass. Reggae fashion is very colorful, with green, red, and yellow (the colors of the Jamaican flag) being featured prominently. There are also nods to laid-back beachwear, including slouchy beanies and sandals.
A red, green, black, and yellow tank top and denim shorts are great pieces to start with and look great for a hot day. Brown sandals, a tropical flower bracelet, and colorful friendship bracelets play up the beachy vibe while a slouchy beanie becomes the reggae statement piece.
R&B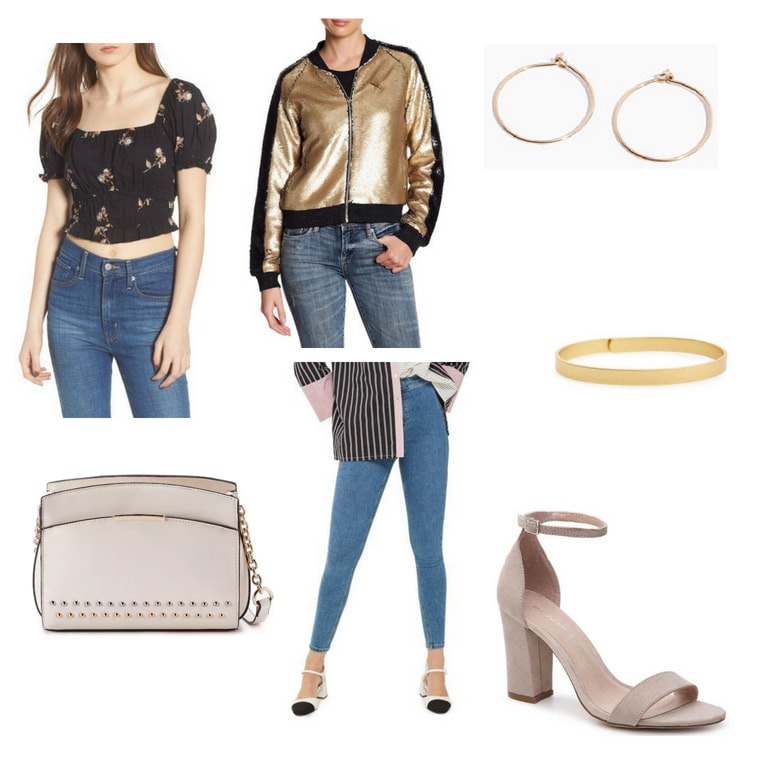 Products: Top – Nordstrom, Jeans – Nordstrom, Jacket – Nordstrom Rack, Heels – DSW, Earrings – Madewell, Bracelet – Nordstrom, Bag – Kohl's
Rhythm and blues (often abbreviated as R&B) is a popular music genre that often crosses over with pop these days. Originally, R&B was associated with Soul and Blues, but now, it's often associated with Hip Hop. Guitars and drums were used in early R&B, but now a dash of classy Hip Hop is intertwined with soulful singing.
How do we characterize R&B fashion? Think classy and sassy, like the outfit you see above. If J.Lo would wear it, you're probably on the right track.
A crop top paired with high waisted jeans is trendy while being subtly sexy for an R&B vibe. A two-tone sequin bomber jacket mixes casual and glam. Strappy nude heels offer some height and a Jennifer Lopez bag puts some sass into this look. Gold jewelry, hoop earrings and a bangle finish off the look with some extra glam.
Electronic Dance Music (EDM)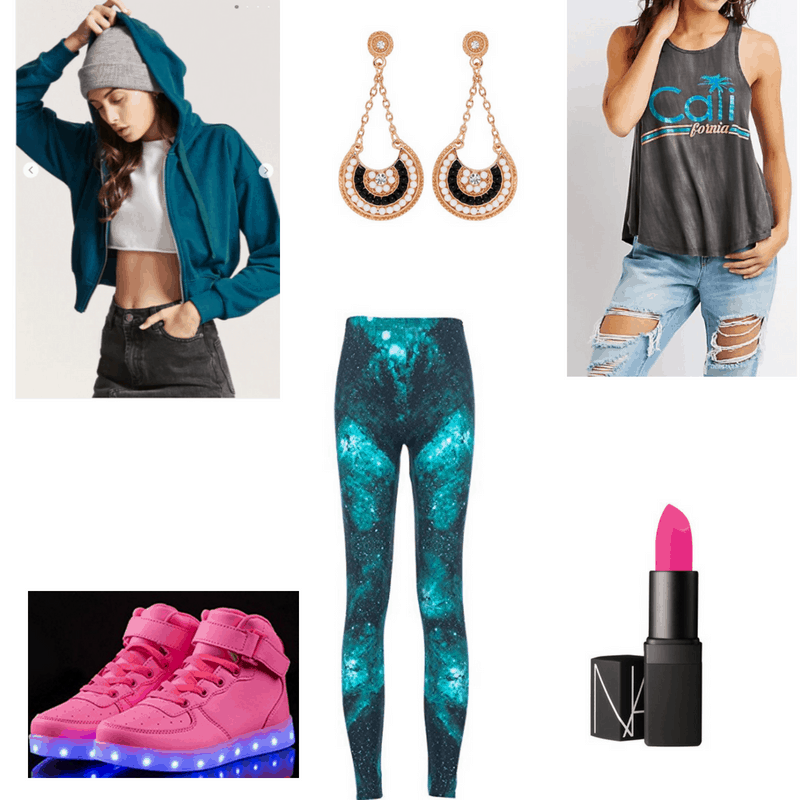 Products: Hoodie – Forever 21, Tank Top – Charlotte Russe, Leggings – Amazon, Sneakers – Hot Topic, Earrings – Amazon, Lipstick – NARS Cosmetics
Electronic Dance Music (often abbreviated as EDM) first appeared on the scene in the late '80s and early '90s in nightclubs. Electronic Dance Music remains ultra-popular at nightclubs. The sounds are electronic and meant to be danced to.
EDM fashion is very funky and bold: All fashion rules go out the window, and bright colors and crazy patterns are encouraged.
I love to take risks with my outfit sets, so I went for it with color and pattern for this EDM-inspired look. I paired a graphic tee (which looks like it could be a shoutout to Coachella) with graphic leggings. A blue hoodie adds a dash of simplicity. Neon pink sneakers light up, which makes them great for an outfit inspired by EDM.
Big, funky earrings and a swipe of neon pink lipstick are all you need to finish off this look. This edgy, casual-cool outfit would be great for a night out at an EDM concert.
Classical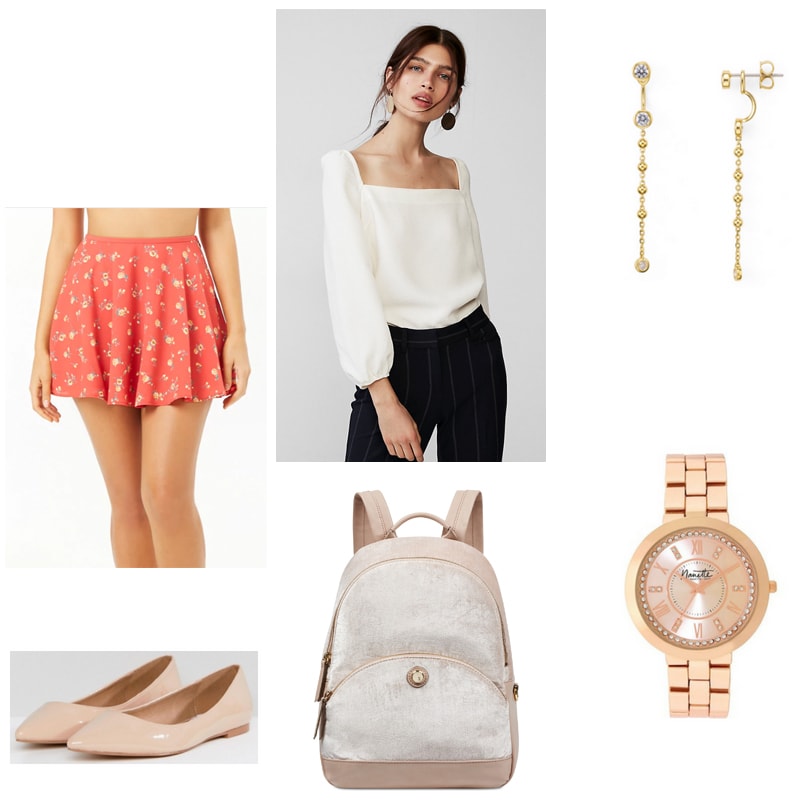 Products: Top – Express, Skirt – Forever 21, Flats – ASOS, Earrings – Bloomingdale's, Watch – Nordstrom Rack, Backpack – Macy's
Classical music is one of the earliest genres of modern music. It originated before the 19th century. Violins and pianos are common instruments in classical music. Also, fun fact: Classical music has been shown to improve concentration and memory because it's so calming, yet intricately layered.
If there were to be a fashion vibe for Classical music, it would be elegant and sophisticated. Here, I created an together an outfit that is elegant, but still wearable for college girls. A polished blouse and a dainty floral skirt are girly and polished. Nude flats are elegant but wearable. You can add some sophistication to a casual look with drop earrings and a Nanette Lepore watch. A velvet backpack with a slight sheen mixes both elegance and casualness perfectly.
Dubstep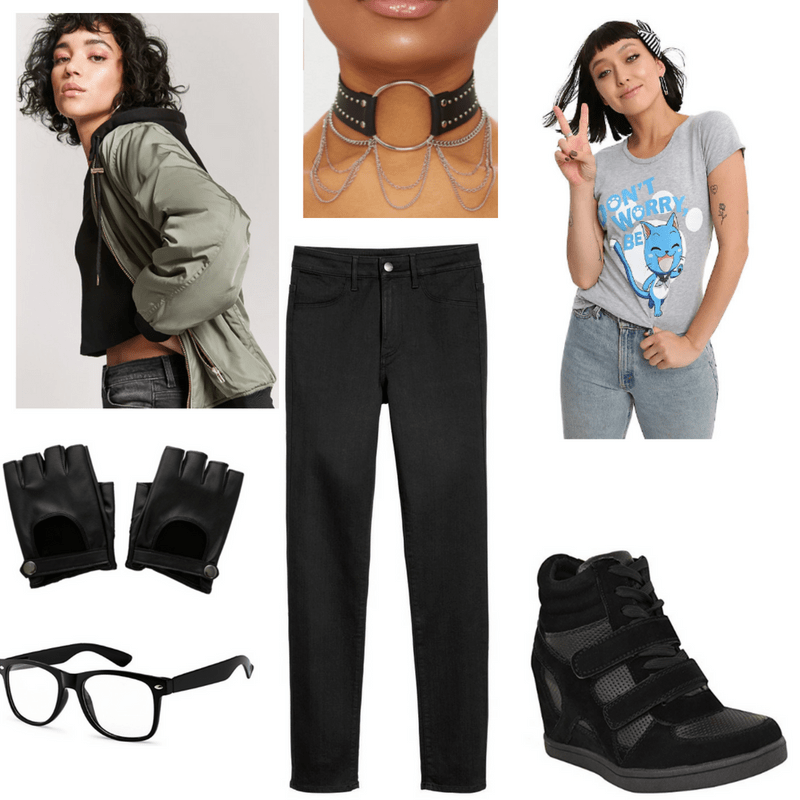 Products: Tee – Hot Topic, Jacket – Forever 21, Jeans – H&M, Shoes – Amazon, Gloves – Hot Topic, Choker – Pretty Little Thing, Glasses – Amazon
Dubstep is a relatively new music genre, as the sounds are electronic. Dubstep has really heavy bass beats and is another popular dance genre. Dubstep fashion is usually very edgy, and as with EDM, there aren't many fashion rules.
Drop that bass with a hooded bomber jacket and black skinny jeans. A graphic t-shirt keeps the look casual and wearable. Black wedge sneakers, a chain choker from Pretty Little Thing, and fingerless gloves add edge to the look. You can channel Skrillex by adding a pair of non-prescription glasses.
Did you enjoy it?
Do any of the outfits appeal to you? Would you wear any of them? What music genres do you think can be used for fashion inspo? How does music inspire your wardrobe? I'd like to hear what you think in the comments.