This post may contain affiliate links, which means we may receive a commission if you purchase through our links. Please
read our full disclosure here
.
L-R: Ping, Mulan, Arwen. It should be noted that all of these took a lot longer than a weekend to make!
Here at College Fashion, we're big fans of Halloween. And here at the Geek Chic column, we (and by "we" I mean "I") are maniacal fans of Halloween, for one reason and one reason only: costumes. Okay, the candy's pretty cool too, I suppose.
The last two Halloween editions of Geek Chic featured geeky, DIY costumes you could make in your dorm room. (Read them here and here!) This year, I figured I'd take the costume mania a step further!
The Mission
This past weekend, I embarked on a quest…journey…thing to see how many budget-friendly costumes I could come up with in the span of two days. The purpose? Well, besides my desire to test the limits of my sanity, I also wanted to show you guys examples of costumes that can be assembled both inexpensively and quickly. (I also just really wanted to make a bunch of costumes.)
Professors always seem to have the sadistic habit of scheduling midterms right around Halloween, so I know your time is precious! If you have anywhere from a couple of minutes to a few hours free this weekend, though, it's definitely not too late to put together an awesome costume.
The Field Work
I visited several locations to find materials for the costumes below. Since I was on a mission to keep it crafty and to keep it cheap, I had to force myself to think outside the box and to not be too attached to specific details.
Thrift Stores:
Since some of the costumes require permanent alterations to clothing, I relied on thrift stores as a source of inexpensive clothing that I wouldn't feel guilty cutting up or painting on. Check out your local Goodwill or Salvation Army!
I also hit up The Garment District, a vintage department store/costume shop, in Cambridge, MA. They have a section called By The Pound there, which is basically huge mounds of clothing and accessories dumped on the floor of the store. You put all items you want in a plastic bag and they charge you $1.50 per pound. Most of the clothing I used came from By The Pound, which helped to keep costs down despite making 8 different costumes.
Note to those in the Boston area: the By the Pound section of the Garment District is unfortunately temporarily closed until after Halloween. However, it's still a super spot to find costumes and costume components! 
Party City:
While I'm clearly in favor of homemade costumes, party stores can be a great resource for costume accessories that might be difficult to find and/or make, such as hats or props like swords and fans.
Target:
Tar-jay carries a ton of random yet adorable holiday products, like stick on mustaches and animal ears of all kinds. Check out their dollar bins for inspiration!
Art Stores/Craft Stores:
Oh, how I wish there were a Michael's or other chain craft store near me! While Blick's and other art supply stores are a decent resource, their products are more geared towards actual artists and art students, not towards crafters or DIY-ers.
My Apartment:
Raid your closet to see what costumes hide within! The Team Rocket, Nerd Herd, and Tower of Terror costumes below were all inspired by my closet, and not the other way around. Also, as you'll see below, my grocery/shopping bag hoarding habit sure comes in handy this time of year!
The Tools
For many of the costumes below, you'll need basic crafting supplies, such as scissors, tape, a stapler, a hot glue gun, needle and thread, and some sort of writing utensil. You likely have all of these on hand, with the possible exception of a glue gun – see if you can borrow one from a friend. If not, they're pretty inexpensive… ~$5 or so for a mini one.
The Cast of Characters
1. Jessie from Team Rocket (<10 minutes)
Red felt: 50 cents, Blick's
White jacket, black cami, white skirt, over-the-knee boots, gloves: from my closet
Other materials used: safety pins, scissors
Total: $0.50
Okay, first things first: I was clearly never meant to smolder or smize or smirk. This was my very best attempt at a villain-esque glare and it looks like I just smelled something awful. But I've put it here on the Internet for posterity because that's what Halloween is all about: you get to be someone you are totally not and you will have fun doing it!
This Team Rocket outfit pays homage to our favorite bumbling villains from Pokémon. Since I didn't have a white blouse that I was willing to permanently alter, I used a cropped motorcycle jacket instead. What really makes the look recognizable is the big red "R" (cut from felt and safety-pinned on) and the miniskirt paired with over the knee boots. I substituted my winter gloves for Jessie's opera length ones, but I feel like it still gets the idea across.
Suggestions: 
To be more true to the actual Team Rocket outfit, cut off the bottom half of a white T-shirt and pin or glue on the red "R". Next, make a vertical cut up the front.
Add a red rose for greater recognition factor, as well as a James (and a Meowth!)
2. Science Pun, Anyone? (<10 minutes)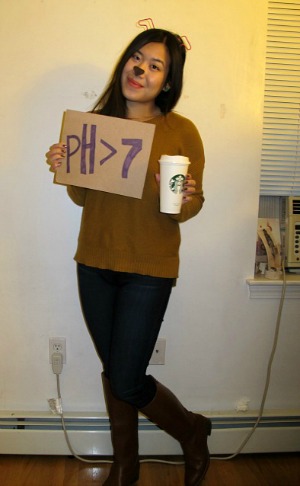 Dog ears: $2, Target
Sweater, jeans: from my closet
Other materials used: brown felt for nose, medical tape, Starbucks cup, cardboard, marker
Total: $2
For those of you who appreciate a punny costume, this one couldn't be easier! (Get it? I'm a basic b—-.)Plus it's a science joke, which makes it 72.65 times better (a scientifically proven statistic, of course.)
All you need are a pair of dog ears – make your own by gluing felt or craft foam to a plain headband – and a nose. I used a little piece of medical tape to affix it, but you can also just draw on a nose and maybe whiskers with eyeliner.
Last but not least, make yourself a sign to show that you're definitely not acidic. You can punch holes on the top and tie on some string so you can wear it as a necklace instead of carrying it.
3. Buy More Nerd Herder from Chuck (15 minutes)
Buy More ID: 12 cents to print at school library
Tie: 50 cents, Garment District
White collared shirt, black skirt, heels: from my closet
ID holder: borrowed from work
Other materials used: photo editing program (I used Gimp), cardboard, gluestick
Total: $0.72
If you're a fan of Chuck, this is a super-quick costume to assemble! All you need to do is to put your picture on a Buy More ID! (Full disclosure: I forgot my library print card at home so the "ID" in the picture is a hastily hand-drawn one.) If you do print one out, it may help if you glue it to a piece of thin cardboard so it's not flimsy.
The rest of the Nerd Herd ensemble is easy: a short-sleeved collared shirt, a black skirt or pants, a gray tie, and shoes of your choice! I went more for the GRETA look, but you can personalize it however you like.
4. Misty from Pokémon (20 minutes)
Yellow tank top: $3.50, Goodwill
Jeans: $5, Goodwill
Suspenders: $9 (I used a $5 off coupon, so $4), Garment District
Backpack, sneakers: from my closet
Other materials used: scissors, needle, thread
Total: $12.50
Take a cue from one of the most beloved shows of our childhood and dress up as Misty, everybody's favorite Water Trainer! This is a super-simple outfit to put together: the yellow crop top, red suspenders, and denim cutoffs combination is very recognizable, so you don't need to worry too much about the other details.
I'm assuming you all know how to make denim cutoffs – just remember: always cut off less than you think you need. It's easy to cut more, but it's a lot harder to put the fabric back on! All you need to finish the outfit is a side ponytail and a pair of sneakers. Psyduck optional.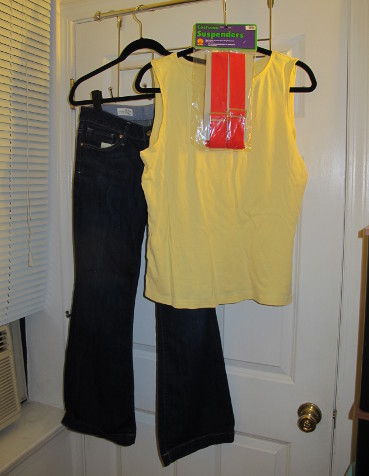 Suggestion: If you can't find red suspenders or just don't want to buy a pair, you can tie red ribbon to the belt loops of your shorts instead.
5. Tower of Terror Bellhop (~1 hour)
Gray makeup: $2, Garment District
Maroon tablecloth: $2, Party City
Gold tissue paper: $2, Target
Shopping bags: free
Maroon blazer, white shirt, maroon trousers, black oxfords: from my closet
Other materials used: glue gun, scissors, black ribbon, black elastic, stapler, circular object to trace, black eyeshadow
Total: $6
If you've ever been on the Twilight Zone Tower of Terror attraction at any of the Disney parks, you may have seen these ghoulish fellows lurking about the Hollywood Tower Hotel! I'm a big fan of both the Twilight Zone and of the park attraction, so I decided to pay homage to the castmembers who run the ride. (More importantly, I own a maroon blazer and a pair of maroon pants!)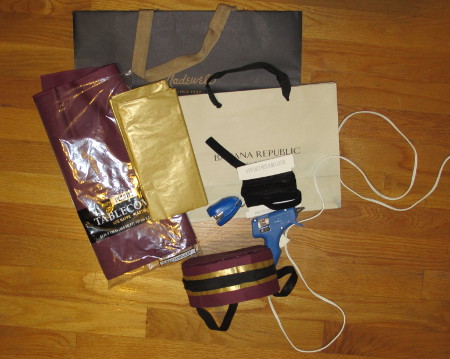 I forgot to take a "before" picture of the materials I used and had to strategically place everything so the gaping holes in the Madewell bag wouldn't show. Refolding the tablecloth was also a pain in the butt!
To make the cap, I modified these instructions for a pillbox hat. I followed steps 1-5 (no sewing machine needed!) and then step 7. To attach the hat, I stapled a piece of black elastic to the opposite sides of the hat's interior. Since I had no cereal boxes on hand, I cut up a Madewell shopping bag. I also used a plastic tablecloth in lieu of fabric since it was the cheapest maroon-colored material I could find. The gold trim is tissue paper and the black trim is the ribbon handle from a Banana Republic shopping bag.
To finish off the look, I applied gray makeup to my face and then used my fingers to smudge black eyeshadow under my eyes and cheekbones. I also darkened my eyebrows and lips for an extra-undead look.
6. Dancing Groot (<1 hour)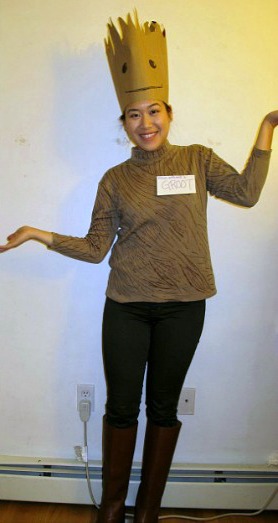 Tan turtleneck: $3, Goodwill
Trader Joe's bags: free
Pants, boots: from my closet
Other materials used: permanent markers (brown and black), c0lored pencil, stapler, scissors, index card, measuring tape
Total: $3
Ah, everybody's favorite character from this summer's Guardians of the Galaxy: Groot! Specifically, adorable dancing Groot from the end of the movie. If you wear it to a party, make sure to request "I Want You Back" and get your groove on! Or should I say… "Groot on!" (Cue groaning at awful pun.)
This costume is easy to put together and is guaranteed to put a smile on your friends' faces. Plus, it's super comfortable! One caveat though: you won't be able to wear it in the rain.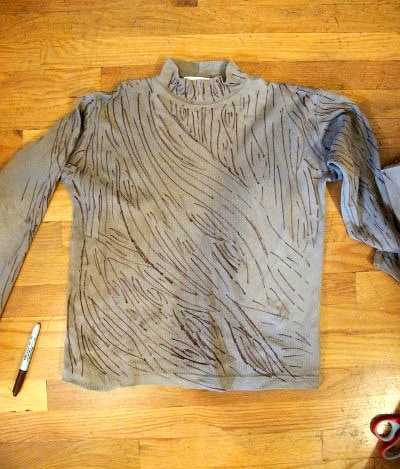 To make the tree trunk, I drew "bark" onto a tan turtleneck using a brown Sharpie. I tried to imitate the twisting tendrils on Groot's body and continued drawing the lines onto the sleeves. Don't forget to do the back!
To make Groot's head, I cut a Trader Joe's grocery bag apart. Next, I measured my head to see how long of a piece I would need. (You can just use a piece of string to do this if you don't have a measuring tape. I added two inches to the measurement so there would be some overlap.
Next, I sketched and cut out the branches. Make sure to draw on the "wrong" side of the paper so there won't be visible pen marks. Before stapling the ends together, I drew Groot's face in marker and added some "wooden" detailing with a colored pencil. Once it's all done, staple it together, make sure it fits, and you're good to go! (Groot to go?)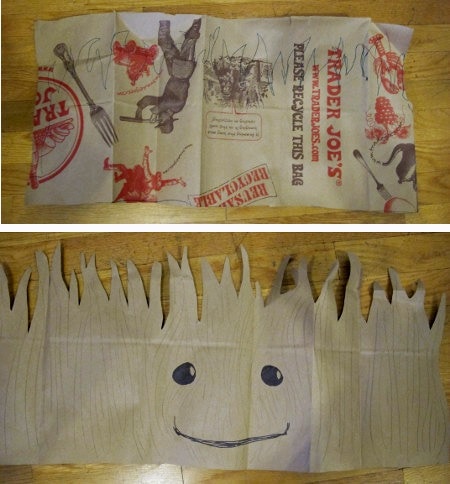 Oh baby give me one more chance! Won't you please let meeee back in your heart?
7. Elsa from Frozen (3+ hours)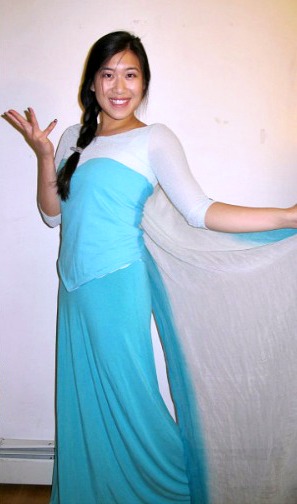 Teal T-shirt, maxi dress, light blue long-sleeved shirt: ~$3, Garment District
Scarf: from my closet
Glitter: $4
Other materials: needle, thread, scissors, straight pins, Mod Podge
Total: $7
Okay, so maybe this is going to be a totally over-done costume this year, or maybe I've overestimated its popularity because I gauge the public's interest in Frozen through Buzzfeed and the kids I work with, but I'm just happy to pretend that I'm the Queen of Arendelle.
This project takes more time and effort than the previous entries because it does require some sewing.
Below are the raw materials I started out with. The t-shirt became the bodice, the maxi dress became the skirt, and the long-sleeved shirt became the sleeves and upper bodice.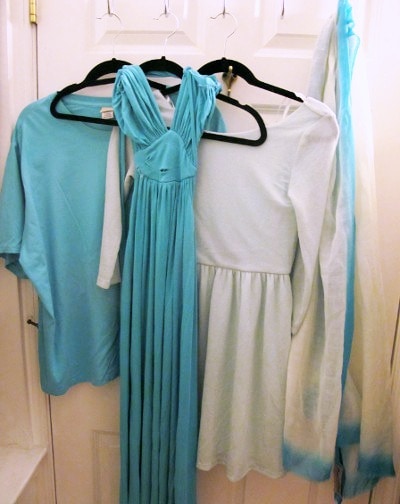 I didn't take pictures during this process because a) my room was a mess of pins and scrap material b) the material you start out with is likely to be different from mine and thus the process may be completely different, and c) I plain ol' forgot. Basically, though, it boiled down to:
Cutting the top part off of the maxi dress to make it into a skirt.
Cutting off the sleeves and neck of the T-shirt, cutting the hem into a pointed shape, cutting a sweetheart neckline, then taking it in to make it fit better
Removing the lower portion of the long-sleeved shirt (below the seam at the bust)
Sewing the T-shirt fabric to the long-sleeved shirt
If you do plan on making the costume this way, I'd recommend looking for knit fabrics instead of wovens. For one, a stretchy fabric means that you don't have to tailor the garment perfectly. Also, knit fabric won't unravel the way a woven will, so you can get away without hemming anything.
No Sew Method:
If you don't want to/don't feel like sewing or you don't know how, you can also make this costume with a long-sleeved, pale blue shirt, and a maxi dress in a darker blue color. Just wear the maxi dress over the shirt! A tank top + maxi skirt combination would also work. Honestly, as long as you're in a long blue dress, have a side braid, and sing "Let It Go" at the top of your lungs, people will totally get it.
Suggestions: 
Although I included glitter in the total price for this outfit, I didn't have the time to glitz up the dress within my two day deadline. I'm thinking about wearing this to work on Halloween (I work in the Pediatrics department at a hospital, so I'm hoping it'll be well-received!), so I will be adding the glitter before then. To do so, I plan on mixing Mod Podge with glitter and applying it to the bodice with a paintbrush. While the dress will no longer be washable, it'll be sparkly, and everybody knows that sparkly is better.
If you're not a blonde, a wig will help to really complete the look. I considered powdering my hair with baby powder, but as I discovered (see below), that's much easier said than done.
8. Anna from Frozen (3+ hours)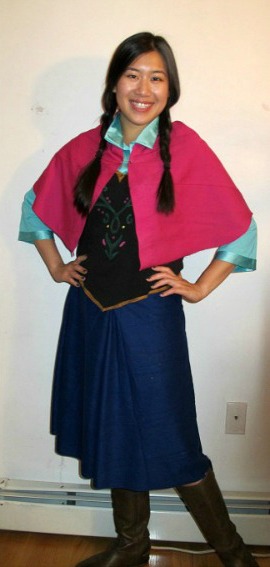 I dunno if any of you noticed, but I got all of the hairstyles flipped! Misty's ponytail, Elsa's braid, and Anna's white streak are all on the opposite side from what I did. D'oh!
Blue nightgown, black v-neck tee, dark blue blanket, pink coat: ~$5, Garment District
Acrylic paint (green, pink, gold, purple): $7
Boots: from my closet
Other materials: needle, thread, paintbrush, scissors, baby powder (for Anna's white streak)
Total: $12
Apologies for the multiple representations of fandoms here. I just really like Pokémon and Frozen! You can't blame a girl for getting excited though: this is literally the first time in forever that I've gotten to dress up as Princess Anna!
Since I couldn't find a blue skirt, I made one out of some blue flannel fabric. However, that's pretty much all the sewing that the costume required! All you need to do is to layer a turquoise blouse or dress under a dark blue midi skirt. For the bodice, I cut the sleeves off of a black V-neck and cut the hem into a pointed shape.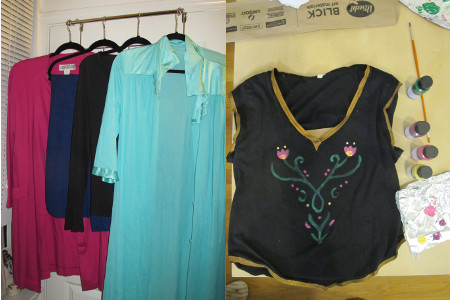 Left: the clothing I used to make the costume | Right: Painting the bodice!
I couldn't find fabric puffy paint at the nearby art store, so I used acrylic paint instead to paint the gold trim and floral pattern. It took several coats of paint because the fabric kept absorbing the paint and because the background was so dark. Make sure to put a piece of cardboard inside the shirt so the paint doesn't bleed through to the other side!
No sewing required for the cape: cut a large half-circle out of magenta or hot-pink fabric, then cut out a smaller half-circle from the flat part. (Imagine a donut cut in half). The smaller half-circle is for your neck. Then just safety pin it shut!
To mimic Anna's icy streak of hair, I poured small amounts of baby powder into my hand and smoothed it on with my fingers. To be honest, this didn't work particularly well (can you even make it out in the picture?) and I didn't enjoy the constant cloud of baby powder scent. If you're dedicated to this particular detail, a clip-in extension may work better.
What did you think?
Thanks for sticking with me throughout this ridiculously long article! Would you wear/make these costumes? Do you like to make your own Halloween costumes? What are you dressing up as this year? Any suggestions for other DIY costumes? Let me know in the comments!
P.S. Which costume should I wear to work: Anna or Elsa?