This post may contain affiliate links, which means we may receive a commission if you purchase through our links. Please
read our full disclosure here
.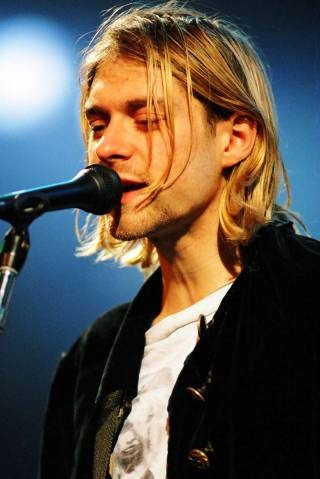 Photo: ELLE
Welcome back to Fashion Philosophy! To celebrate the return of this column, I thought it would be fun to do something new: feature a man. Up until now I've only covered strong women, and I think it's high time I talked about men, too.
Kurt Cobain, the lead singer of Nirvana, was a strong person, a supporter of women's rights, and had a distinctive sense of style – a perfect debut male for Fashion Philosophy.
Now, we've covered Kurt Cobain's fashion in the past, but for this post I wanted to go in-depth about what made Kurt's style tick, as well as give you some easy ways to incorporate those fashionable elements into your own look. Read on to learn more about Kurt and his one-of-a-kind style:
5 Fun Facts About Kurt Cobain
Kurt Cobain led a life that was tragically filled with illness, family problems, and a lot of bad luck. His biography is readily available online if you're interested; however, in the spirit of keeping things positive, I've decided to focus instead on some of the interesting and often overlooked parts of Kurt's personality and life.
Kurt Cobain was a feminist. From a young age, he enjoyed friendships with girls and once stated, "I just always felt that they weren't treated with respect. Especially because women are totally oppressed." He lamented the blatant sexism in the lyrics of some of his favorite bands, such as Led Zeppelin and Aerosmith, and wrote a few songs that contemplate typically female issues, such as "Polly" and "Rape Me." He was also a pro-choice activist and was involved in the Rock for Choice since the beginning of the campaign. Because of his stance on this issue, he received death threats.
Kurt was left-handed. (Not an incredibly useful fact, but trust me, all of us Southpaws love hearing it.)
Nirvana enjoyed promoting small indie bands by covering their songs in concert or on their records.
His hometown of Aberdeen, Washington, now has a sign at its border that says, "Welcome to Aberdeen – Come As You Are" in reference to the Nirvana hit.
In 2009, Aberdeen erected a monument in Kurt's honor. It caused a stir because it included the (uncensored) quote, "…Drugs are bad for you. They'll f*** you up." The town eventually sandblasted off the last three letters of the curse word, only to find that fans wrote them back on to the monument.
Elements of Kurt's Style
Comfort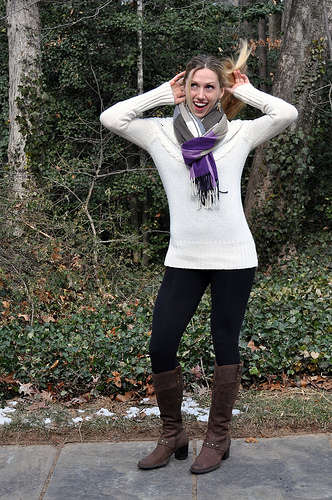 No matter what Kurt was wearing, whether it was a cardigan and ratty jeans or a ball gown that would make Lady Gaga jealous, it was always comfortable and (usually) functional.
To channel Kurt Cobain's style, always opt for comfortable pieces. Choose flats over heels, leggings over stiff jeans, and soft sweaters over blazers.
Rebellion and Quirk
Photo: ELLE
Kurt Cobain was always known for his rebellious nature, which also popped up in his fashion choices. Even as grunge style became mainstream, he continued to surprise people by wearing strange sunglasses, traditionally "feminine" patterns (like leopard print), and even the occasional dress. At the same time, he startled people with his unusual behavior and his angry music.
Take inspiration from Kurt by choosing unconventional outfits, strong patterns, and quirky details.
Trendsetting

Photo: ELLE
Unintentionally, the grunge movement became a mainstream fashion trend in the 1990s. Suddenly, the long johns and flannel shirts that punks in Seattle were wearing to keep warm were seen on the mannequins in department stores. Nirvana was a major mainstream grunge influence and helped this unlikely trend to take hold and define pop culture in the early '90s.
You can go one of two ways with this one: embrace the current '90s revival trend and enjoy vintage-inspired pieces, or wear modern prints and shapes. Either way, be sure that whatever you're wearing is trendy.
Putting It All Together: Outfits Inspired by Kurt Cobain
"School"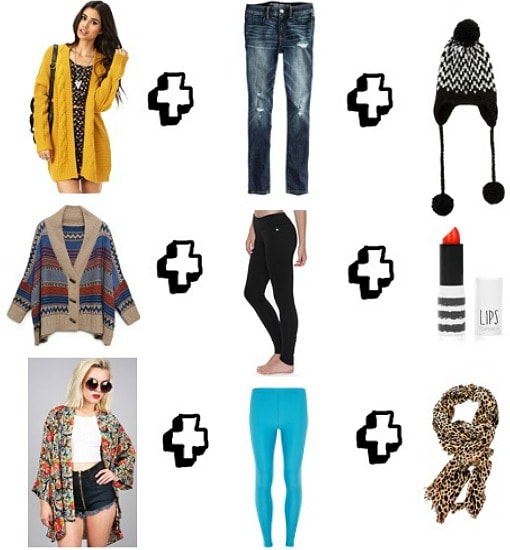 Top Outfit: Yellow Cardigan –Forever 21, Blue Jeggings – American Eagle, Hat – Forever 21
Middle Outfit: Batwing Cardigan – Etsy, Black Leggings – PacSun, Lipstick – Topshop
Bottom Outfit: Floral Cardigan – Pink Ice, Blue Leggings – Dorothy Perkins, Leopard Scarf – Too Fast Online
Although Kurt Cobain dropped out of high school two weeks before graduation (he realized he didn't have enough credits), I think he would approve of these college-appropriate outfits.
Here, I've created a simple outfit formula for those days when you're just not feeling it: a slouchy cardigan, leggings or jeggings, and an extra detail for interest. Simply pair any of these looks with a favorite t-shirt, button-down, or cami for a campus-ready ensemble.
The first outfit is the tamest of the three – just a knit sweater, extremely convincing jeggings, and a hat to hide your bedhead. The second takes it up a notch with a trendy pattern and bold lip. The third turns the formula up to eleven with bright colors and those "feminine" patterns that Kurt used to rock.
"Here She Comes Now"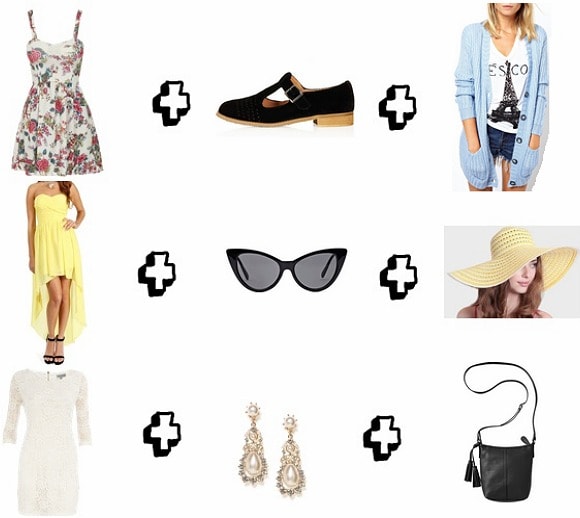 Top Outfit: Floral Dress – Chiara Fashion, Shoes – Topshop, Cardigan – ASOS
Middle Outfit: Yellow Dress – Windsor, Sunglasses – Etsy, Hat – Ruche
Bottom Outfit: White Dress – Dorothy Perkins, Earrings – Bauble Bar , Purse – Old Navy
These more formal outfits are inspired by the dresses that Kurt himself wore. Whether it was a floral dress thrown over a t-shirt and jeans while performing, a dress and makeup for a magazine cover, or a Lady Gaga-worthy ball gown while doing a TV interview, Kurt occasionally wore dresses. Why? Well, why not? Dresses are incredibly easy – just add some accessories and you're good to go. No wonder he liked them!
The first outfit is a date look inspired by this photo. The clunky shoes are inspired by '90s style, as is the slouchy knit cardigan. This second look was influenced in part by this iconic outfit and would be perfect to wear during the summer (or now if you live in the Southern Hemisphere!). Pair these pieces with flat strappy sandals for an ultra-comfy vibe.
The third ensemble is based on this photograph. Wear this outfit with combat boots for a distinctive night-out look or with ballet flats for a formal event. (Though not a wedding. Rule number one, guys.)
What do you think?
Did you like this post? What do you think of grunge? Are you a fan of Kurt Cobain's style? Leave a comment below!