This Grand Valley State University student's ensemble is a casual go-to weekday look. Two parts cute and one part funky, Genna strives for comfortable vibes. She loves to take a statement piece and mix it with simple basics to keep her style fresh and simple.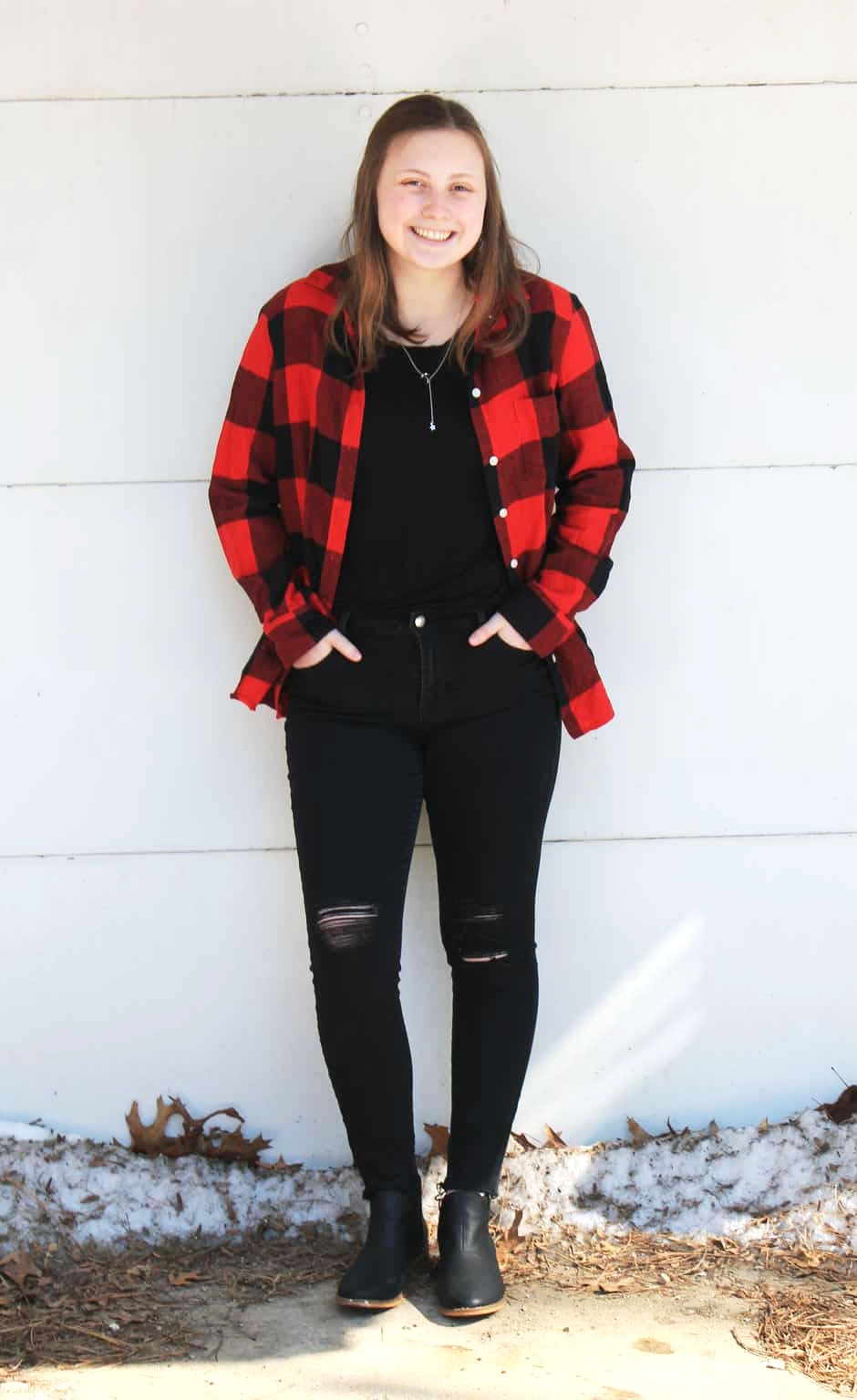 Genna 101
Name: Genna

School: Grand Valley State University

Major: Multimedia Journalism
Year: Sophomore
Hometown: Pleasant Lake, MI
Let's Talk Fashion
Who or what inspires your style? "Hayley Williams! I am obsessed with her and her style. She is so funky and wears whatever she wants."
Where do you like to shop? "I shop on quite a few online websites like SHEIN and Romwe. They are cheap and you can find items that you don't normally see in stores. I also love American Eagle. I always have and I think that stems down from sister and my mom."
How would you describe your sense of style? "Funky, comfy, and cute. I really wear what I want now. I never used to be like that but growing up has given me more confidence to wear things I wouldn't have normally [worn]."
Why did you choose this particular outfit? "I chose this outfit because it flowed well together. I am very into that '90s funky look and black clothes work [perfectly] for [that]. But adding in the plaid and the moon [and] star necklace give it some extra [funkiness]."
What fashion advice would you give to other students looking to improve their style? "Try everything on even if you think it's ugly. You never really know how something will look on [your body] unless you try it on, and don't worry about what other people think! If you like it, [then] that's all that matters."
What are your favorite trends right now? "'90s grunge! It's very 'in' right now and you see it everywhere."
Do you have any favorite fashion designers and if so who? "Vans. I think they can be worn with so many outfits and they come in so many designs and colors."
What do you do for fun? "I love hanging out with my friends, family, and my boyfriend. I also really like to hang out with my co-workers even if I am not working. They are just a really fun group of people."
If you could raid anyone's closet who would it be and why? "Hayley Williams without a doubt. I have listened to her music and [seen] her style since I was a kid, and I have always loved everything about it. She knows how to rock funky, cool outfits and not care. Her closet would be a dream to raid!"
Elements of Genna's Outfit
1. Celestial Necklace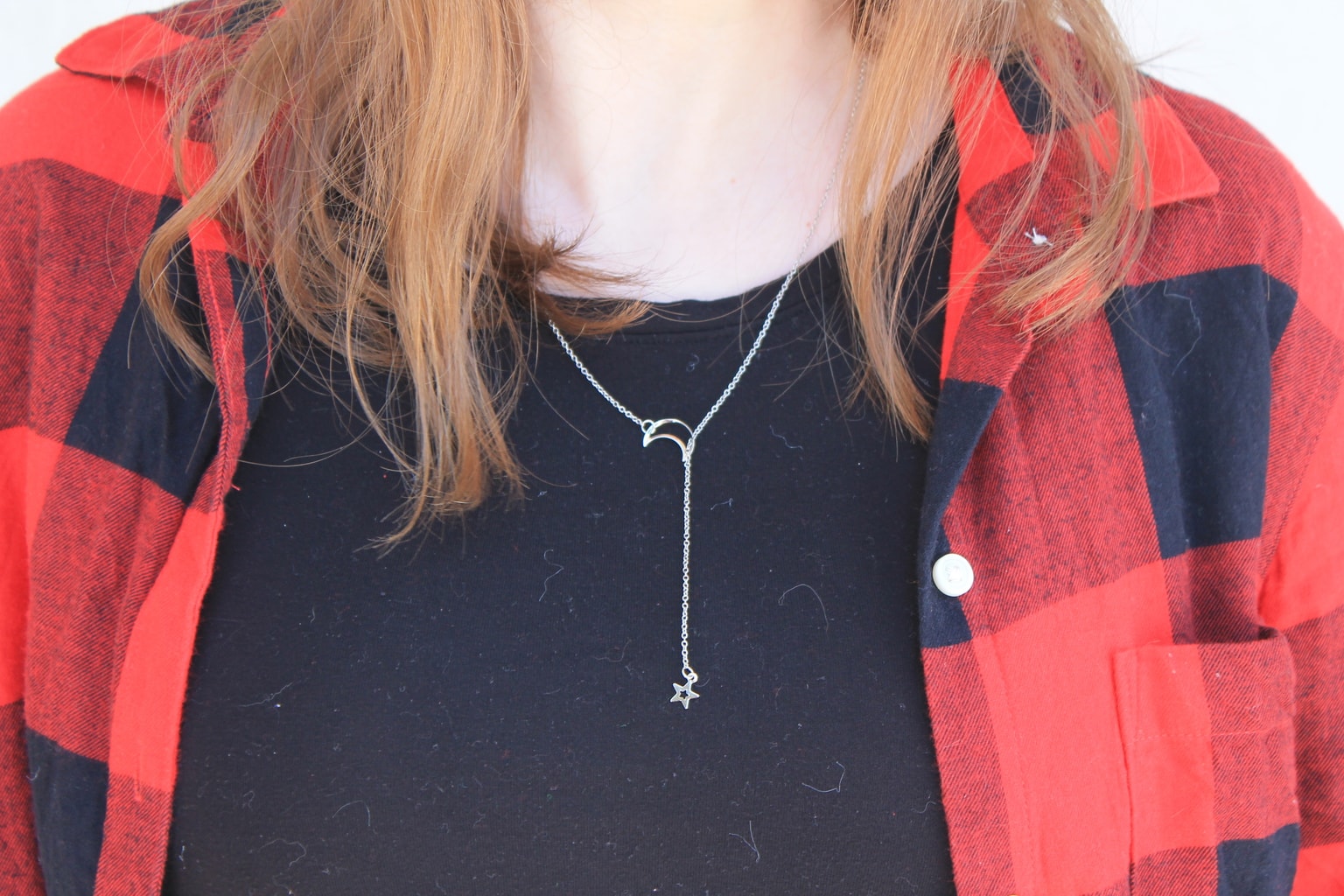 Genna doesn't have her head in the clouds, but her necklace is certainly inspired by the sky! This delicate lariat-style necklace has a simple star laced through a moon crescent. It's no secret: I've got major jewelry envy!
2. Distressed Jeans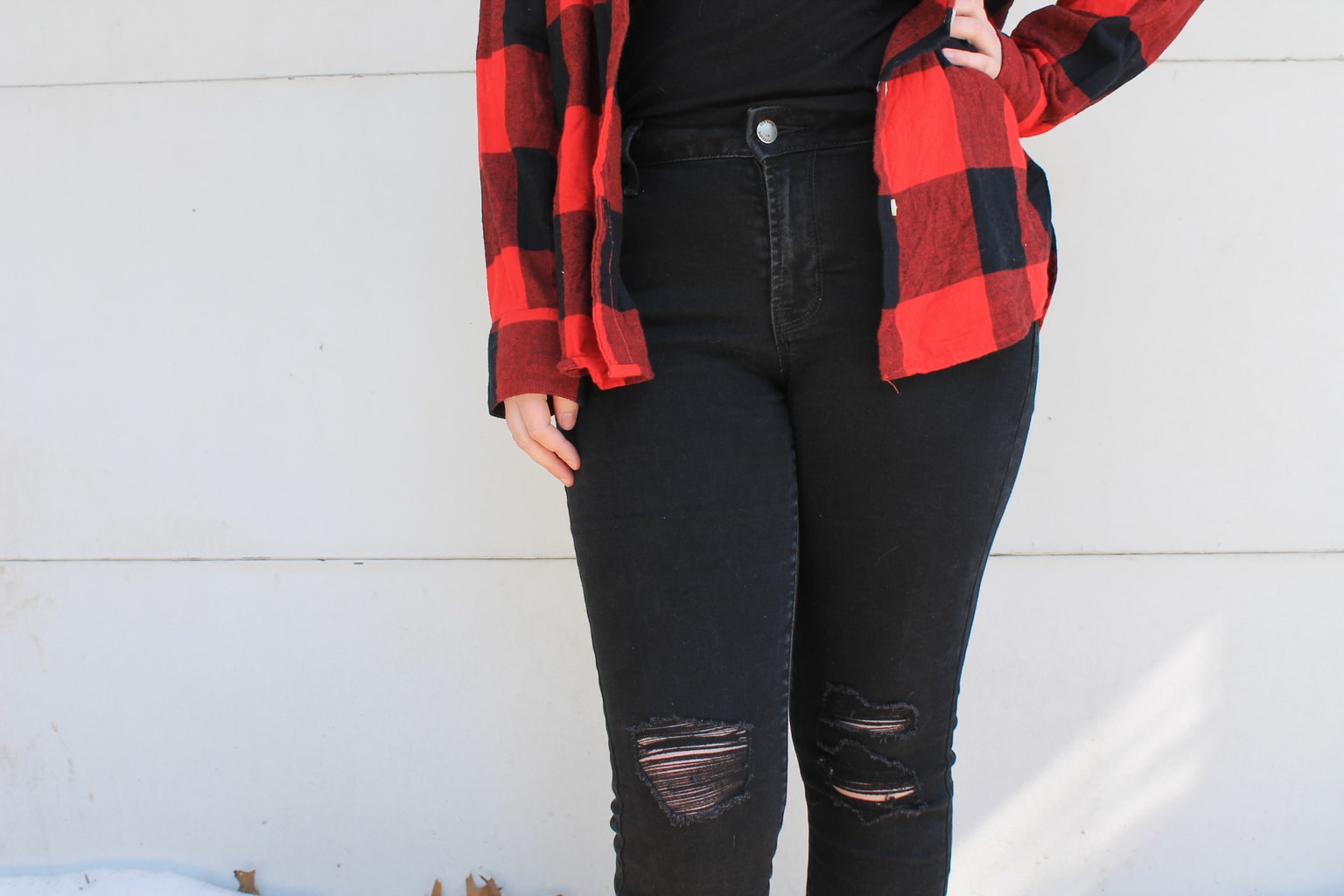 Distressed jeans are a closet keeper, especially a black pair! You can never go wrong with a great black denim jean; they are arguably the most versatile style of pants you can own.
3. Plaid Shirt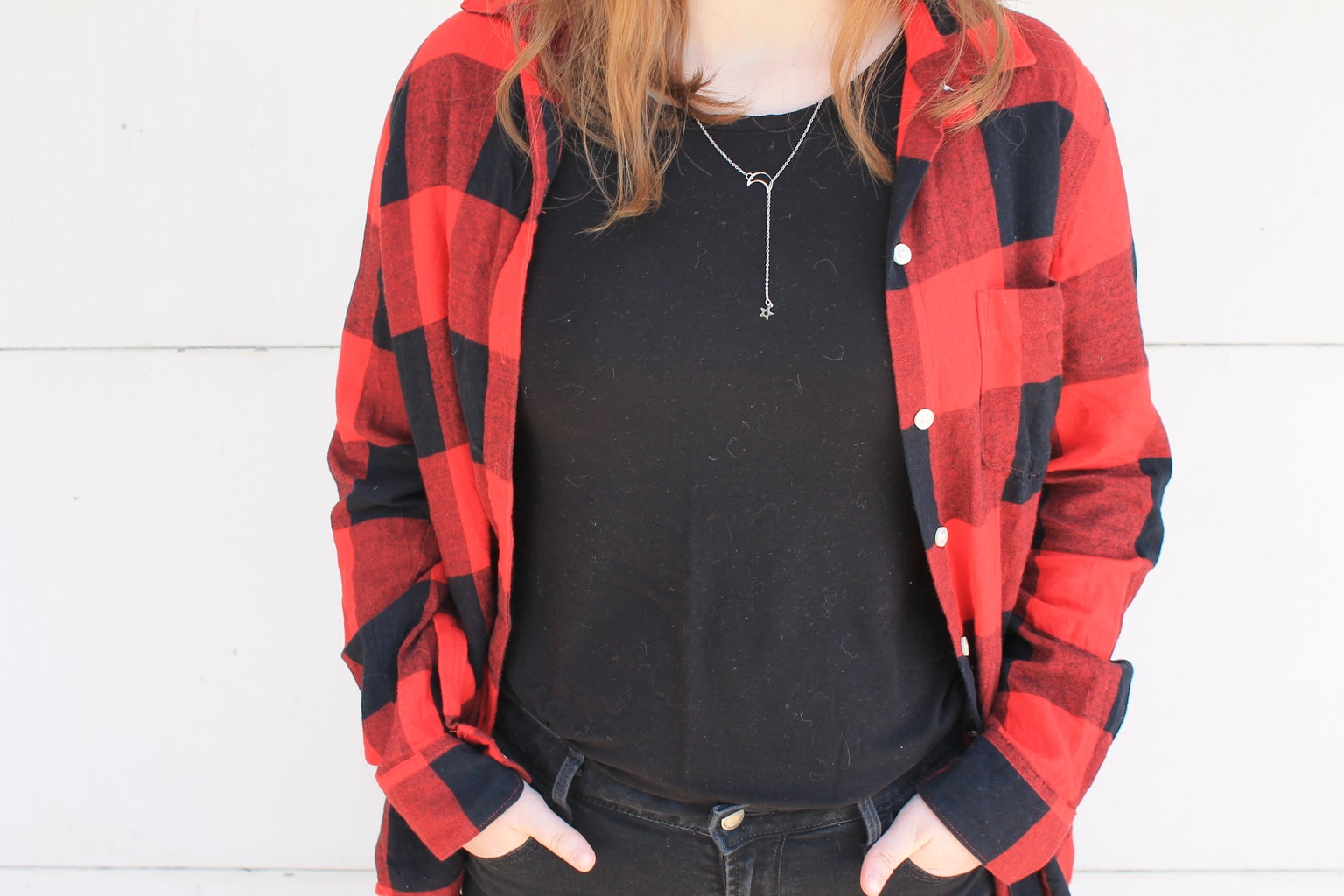 If there's one thing that Genna made clear, it's that she is inspired by the '90s grunge scene. The quintessential Kurt Cobain-esque style is a worn-in flannel, which Genna was happy to rock in red and black.
4. Weatherproof Booties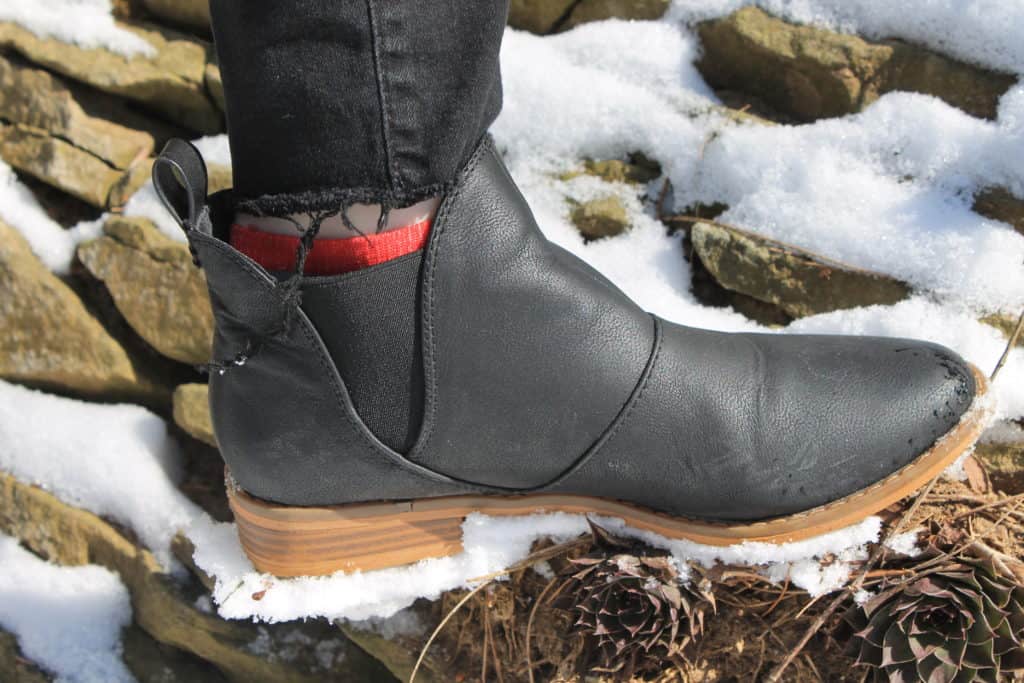 These simple black booties are not just adorable; they are also weatherproof! Perfect for a Michigan winter (or chilly spring), they keep her look chill and relaxed.
What do you think of Genna's style?
Are you also inspired by '90s rockers? Do you have a go-to pair of black denim jeans? Leave us a comment below!