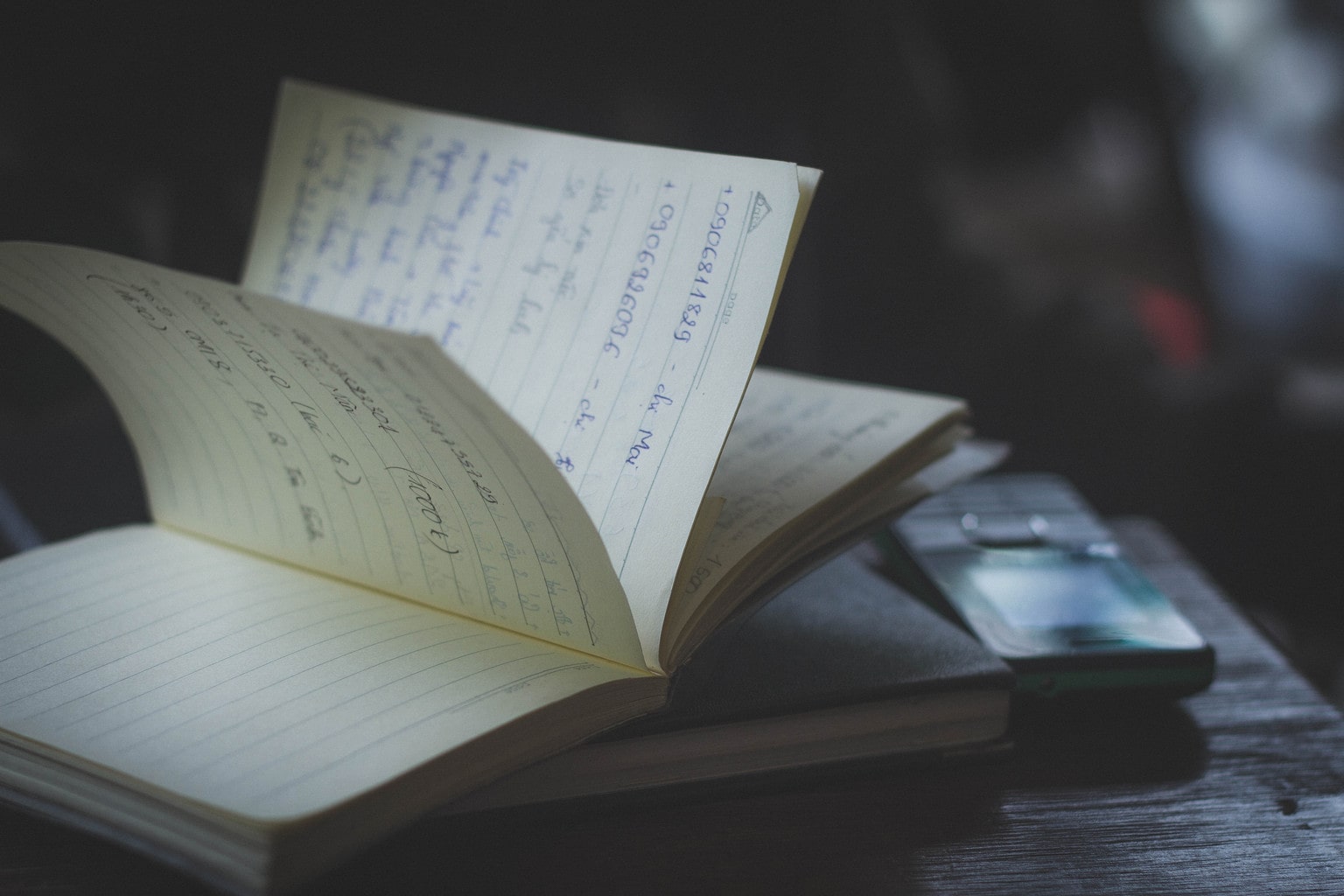 It's almost summer break, which means you get to take a break from college and have fun in the sun, dip your toes in the surf, and feel the soft sand. But with the excitement comes finals week, the week where everything becomes unimaginably stressful.
You've got papers to write, concepts to memorize, presentations to rehearse, countless hours to spend in the library, and sleepless nights to contend with. With all of that going on, it's easy to forget about what you'll wear. When exam day comes, it's easy to just put on sweatpants or leave your pajamas on. It's even easier to ignore your personal style and forget about the clothes that make you feel like the best version of yourself.
So today we're here to help. It's possible to stay comfy and wear what you love. Here are some tips to make it easy for you.
Related reading: The Best College Gift & Care Package Ideas to Send for Final Exams
Finals Week Style Tips:
It helps to plan. It's no fun to rush to find a good outfit on the day of the test. That's why planning is a good idea. Take out the clothes you want to wear and lay them out on your bed or put them on your desk chair. With your outfit planned out, you'll get dressed quickly in the AM.
Bring a sweater, jacket, or cardigan. Exam rooms can get chilly, so I recommend something lightweight to keep you warm. You don't want to go into a room, learn at the last minute that it's chilly, and be distracted by the chill while you take your tests. If you don't want to wear the extra layer, choosing an outfit with 3/4 or long sleeves will do.
No need to put too much effort in. With the studying you have to do and the time constraints that can occur, why bother spending hours getting ready for the big test? When finals are weighing on your mind, it's best to just put on the necessary articles of clothing, do your basic makeup, add a few accessories, and go. Skip the complicated hairstyles or super elaborate makeup routines.
No need for too many accessories. Accessories are great for showing off your personal style, but you do not need a lot. You don't want to wear something that will distract those around you, such as jewelry that makes noise when you move, nor do you want to wear accessories that don't feel comfortable. One accessory or two is good.
Wear clothes with natural fabrics. While you take your exams, you want to wear clothes that feel good on your skin. Fabrics like cotton, linen, and cashmere are natural fabrics and will keep you comfortable.
Let's take a look at 16 college finals outfits for every style. They are simple, comfy, and do not take a lot of effort to put on.
Bohemian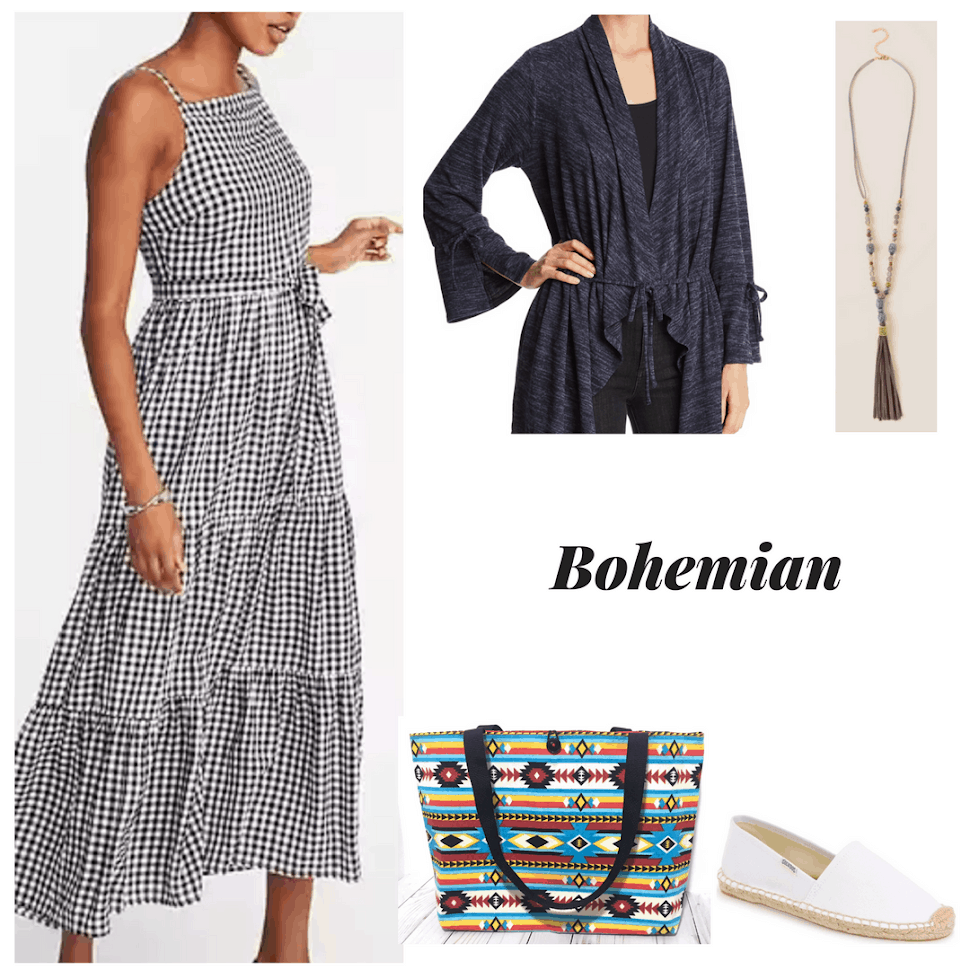 Products: Dress – Old Navy, Cardigan – Bloomingdale's, Shoes – Nordstrom, Necklace – Francesca's, Bag – Etsy
This is a fresh finals outfit. It's boho chic and very laid-back.
The great thing about maxi dresses is that they take no effort to put on. They're a much more stylish alternative to the sweatpants you see all over campus. Putting a knit cardigan over top and adding espadrilles is a quick, easy outfit formula for finals.
Want more boho flair? Add a tassel necklace and a bag with a bold print.
Girly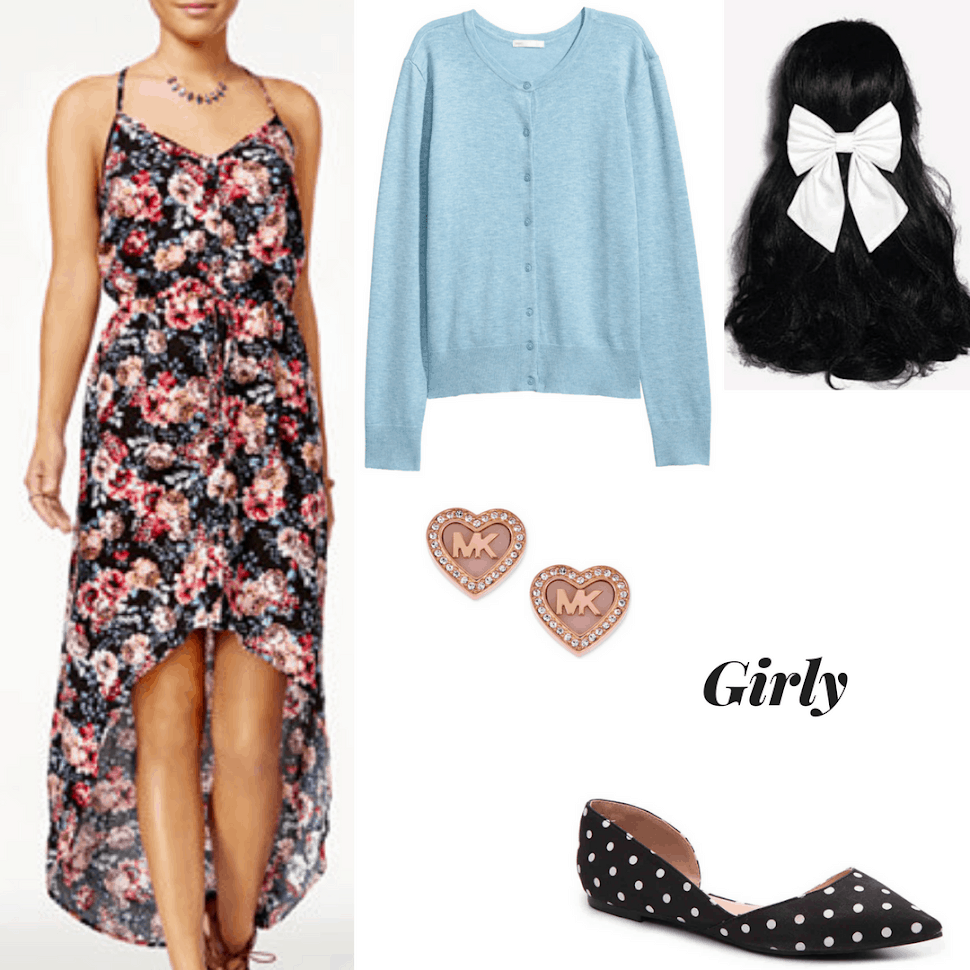 Products: Dress – Macy's, Cardigan – H&M, Bow – Etsy, Earrings – Macy's, Flats – DSW
If you're a girly girl, here's a finals outfit idea for you.
Dresses are great for finals because you just throw one on and go. Floral is very girly and the high-low length makes the dress trendy. A sweet blue cardigan will keep you warm. A cardigan and dress is always a classic girly outfit.
I care about you being comfy so I chose polka dot flats – so sweet and also comfortable. An (optional) white bow adds some more feminine flair and keeps your hair out of your face so you can focus on your stuff. Rose gold heart-shaped earrings add bling to the look.
Preppy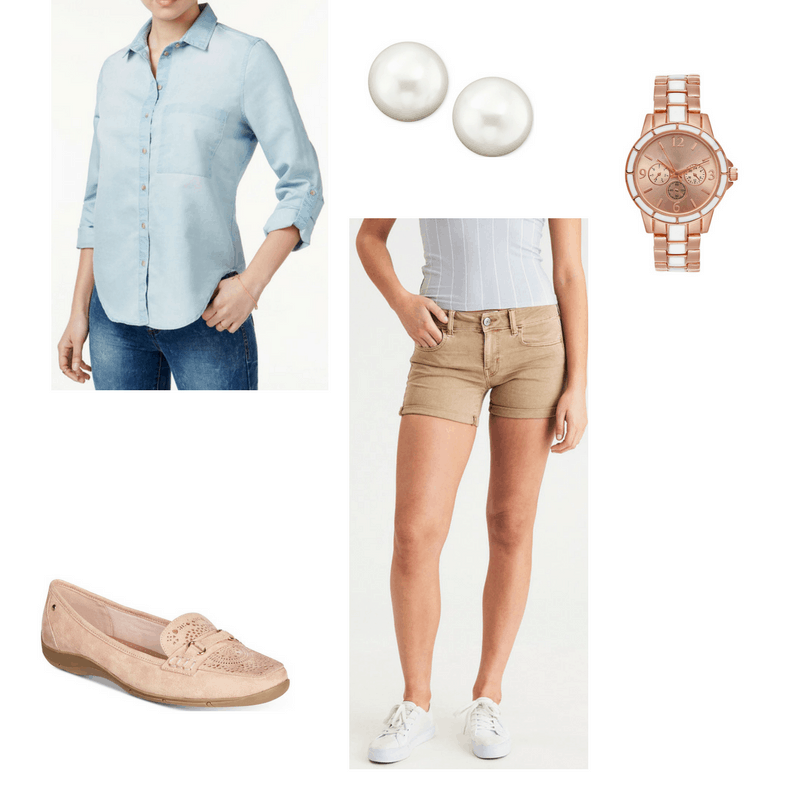 Products: Shirt – Macy's, Shorts – American Eagle, Earrings – Macy's, Watch – Macy's, Loafers – Macy's
Here's a preppy outfit that transitions from spring to summer. It would work for both final exams and final presentations.
A chambray shirt is one of the most versatile clothing items you can wear. Tuck one into twill shorts and you've got an easy, preppy finals outfit formula.
Loafers are another comfortable shoe choice for a busy week. Pearl earrings and a watch put more sophistication into the look.
Sporty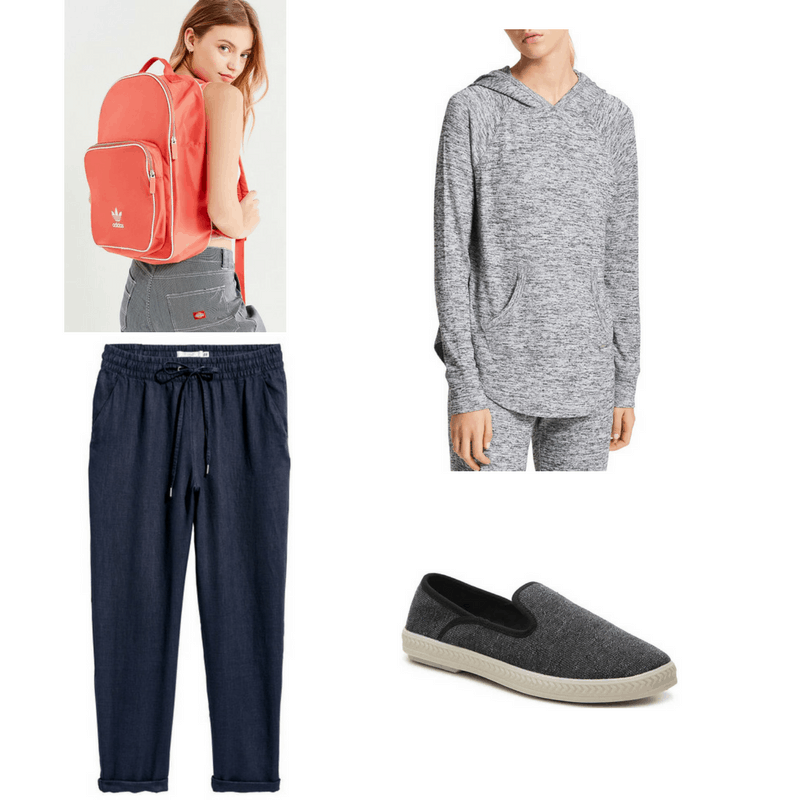 Products: Hoodie – Bloomingdale's, Joggers – H&M, Shoes – DSW, Backpack – Urban Outfitters
This is a sporty outfit that you'll see on many college students during finals.
Finals week is a great time to experiment with the Athleisure trend so pair a comfy grey hoodie with blue joggers.
To make getting dressed for finals less stressful, just put on slip-ons and grab an Adidas backpack.
Related reading: 60 Motivational Quotes to Get You Though Finals Week
Minimalist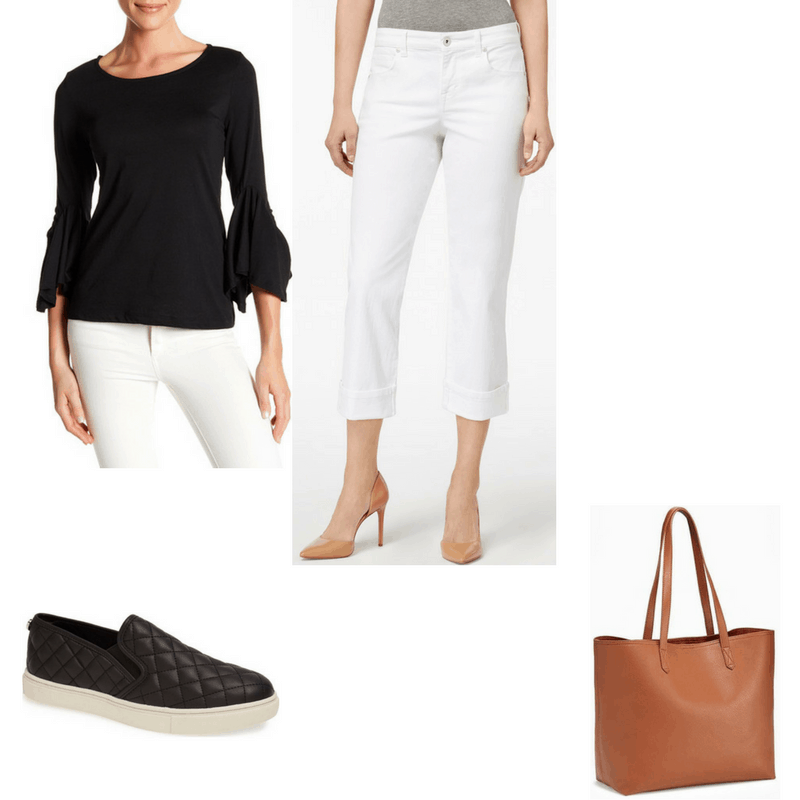 Products: Top – Nordstrom Rack, Pants – Macy's, Shoes – Nordstrom, Bag – Old Navy
If you're a minimalist, this look is for you.
You can never go wrong with pairing black with white together. The black top and shoes look great with white capris. The ruffled sleeves on the top and quilted texture on the shoes make this look anything but boring.
A camel-colored tote adds a neutral pop of color and while helping you carry all your essentials.
Edgy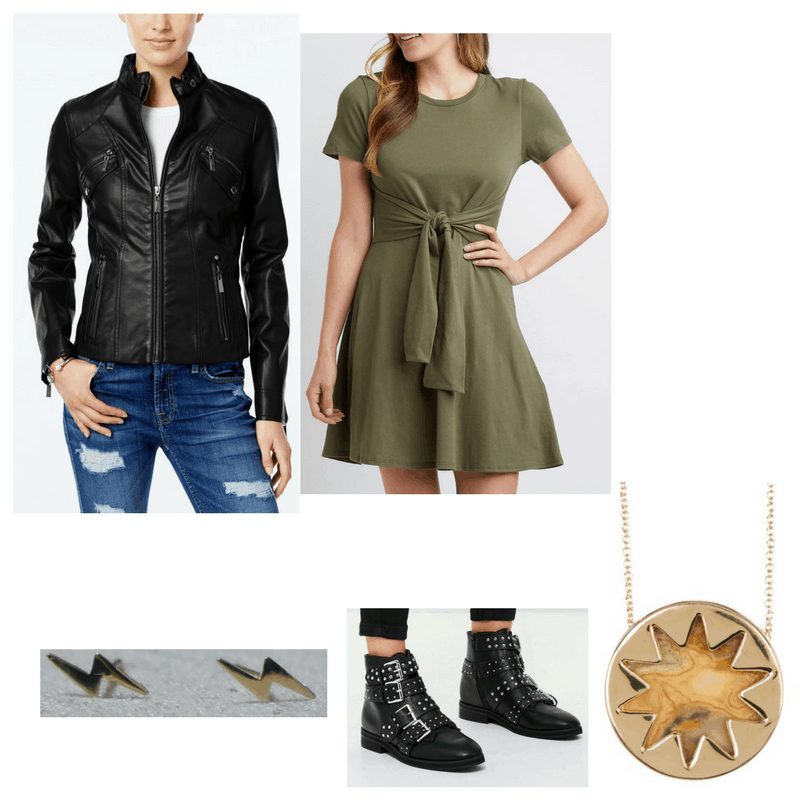 Products: Jacket – Macy's, Dress – Charlotte Russe, Boots – Missguided, Necklace – Nordstrom Rack, Earrings – Etsy
A t-shirt dress is so easy to throw on for finals. The knotted detail on this one makes for a fun touch. Edge up the dress with a black leather jacket (which will keep you warm) and studded ankle boots.
Add more edge with a big pendant necklace. Lightning bolt earrings are simple, but still have edge.
Sophisticated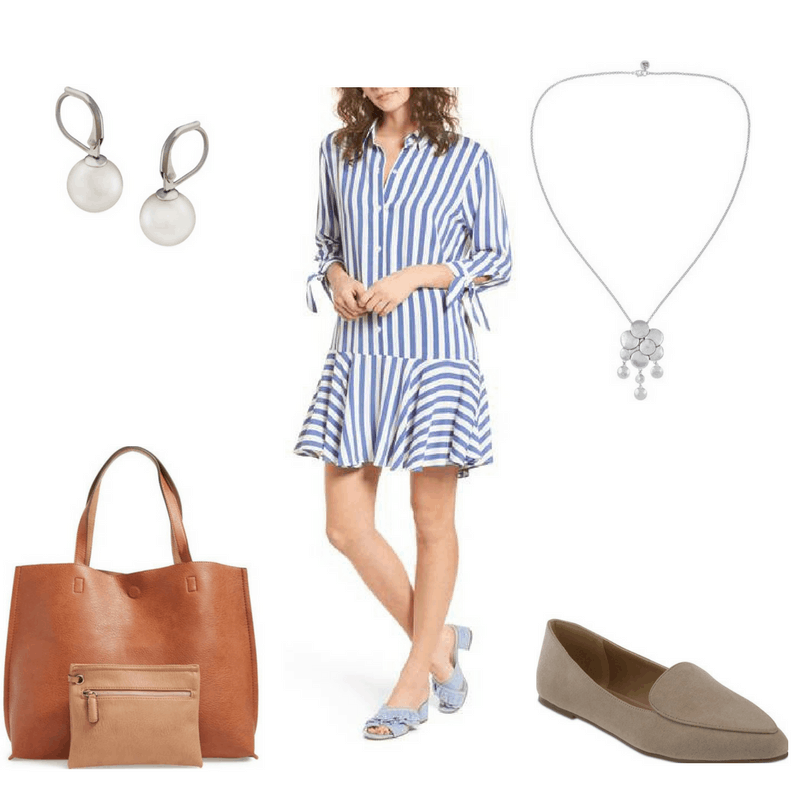 Products: Dress – Nordstrom, Shoes – Nordstrom, Necklace – Nordstrom Rack, Earrings – Lord and Taylor, Bag – Nordstrom
This is a sophisticated finals outfit for those with polished senses of style.
A stylish clothing item you can throw on for finals week is a shirtdress. It's classic, versatile, stylish, and importantly, sophisticated. Add some loafers so your feet will stay comfy.
Pearl earrings and a layered pendant necklace add more polish to this laid-back look. The great thing about this brown tote is that it's roomy for your essentials, but what also makes it even greater is that it has a wristlet – you can put your smaller essentials in the wristlet.
Grunge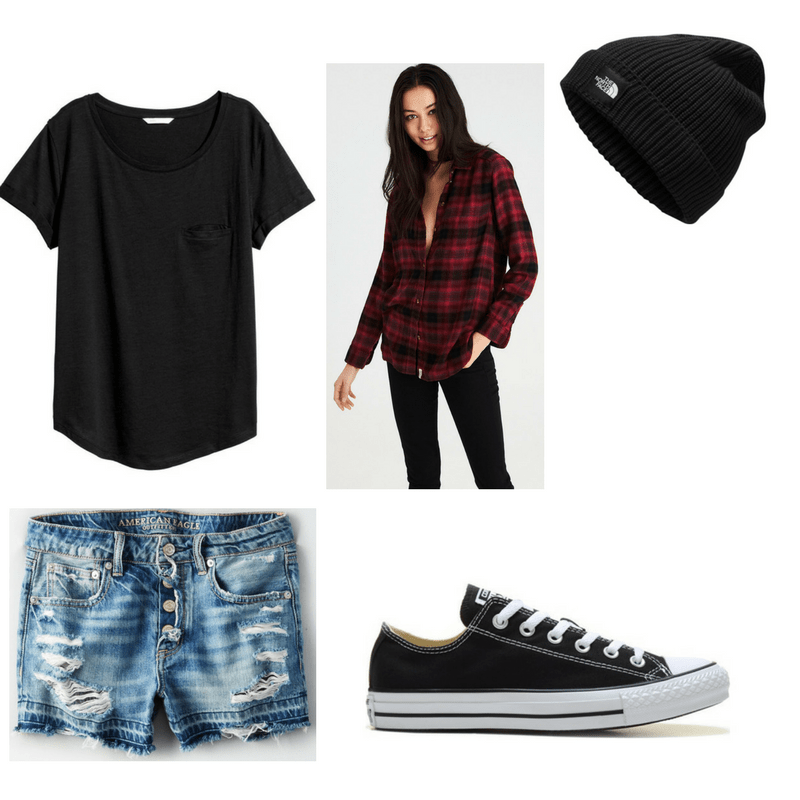 Products: Tee – H&M, Shorts – American Eagle, Plaid Shirt – American Eagle, Beanie – The North Face, Sneakers – Amazon
Here's a '90s-inspired grunge outfit that would be good for finals.
Start with a simple black tee and distressed denim shorts. With a plaid shirt, you can wear it as a jacket in case it gets chilly, but you can also tie it around your waist in true '90s fashion.
Slip on classic Converse sneakers and a black beanie to finish off this grunge-y look.
Classic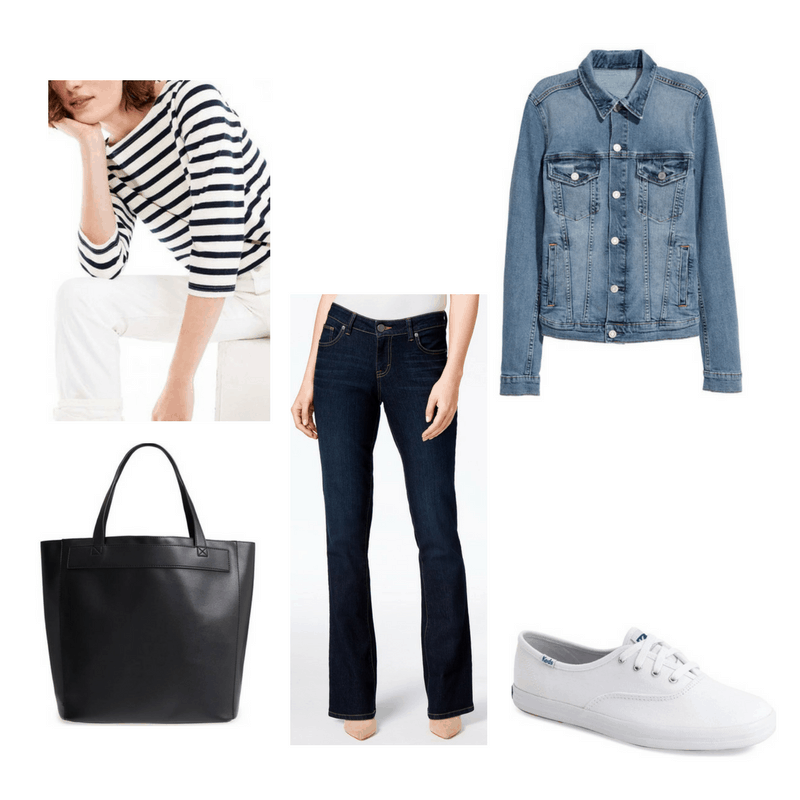 Products: Tee – Nordstrom, Jacket – H&M, Jeans – Macy's, Shoes – Nordstrom, Bag – Nordstrom
If you're drawn towards classic style, this look is for you.
A striped tee looks finals-ready, especially when paired with dark-wash bootcut jeans and white sneakers.
Adding a denim jacket throws in some denim-on-denim action for finals. A black tote will carry everything you need.
Trendy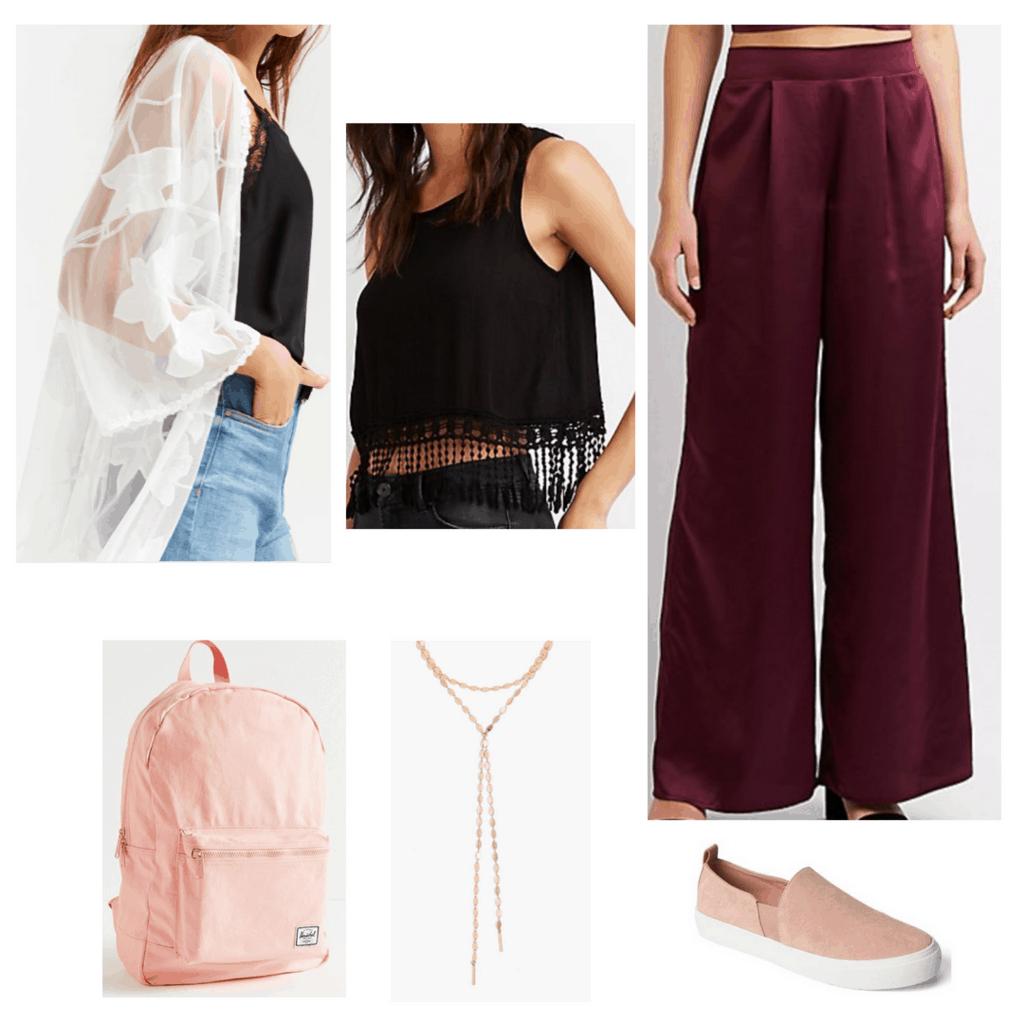 Products: Crop Top – Charlotte Russe, Pants – Charlotte Russe, Kimono – Forever 21, Shoes – Gap, Necklace – Madewell, Backpack – Urban Outfitters
This is a risk-taking outfit for finals that combines several of the hottest trends for 2018, while still being comfy and wearable.
Pastels are huge this Spring, so a blush pink backpack is a cute and of-the-moment choice. Palazzo pants and kimonos are both trendy and comfy, and they are much more stylish alternatives to sweatpants and cardigans. The satin texture adds a trendy touch to the pants. Fringe is also a big trend for Spring, so a black tank with fringe plays into this look.
Slip-on shoes have been trending for a bit, so why not add some pink slip-ons? You can throw them on quickly and easily. A layered necklace pulls this trendy outfit together.
Goth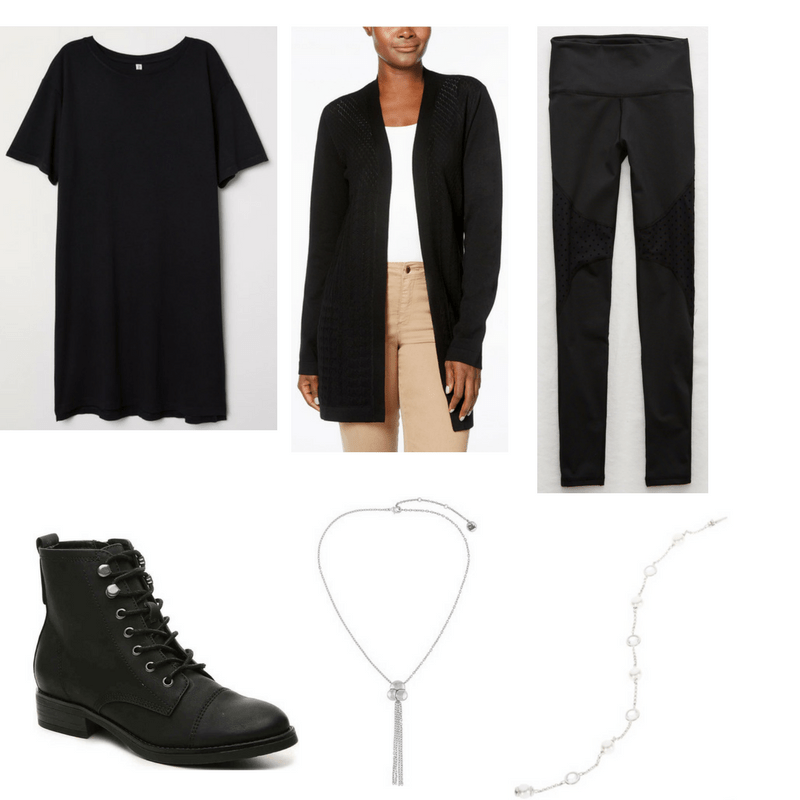 Products: Dress – H&M, Cardigan – Macy's, Leggings – American Eagle, Boots – DSW, Bracelet – Lord and Taylor, Necklace – Nordstrom Rack
This is a wearable outfit if your style leans to the dark side. This outfit also proves you can wear an LBD to finals. This t-shirt dress from H&M is comfy and easy to throw on with absolutely anything. An all-black ensemble is easy on the eyes and will not distract anyone.
A black cardigan will keep you warm as you take on your exams. Wearing combat boots with mesh leggings gives the look of tights.
Simple jewelry, such a chain link bracelet and tassel necklace finish off the wearable gothic look.
Casual-Chic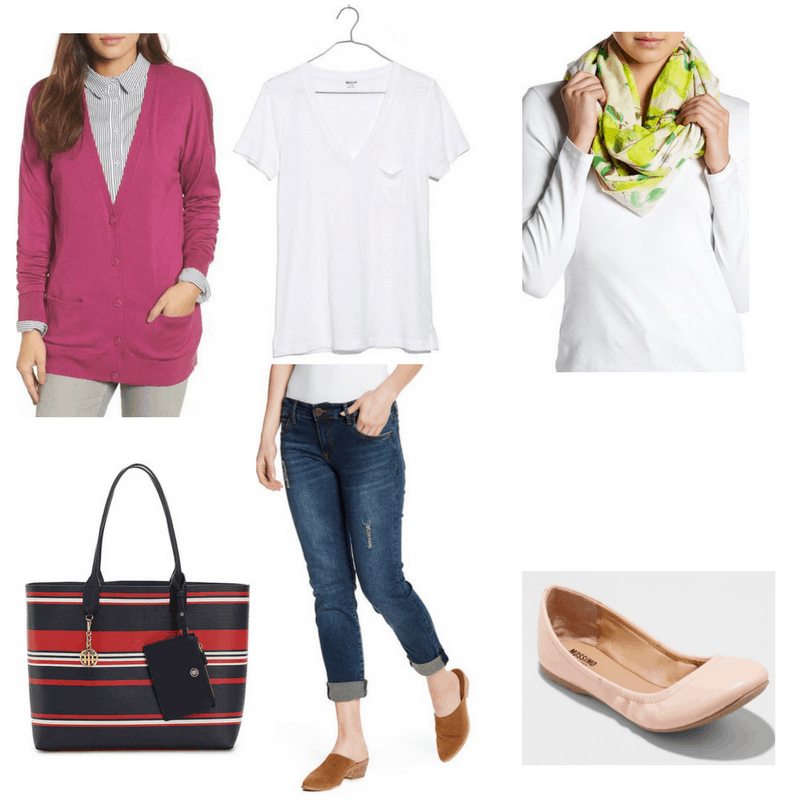 Products: Tee – Nordstrom, Jeans – Nordstrom Rack, Cardigan – Nordstrom, Scarf – Nordstrom Rack, Flats – Target, Tote Bag – DSW
This finals week outfit is comfy and casual, perfect for you if you have a laid-back vibe.
Start with a simple white tee and boyfriend jeans (which are just as easy to throw on as a t-shirt and sweatpants). Neutral flats are a perfect simple pairing. Add a pop of color with a purple cardigan and an infinity scarf.
Carry all your essentials in this striped tote and you're good to go!
Artsy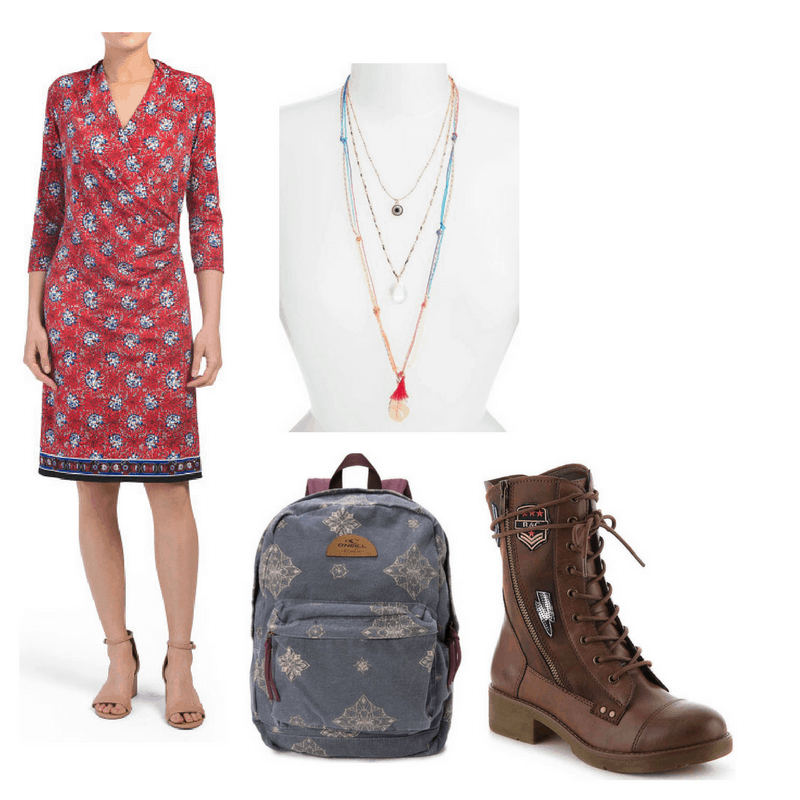 Products: Dress – TJ Maxx, Necklace – Nordstrom, Boots – DSW, Backpack – Nordstrom
This finals outfit is perfect for if you have an artsy, eclectic style.
A printed wrap dress and brown combat boots are the eclectic outfit to start off with. The bohemian feel of the dress contrasts with the rugged vibe of the boots.
Add some quirkiness with layered necklaces and a printed backpack.
Vintage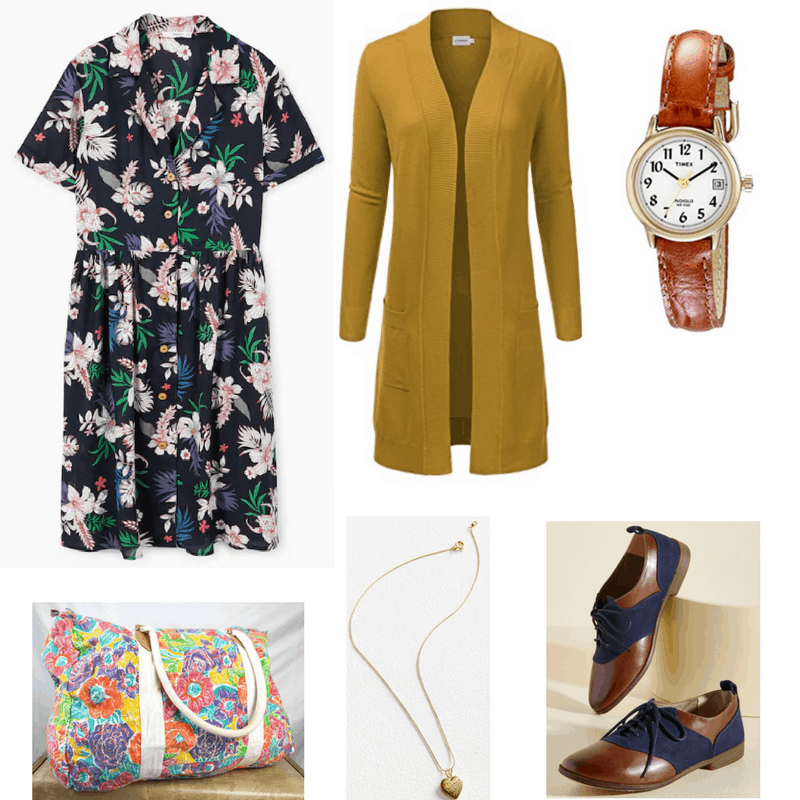 Products: Dress – Mango, Cardigan – Amazon, Shoes – Modcloth, Necklace – Urban Outfitters, Watch – Amazon, Bag – Etsy
Here's a vintage-inspired outfit idea for finals. It consists of a printed shirtdress and colorblocked oxfords. When you add a mustard-colored cardigan, you get a pop of color and you'll be nice and warm so you can focus. Mustard is a great color to wear if you want that vintage vibe.
A simple heart-shaped locket and rustic watch will keep your look simple, but you can add more fun with a floral tote bag.
Glam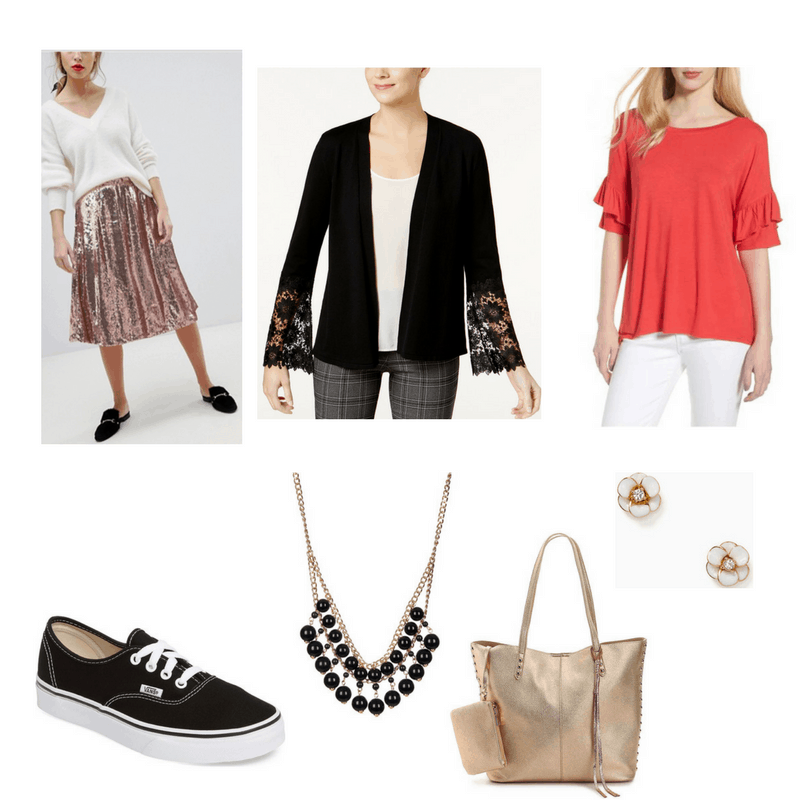 Products: Top – Nordstrom, Cardigan – Macy's, Skirt – ASOS, Shoes – Nordstrom, Necklace – Nordstrom Rack, Earrings – Kate Spade, Bag – DSW
This outfit is proof that you can go glam for finals without putting in too much effort.
A ruffle-sleeve tee makes a statement for finals week, especially when paired with a sparkly sequin midi skirt. Yes, even the most basic Vans sneakers can be glam. Classic black and white Vans are given some glamour when paired next to the jewelry and textures. You could also switch them for fancy flats if you preferred.
Speaking of textures, a metallic tote bag adds more sparkle holds all your essentials and the wristlet holds other necessities while a black lace cardigan keeps you warm and adds sophistication to the look.
Two pieces of jewelry are enough to add more glam. Kate Spade flower earrings and a necklace with big beads are perfect choices.
Tomboyish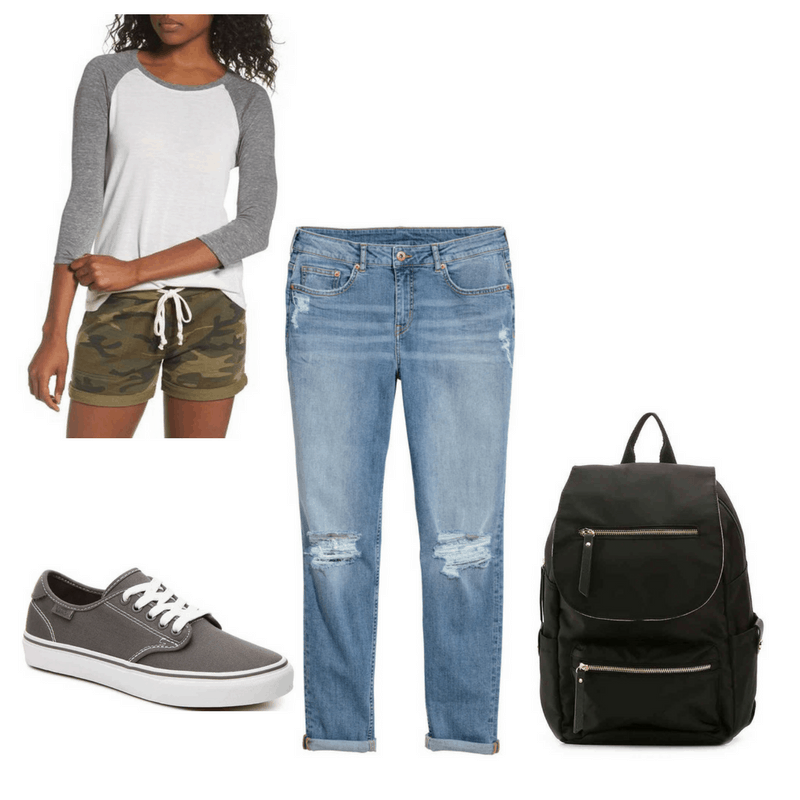 Products: Tee – Nordstrom, Jeans – H&M, Shoes – DSW, Backpack – DSW
Here at CF, we try to cater to many different fashion tastes and tomboys are no exception. We even have a finals-ready outfit idea that is good for a tomboyish style.
A baseball tee and boyfriend jeans are great staples for a tomboy wardrobe. They look great with Vans (another tomboy wardrobe staple).
A black backpack will help you carry everything you need for finals.
Did it help you?
Do any of the outfits appeal to you? How do you stay true to your style during finals ? Did the outfits give you ideas for finals week style? I'm eager to hear your thoughts in the comments.