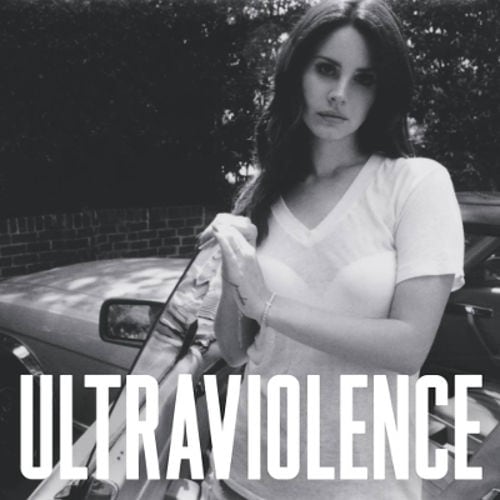 Official Ultraviolence Album Art
In honor of our nation's birthday tomorrow, let's check in with the Queen of Americana Revival, and a fashion icon in her own right, Lana Del Rey! Love her or hate her, this starlet has been the name on everyone's lips since she emerged from upstate New York sans birth name Elizabeth Woolridge Grant.
You've got to give it up for LDR: she challenges typical Top 40 sound, despite the burgeoning genre of EDM and sugar coated mainstays, with perhaps the gloomiest old Hollywood romanticism possible in the land of pop music. If you're still skeptical of her performing live, just watch some great footage online – from her Amoeba shows a few years back, to her most recent Glastonbury performance – before you continue to sip on that haterade.
Lana scored her first No. 1 album atop the Billboard charts this month with the release of Ultraviolence, her follow-up to the indie-turned-monster smash effort Born to Die. Her cutting lyrics and distinct sound is delivered louder than ever in this latest work.
Ultraviolence is so inspiration-worthy that we couldn't just choose one song to cover! Instead, we've picked three lead singles to explore: "Shades of Cool," "Brooklyn Baby" and "West Coast."
You can catch them all below in Lana Del Rey's beautiful Ultraviolence album trailer:
This perma-pout beauty will no doubt bring the drama and attract controversy, but no one can deny Lana Del Rey's melodic chops. Her music is a reflection of her style and persona, which she describes as "a gangster Nancy Sinatra" or "Lolita got lost in the hood." Keep scrolling to channel Lana Del Rey's signature style:
"Shades of Cool"
"Shades of Cool" opens up the Ultraviolence trailer and evokes the signature languid tunes we've come to expect from Lana. She sings like her head is in the clouds and mentions "strange weather" in the song; channel these dreamy musical notes with a cloudy phone case and equally ethereal ensemble.
Get Lana's ultra-femme style started with a pretty peplum top, a neutral bag and ladylike watch. Lock down her girl-meets-bad-"Boy Blue" vibe going with periwinkle nail polish and powder blue sneakers to contrast with high-waisted indigo jeans. Now you can "live in shades of cool" with this outfit!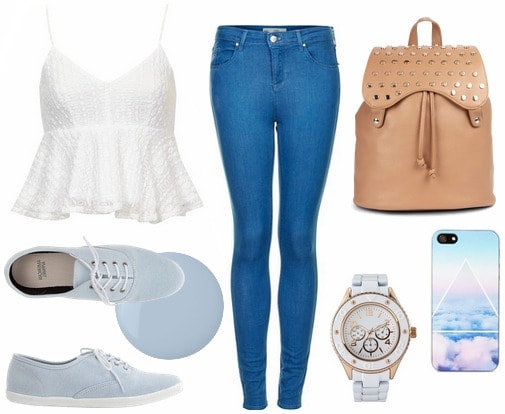 Product Info: Phone Case, Nail Polish, Top, Jeans, Bag, Watch, Shoes
"Brooklyn Baby"
Lana directs the clichés she writes towards herself in the Ode to Hipsterdom, dubbed "Brooklyn Baby." The tongue-in-cheek lyrics are sung amid a familiar cinematic sound and pokes fun at the too-cool-for-school kids that "get down to beat poetry," flaunt a rare jazz collection and wear flowers in their hair – a stereotype that reaches beyond the borough the song is named for, but one that is not entirely flawed!
Channel a more laid-back ambiance with ripped jeans, a striped top and black booties. Top it off with wayfarer shades and a fringed bag, then wrap a buffalo plaid shirt around your waist to complete the "newer nation" look.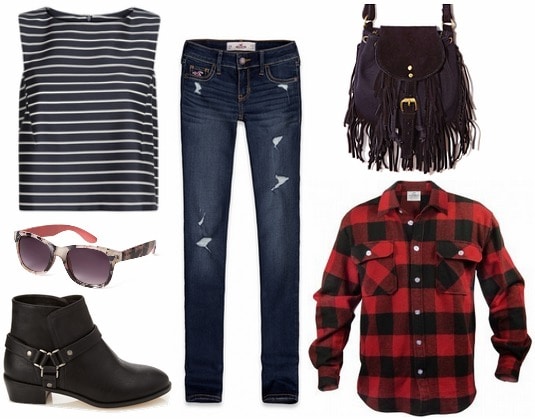 Product Info: Glasses, Jeans, Bag, Top, Flannel, Boots
"West Coast"
Lana says: "Down on the West Coast, I get this feeling like it all could happen" – but don't you get the same feeling every time summer rolls around? However rare optimism is in Lana's music, grab it when you can and don this bright look.
Wear a chill tank with a boardwalk vibe over some distressed shorts and carry an über cute pineapple bag. LDR channels the Spanish influence of SoCal, crooning: "Te deseo, carino," which translates into "I desire you, darling." Do the same and throw on dusty booties to evoke the woven textiles of Mexico. And finally, what would an LDR post be without a pair of signature Lolita frames? Throw yours on with pinky-nude lips and "get the music in you" this season!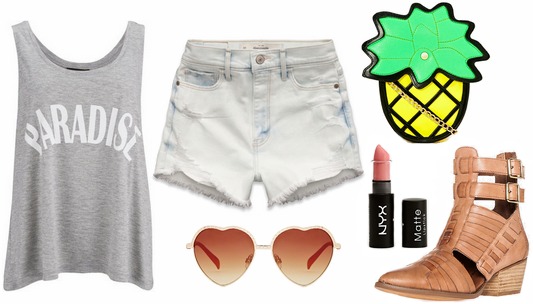 Product Information: Tank, Boots, Shorts, Glasses, Bag, Lipstick
What Do You Think?
Have you bought Ultraviolence? What do you think of Lana's style and image? Are you a fan of her music? Let us know your thoughts by leaving a comment!