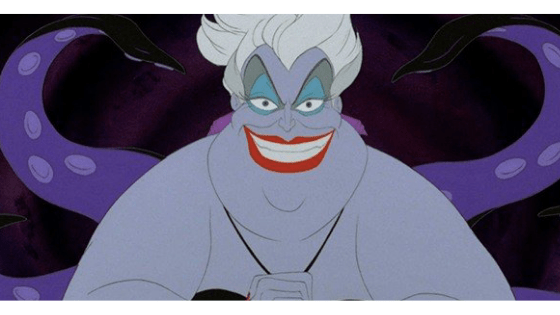 Although Disney Villains aren't exactly role models, they do tend to be inspirational when it comes to fashion. And since winter is the perfect time of year for moody, dark outfits, I thought it would be fun to do some posts about fashion inspired by these wicked characters.
We've already talked about Cruella De Vil's style, one on Maleficent's fashion sense, and of course, last time we did a full Evil Queen fashion guide. This week, I wanted to feature one of the most famous Disney villains of all, Ursula from Walt Disney's The Little Mermaid.
Although it's definitely not beach weather outside (at least, in most parts of the US), why not reminisce about sunnier days with everyone's favorite aquatic villain?
Like the previous articles in this series, the purpose of this article is to use childhood icons as inspiration for outfits that you can actually pull off as a college student. All it takes is a little creativity!
Let's get into our Ursula fashion guide.
About Ursula
Ursula, the Sea Witch, is an evil sorceress who longs to possess the powers of King Triton. When she finds out the king's youngest daughter, the mermaid Ariel, is in love with a human, Prince Eric, she recognizes a chance to gain control of the throne. Ursula tricks Ariel into making a bargain with her: She will give Ariel human legs for three days in exchange for Ariel's beautiful voice. If Ariel can get the prince to kiss her within those three days, she can be human forever, but if not, she owes Ursula her soul.
Desperate for a chance with the prince, Ariel takes this deal and becomes human. Despite her lack of a voice, things go very well between Ariel and the Prince. Of course, Ursula does not like this. To tip the odds back in her favor, Ursula uses Ariel's voice, transforms herself into a beautiful human girl named Vanessa, and woos the Prince. He agrees to marry her on Ariel's third day as a human.
Ariel and her sea friends do everything they can to stop the wedding, and they succeed when the shell necklace containing Ariel's voice falls from Ursula's neck, exposing her true identity. Unfortunately, before Eric can kiss Ariel, the sun sets, meaning Ariel must give her soul to Ursula. As planned, King Triton agrees to give Ursula his power if she releases Ariel. With her new power, Ursula grows until she is enormous and conjures up a terrible storm and massive whirlpool to kill everyone. However, Prince Eric ultimately saves the day when he steers the ship straight into Ursula, leading to her death.
Ursula Fashion, Outfit 1: Poor, Unfortunate Soul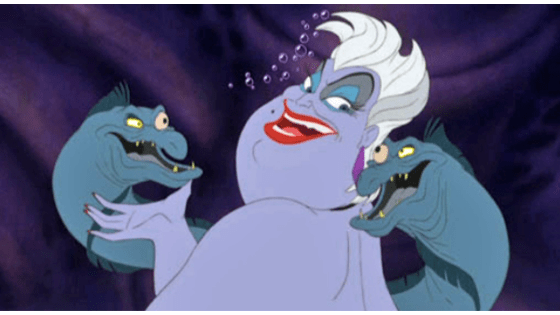 Ursula is shown throughout the movie wearing a tight black outfit that shows off her voluptuous figure. So that's what we're channeling with this first Disneybound-style look.
To create an outfit inspired by Ursula's everyday look, begin with a black tulle skirt that is reminiscent of the way Ursula's tentacles twirl around in the ocean. For contrast, rock a shimmering purple top to bring in some of Ursula's trademark hue.
For accessories, stick with basic black heels and a little black bag. Then finish off the look with a gold sea shell necklace, similar to the one that captures Ariel's voice.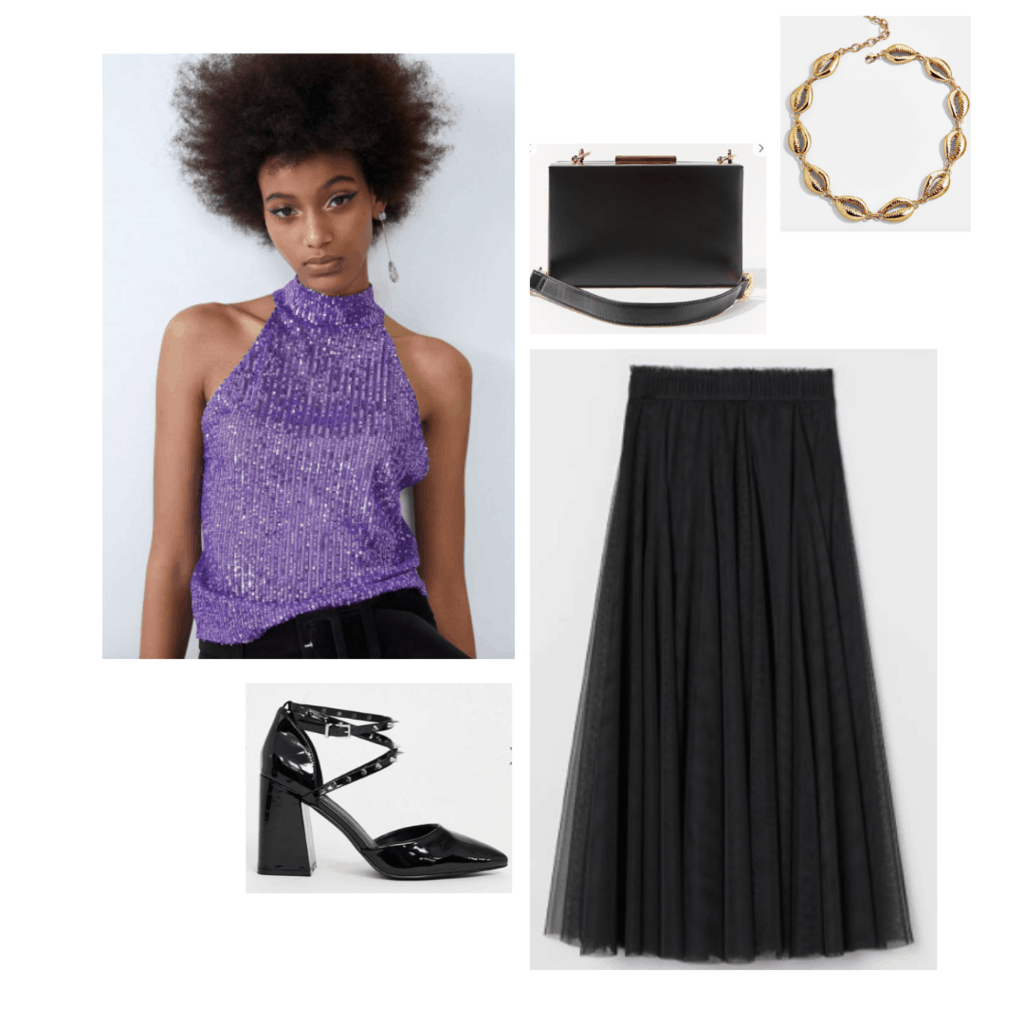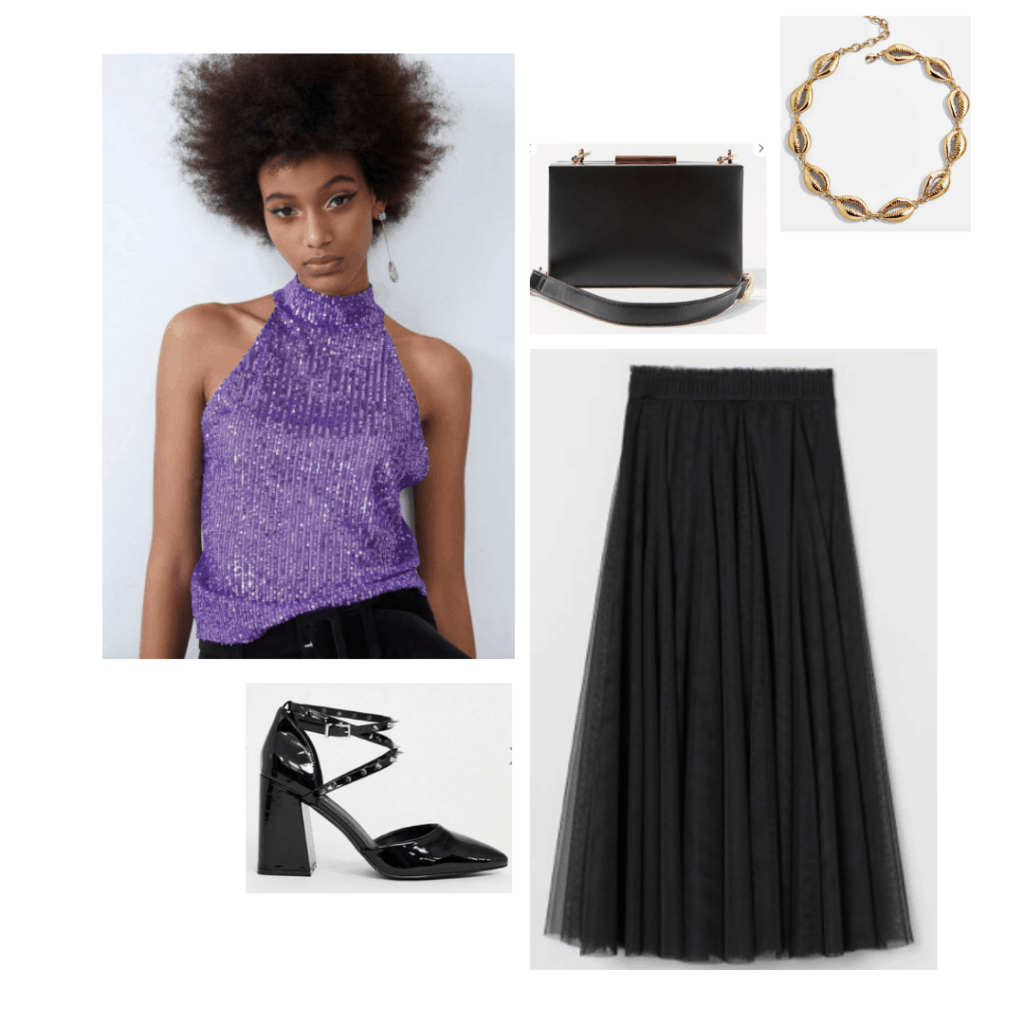 Products: Skirt – H&M, Top – Zara, Shoes – ASOS, Necklace – BaubleBar, Bag – Forever 21
Ursula Fashion, Outfit 2: Vanessa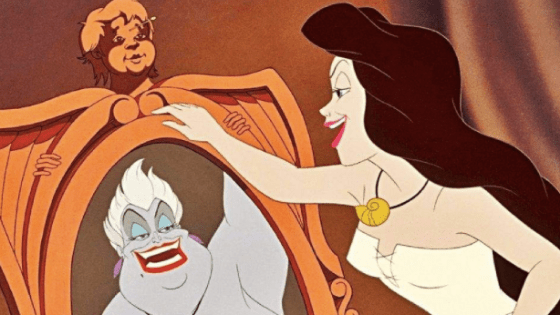 When Ursula disguises herself as a human to make sure Ariel doesn't get her happily ever after, she takes on the identity of Vanessa.
While preparing for her wedding, Ursula as Vanessa wears a cream colored slip that's stylish and sweet.
To recreate this look, base the outfit around a cream colored button up dress that would make anyone look sweet and innocent. Then, pair the look with a black biker jacket and and black accessories, to give the sweet girl some of Ursula's hidden edge.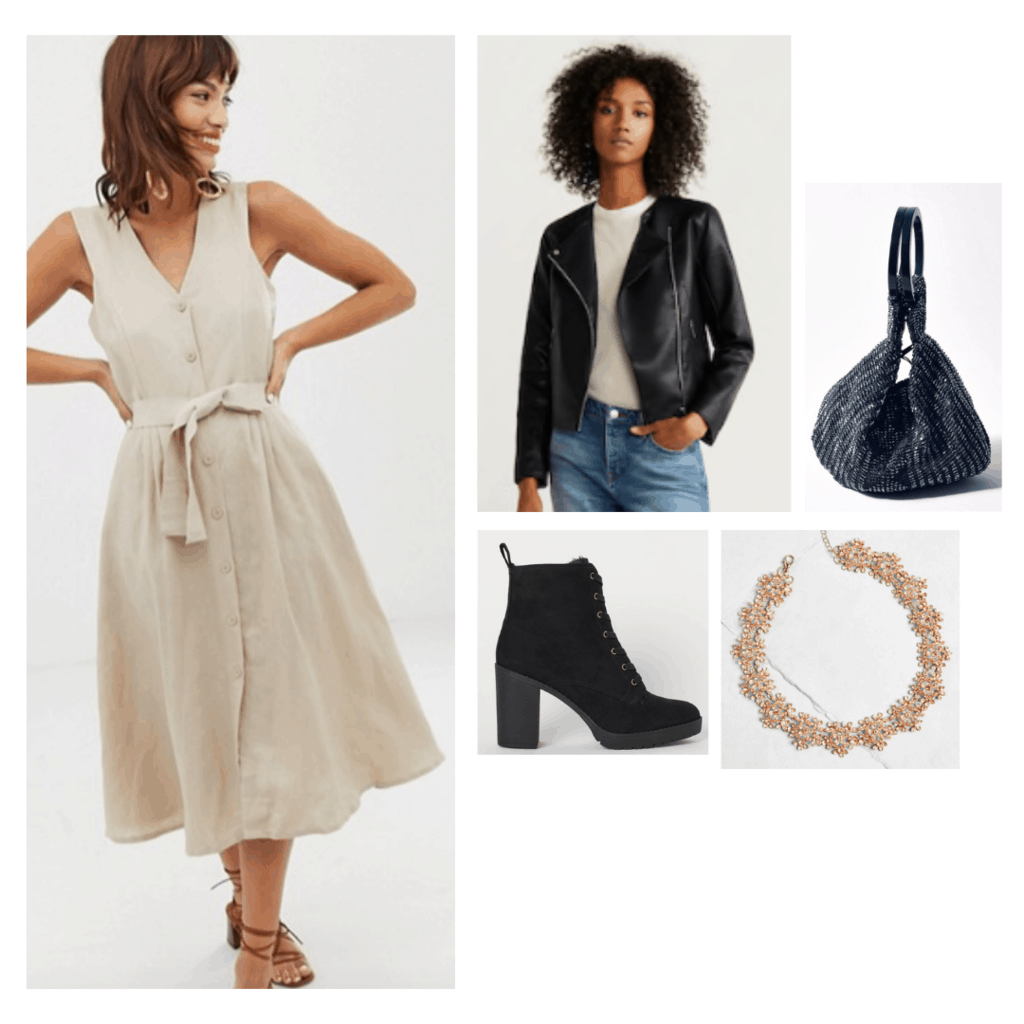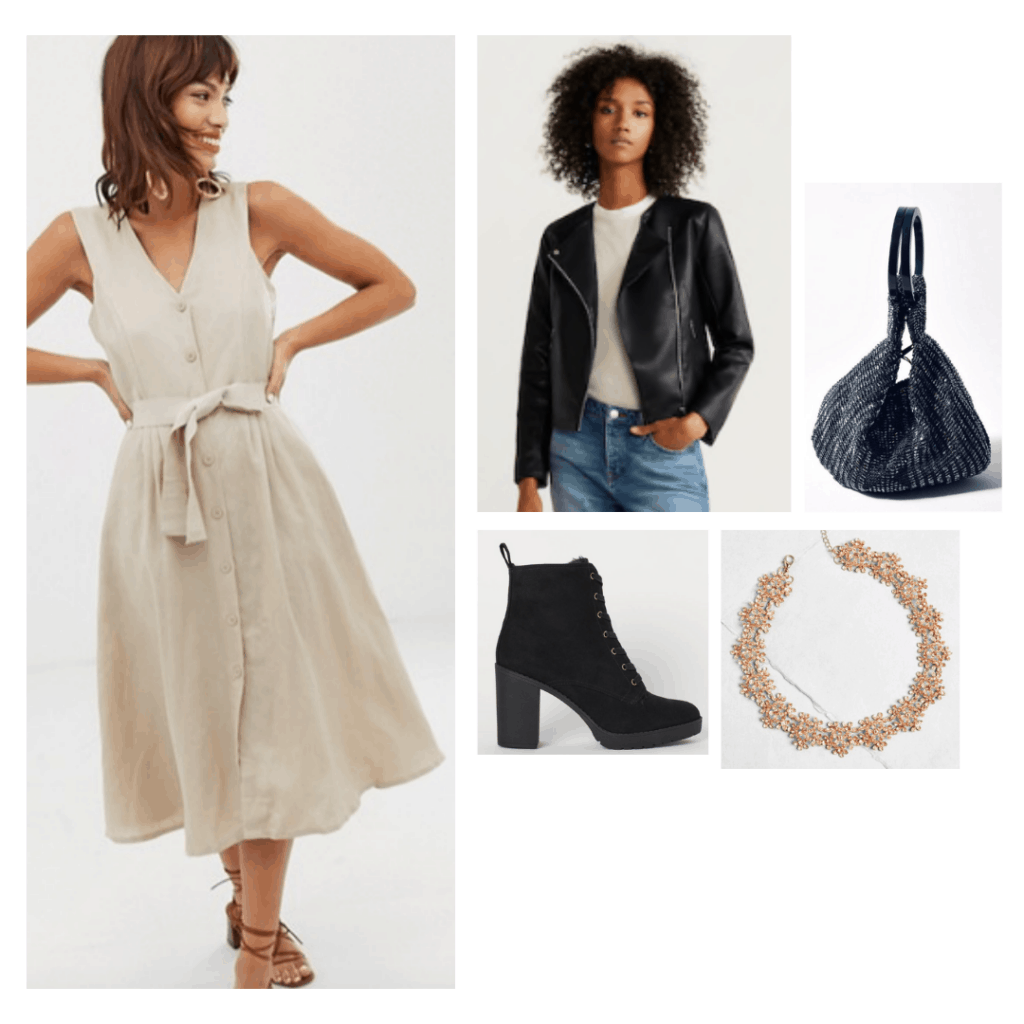 Products: Dress – ASOS, Boots – H&M, Jacket – Mango, Necklace – Modcloth, Bag – Unique Vintage
Ursula Outfit 3: Ocean Takeover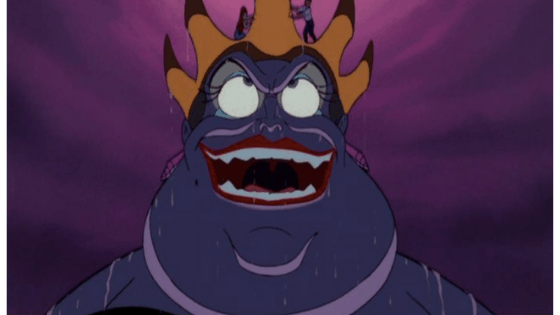 With her newly acquired trident, Ursula really lights up the sea with her evil power.
For this look, I wanted to stick to the classic Ursula, but amp it up a bit with some extra wicked flare.
This purple dress is perfect for looking like an absolute sea goddess, and you can take it over the top (in very trendy fashion), with this pearl headband. Shell and rock jewelry are the perfect add-ons to this ocean look. Sleek black heels with gold studs are the perfect final touch to the look, for that extra hint of Ursula edge.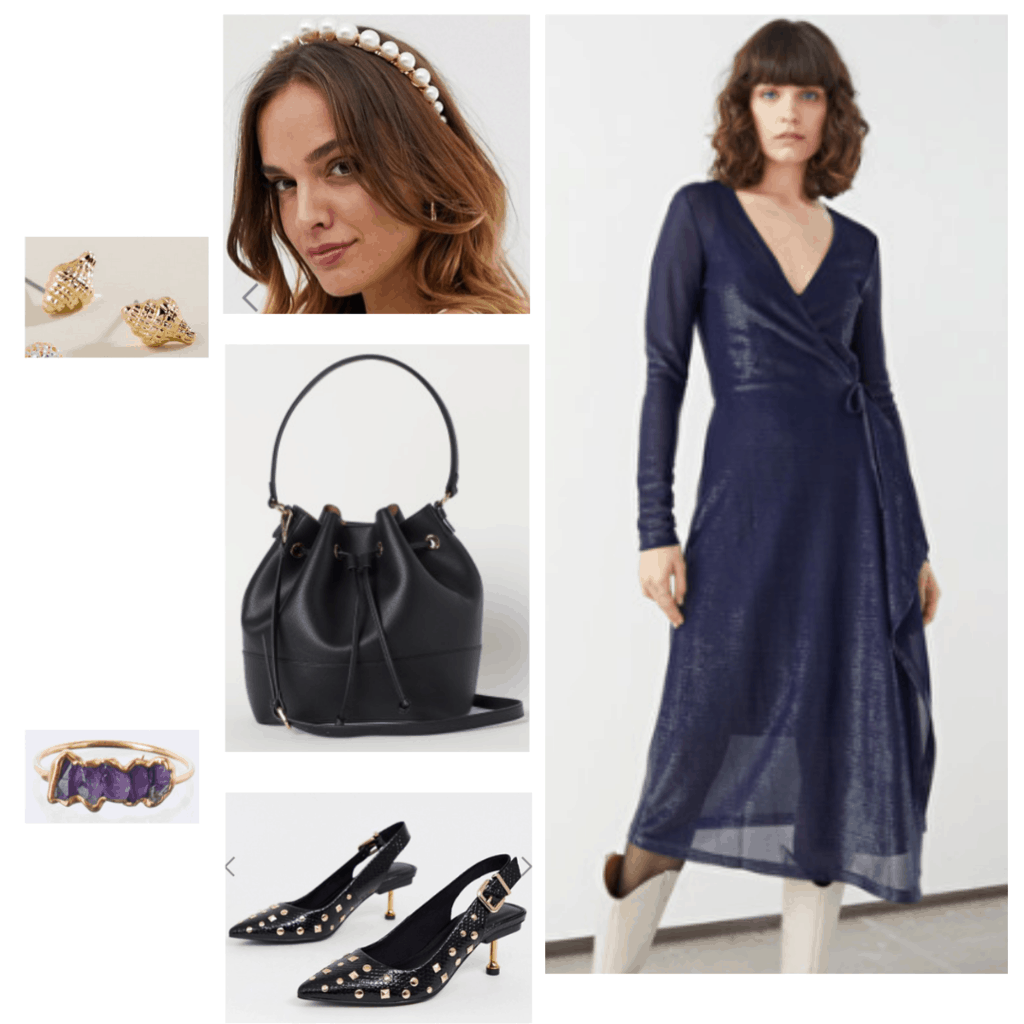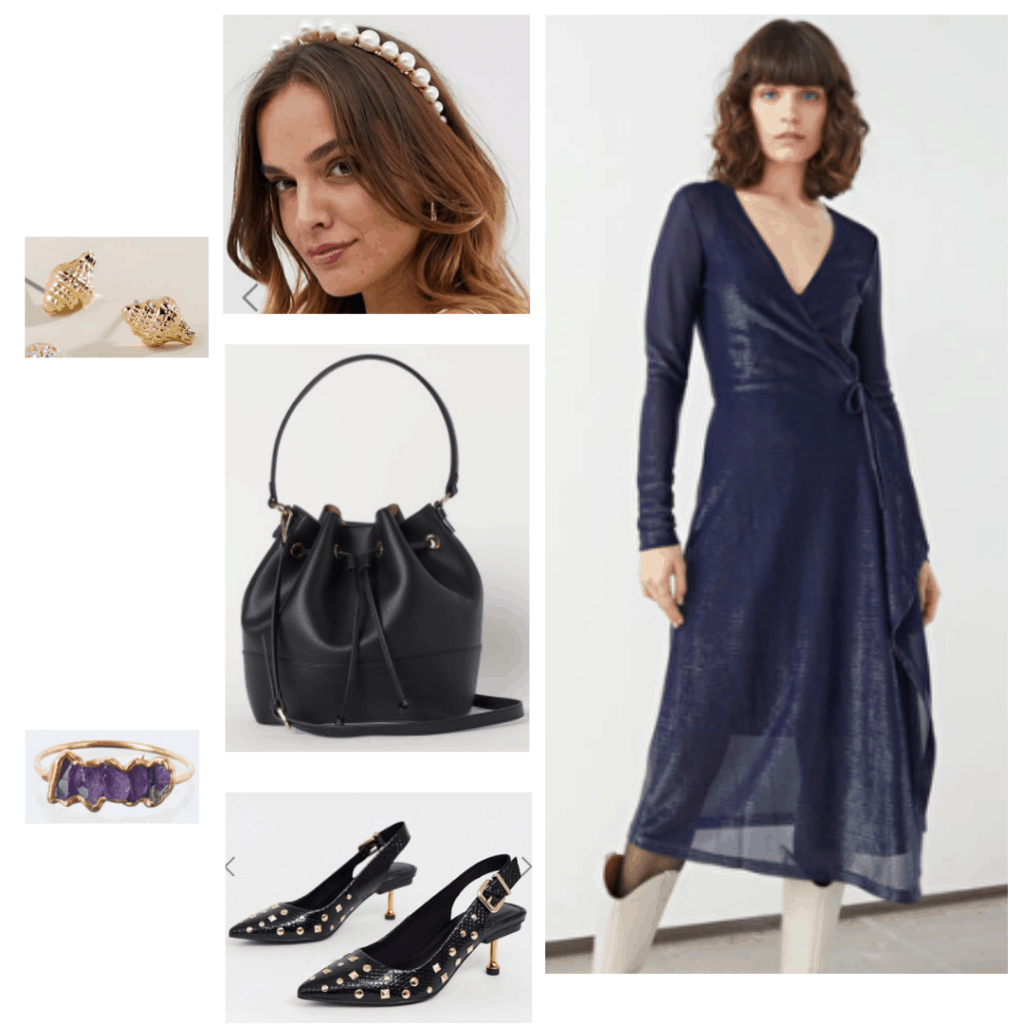 Products: Dress – & Other Stories, Headband – ASOS, Earrings – Francescas, Heels – ASOS, Bag – H&M, Ring – Etsy
What do you think of our Ursula fashion guide?
Are you inspired by the Ursula? Which looks are your favorite? I want to know what you think, so be sure to leave your thoughts in a comment!
Editor's note: This post was originally published in 2010; it was completely updated and revamped in 2019 with new photos and information.