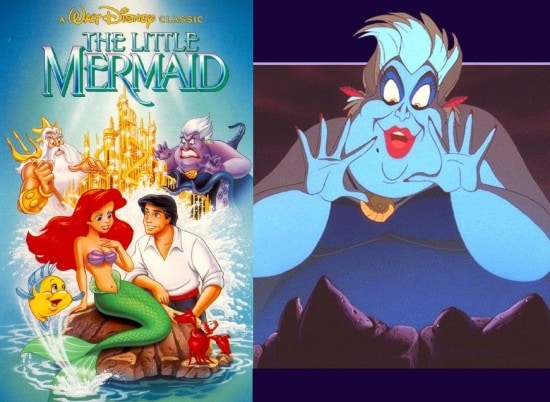 Although Disney Villains aren't exactly role models, they do tend to be inspirational when it comes to fashion. Even the amazing makeup label MAC found them inspiring, releasing a Disney Villains-inspired makeup collection. So as requested by many of you, over the next few weeks, I'll be breaking down fashion inspired by these wicked characters.
This week, I wanted to feature one of the most famous Disney villains of all, Ursula from Walt Disney's The Little Mermaid. Although it's definitely not beach weather outside (at least, in most parts of the US), why not reminisce about sunnier days with everyone's favorite aquatic villain?
Like the previous articles in this series, the purpose of this article is to use childhood icons as inspiration for outfits that you can actually pull off as a college student. All it takes is a little creativity!
For more Disney-inspired looks, check out our past articles on Disney-Inspired fashion! Walt Disney's Snow White, Walt Disney's Sleeping Beauty, Walt Disney's The Little Mermaid, Walt Disney's Cinderella, Walt Disney's Princess Jasmine, Walt Disney's Princess Tiana, Walt Disney's Pocahontas, Belle from Disney's Beauty and the Beast, Jane Porter from Disney's Tarzan, Megara from Disney's Hercules, Emeralda from Disney's The Hunchback of Notre Dame, Walt Disney's Mulan, Walt Disney's The Lion King, Walt Disney's The Nightmare Before Christmas Part 1 and Part 2, Classic Walt Disney Characters, The Evil Queen from Disney's Snow White, and Cruella De Vil.
About Ursula
Ursula, the Sea Witch, is an evil sorceress who longs to possess the powers of King Triton. When she finds out the king's youngest daughter, the mermaid Ariel, is in love with a human, Prince Eric, she recognizes a chance to gain control of the throne. Ursula tricks Ariel into making a bargain with her: She will give Ariel human legs for three days in exchange for Ariel's beautiful voice. If Ariel can get the prince to kiss her within those three days, she can be human forever, but if not, she owes Ursula her soul.
Desperate for a chance with the prince, Ariel takes this deal and becomes human. Despite her lack of a voice, things go very well between Ariel and the Prince. Of course, Ursula does not like this. To tip the odds back in her favor, Ursula uses Ariel's voice, transforms herself into a beautiful human girl named Vanessa, and woos the Prince. He agrees to marry her on Ariel's third day as a human.
Ariel and her sea friends do everything they can to stop the wedding, and they succeed when the shell necklace containing Ariel's voice falls from Ursula's neck, exposing her true identity. Unfortunately, before Eric can kiss Ariel, the sun sets, meaning Ariel must give her soul to Ursula. As planned, King Triton agrees to give Ursula his power if she releases Ariel. With her new power, Ursula grows until she is enormous and conjures up a terrible storm and massive whirlpool to kill everyone. However, Prince Eric ultimately saves the day when he steers the ship straight into Ursula, leading to her death.
Poor, Unfortunate Soul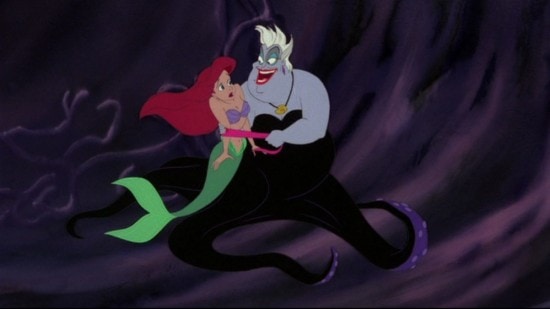 Ursula is shown throughout the movie wearing a tight black outfit that shows off her voluptuous figure. To create an outfit inspired by Ursula's everyday look, I used a form fitting LBD, high heeled purple pumps, and, of course, a shell necklace like the one that held Ariel's voice. I also used a gray feathery headband that is reminiscent of Ursula's hair.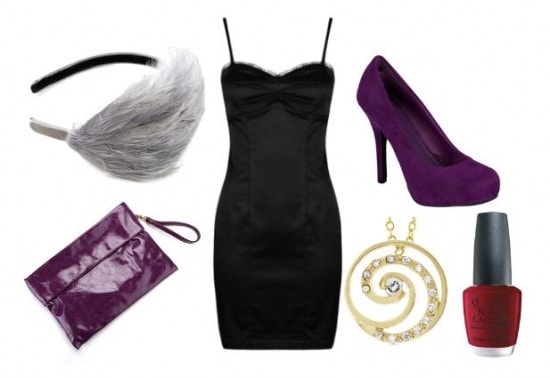 Headband- Talullah Tu, Bag- Lori's Shoes, Dress- Forever 21, Shoes- Qupid, Necklace- Overstock.com, Nail Polish- OPI
Ursula as Vanessa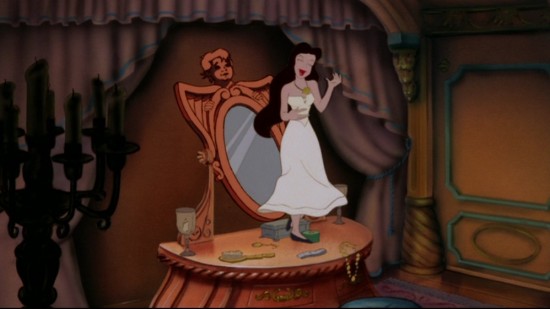 When Ursula, as Vanessa, is getting ready for her wedding, she practices her singing voice while wearing a cream colored slip. To recreate this look, I used a simple dress, paired with a dark coat to match Vanessa's hair color. I added an octopus ring to show that deep down, Vanessa is really still Ursula (even though Ursula is not an octopus, and actually only has 6 tentacles).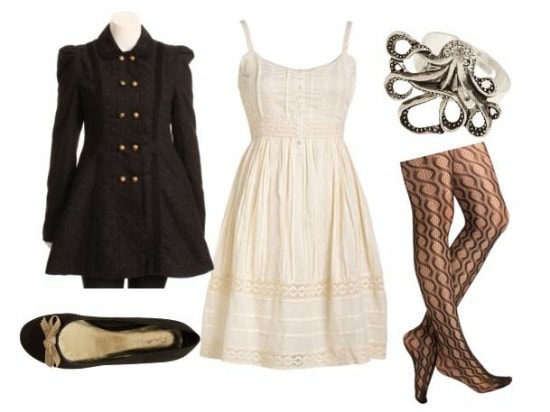 Coat- BB Dakota, Shoes- Miss Selfridge, Dress- Delia's, Ring- Modcloth, Tights- Modcloth
Taking Over the Ocean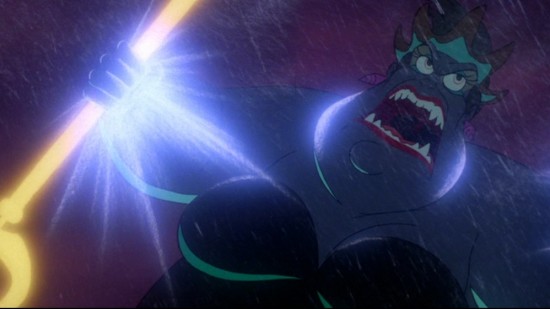 With her newly acquired trident, Ursula really lights up the sea with her evilness. While sticking with Ursula's usual color palette, for this look, I incorporated lots of materials that reflect light, such as a satin skirt, sparkly tights, and metallic gold earrings.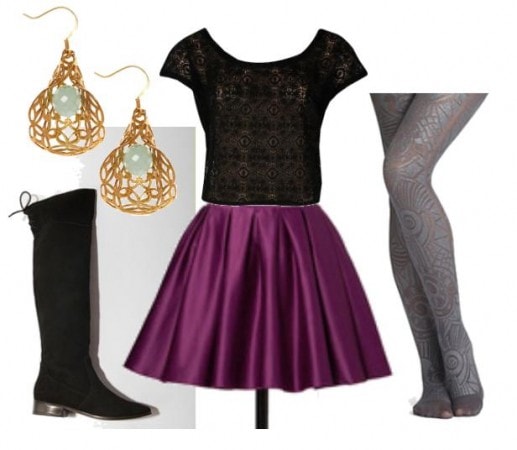 Earrings- Modcloth, Boots- Urban Outfitters, Top- Glassons, Skirt- Modcloth, Tights- Anthropologie
What Do You Think?
Are you inspired by the Ursula? Which looks are your favorite? Which Disney villains would you be interested in seeing posts about in the future? I want to know what you think, so be sure to leave your thoughts in a comment!