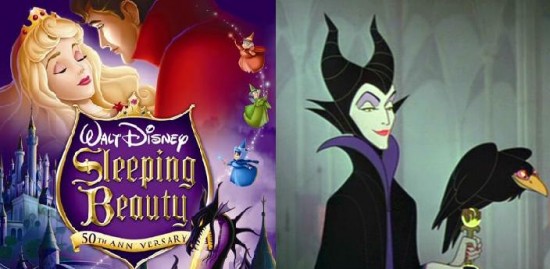 Although Disney Villains aren't exactly role models, they do tend to be inspirational when it comes to fashion. Even the amazing makeup label MAC found them inspiring, releasing a Disney Villains-inspired makeup collection. So as requested by many of you, I've been breaking down fashion inspired by these wicked characters. This is the final article in my Disney Villains series – I hope you enjoyed it!
Like the previous articles in this series, the purpose of this article is to use childhood icons as inspiration for outfits that you can actually pull off as a college student. All it takes is a little creativity!
For more Disney-inspired looks, check out our past articles on Disney-Inspired fashion! Walt Disney's Snow White, Walt Disney's Sleeping Beauty, Walt Disney's The Little Mermaid, Walt Disney's Cinderella, Walt Disney's Princess Jasmine, Walt Disney's Princess Tiana, Walt Disney's Pocahontas, Belle from Disney's Beauty and the Beast, Jane Porter from Disney's Tarzan, Megara from Disney's Hercules, Emeralda from Disney's The Hunchback of Notre Dame, Walt Disney's Mulan, Walt Disney's The Lion King, Walt Disney's The Nightmare Before Christmas Part 1 and Part 2, and Classic Walt Disney Characters.
For more Disney Villain Fashion, see our posts on The Evil Queen from Disney's Snow White, Cruella De Vil, Ursula from The Little Mermaid, Jafar from Aladdin and Dr. Facilier from The Princess and the Frog.
About Maleficent
Maleficent, the evil fairy from Sleeping Beauty, is known as one of the darkest, most powerful Disney Villains. She has the ability to cast spells, transform herself, and control the weather. But despite her morbid characteristics, Maleficent remains a fan favorite.
Maelficient's story begins at the baby Princess Aurora's christening. As the three good fairies, Flora, Fauna and Merryweather, are bestowing gifts upon the Princess, Maleficent bursts into the room with a flash. Offended that she wasn't invited to the christening, Maleficent bestows a curse: Before Aurora turns 16, she will die by pricking her finger on a spinning wheel. Aurora's parents are devastated, but luckily a good fairy casts a spell to lessen the tragedy – Aurora will not die, but she will fall into a deep sleep, only to be awakened by the kiss of her true love.
On Aurora's 16th birthday, Maleficent transforms herself into a spinning wheel and tricks the Princess into pricking her finger. Aurora falls into a deep sleep. When the good fairies discover her, they put the rest of the kingdom into a deep sleep, too, so they won't have to endure the sorrow of what happened. Luckily, Prince Phillip, Aurora's true love, was not in the kingdom when the fairies put everyone to sleep. In order to save Aurora and the kingdom, the Prince must fight off Maleficent's obstacles and kiss the princess. Right before he reaches Aurora, he defeats Maleficent herself, in the form of a dragon. The kingdom and Aurora are saved.
Crashing the Party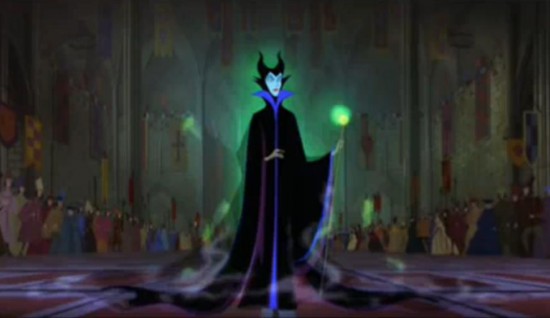 Maleficent knows how to make quite an entrance. Teleporting into a party that she's not invited to, accompanied by green flames, is her favorite way to command attention. Inspired by Maleficent, I made an outfit that is also sure to stand out, except in a much less sinister way. The green and blue colors of the dress give the same effect as Maleficent's flames, and the fierce heels are very angular, like Maleficent's features.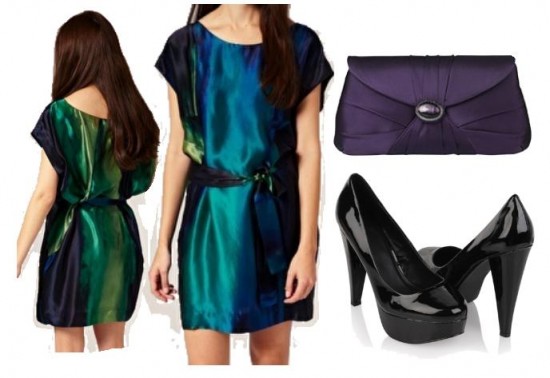 Dress- Full Circle, Clutch- Coast, Shoes- Forever 21
Maleficent and her Pet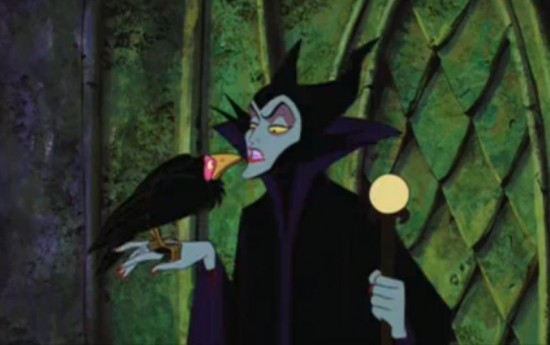 Maleficent is often shown with her pet raven. She also wears a big black stone ring, which you can't really see in this picture because her raven is perched right on top of it. Inspired by this, I made an outfit with a raven purse and a black cocktail ring. I also used a dress with pointy shoulder details, because it reminds me of her high collar.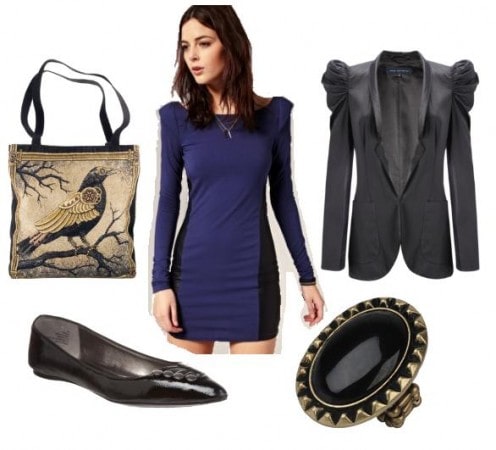 Bag- The Pyramid Collection, Shoes- Tommy Hilfiger, Dress- ASOS, Blazer- French Connection, Ring- Forever 21
Defeated By the Prince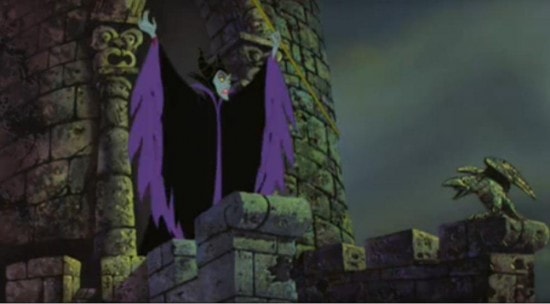 When Maleficent realizes that the Prince escaped her dungeon, she is furious. She completely loses her poise, and throws her arms in the air, revealing the pointy frayed edges of her robe. For an outfit inspired by this, I used a skirt with pointy layers, a purple top, and a horn necklace similar to her horned headdress.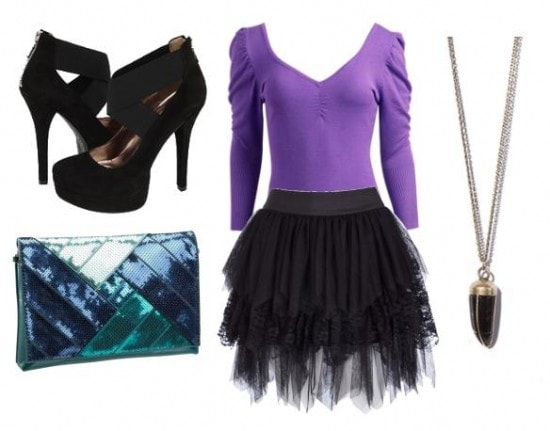 Shoes- Chinese Laundry, Clutch- Endless, Top- Arden B, Skirt- Republic, Necklace- Urban Outfitters
What do you think?
Are you inspired by Maleficent? Which looks are your favorite? I want to know what you think, so be sure to leave your thoughts in a comment!