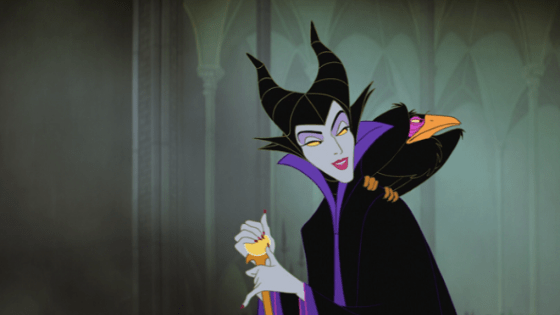 Although Disney Villains aren't exactly role models, they do tend to be inspirational when it comes to fashion. And since winter is the perfect time of year for moody, dark outfits, I thought it would be fun to do some posts about fashion inspired by these wicked characters.
Last time, we talked about Cruella De Vil's style. Next up is our Maleficent fashion guide. Scroll down to behold some wicked looks!
About Maleficent:
Maleficent, the evil fairy from Sleeping Beauty, is known as one of the darkest, most powerful Disney Villains. She has the ability to cast spells, transform herself, and control the weather. But despite her morbid characteristics, Maleficent remains a fan favorite.
Maelficient's story begins at the baby Princess Aurora's christening. As the three good fairies, Flora, Fauna and Merryweather, are bestowing gifts upon the Princess, Maleficent bursts into the room with a flash. Offended that she wasn't invited to the christening, Maleficent bestows a curse: Before Aurora turns 16, she will die by pricking her finger on a spinning wheel. Aurora's parents are devastated, but luckily a good fairy casts a spell to lessen the tragedy – Aurora will not die, but she will fall into a deep sleep, only to be awakened by the kiss of her true love.
On Aurora's 16th birthday, Maleficent transforms herself into a spinning wheel and tricks the Princess into pricking her finger. Aurora falls into a deep sleep. When the good fairies discover her, they put the rest of the kingdom into a deep sleep, too, so they won't have to endure the sorrow of what happened. Luckily, Prince Phillip, Aurora's true love, was not in the kingdom when the fairies put everyone to sleep. In order to save Aurora and the kingdom, the Prince must fight off Maleficent's obstacles and kiss the princess. Right before he reaches Aurora, he defeats Maleficent herself, in the form of a dragon. The kingdom and Aurora are saved.
Party Crasher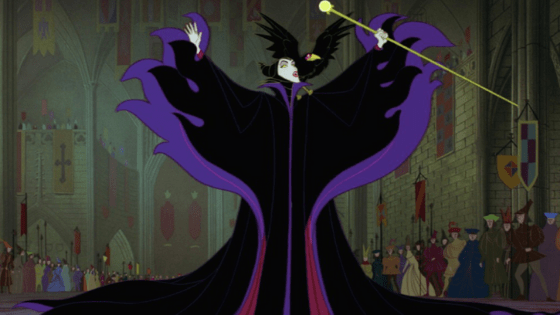 Maleficent knows how to make an entrance. Teleporting into a party that she wasn't invited to, accompanied by green flames, is her go-to way to command attention.
Inspired by Maleficent, I made an outfit that is also sure to stand out, except in a much less sinister way. A black velvet dress is the perfect match for a villainess like Maleficent, as it gives off a sense of sophistication and darkness. And in true Maleficent fashion, I had to include her signature purple in the form of a scrunchie.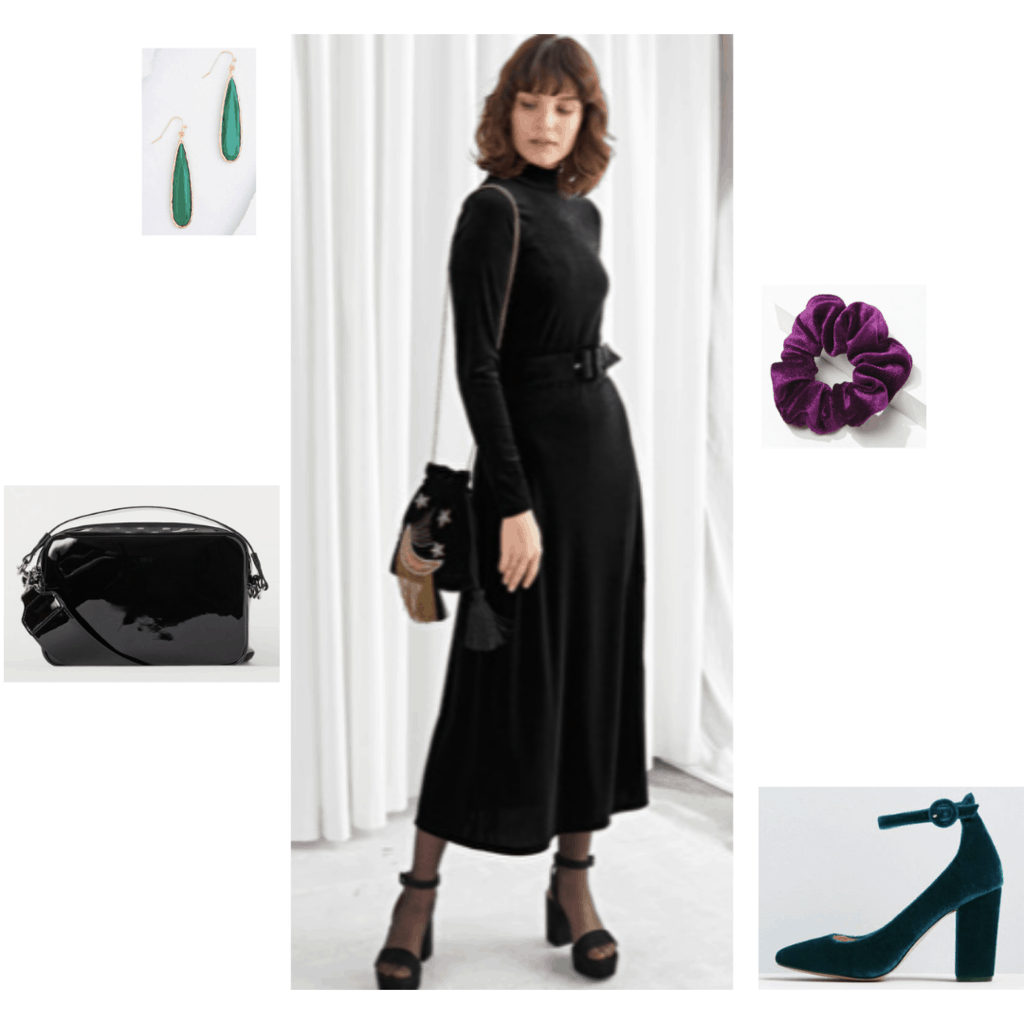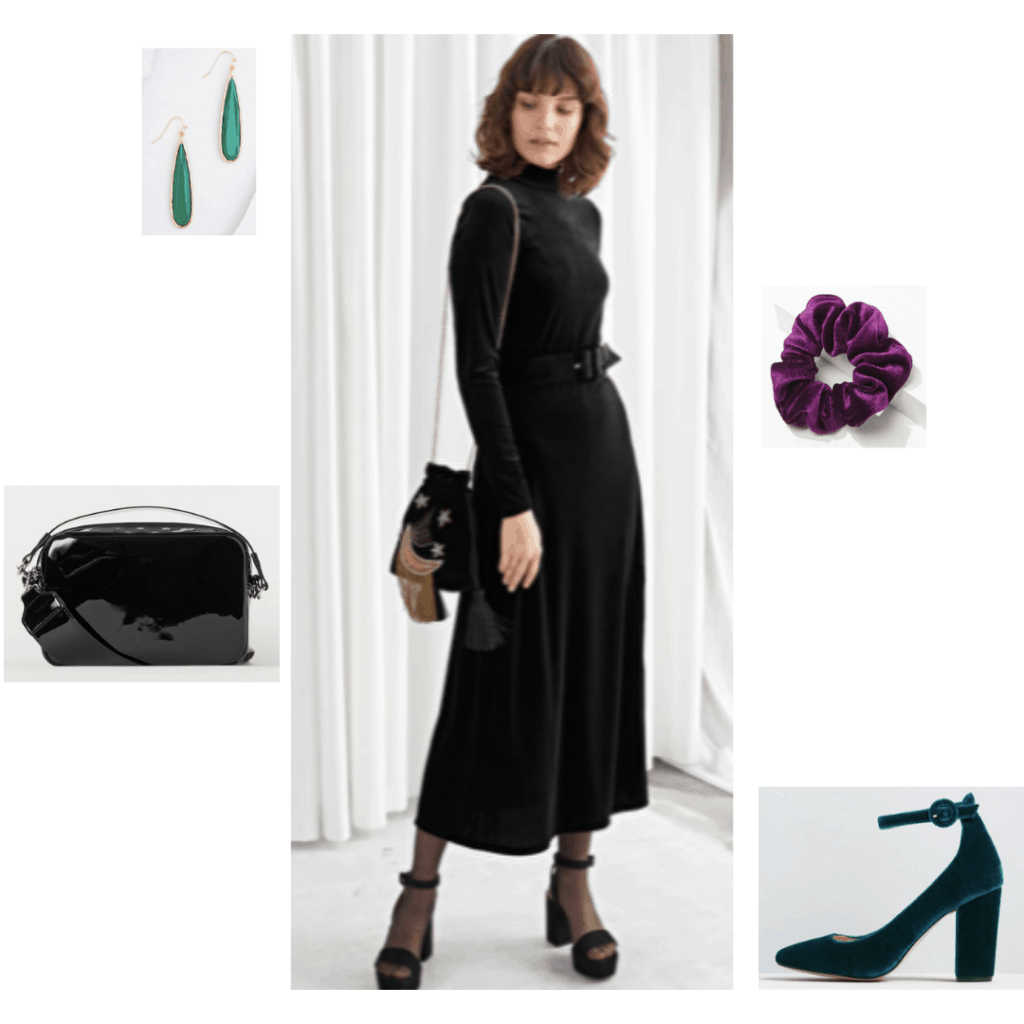 Products: Dress – & Other Stories, Shoes – Modcloth, Scrunchie – Forever 21, Earrings – Modcloth, Purse – H&M
A Queen and Her Pet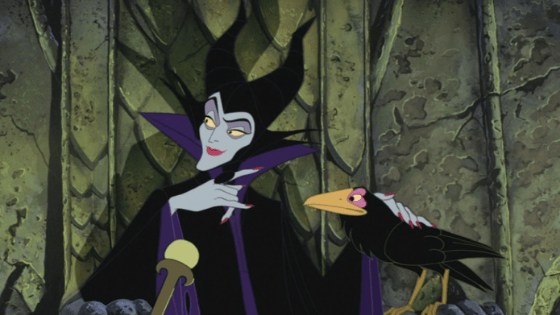 Maleficent is often shown with her pet raven. (Fun fact: Her raven's name is Diablo!) He is her trusted companion, accompanying her wherever she goes.
Our Maleficent fashion guide wouldn't be complete without her pet, so the outfit below is inspired by the relationship between Maleficent and Diablo.
This look starts with a green textured suit and black tank to blend edgy and whimsical with ease. The raven inspiration comes in through the accessories, namely a bird necklace, a feather cuff, and a standout feather bag.
Finish off the look with a chic pair of black heels — Maleficent would definitely approve of these vintage-inspired block heel pumps.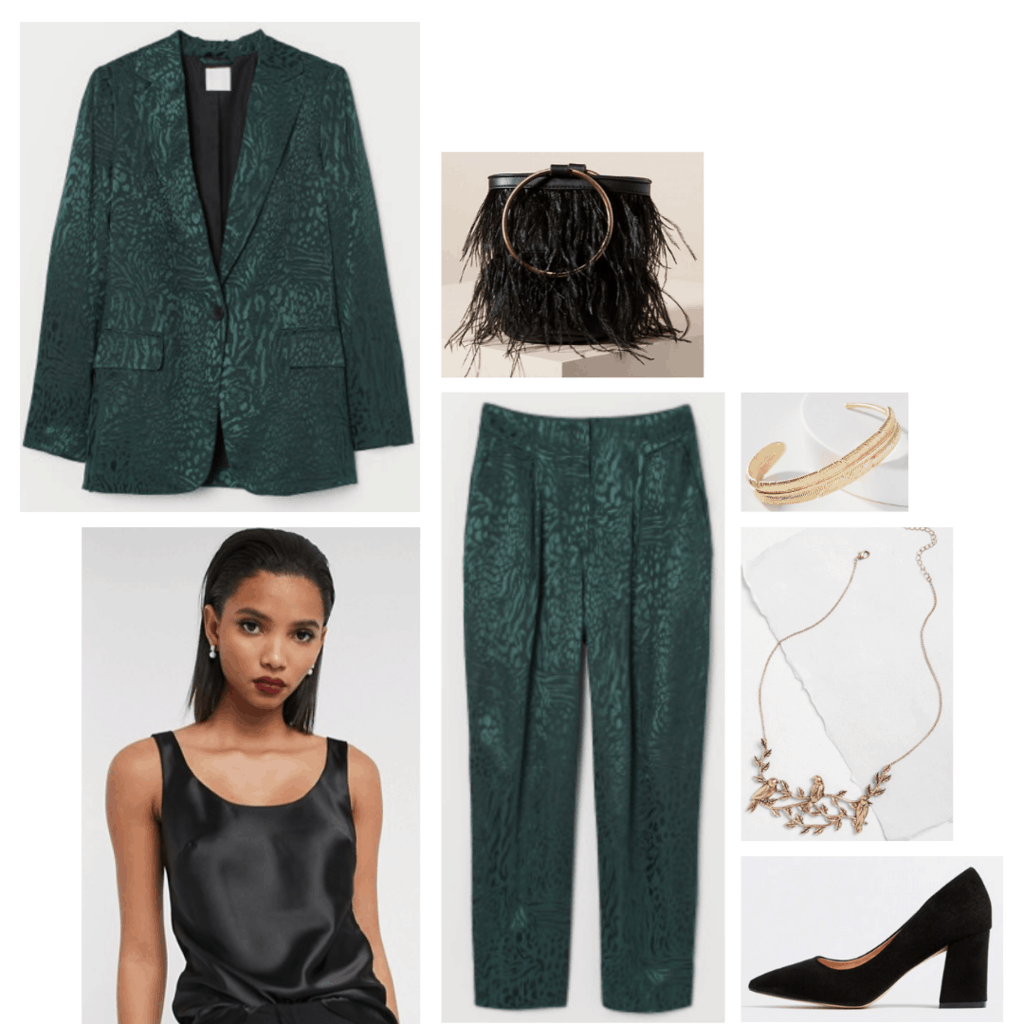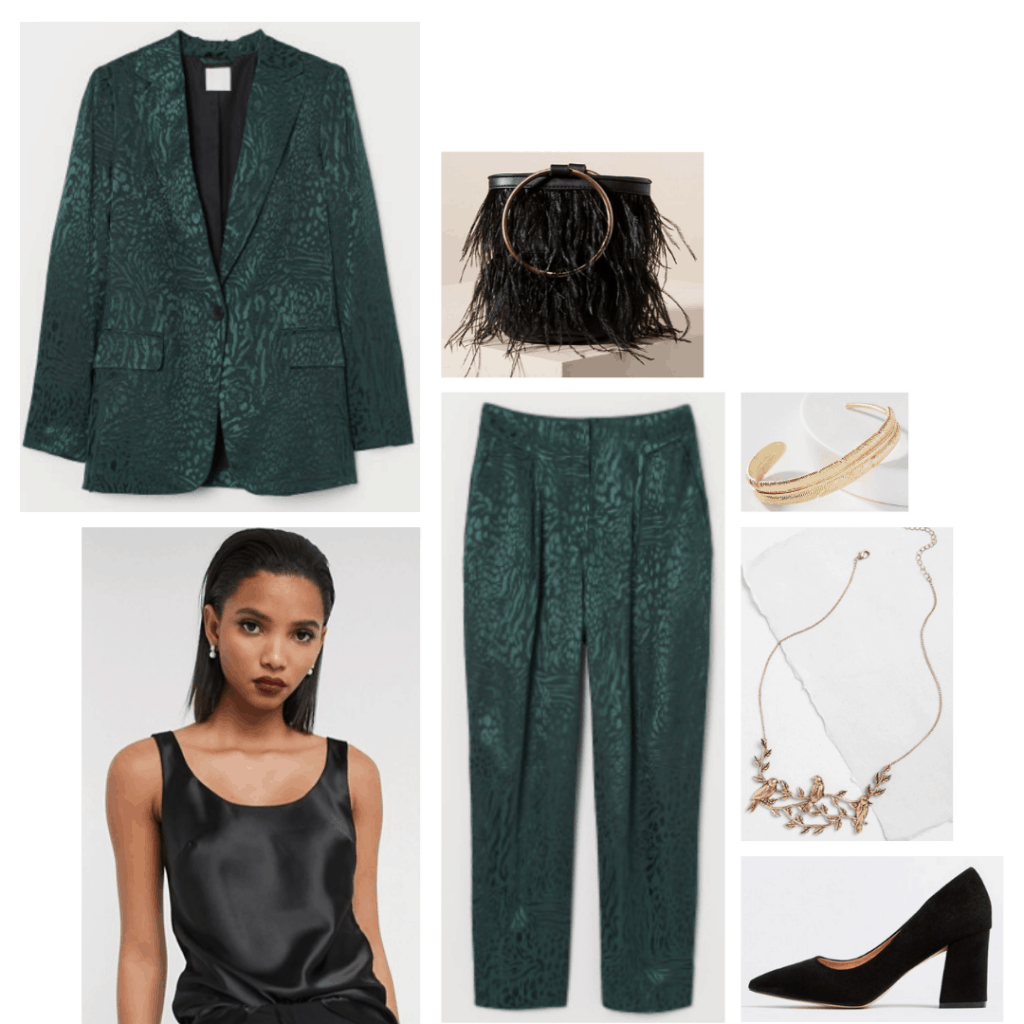 Products: Necklace – Modcloth, Blazer – H&M, Pants – H&M, Top – ASOS, Cuff – Anthropologie, Bag – Anthropologie, Heels – Modcloth
The Big Finale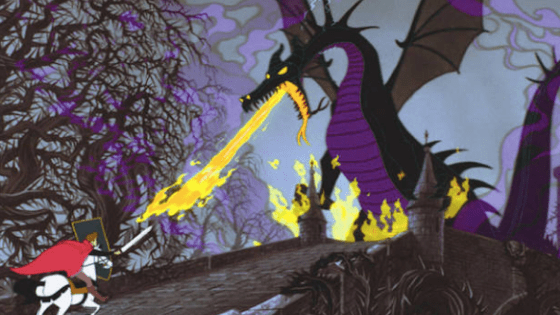 When Maleficent realizes that the Prince escaped her dungeon, she is furious. In the epic finale of the film, she transforms into a gigantic dragon in hopes of defeating the prince.
So, of course, this Maleficent fashion look is inspired by her iconic dragon transformation.
A leather top and bag are perfect choices to represent the scaly skin of a dragon. A green tulle skirt is a nod to the flames in the film — plus it's so pretty, I had to include it! Finally, let's complete the look with some sharp accessories and a pair of striking purple heels.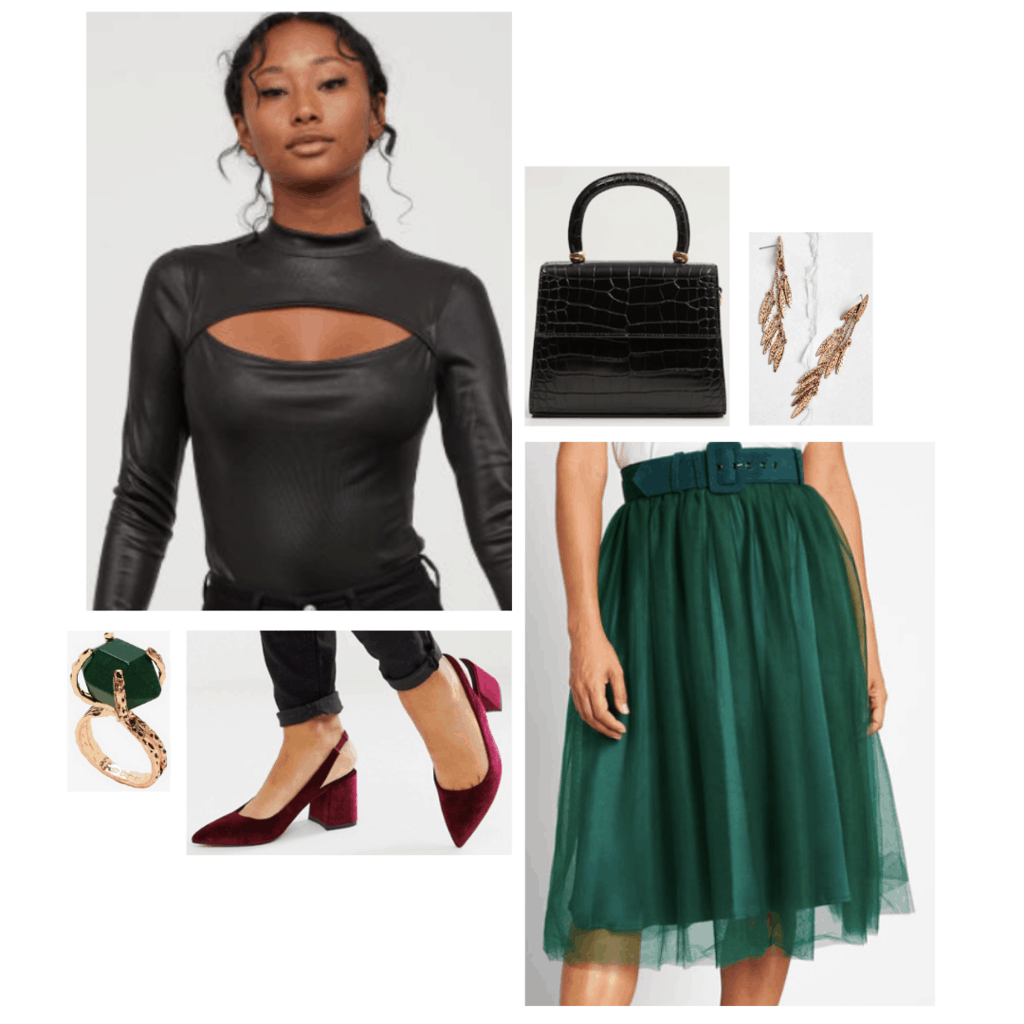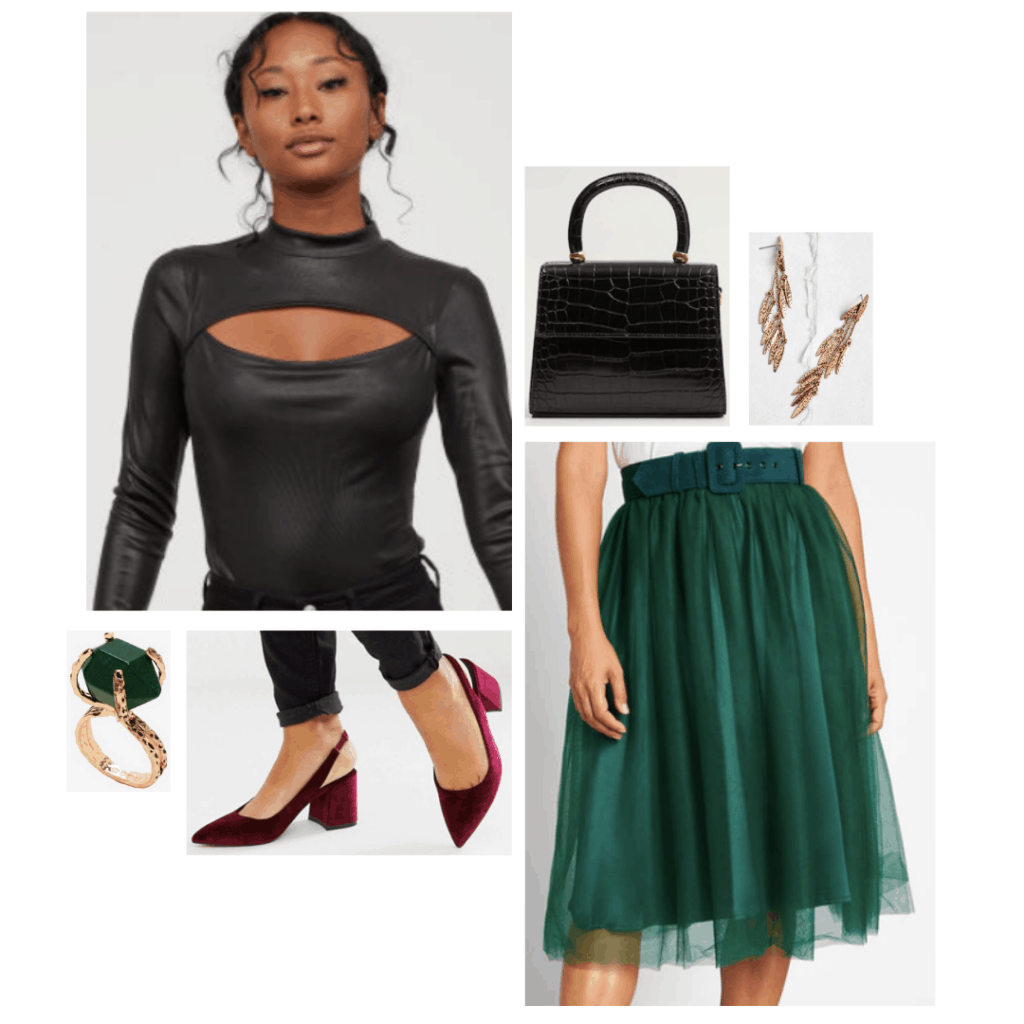 Products: Skirt – Modcloth, Top – H&M, Heels – ASOS, Ring – Hot Topic, Earrings – Modcloth, Bag – Mango
What do you think of our Maleficent fashion guide?
Are you inspired by Maleficent? Which looks are your favorite? I want to know what you think, so be sure to leave your thoughts in a comment!
Editor's note: This post was originally published in 2010; it was completely updated and revamped in 2019 with new photos and information.