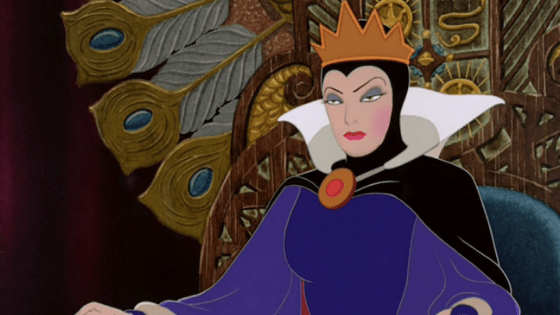 Although Disney Villains aren't exactly role models, they do tend to be inspirational when it comes to fashion. And since winter is the perfect time of year for moody, dark outfits, I thought it would be fun to do some posts about fashion inspired by these wicked characters.
We've already talked about Cruella De Vil's style, and we've done a whole post on Maleficent's fashion sense. Next up is our Evil Queen fashion guide. Scroll down to behold some wicked looks!
About the Evil Queen
In case you haven't seen Snow White (What are you waiting for?! It's a classic.), here's a quick rundown of The Evil Queen's storyline:
The Evil Queen is so narcissistic that she can't live with the fact that her stepdaughter, Snow White, is more beautiful than her. In order to remain the most beautiful in the land, she orders Snow White to be killed.
When her plan falls through, she takes matters into her own hands by transforming into an ugly old lady and tricks Snow White into eating a poisoned apple. Thankfully, her evil actions do not succeed in the end.
Mirror, Mirror on the Wall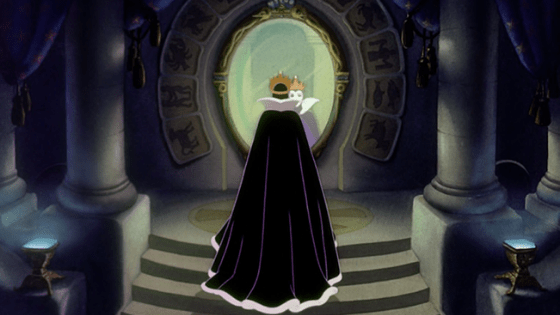 In the beginning, the Evil Queen believes she is the fairest creature in the land. That is, until she asks her magic mirror and he tells her she is actually not the fairest of them all. Predictably, she does not take this news well.
To make you the fairest of them all, I started the look off with a purple velvet dress that reminded me of the queen's dark purple cape. (You can't have an Evil Queen fashion guide without purple velvet!)
Next, I added a classic red bag and a black pair of shoes to make the looks perfect for any occasion. And to finish off the look, I added a gold headband reminiscent of the Evil Queen's crown.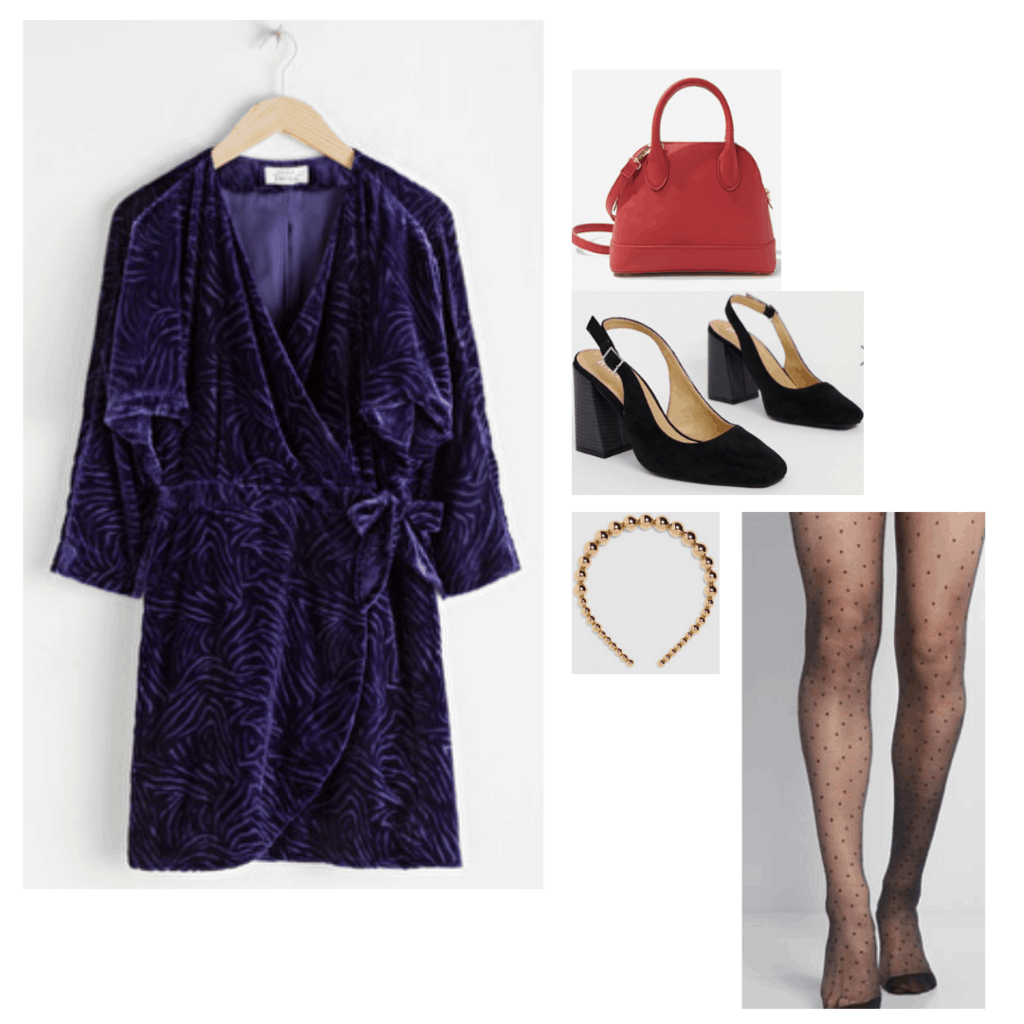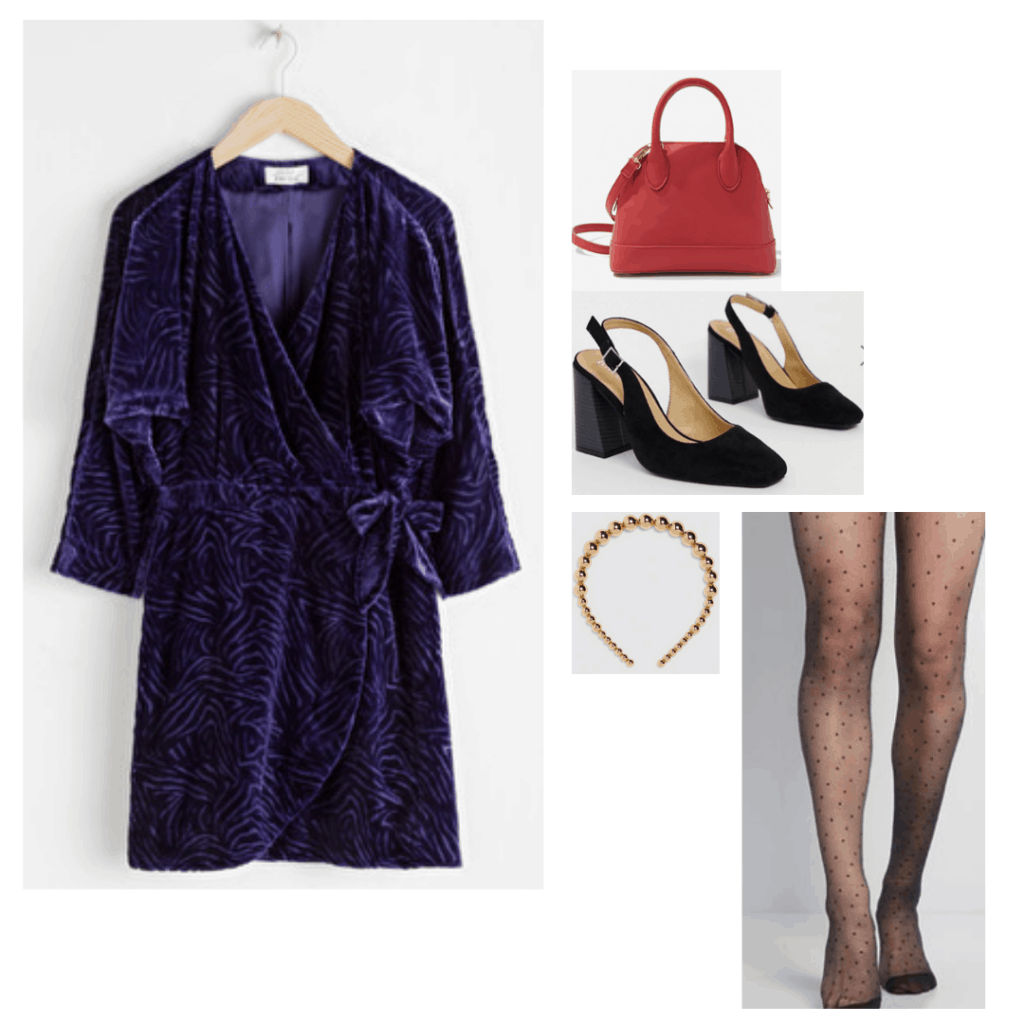 Products: Dress – & Other Stories, Shoes – ASOS, Headband – ZARA, Bag – Forever 21, Tights – Modcloth
An Evil Queen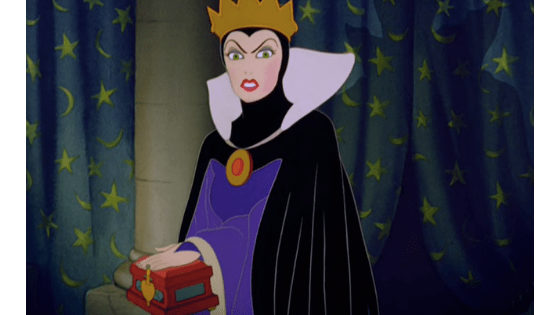 You know someone is truly evil when they would cut out the heart of a young girl just to remain the most beautiful person in the world. This is exactly what the Evil Queen hopes to do to Snow White. She even has a box ready to place the young girl's heart in. (Is it just me, or is this movie much darker than we all remember?)
The look below is all inspired by the queen's locket box meant for Snow White's heart. The red velvet jumpsuit and the green vintage heels are both inspired by the color of the exterior of the box. The jewelry and hair clips represent the ornate detail of the box. And of course I had to choose a heart shaped bag for a literal nod to this creepy plot point.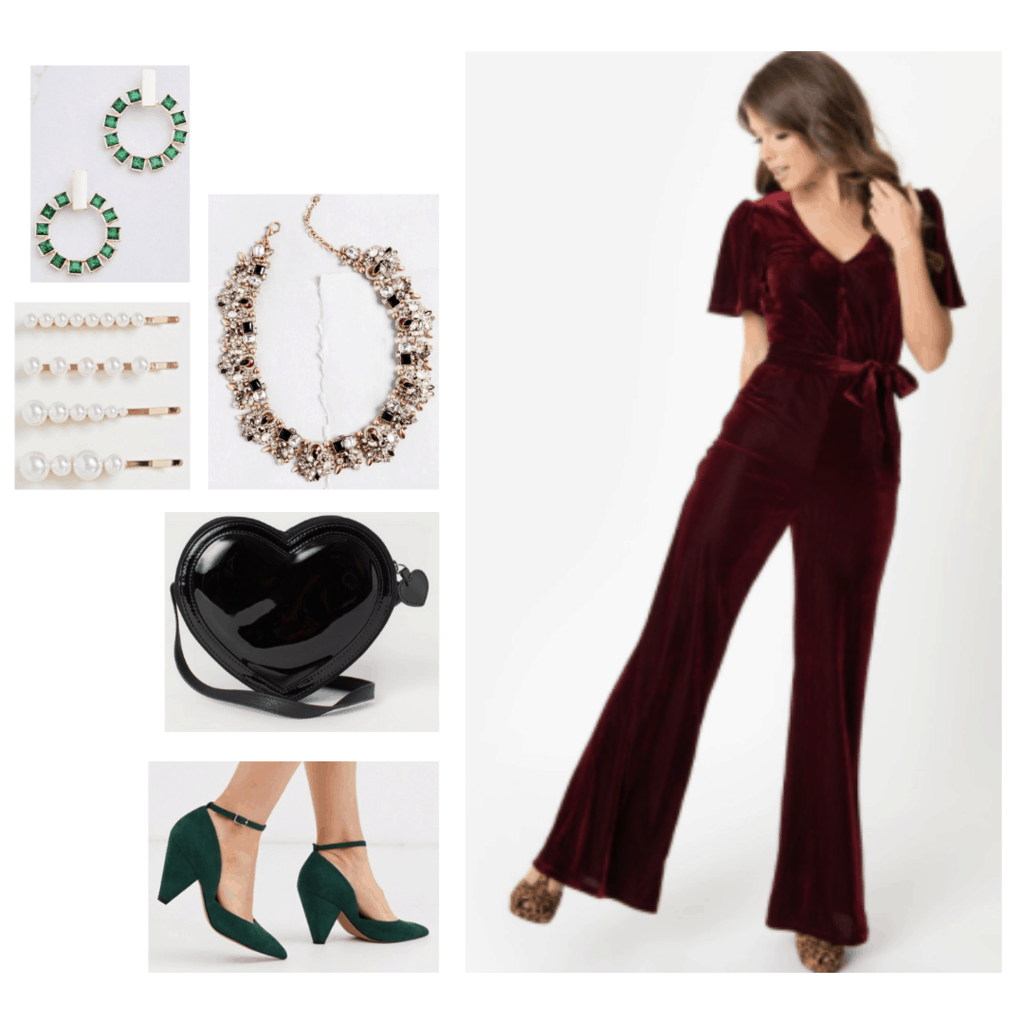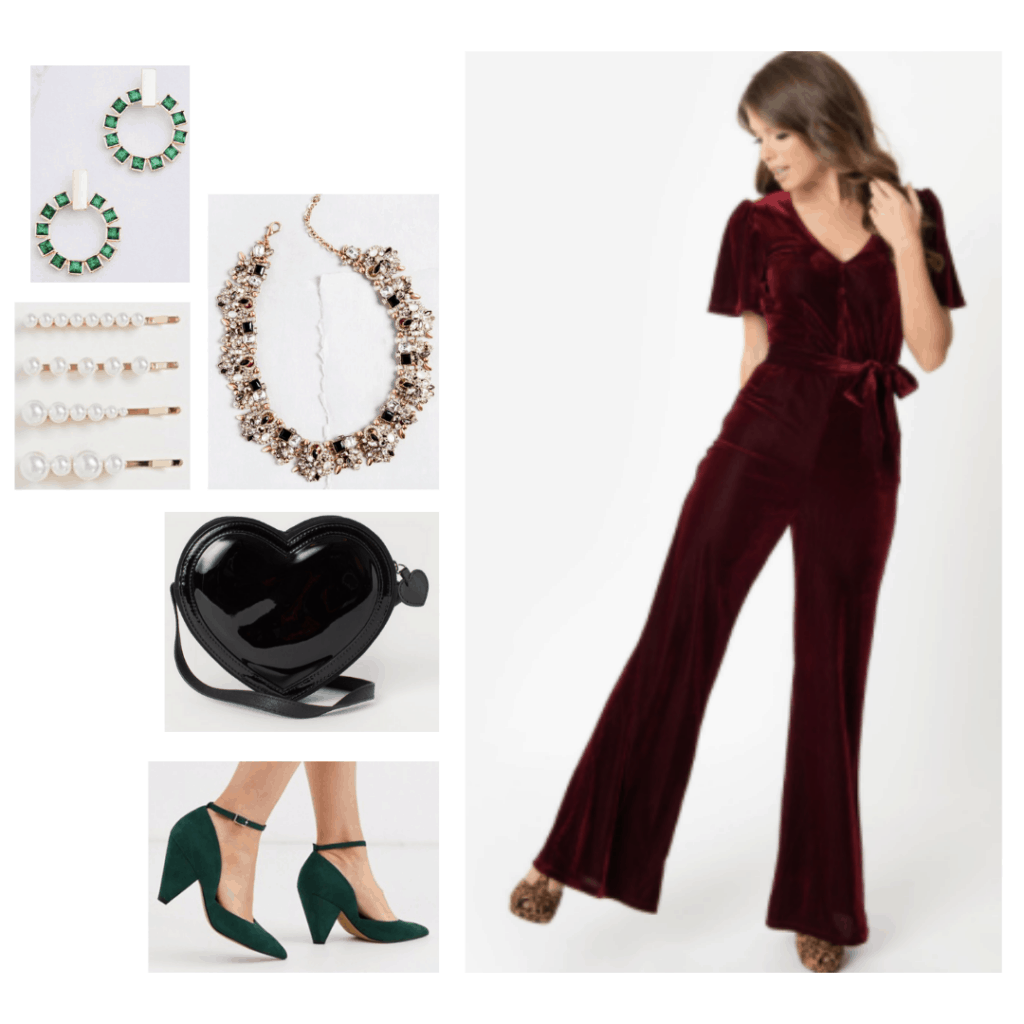 Products: Jumpsuit – Unique Vintage, Hair Clips – ASOS, Bag – H&M, Shoes – ASOS, Necklace – Modcloth, Earrings – Modcloth
The Poisoned Apple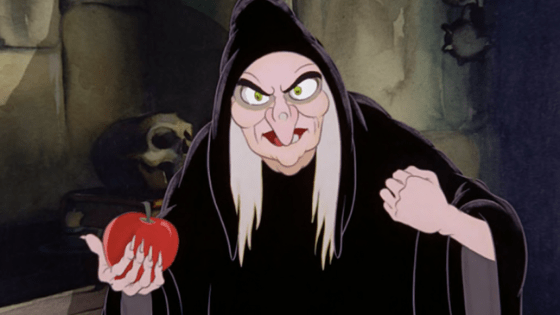 The Evil Queen's ugly personality shows through when she transforms into a peddler to trick her stepdaughter into eating a poisoned apple. Even though her looks are appalling in this scene, you can still make a great outfit inspired by her.
For the outfit below, I stuck to a black and red color scheme that's perfect for this wicked look. I used a black top with puffed sleeves, which are very on trend, and paired the top with some nice leather trousers, another trendy piece.
I really wanted to focus on the red of the apple for the accessories, so I added a pair of red heels and a bold scrunchie. The final piece to the look is in fact a clutch with the poison apple printed on the front. All together this is a truly beautiful, but poisonous, look.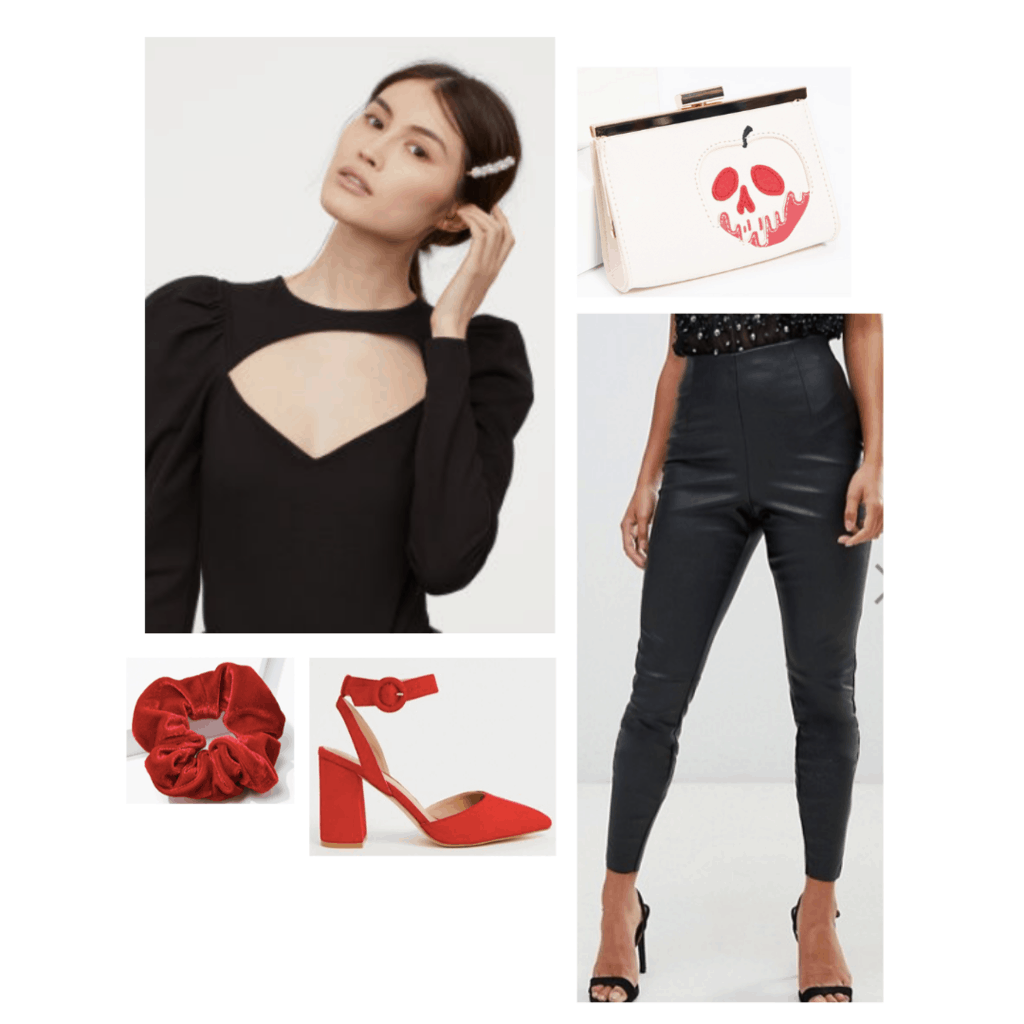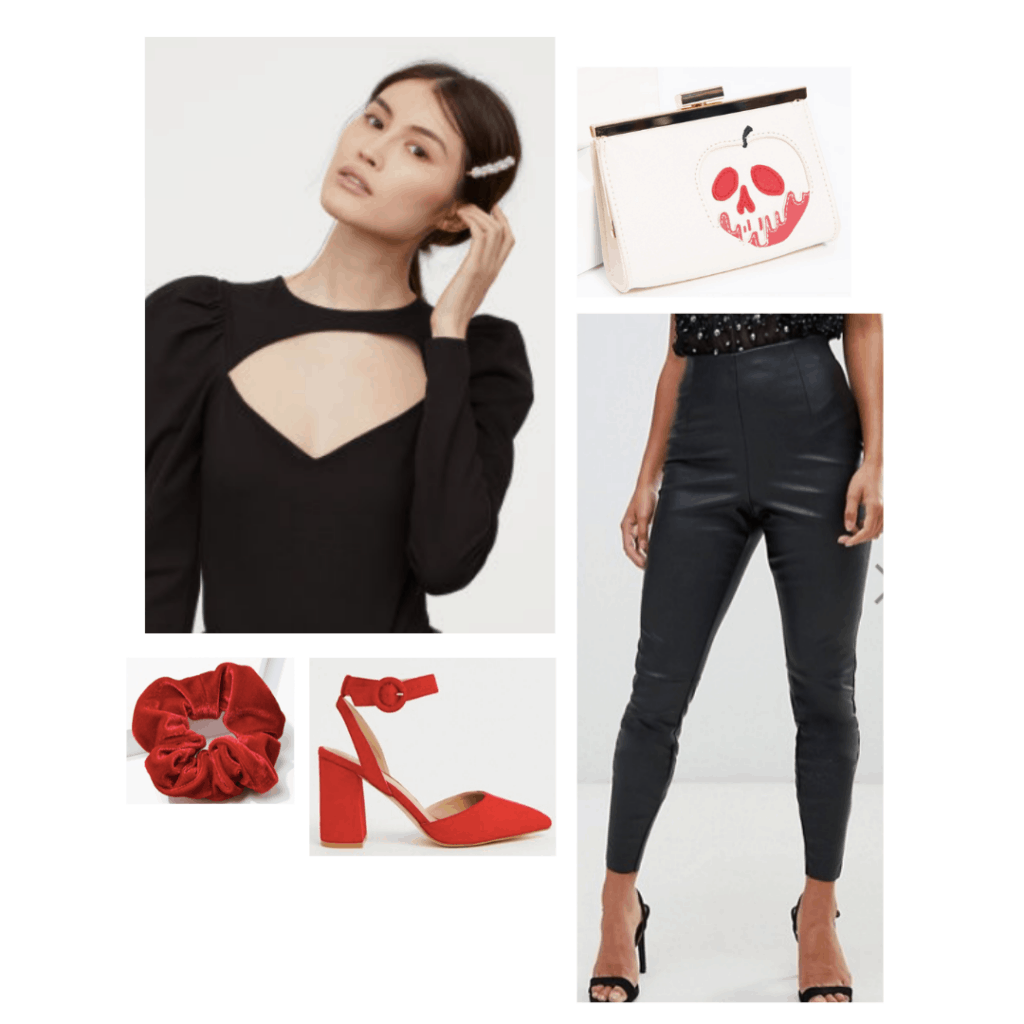 Products: Clutch – Unique Vintage, Top – H&M, Pants – ASOS, Shoes – ASOS, Scrunchie – Forever 21
What do you think of our evil queen fashion guide?
Are you inspired by the Evil Queen? Which looks are your favorite? Which Disney villains would you be interested in seeing posts about in the future? I want to know what you think, so be sure to leave your thoughts in a comment!
Editor's note: This post was originally published in 2010; it was completely updated and revamped in 2019 with new photos and information.