This post may contain affiliate links, which means we may receive a commission if you purchase through our links. Please
read our full disclosure here
.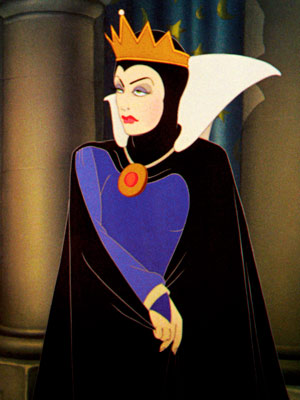 Although Disney Villains aren't exactly role models, they do tend to be inspirational when it comes to fashion. Even the amazing makeup label, MAC, found them inspirational, releasing a Disney Villains-inspired makeup collection. As requested by many of you, over the next few weeks, I'll be breaking down fashion inspired by these wicked characters.
This week, I'm kicking off the series with a feature on The Evil Queen, from Snow White and the Seven Dwarfs.
Like the previous articles in this series, the purpose of this article is to use childhood icons as inspiration for outfits that you can actually pull off as a college student. All it takes is a little creativity!
For more Disney-inspired looks, check out our past articles on Disney-Inspired fashion! Walt Disney's Snow White, Walt Disney's Sleeping Beauty, Walt Disney's The Little Mermaid, Walt Disney's Cinderella, Walt Disney's Princess Jasmine, Walt Disney's Princess Tiana, Walt Disney's Pocahontas, Belle from Disney's Beauty and the Beast, Jane Porter from Disney's Tarzan, Megara from Disney's Hercules, Emeralda from Disney's The Hunchback of Notre Dame, Walt Disney's Mulan, Walt Disney's The Lion King, Walt Disney's The Nightmare Before Christmas Part 1 and Part 2, and Classic Walt Disney Characters.
About The Evil Queen
In case you haven't seen Snow White (If not, what are you waiting for?! It's a classic.), here's a quick rundown of The Evil Queen's storyline:
The Evil Queen is so narcissistic that she can't live with the fact that her stepdaughter, Snow White, is more beautiful than her. In order to remain the most beautiful in the land, she orders Snow White to be killed. When her plan falls through, she takes matters into her own hands by transforming into an ugly old lady and tricks Snow White into eating a poisoned apple. Thankfully, her evil actions do not succeed in the end.
Mirror, Mirror, on the Wall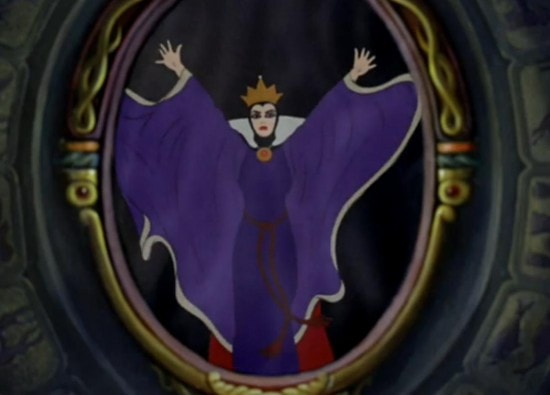 In the beginning, the Evil Queen believes she is the most beautiful creature in the land. That is, until she asks her magic mirror and he tells her she is actually not the fairest of them all. Predictably, she does not take this news well.
For an outfit inspired by this scene, I used a gorgeous purple dress and deep crimson shoes. The dark colors reflect the Queen's grim mood, as well as her evil spirit. For a fun nod to the film, I also included an elegant mirror ring.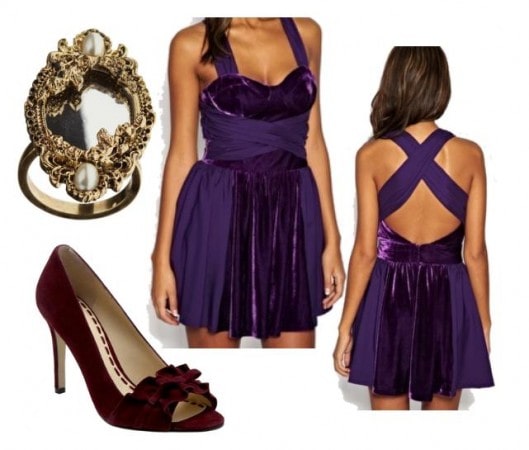 Ring- Miss Selfridge, Shoes- Enzo Angiolini, Dress- ASOS
Evil Plans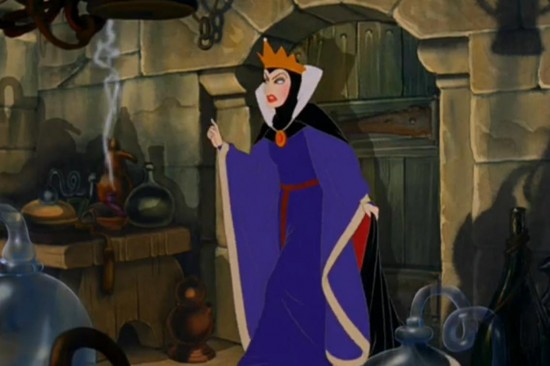 When the Queen finds out that Snow White is still alive despite her scheming, she quickly comes up with Plan B, and then dreams up the poison apple.
Despite her wicked ways, the Queen still looks amazing in this scene, with her rich hues and impeccable layering. Her look can be achieved by using similar colors, layering, and adding a chic hair accessory fit for a queen.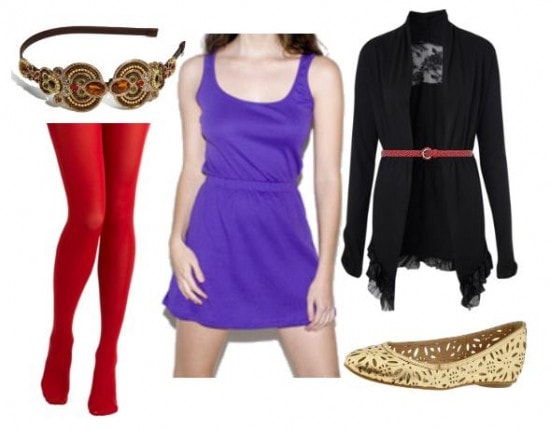 Headband- Tasha, Tights- Modcloth, Dress- American Apparel, Cardigan- Miss Selfridge, Belt- Dorothy Perkins, Shoes- Piperlime
The Poisoned Apple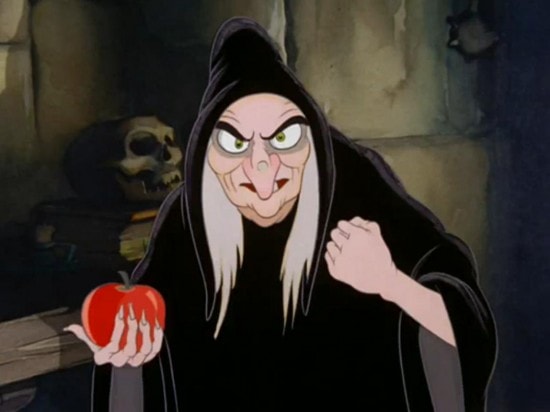 The Evil Queen's ugly personality shows through when she transforms into a peddler to trick her stepdaughter into eating a poisoned apple.
Even though her looks are appalling in this scene, you can still make a great outfit inspired by her. Below, I used a voluminous maxi skirt, a grungy gray sweater over a cropped black top, and of course a poisoned apple brooch to create a look that's beautiful and maybe just a little bit devilish.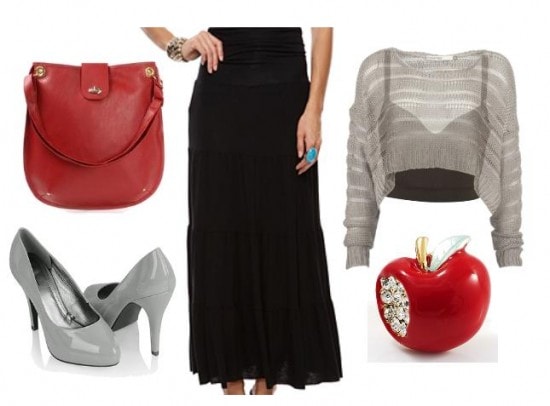 Bag- Yes Style, Shoes- Forever 21, Skirt- Forever 21, Cropped Top- Topshop, Sweater- Republic, Brooch- Avalaya
What Do You Think?
Are you inspired by the Evil Queen? Which looks are your favorite? Which Disney villains would you be interested in seeing posts about in the future? I want to know what you think, so be sure to leave your thoughts in a comment!