Welcome to the latest edition of Looks from Books, which aims to prove that you can look smart, while still being book-smart, too. Fashion inspiration can be found between the pages of your favorite stories, on well-designed book covers, and in your favorite characters… if you read closely enough.
This week, we're taking a look at one of the hottest new titles in New Adult Contemporary Fiction, that balances snarky humor and sexy city life with all-too-real lessons about growing older and being a dependable adult. Here comes Gemma Burgess' Brooklyn Girls!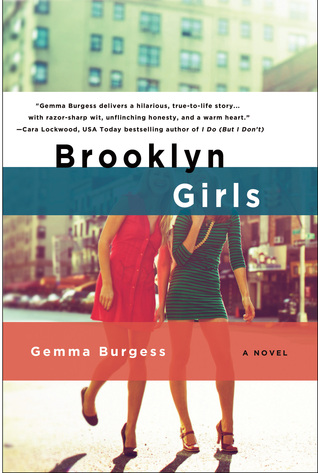 Brooklyn Girls book cover via Amazon
Inside Cover
Brooklyn Girls follows the escapades of Pia, a recent college graduate and burgeoning career-girl-about-town, and her friends Julia, Maddy, Angie, and Coco, as they live and learn together in a townhouse they share in Brooklyn. The first novel in the hilarious, sexy, and outrageous new series from veteran chick-lit writer Gemma Burgess, this book is equal parts laughter-inducing and lesson-imparting, in a way that's relatable for the New Adult crowd.
Published this past July, Brooklyn Girls has been singled out for its uproariously funny tone, snarky lead characters, and dramatic narrative, as well as called out for its fluffy, feel-good message, which some critics found as unsuitable for its Brooklynite characters and distinctly urban setting. Regardless, the novel did well enough to warrant the continuation of the series, with the next novel in the series, Love and Chaos, set to publish in February of next year.
A Fashionable Literacy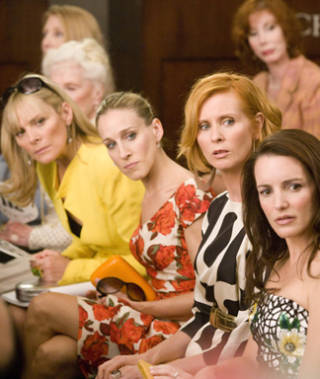 A group shot of the ultra-stylish Sex and the City girls || Photo via Elle
Brooklyn Girls is hardly the first story told about a group of friends living in the Big Apple, and definitely not the first to tackle tough subjects like drinking, drugs, partying, pregnancies, and essentially struggling to grow up. We have trailblazers like these iconic television shows to thank for that:
Friends (1994-2004) followed a set of six friends in New York City, and is widely considered one of the most popular television sitcoms of all time. Though its cast featured both men and women, the females of the bunch – Rachel (Jennifer Aniston), Monica (Courtney Cox), and Phoebe (Lisa Kudrow) – were serious sources of sartorial inspiration in their heyday. (Who hasn't heard of "The Rachel"?)
Sex and the City(1998-2004) detailed the lives of four of NYC's most stylish friends – Carrie Bradshaw (Sarah Jessica Parker), Samantha Jones (Kim Cattrall), Charlotte York (Kristin Davis), and Miranda Hobbes (Cynthia Nixon) – as they traversed the dangerous territory of love, sex, marriage, divorce, and children, all while pursuing their own careers and interests. The wildly popular television series was based off of a book, and even spawned a popular movie adaptation.
HBO's Girls (2012- Present) follows four of the Big Apple's brightest young things in the ambitious and aspiring girls-about-town Hannah, Marnie, Jessa, and Shoshanna. Inspired by the real-life exploits of 26-year-old creator Lena Dunham, who plays Hannah on the show, the series has enjoyed immediate success, and is a general fan favorite for its sense of simultaneous reality and humor.
How to Add the Girls to Your Wardrobe
By integrating some of the key elements of Brooklyn Girls into your own looks, you can bring the urban-chic style of the city with you wherever you go!
Bright Girls, Big City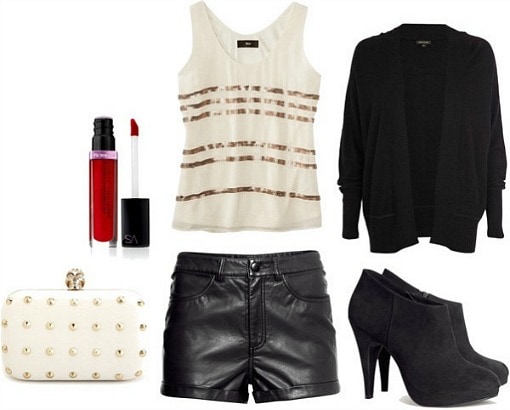 Product Information: Lip Stain – Victoria's Secret, Top – Target, Cardigan – River Island, Shoes – H&M, Shorts – H&M, Clutch – Charlotte Russe.
Our story opens upon the disheveled remnants of a broken house following a raging party and it doesn't take too long for its effects to majorly wreck our narrator Pia, as well.
The party-hard ways of our girls definitely aren't much to emulate, but it's the mindset of the city they're in that fuels this excitement and activity, too. Instead of seeing the city in front of them as an opportunity for growth, they see it as a whole new set of bright lights and wild nights, focusing instead on the many clubs, bars, and karaoke opportunities of NYC.
Style your own sparkling party look in an NYC fashion, by taking inspiration from some of the pieces Pia and Co. wore when they went out on the town. Leather shorts, heeled boots, floaty tops, and red lips all get called out in the novel as perfect pieces for night, while sparkling stripes on a shirt and a studded clutch add glamour and edge in equal turns. A cozy cardigan keeps you from getting too cold because at the end of the night, you're going to want to cover up a little, à la Pia's later turns towards a more conservative mindset.
Hell on Heels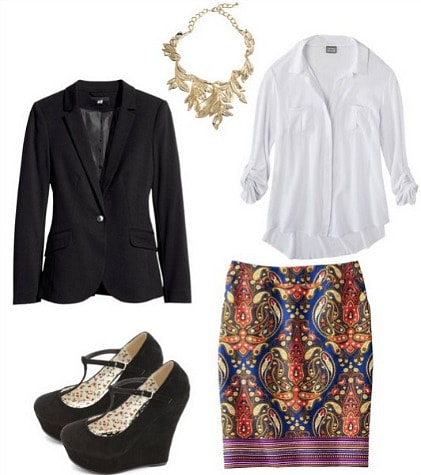 Product Information: Blazer – H&M, Necklace – Asos, Blouse – Target, Skirt – Target, Heels – Charlotte Russe.
All of our Brooklyn Girls are faced with the same harsh reality that greets many graduates once they leave their alma mater: low-level jobs with little cash and little prestige – a.k.a. coffee-runners with good ideas but little room to express them. However, that doesn't mean that they have no one to listen to them.
The ideal of female corporate perfection is present in Lina, a young Mom of two, who helps Pia stay on her feet after an ugly, racially-fueled altercation that gets our narrator fired from a restaurant. Something along the lines of a fairy godmother in a pantsuit, Lina acts as a guiding light for Pia and is equal parts caring and in command – the ultimate corporate soccer-mom these girls aspire to be.
Channel the bridge between a corporate mindset and a younger approach by fashioning a work-appropriate outfit out of both trendy, and more typically "business" pieces. A black blazer and white button-down shirt are basics for any closet, while a pencil skirt loses stuffiness in a fun print, and workplace heels get a revamp with platform Mary Jane detailing. A large statement necklace brings a little youth to the upper half of the outfit as well, without altering the sophisticated silhouette.
Keep on Truckin'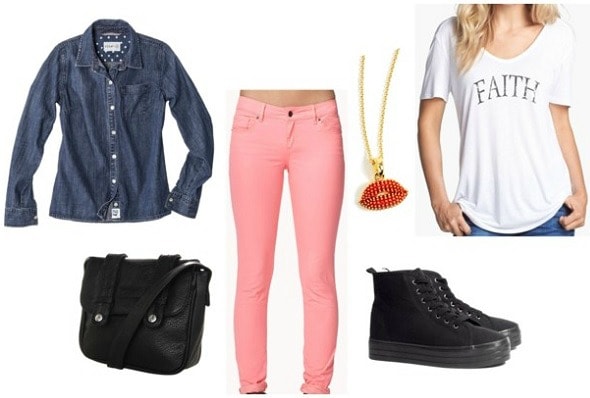 Product Information: Shirt – Target, Jeans – Forever 21, Necklace – Nasty Gal, Tee – Nordstrom, Sneakers – H&M, Bag – Volcom.
This book reaches soap-opera levels of disaster at times, and no one bears the brunt of this misfortune like Pia herself. However, because she truly believes in her ideas and what she can do (and, when she can't, still has her girls to back her up), she perseveres, and her food truck business is a success.
Channel Pia's work ethic and stubborn nature by using her food truck, Toto, as inspiration for a hardworking outfit of your own. Its pink color provides the basis for a sweet pair of jeans, and its kiss marks come into play in an icon necklace of the same. This tee shirt nods to Pia's determination and optimism. Meanwhile, a heavy-duty denim jacket, leather cross-body bag, and platform sneakers represent her hardworking attitude and willingness to get a little rough.
What Do You Think?
Have you read Brooklyn Girls, or like-minded New Adult novels? Have you seen any of the television shows mentioned? What did you think of the novels, and the elements at play? Which character did you relate to most? What did you think of the outfits and styling tips? Let me know, in the comments below!