Over the past few months, we've been interviewing some of our favorite fashion bloggers and finding inspiration in their styles. In case you missed them, see our past interviews with Maria of Lulu Letty, Elizabeth of Delightfully Tacky, Georgina of Cupcake's Clothes, Tieka of Selective Potential, Rebecca of The Clothes Horse, Keiko Lynn, Kendi of Kendi Everyday, Sally of Already Pretty, Mel of Idee Geniale, La Carmina, Julie of Orchid Grey, Alicia of Cheetah is the New Black and Andrea of Blonde Bedhead.
When we first started this series, we asked you guys which fashion bloggers you'd like to see interviewed next. While your requests varied, one name kept coming up again and again, carving out a spot as the clear favorite among CF readers. (She's one of our personal favorites, too!)
You asked and we answered – this week's featured blogger is the fabulous Emily of Cupcakes and Cashmere!
About Emily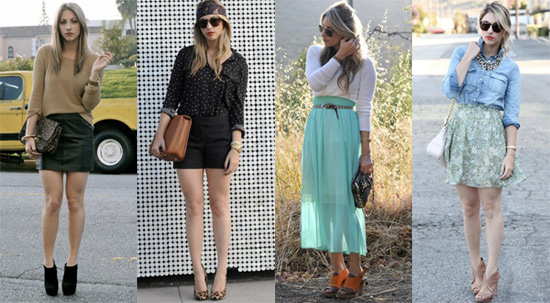 If you approach Emily's website looking for another run-of-the-mill fashion blog, you will be disappointed. Cupcakes and Cashmere is so much more than a fashion blog – it's a true lifestyle destination, full of inspiration, photography, recipes, travel guides, how to tutorials, and, of course, outfits. Emily flawlessly blends her loves of fashion, food, and home decor into a digital confection that inspires in ways beyond the sartorial.
Emily is also great inspiration for those of you looking to go into fashion – she has had a successful career in the industry, and her blog gives readers a peek inside her world. And if that wasn't enough, she's even writing a book! Let's meet her…
Our Interview with Emily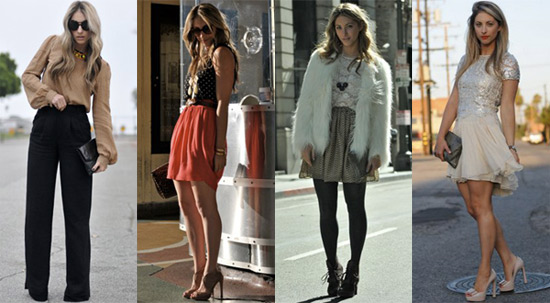 1. Tell us a little bit about yourself (who you are/what you do/where you're from, etc.)
My name is Emily Schuman and I write the blog Cupcakes and Cashmere. I'm originally from Mill Valley, California (about 10 minutes from San Francisco) and now live in L.A. where I've been for the past six years.
2. How would you define your style?
Simple, streamlined, and sophisticated.
3. How did you find your style?
Lots of experimentation (and some rather serious missteps along the way). I really didn't start caring about fashion until I was well into college, at which point I started experimenting a bit with vintage and mixing high and low price points. I think the key to figuring out your style is to pay attention to what you're drawn to (whether it's frilly skirts or more tailored trousers), and to wear what's comfortable and flattering. Ultimately, fashion should be fun and it should be something that makes you happy!
4. What inspired you to start a style blog? What motivates you?
I felt like I was in the right space in regards to my career (managing online media campaigns at AOL), but I was uninspired with the work I was doing on a daily basis. I wanted to challenge myself, so I decided to start a blog that encapsulated all of the things about which I was most passionate. I'm motivated by things that make me happy, whether it's a great song, a beautifully plated meal, or rearranging furniture (one of my favorite pastimes).
5. Did you go to college? If so, what was your college experience like?
Yes, I went to Scripps College, which is a liberal arts school that's part of a 5-college consortium in Southern California. My experience was truly amazing. I feel so fortunate I was able to go to such a great school and learned so much in those four years (and still draw on my education today). I learned about hard work, how to manage my time, and how to go after things I really wanted.
6. Where do you like to shop?
I really like to switch it up a lot. Most weekends, you'll find me walking around a local flea market (I love the Melrose Trading Post) with a cup of coffee. I do a bit of online shopping, and love Zara, H&M, and Topshop for trendy basics and rely on stores like Barneys, Saks, and Neiman Marcus for big splurges (for me, that means shoes and bags).
7. What advice do you have for being stylish on a college budget?
Get creative! Think beyond just jeans, flip-flops and old t-shirts (which is what I lived in my first two years at Scripps). Save up for items that you'll get a lot of use out of and hit up local thrift stores and flea markets for affordable and unique pieces. If I were to give my younger self advice on how to shop on a college budget, I'd encourage myself to not just go after those cheap thrills. They're fun at the time, but I think it's worth saving up for closet staples (like a high quality black blazer, a great bag, or nude pumps).
8. What are your favorite pieces in your wardrobe?
My sequined cardigan I found at a flea market (for $15!), my Chanel heels (a gift from my amazing fiance), and my grandfather's gold chain-link bracelet that was given to me after he passed away. I wear it almost every day and am always reminded of him.
9. Who/what inspires you, fashion-wise?
I'm inspired by women who are comfortable in their own skin.
10. What are the pieces you couldn't live without?
My high-waisted MiH jeans, my collection of striped tops, and my Elizabeth and James blazers.
11. What advice do you have for new bloggers or people who are considering starting a blog?
Start a blog because you love to create content and want to share it with others. If you're going into it for the wrong reasons (free clothes, notoriety, monetization), that will come across as inauthentic. Instead, think about things you really love (for me, it was initially all about food and fashion) and go from there. While it's not always easy to come up with original content on a daily basis, I love what I do, so it never really feels like typical work.
12.What is working in fashion really like? Could you describe a typical day?
It really depends, which I think is what I love the most. Some days, I research new trends, go shopping, visit showrooms, and put together collages, other days, I'm up at 6am answering emails in bed and still up working on my blog and book until 11pm.
13.Who are your favorite designers?
Miu Miu, Celine, and Phillip Lim.
14. How did you get interested in food and cooking?
I grew up in Marin, which is very food-focused, and had parents that were both geniuses in the kitchen (my dad cooks and my mom bakes). Going out to eat is one of my favorite things to do with my fiance or friends and over time, I built up the courage to start making things on my own in the kitchen. At first, I was a disaster, but now I love it.
15. What is living in LA like?
I love living in L.A. The weather is consistently incredible, we're close to a variety of different landscapes (including the beach, the mountains, the desert, etc.), it's culturally diverse, and there's just so much to do…whether it's discovering a new restaurant, hearing live music, or going shopping.
16. Tell us about your upcoming book.
My book is basically an extension of my blog, that covers fashion (how to build a great wardrobe), food (I'll be including some of my need-to-know recipes), interior design (tips on how to spruce up your space), organization, beauty, and entertaining. It's organized by season, which I love, since I'm so influenced by the changes that come with each one. I like to think of it as a really fun lifestyle guide filled with lots of my favorite tips and tricks!
17. To what do you credit your successes?
Lots and lots of hard work. I'm persistent (almost to a fault) and really go after things that I want. My senior year in college I decided I wanted to work at Conde Nast and did lots of research to find out the necessary people to contact there in order to get myself an interview. I didn't have a car, so I walked to the train station in Claremont (where I went to school), took the metrolink into L.A., jumped on a subway, then onto a bus that dropped me off about half a mile from the building. I showed up sweaty and exhausted, but I nailed all of my interviews and was offered the job (working for Teen Vogue and Domino magazine) the day after I graduated.
How to Dress Like Emily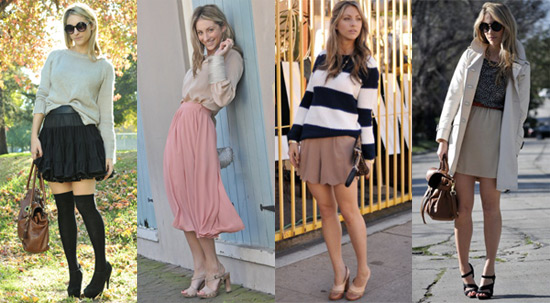 1. Keep it simple but sophisticated.
Emily's look could be described as "effortlessly glamorous". While she is inspired by trends, her look centers around the idea of mixing classic pieces – she's not particularly interested in throwaway fashion. Take a cue from Emily and skip the Forever 21 sales – instead, save up for love-it-forever pieces that you can mix and match.
2. Add pretty touches.
Emily keeps her accessories simple but statement-making – they always add something extra to her look. Emily's favorite accessories include hats, headbands, elegant jewelry, and belts. When accessorizing, don't go overboard with jewelry and extras – instead, use them to complement your ensemble. Less is more!
3. Mix textures.
One thing I noticed when perusing Emily's outfit photos is that she loves to mix textures, which is a great way to make a simple ensemble more interesting. Have fun with lace, suede, faux fur, leather, and chambray, mixing them together for a wonderfully rich look.
4. Keep proportions in mind.
Emily's signature look over the past few seasons has been a high-waisted skirt and blouse. The skirt is usually a fitted pencil style, which is balanced by a more voluminous top. This look is a lesson in proportions: Keeping the top loose allows you to wear a more fitted skirt while still looking put-together, while a fitted skirt gives shape to an airy top.
5. Don't forget the fantastic shoes.
In her outfit photos, Emily is almost always in heels, which she uses to add sophistication to every ensemble. She's also known to rock a neutral ensemble with a bright pair of statement-making shoes.
Outfit Inspired by Emily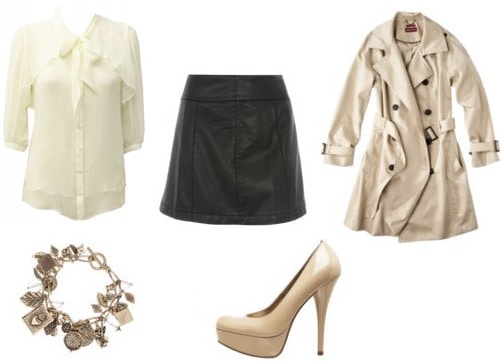 blouse / trench coat / faux leather skirt / nude heels / bracelet
For a look inspired by Emily, I started with a simple, neutral palette of beige, black, and cream. I chose a loose, airy, cream-colored blouse with a pretty pussy-bow collar and paired it with a (faux) leather skirt for a perfect juxtaposition of texture and volume. I then added nude heels and a casual trench as a nod to Emily's love of classics. You could style this for cooler weather by adding black tights and black pumps, and adding a bag in a statement-making hue.
Your thoughts?
Do you love Emily's blog as much as we do? Do you agree with her style philosophy of investing in classic pieces over trends? Let us know your thoughts by leaving a comment!