Over the past few months, we've been interviewing some of our favorite fashion bloggers and finding inspiration in their styles. In case you missed them, see our past interviews with Maria of Lulu Letty, Elizabeth of Delightfully Tacky, Georgina of Cupcake's Clothes, Tieka of Selective Potential, Rebecca of The Clothes Horse, Keiko Lynn, Kendi of Kendi Everyday, Sally of Already Pretty and Mel of Idee Geniale.
Today we'll be meeting La Carmina, of La Carmina.com.
About La Carmina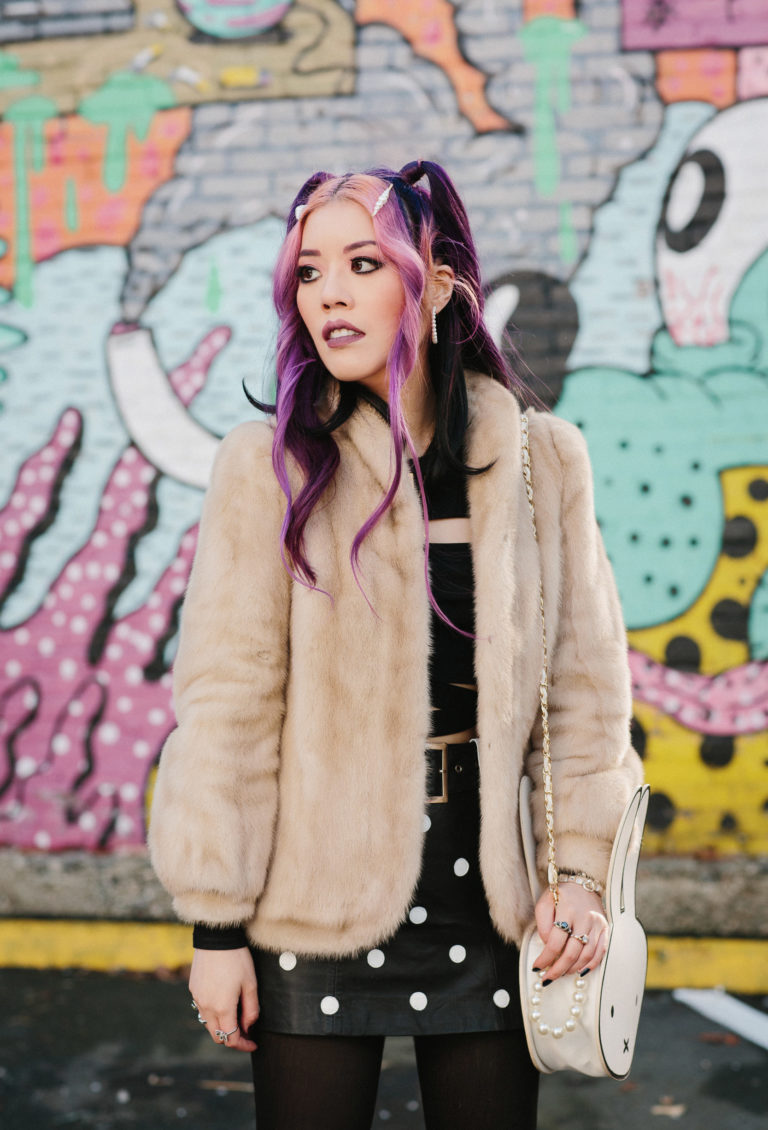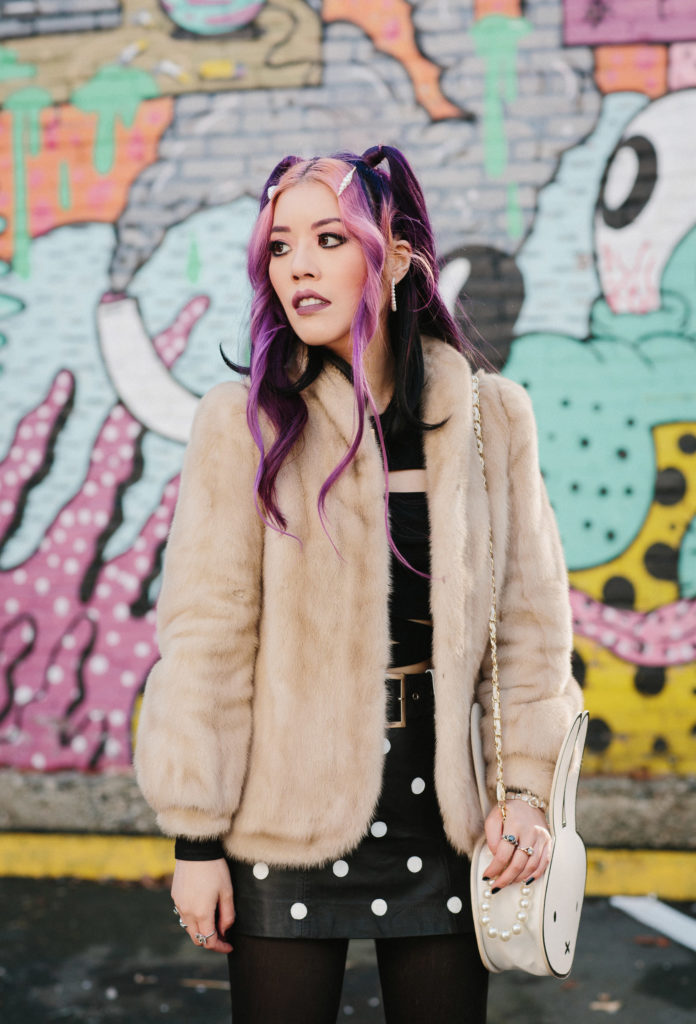 In response to our Blogger Inspiration series, which has been going for a few months now, a few of you expressed an interest in seeing a more alternative blogger featured. So this time, we have Japan goth blogger La Carmina.
La Carmina is a girl of many talents – she's a blogger, journalist, TV host, author, and designer. While her look might be a little too alternative and out-there for some girls, her style is also full of inspiration – many elements of her wardrobe are completely real-life wearable. I love her mix of girly dresses, lace and her fantastic hair and makeup. Overall, La Carmina's style is distinctive and fun – let's meet her!
Our Interview with La Carmina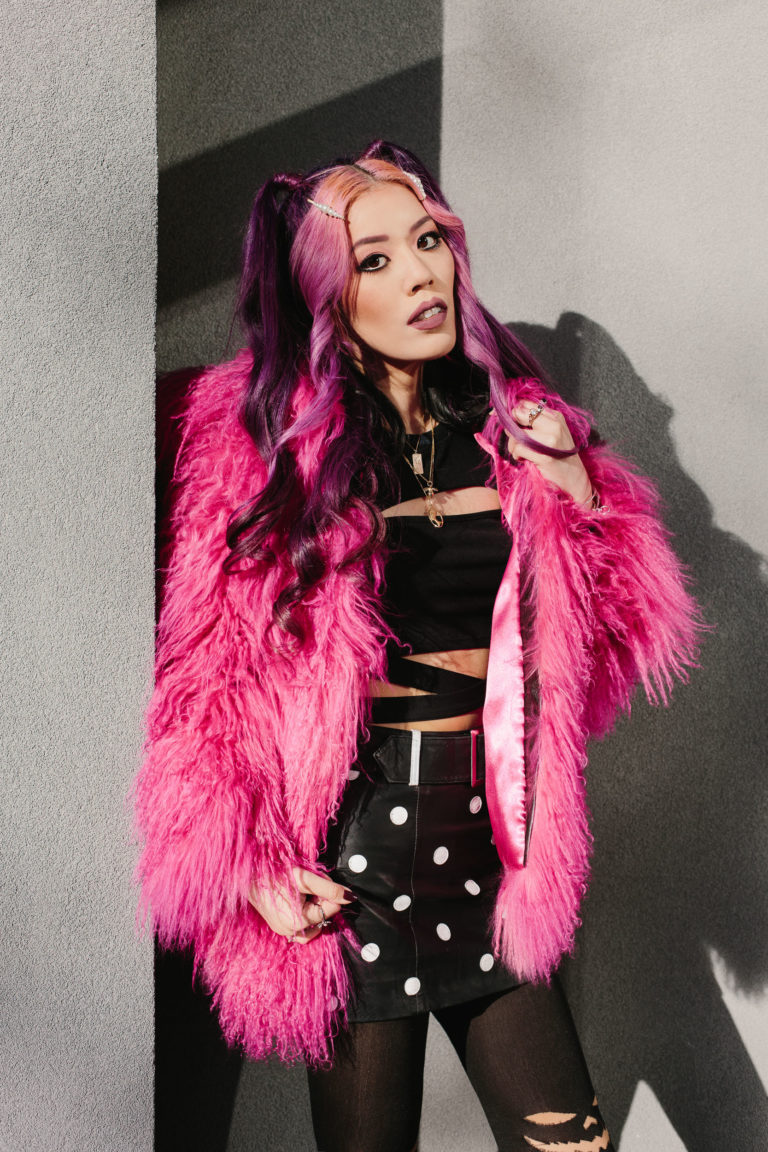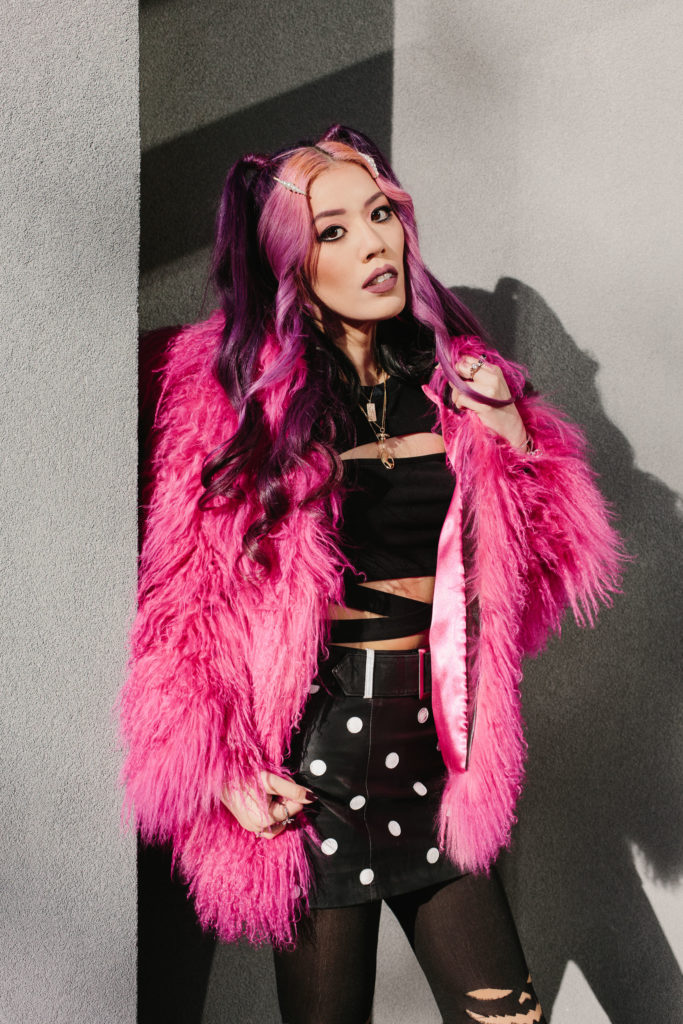 1. Tell us a little bit about yourself (who you are, what you do, where you're from, etc.)
I'm a red-haired pirate named La Carmina. My world revolves around alternative fashion, travel, Japanese pop and subcultures, and all things spooky-cute. In addition to blogging maniacally, I'm a travel TV host and arranger – currently working on five shows for international networks. My TV credits include The Today Show, Travel Channel, NHK Japan, Dutch Pepsi, Sony Australia, Canal Plus France, Norway TV, Fuel / National Geographic, and CNN International. I'm Captain of my coolhunting firm, La Carmina & The Pirates. We're trend/youth consultants, translators and film fixers who specialize in Tokyo's underground subculture. Finally, I'm a travel and pop culture journalist for AOL/ Huffington Post and CNN, and wrote 3 books on fun and bizarre Japan culture –including Cute Yummy Time (Penguin) and Crazy, Wacky Theme Restaurants: Tokyo (Random House).
2. How would you define your style?
Morticia Addams meets Hello Kitty.
3. How did you find your style?
When I was little, my family and I always traveled to Japan, Hong Kong and other places in Asia. I was mesmerized by the Visual Kei/Jrock, Gothic Lolita and Punk styles I saw in the Harajuku district of Tokyo: Green hair, ripped-up tights, candy hair bows, frilled Victorian dresses. Japan's explosive combination of alt-fashion-music subcultures rocked my young imagination. I began experimenting with these street styles, and continue to dance down this colourful path today.
4. What inspired you to start a style blog? What motivates you?
When I began my blog in September 2007, I was Yale Law student at crossroads: I yearned to be in a more creative field. Blogging was the perfect medium for me to express my love of alternative fashion and subcultures. I started out writing solely for myself, with no expectations. (Remember, these were the early days when the idea of turning a blog into a career was unheard of!) I'm forever grateful to readers who reach out and tell me they've found my posts helpful. Hearing that I opened someone's eyes, or simply made them smile, keeps me going.
5. Did you go to college? What was your college experience like?
I'm a graduate of Columbia University in New York, and Yale Law School. I like to say I majored in nightcrawling… because I got my education in underground fashion/cultures from NYC's flamboyant club scene! On weekends – and I admit, also weekdays – my friends and I would glam up and browse the shops at St Mark's Place (Trash and Vaudeville, Search and Destroy). Then we'd head over to Lower East Side dives and alt/Goth clubs (Dances of Vice, Lady Gaga's old haunts). I loved Columbia. Tidbits from the Core Curriculum – required courses across a variety of disciplines – pop up constantly in my life and work today, such as making a Bach reference in a metal concert review, or coordinating an outfit to match a Surrealist art exhibit. I honed my writing skills at university, and met smart students from all over the world. Perhaps that's why I'm so fascinated by fringe travel and cultures today.
6. Where do you like to shop?
I'm fortunate that my TV and writing jobs take me to Tokyo. Harajuku is my favorite neighborhood to buy alternative clothing and accessories. Here, you'll find the most exciting Goth Lolita Punk Jrock fashion in the world. While Harajuku has gotten more commercial lately, there are still independent stores, such as Yellow House – run by a spunky old lady for decades – or Takuya Angel's little shop of Cyber Rave designs.
The basement of Laforet Department Store houses some of my favorite brands, including Alice & the Pirates, Atelier Pierrot, Putumayo and h.NAOTO. Shinjuku's Marui One department store is a mecca of Gothic Lolita clothing, especially the floor that I call "shoe heaven" (Mary Janes, cut-out boots and more). I pick up glittery fabrics, feathers and decadent eyelashes at Odakaya. If I could only visit one boutique, though, it would be Closet Child, which stocks Japanese alternative brand clothing — all secondhand and very well priced. There are locations in Shinjuku, Harajuku and Ikebukuro.
7. What advice do you have for being stylish on a college budget?
I'm a big proponent of supporting independent businesses. I suggest searching online for indie designers; Etsy has a large selection of cute, original pieces for great prices. I also encourage students to try DIY projects. Something as simple as cutting up and layering stockings, or pinning feathers and charms to a hat, can make a huge impact.
8. What are your favorite pieces in your wardrobe?
I adore my decadent purple pirate hat, which Caribbean Rose Emporium created just for me. And my gold Listen Flavor ring because it looks like my earless cat, Basil Farrow.
9. Who/what inspires you?
I'm mesmerized by the Rococo glam of Visual Kei bands like GPKISM, Malice Mizer, Versailles. I love Japanese kawaii (cute) makeup and mascots, such as Chococat and Rilakkuma. Above all, I'm inspired and awed by my ultra-creative circle of "spooky friends."
10. What advice do you have for new bloggers or people consideringstarting a blog?
From a technical standpoint: use WordPress on a self-hosted domain, educate yourself in design and SEO, and write high-quality posts constantly. Get active on social networks: take the time to answer blog comments and messages. There's no need to emulate the path of mainstream personal fashion bloggers to be successful. Be your quirky self, and concentrate on a niche or lifestyle that you love. Create a world that readers want to be in, and they will come.
How to Dress Like La Carmina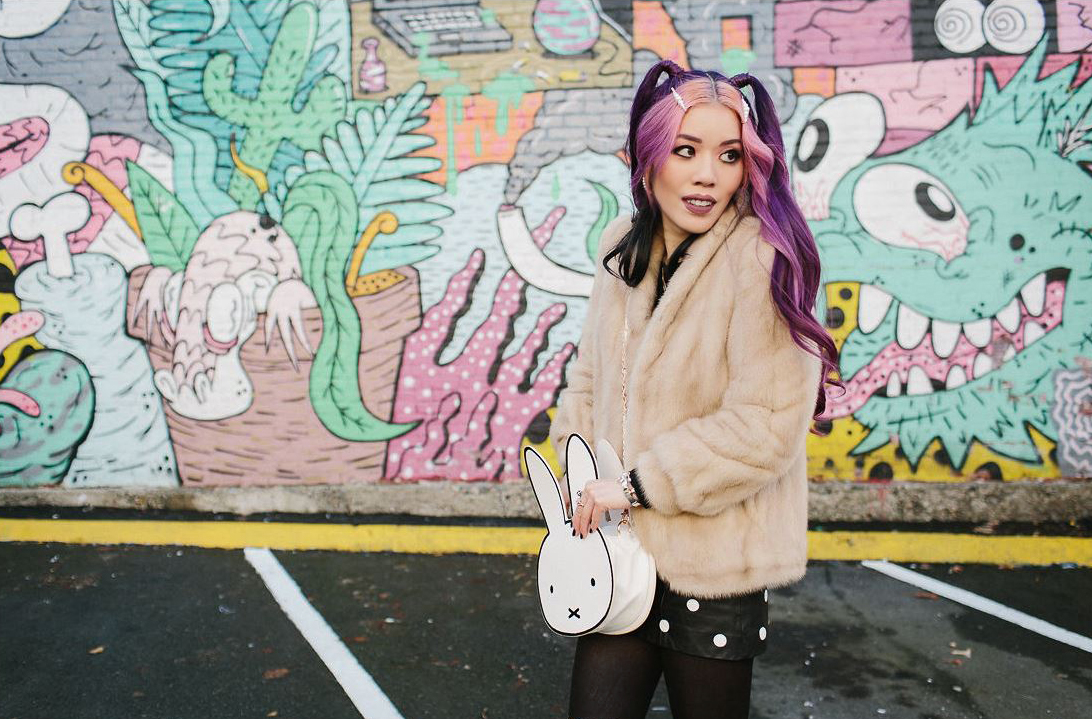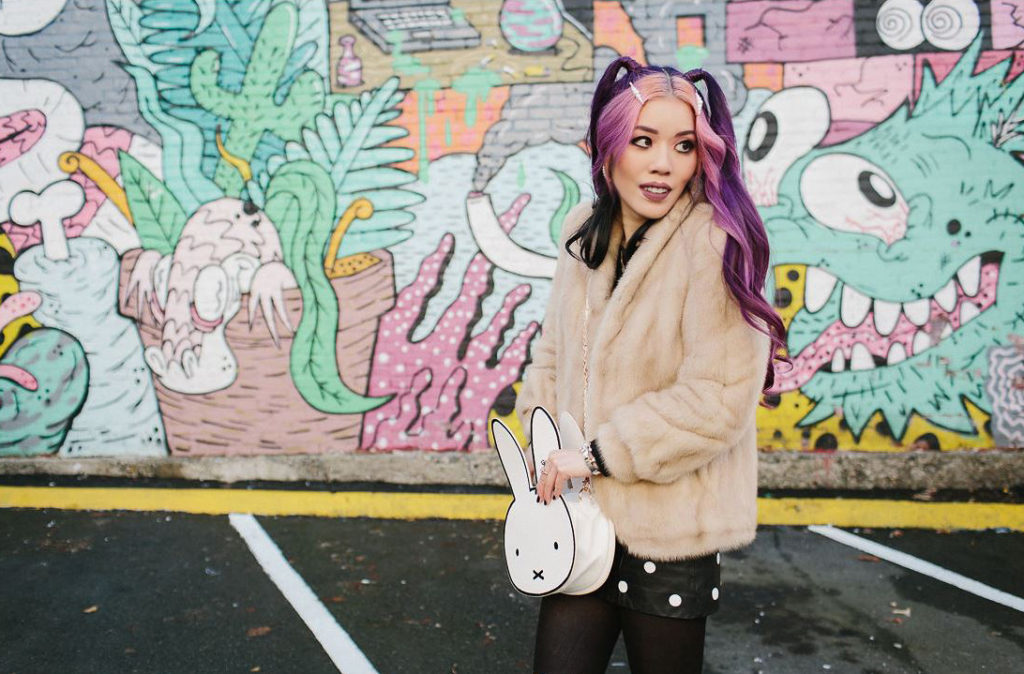 all images of La Carmina from La Carmina.com
La Carmina's style is very distinctive and really stands out. Many elements of her style may not be "wearable" for a lot of college girls or fit in with their usual style, but just as we take catwalk trends and make them more wearable, there are ways to take inspiration from La Carmina's style. Here are a few tips:
1. Cute, feminine pieces
La Carmina's style is categorized by feminine and Victorian-inspired pieces featuring lots of ruffles and lace. This can easily be translated to your daily look with the addition of a pretty petticoat or under-skirt worn beneath a vintage-style dress, mary jane shoes and/or delicate tights.
2. Simple color palette
As you can tell from the images used here, La Carmina's outfits often conform to a palette of red, black, white, and purple. This is a great way to get maximum mileage from your wardrobe. By choosing a single palette as the foundation of your wardrobe, it's always easy to build outfits that work.
3. Punk elements
In recent years, fashion has largely rejected the idea of looking too "done". La Carmina's look emulates this fashion philosophy: She loves to layer on ripped tights, fishnets and edgy elements such as cross-necklaces. Take a cue from La Carmina and add an edgy to your girly outfits – try black fishnets with a floral dress, or rock a black cross necklace with a feminine top.
4. Accessory overload
Hair pieces, pretty necklaces, fun tights, and bows galore – La Carmina's look is always accessorized to the max. You don't have to go overboard to have fun with accessories like Carmina – try patterned tights for fun pattern-mixing, or add a pretty hair piece or hat to your look.
5. Trademark hair and makeup
La Carmina's bright red hair and fun makeup are her standout beauty trademarks. While it's fun to experiment with your hair and makeup, having a trademark look can make getting ready in the morning much easier! In addition, you'll stand out from the crowd and be remembered by keeping your look consistent.
Outfit Inspired by La Carmina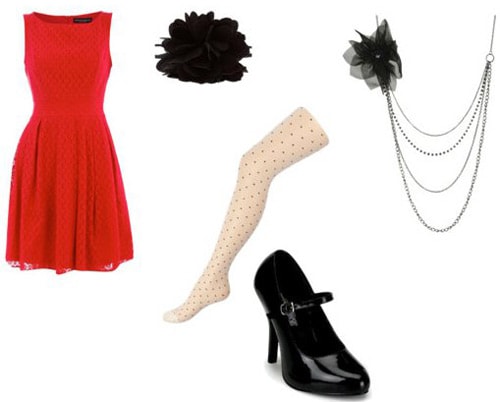 red dress / polka dot tights / flower necklace / hair flower / mary jane shoes
If alternative style is your thing, it'll be easy for you to take inspiration from the more unusual aspects of La Carmina's style. However, this outfit is a more mainstream, everyday-wearable version of La Carmina's look, and would be perfect for readers who just want to channel a hint of her style.
I used La Carmina's palette of red, white, and black for this outfit and chose this little red lace dress to demonstrate her love of girly accents. I then paired it with pretty white tights and black mary jane shoes. Of course, I had to add pretty accessories, opting for this flower necklace and hair clip. Wear this look and you'll look picture-perfect for a night out, while channeling a bit of Carmina's edge.
Your thoughts?
Do you find La Carmina's style inspiring? Are you happy to see an "alternative" blogger featured here? What other bloggers would you like to see profiled in the future? Leave a comment and let us know!