Over the past few months, we've been interviewing some of our favorite fashion bloggers and finding inspiration in their styles. In case you missed them, see our past interviews with Maria of Lulu Letty, Elizabeth of Delightfully Tacky, Georgina of Cupcake's Clothes, Tieka of Selective Potential, Rebecca of The Clothes Horse and Keiko Lynn.
Today we're meeting the fabulous Kendi, of Kendi Everyday.
About Kendi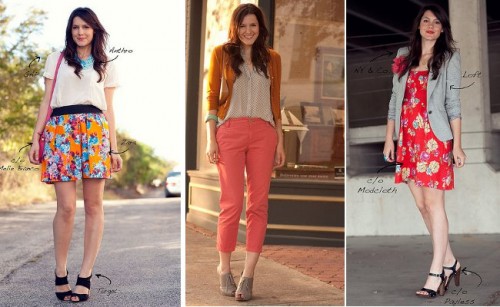 If you've never read Kendi's blog before, you're in for a treat. Her blog posts are always so fun and chatty – reading them makes you feel like you're catching up with an old friend. She is always filling you in on her day and what she's been up to, which gives her site a uniquely personal touch.
But Kendi is perhaps best known in the blogosphere for her now-famous 30 for 30 challenge. The concept is simple – choose 30 pieces (including shoes) from your wardrobe, and create 30 completely unique outfits. In practice, however, the challenge is just that – it takes a master remixer like Kendi to really make the pieces shine in so many unique ways.
Want to know more about Kendi and her penchant for creating inspiring outfits? Keep reading!
Our Interview with Kendi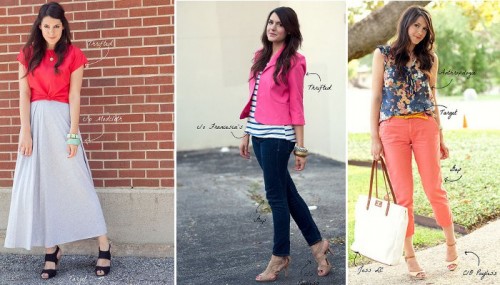 1. Tell us a little bit about yourself (who you are/what you do/where you're from etc.)
Hello there, I'm Kendi Skeen. I'm from Texas, and currently I style blog at Kendi Everyday and photograph weddings with my husband.
2. How would you describe your style?
Simple and classic with a little bit of quirky.
3. How did you find your sense of style?
I think that everyone has an innate sense of style — as in clothing or styles that you are naturally attracted too. I think sometimes it's just harder to put things together. I've always been interested in clothing or shopping and I've always had a sense of style, but style blogging has helped me learn to look put-together, and to figure out what flatters my body type, what works and what doesn't. Even if you don't start a blog (you should, though), I'd highly recommend anyone looking for their style to start taking daily photos of your outfits. It's amazing to watch your style evolve.
4. What inspired you to start a style blog? What motivates you?
I started following style blogs when I first moved to this small town and I was unemployed. (I should have been looking for jobs, yet I was looking at blogs. Sigh.) I became fascinated with the way girls would remix their clothing or try different styles with so much confidence. After swooning over blogs for a year or so, I got up the guts to start one. (I also landed a job, by the way.)
5. Did you go to college? What was your college experience like?
Yes, I did and I loved it. Some of the best memories I have are from college. I found my best friend and my husband there, so I have to say that my experience there was one for the books. I think summers in college were my favorite, though. Summer classes were always such a pain, but so necessary and so easy. I loved when everyone would stay during the summertime — it was just so fun and carefree. Plus, college is a time to try on who you want to be. I'm pretty sure I tried everything from sorority girl to emo girl to a modern-day hippie. None of them were me, but the wardrobe changes were fun.
6. Where do you like to shop?
Gap and J.Crew have my heart and my wallet forever.
7. What advice do you have for girls who want to be stylish on a college budget?
Remix! Invest in cute, quality pieces that coordinate with the other pieces you own, then remix outfits. Also, swap and borrow from friends. I think half of my wardrobe in college came from my best friends or roommates. That's the best part of college and living with friends — instead of just one closet, you have three!
8. Who or what inspires you most?
Travel is one of the most inspiring things for me and my husband. We love to travel and to experience the different cultures in each city. People watching is extremely inspiring, especially for style. I love to see how people dress in different parts of the country and then try to mimic those styles back home.
9. What are the pieces you couldn't live without?
My skinny jeans, my wedges and my blazer. I wear one of those three items every week it seems!
10. Your blog is very chatty and personal; do you think it is important to have that connection to your readers?
Yes, most certainly I do. The connection was accidental in a way, I suppose, in the same way my blog was accidental. I never expected anyone to read what I wrote in the beginning, so that's where the tone and voice of my blog came from. It was more diary-esque than blog talk. When I started to pick up readers, I never lost that conversational tone and so now readers probably know way too much about me. But I love it — I love when I share a funny story and readers will share similar stories as well. I've got some funny readers out there!
11. What advice do you have for new bloggers or people considering starting a blog?
Just do it! Start a blog and don't worry about gaining readership, about popularity. Just start a blog; start creating and sharing something with the rest of the world. It's such a great community to be a part of and always welcoming of new blogs.
12. How do you remix your clothes to help them feel new and exciting?
I try to keep an inspiration board of outfits that have pieces similar to what I have so that I'm always fresh for ideas. I try to not just limit myself to safe combination of colors or styles — it never hurts to try a new outfit out, even if you fail.
13. What are your favorite pieces in your wardrobe?
My red suede heels for one! I love those guys. My navy blazer is also a key piece that I've worn over and over again. My wide-leg trousers are so comfortable but so put together at the same time. And a new addition is an emerald green maxi dress — I call it my Angelina Jolie dress and force my husband to agree I look like her. And like a good husband, he always does. 🙂
How to Dress like Kendi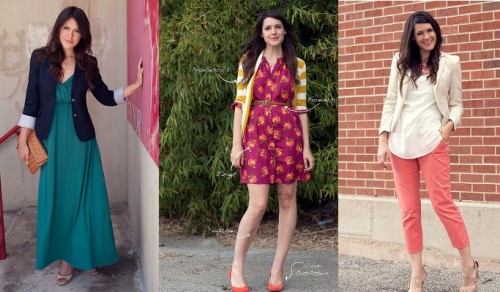 Because of her unrivaled ability to remix, dressing like Kendi is simple and affordable. Here's how to get her cute, work-appropriate style.
1. Invest in classic pieces.
Kendi's look is made up of great signature pieces, such as tailored blazers, shift dresses, skinny jeans and heels. These are pieces that will always be in style and are worth investing a little more money in. Take a cue from Kendi and save money by ignoring flash-in-the-pan trends, and finding some well-fitted classic pieces that will stand the test of time.
2. Mix brights and neutrals.
Kendi likes to have fun with bright colors, but she always balances them with neutral pieces and accessories. This is a great way to have fun with brights without looking like a box of crayons.
3. Play with complementary or clashing colors.
I love the way Kendi spices up her look with unexpected color combos, such as a bright shoe that complements, but doesn't match any other colors in the outfit, or by mixing two clashing colors in one ensemble. This fearless attitude makes her style really stand out. When you choose your outfit in the morning, why not select a completely different shoe color, or purse color from what you would normally choose? You might surprise yourself with the fabulous combos you create.
4. Fabulous heels.
Kendi is a real shoe girl, and her passion for heels means that all her outfits, even those involving simple jeans or capris, look instantly work or night-out appropriate. It can take some time to get used to wearing heels, especially if you don't wear them often, so chose one or two days a week to wear heels and build up to wearing them more often if you want to be able to wear them more regularly.
5. Find your go-to outfit.
When I think of Kendi, I instantly picture her wearing a pretty dress and a blazer with a great pair of heels. Blazers are definitely her signature, and she incorporates them in her outfits in different ways. Finding a go-to outfit doesn't mean wearing the same thing all the time, but gives you a base to build on in finding your signature style.
Outfit Inspired by Kendi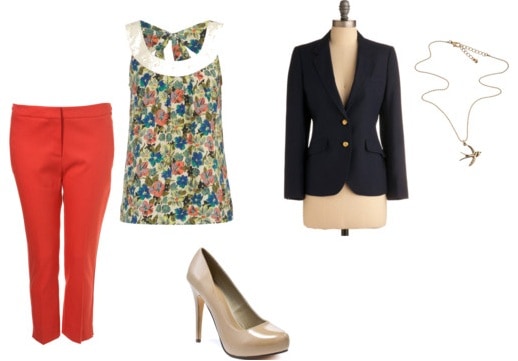 pants / floral top / blazer / shoes / necklace
This outfit would be perfect for a trip to the movies or a day at the park. Kendi is a huge fan of brightly colored pants like these, and they're so versatile for the summer. You could even swap the floral top for a white blouse to make this perfect for an internship or casual day job. I chose a navy blazer and simple nude pumps as accents, but you could add more colors if you wanted to really make a statement.
Your thoughts?
Are you inspired by Kendi's style? Do you like to remix your clothes? Would you ever try the 30 for 30 challenge? Let us know with a comment!