This Addison Rae clothes guide will show you how to dress like Addison Rae and copy her style on a budget.
This week, we are breaking down the personal style of Addison Rae Easterling, also known as @addisonre to her 76.7 million (and counting) followers on TikTok.
You may have seen videos of her dancing, promoting her beauty line, or palling around with Kourtney Kardashian over the past year, but that's not all Addison has going on.
The social media sensation has also taken on Hollywood with a starring acting role in the upcoming movie She's All That (a reboot of the movie He's All That).
Addison has a distinct personal style that reflects TikTok culture and trends, which she's refined since being in the spotlight.
Colorful sweats, cool sneakers, oversized silhouettes, and vintage-inspired accessories are some of the defining elements of Addison's personal style, which is Gen Z all the way.
Read on for the key elements to Addison Rae's clothes, and see how you can achieve the TikTok star's style, for less.
High-Rise Jeans
Addison is a big fan of denim – in fact, she is a spokesperson for American Eagle and has raved about their mom jeans.
She often wears straight-leg, relaxed-fitting jeans in lighter denim washes that have a vintage vibe.
Addison uses denim as the basis for both casual outfits and dressier outfits. She'll wear the same type of jeans with sneakers and a crop top, or with some killer heels and a sweater for a more elevated denim look.
Get Addison's Look: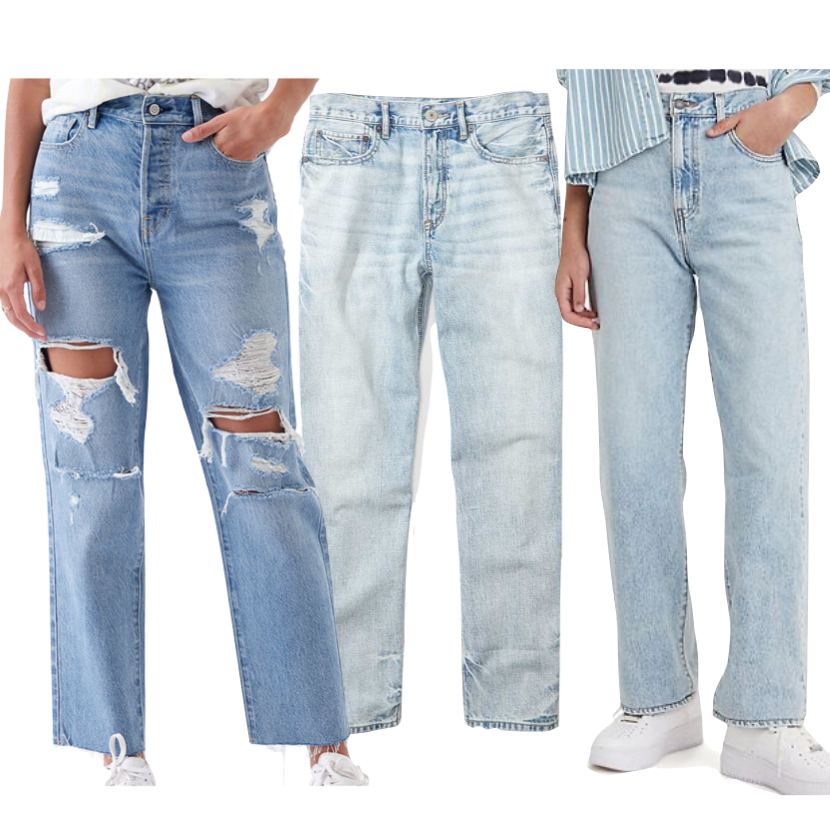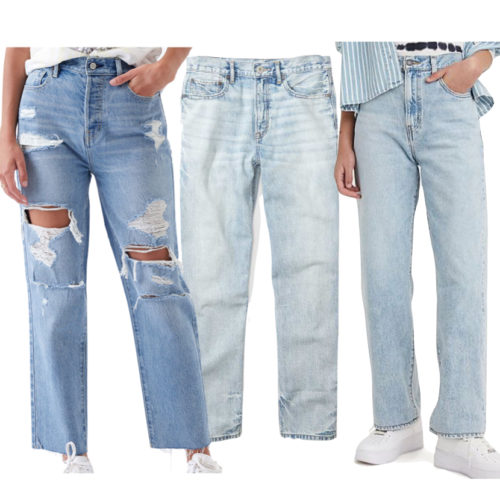 Jeans L-R:
To get Addison's vibe, opt for straight-leg, high-rise jeans with a vintage-inspired feel. Addison often wears lighter wash denim in relaxed fits, sometimes with ripped details.
All of these denim styles can be dressed up with heels or down with sneakers depending on your preference.
Sweat Sets
This wouldn't be a guide to Addison Rae's clothes without sweat sets.
Addison often loves to rock a sweat set, or coordinating sweatshirts and jogger sweatpants. She has been spotted in just about every color of sweats you can think of!
Not only are sweatshirts and sweatpants comfortable and on-trend, but they are probably quite practical for Addison's life as a dancer.
Get Addison's Look: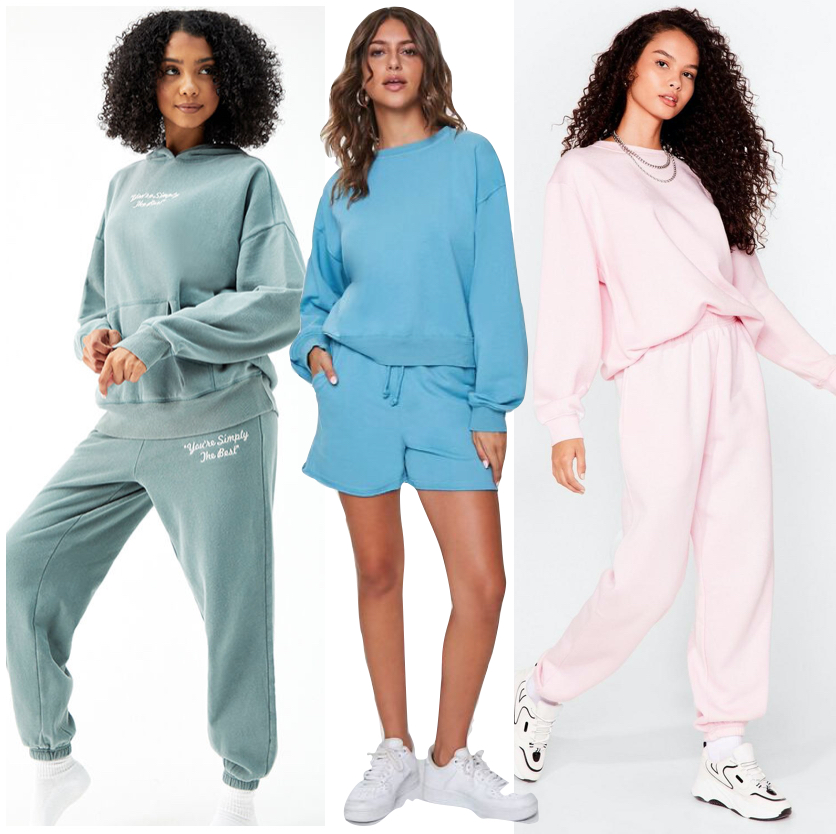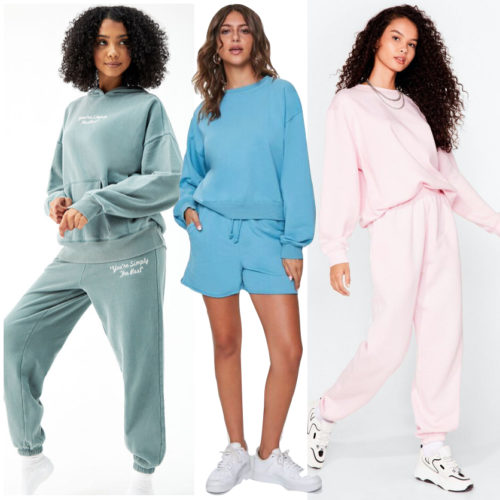 Products:
The year 2020 had the majority of us embracing sweat sets more than ever, and this "trend" is a wardrobe staple, even if you prefer to only wear sweats while lounging at home.
However, if you want to take a cue from Addison, wear your coordinating sweatshirts and sweatpants out and about for a cool and comfy look.
Don't be afraid of bright colors, either; have fun with bold hues like Addison to brighten up your loungewear.
Biker Shorts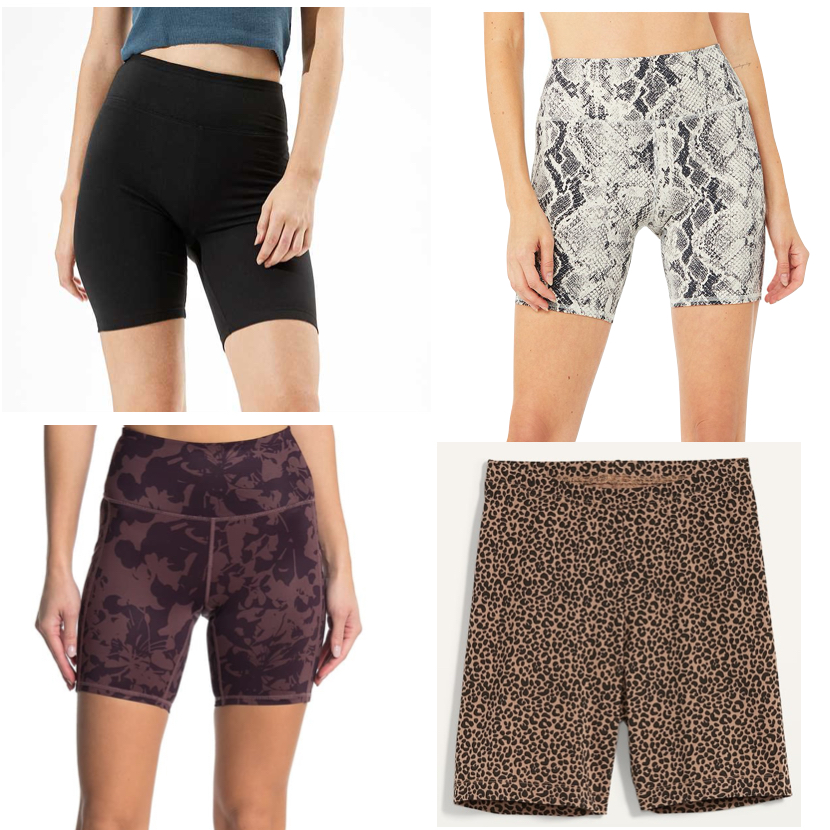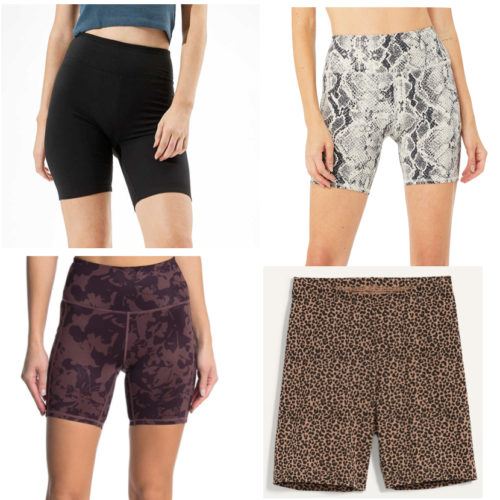 Products:
Whether she's working out or just hanging out, Addison is a frequent wearer of biker shorts.
She's been spotted in all sorts of styles: from basic black biker shorts to animal print biker shorts, like snake print and leopard print.
Addison will pair her shorts with sports bras, loose-fitting t-shirts, or sweatshirts for laid-back athleisure looks that are both trendy and sporty.
Playful Accessories
Addison is game for trying out different fun trends when it comes to her accessories and often goes for '90s-inspired pieces for that Y2K fashion vibe.
Sunglasses in cool shapes, mini handbags, and eye-catching phone cases (which are a must for prime mirror selfies!) are some of Addison's style staples.
Get Addison's Look: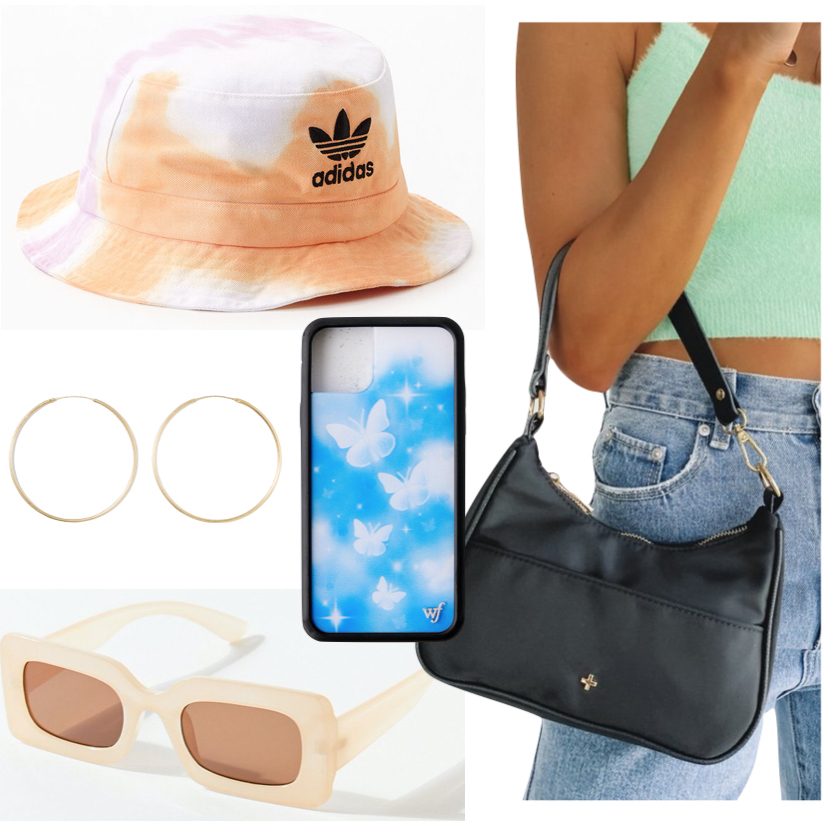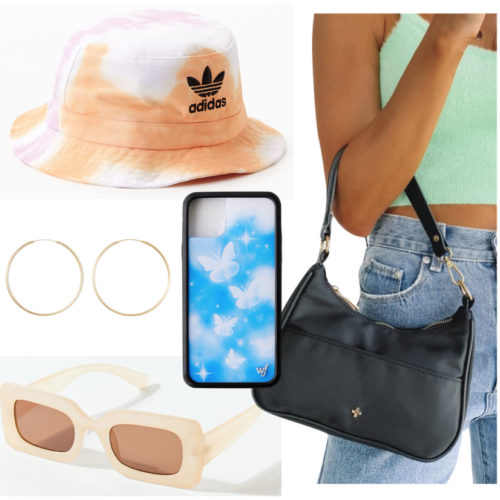 Products:
Being a social media sensation often involves posting the perfect mirror selfies, which Addison is a pro at. Part of nailing the look is having a cute phone case, like this adorable blue butterfly print case that Addison has posted in photos before.
Next up are trendy sunglasses and handbags. Addison rocks retro vibes in both categories, with '90s-inspired mini shoulder bags and rectangular frame sunglasses in different colors.
Addison often wears large hoop earrings, and this tie-dye bucket hat has a TikTok star written all over it.
Oversized Graphic Print T-Shirts
When thinking about Addison's style, oversized graphic print t-shirts totally come to mind.
Addison wears loose-fitting t-shirts all the time in her TikTok videos, which give her an easygoing, chill look perfect for dancing.
As for the prints, Addison has worn everything from tie-dye to race car graphic tees.
Get Addison's Look: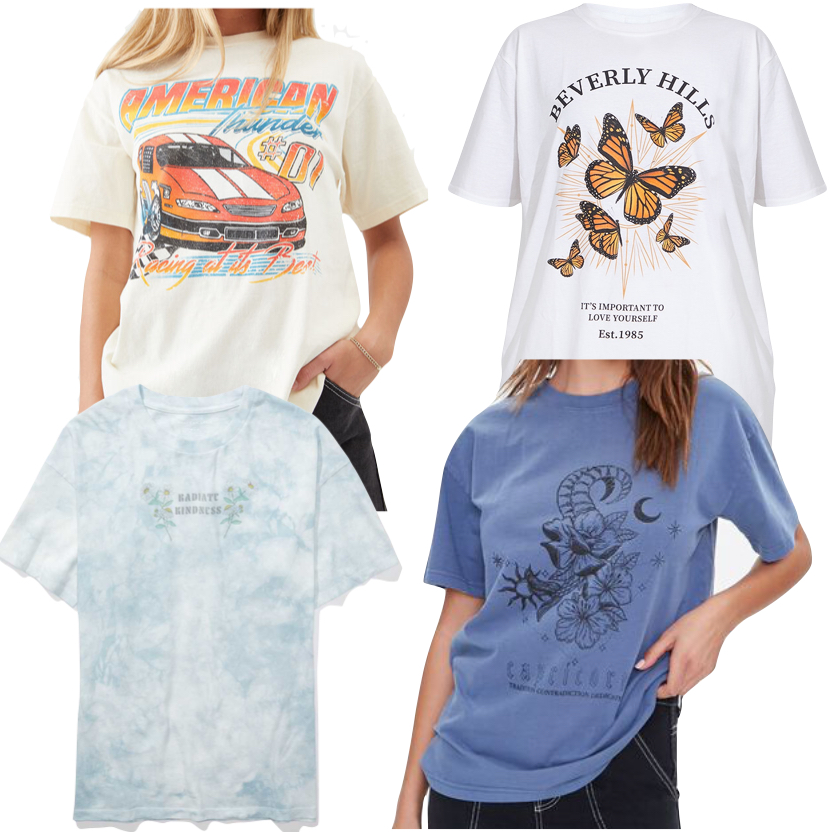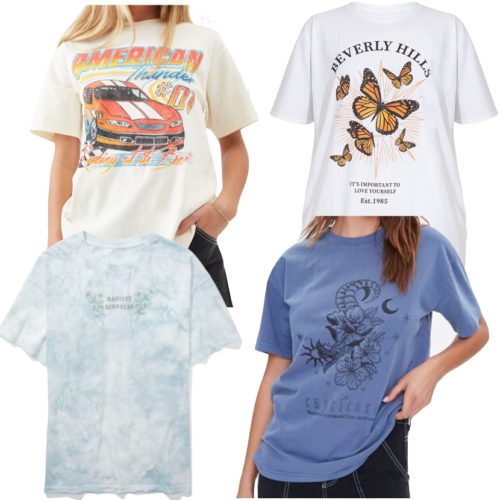 Products:
Graphic print t-shirts are a fun way to show off your personality and your interests – there are so many graphics options, so you can pick one that reflects your mood or topics you enjoy.
Plus, if you are into filming your own TikTok dancing videos, an oversized t-shirt looks cool in motion and can accentuate your dance moves!
I could see Addison wearing any of these t-shirts, but especially the tie-dye "Radiate Kindness" tee, which really fits her vibe.
Cool Sneakers
If she's not in a sleek pair of heels, you're likely to find Addison in a cool, eye-catching pair of sneakers.
Addison tends to wear sneakers with most of her outfits since she most often is dressed in laid-back athleisure looks. She is a fan of colorful, bright sneakers, but also frequently wears a certain pair of off-white-colored low-top sneakers (linked below!) that match with everything.
Get Addison's Look: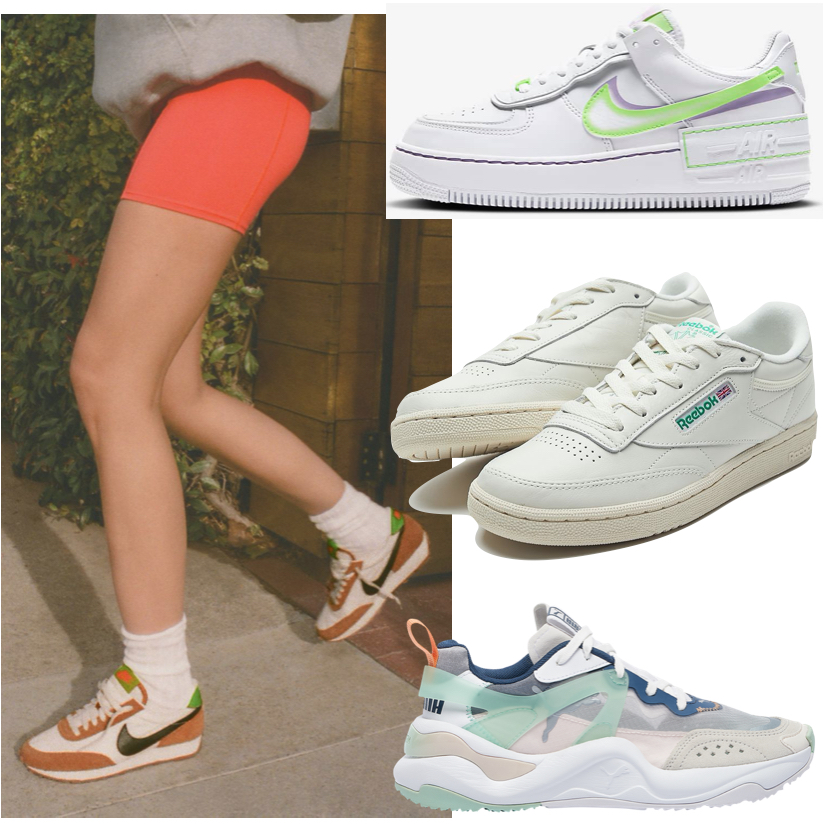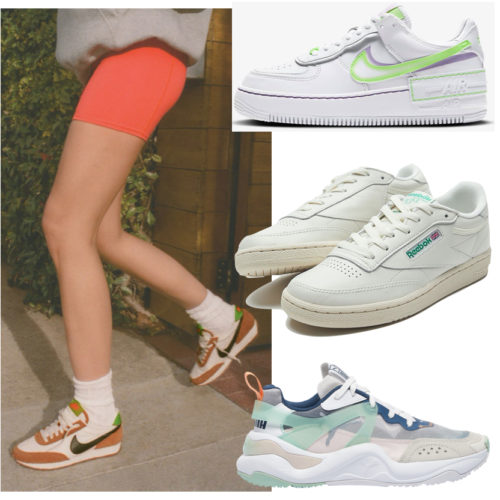 Products:
Addison wears a wide variety of sneaker styles and brands, so you have lots of options if you want to achieve her style.
The above off-white Reebok low-top sneakers are one of Addison's go-to shoes, and she's also been spotted wearing the colorful Puma athletic sneakers on the bottom right.
The neon green detailing on the Nike Air Force 1 sneakers is a super cool touch in line with Addison's style, and she's also worn orange sneakers for some bold looks, too.
What do you think of my guide to Addison Rae's clothes?
Which styles would you be most likely to wear? Which other celebrities would you like to see featured? Leave a comment and let us know!
If you love these outfits inspired by Addison Rae Clothes, check out more of our fashion inspiration below –