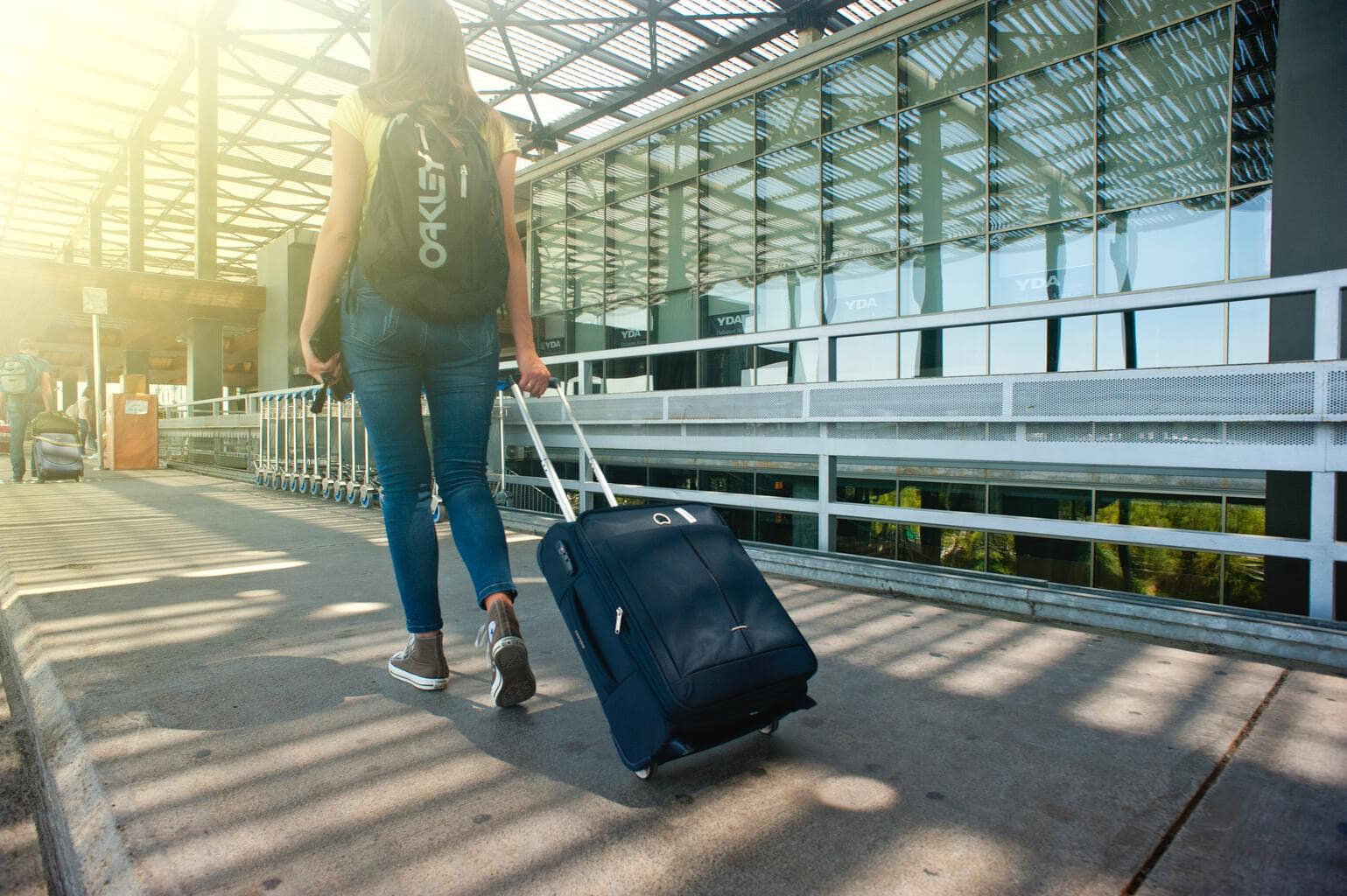 I'm very excited for this week's post, as I was lucky enough to get CF reader Milana to contribute a "guest post" since she lives in Denmark. Her advice is AMAZING and we're so lucky she was generous enough to write for us! Huge thanks to her for all of her hard work–the outfit she created is gorgeous and her street style photos are so inspirational!
Of course, while her advice is definitely reputable since she is giving it from her first-hand experience, the same notes from the past articles still apply.
(In case you missed my previous posts, see What Do I Wear There? Study Abroad, Study Abroad Fashion FAQ, What Do I Wear There? Study Abroad in the UK and Ireland,  Study Abroad Fashion in France, Germany, Italy, and Spain and Study Abroad Fashion in China, Israel, and Japan.)
All of the information here is taken from advice I have received–it is not a binding set of rules for how to dress in these locations! These are simply some helpful suggestions on what articles of clothing have proved most functional and worthwhile for those who have traveled abroad. However, for this article, it is important to note what is and is not appropriate to wear in these areas, as they tend to be more conservative than what most readers may be used to.
Because of the nature of these posts–which are trying to cater to such a large crowd of people going to all different places within each of these countries–I am forced to generalize. However, I do understand that fashion is different not just in the different countries but also in the different regions of each country. Therefore, please feel free to correct me or add more detail in the comments if you think your specific location within these countries follows different fashion "rules" or subscribes to a different way of dressing!
Now, on to Milana's fabulous advice!
About Scandinavia
Scandinavia… The northern part of Europe where the Vikings once ruled, the temperatures are low, people are happy and princesses live. Denmark, Norway, Finland and Sweden all make up this rich part of the European continent.
The strong economy of these countries allows people, no matter what their profession is, to follow the latest trends from the international as well as the Scandinavian fashion scene all year long. This means that you will see all the latest trends here. The best thing about Scandinavian fashion is that whether you're a student, a shop assistant, a designer, or even a princess, the style has the same basic characteristics; a mix of simplicity, sophistication and edge.
Scandinavian Weather
It's no secret that Scandinavia, though beautiful, is not the warmest part of Europe! Ice, snow, rain, storms, and summer heat are all well-represented.
Even though the summertime doesn't last long, it can get pretty hot and as soon as that happens people head to the beach, so if you're staying here in summertime, definitely bring a bikini! There are some pretty great beaches here.
A raincoat (check out this post about cold, rainy day weather) is a must have if you're staying in Scandinavia during fall/winter. Don't be embarrassed to wear one, because everyone wears them over their fabulous outfits. But you can forget all about using an umbrella because it WILL blow away!
During the winter, it can be pretty cold, so make sure to have hats, gloves and scarves with you.
Simplicity
Scandinavian women don't wear a lot of makeup. They look very natural, and more than a little eyeshadow is considered an 'evening look'. So during the day stick to mascara, blush and a lip gloss (and if you love eyeshadow, choose an earthy color). When it comes to hair, go simple as well. Everyone has long, straight, blond or brown hair. It's all about 'less is more' when it comes to hair and make-up.
Sophistication
Scandinavian women are very sophisticated and feminine. It's not about getting attention by showing too much skin. Keep it simple and pretty, and use accessories wisely! Skinny jeans tucked into boots, a t-shirt, a blazer with the sleeves rolled up and a scarf and you're ready to go to any lecture, lunch or date!
Edge
Scandinavia is the home of H&M and you'll see a lot of girls wearing items from their collections, however, Scandinavian girls manage to maintain a personal style by mixing clothes from H&M with vintage clothes (there are quite a few second-hand shops in Scandinavia) and designer clothing. You'll especially experience the bags, watches and shoes to be of great quality. You'll see a lot of girls pairing cute skirts and dresses with a leather jacket and Converse shoes.
Here is a sample outfit that would be typical "edgy" style in Scandinavia: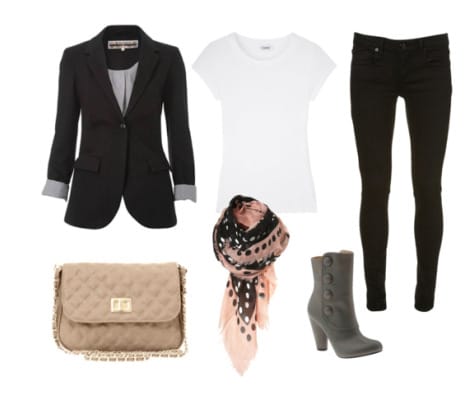 Product Information: Quilted Purse: ASOS.com, Blazer: Newlook.co.uk, Scarf: Topshop.com, Tee Shirt: My-wardrobe.com, Boots: Piperlime.gap.com, Jeans: Topshop.com
Colors
Scandinavians love earthy colors. (It is linked to the fact that the weather is gray.) White is almost only worn during the summer–you won't see people wearing white during winter. Any fashionable color goes, but you will never fail if you wear colors like pale pink, off-white, beige, black, grey or dark blue. These colours are very characteristic of the Scandinavian nature. All you need to do is find your best color!
Clothes for a Night Out
When out at parties, Scandinavians do dress up. Girls wear more makeup, high-heels, dresses and flashy jewelry. You should not wear sneakers to night-clubs, as many clubs don't allow it. But it all depends on which clubs you're going to, so make sure you ask some of your Scandinavian friends what kind of a club it is.
Roskilde Festival
If you're in Denmark in June/July you should definitely try and attend Roskilde Festival, where you can find people from all over Scandinavia and the rest of Europe. It's one of the biggest festivals in the world and you can really experience the Scandinavian culture!
Classic Dos and Don'ts
Dos
Layer – it'll keep you warm and fashionable
Ride a bike and use a bike helmet while here (I know bike helmets are not the sexiest head accessories but…)
Personalize your style with fun accessories like headbands
Wear across-body school bags
Rock Converse shoes
Wear ballet flats (called "Ballerinas" in Scandinavia)
Make skinny jeans, leggings and "jeggings" your staple legwear
Keep warm with scarves
Use hair accessories to bring some fun to your look
Tuck skinny jeans into boots
Don'ts:
Don't wear sunglasses inside
Don't wear sport sunglasses unless you're a professional bike rider
Don't overdo your hair and makeup
Don't match too much–it'll make your look too fabricated
Don't wear white socks with black shoes!
Shopping in Scandinavia
There are great shopping opportunities in Scandinavia. Every international brand is represented: from Chanel and Gucci to H&M and TopShop!
Here are some of my favorite Scandinavian designers that you can check out for more inspiration on the upcoming trends:
Basically, there are not too many rules when it comes to Scandinavian style. Be yourself and don't be afraid to be different!
What do you think?
Are you a fan of Scandinavian style? How would you incorporate your personal style into this culture? Do you have any other tips about Scandinavian fashion?
Next week will be my last post about "Study Abroad Style," so I will be doing small sections on some of the remaining countries I have received requests and information about.
Therefore, if you still haven't seen your study abroad location covered here, be sure to request it in the comments below! Also, keep the advice coming to whatdoiwearthere AT gmail DOT com if you have any study abroad experience or live in one of the requested sites–your advice is so helpful to CF readers and a lot of fun for me to read!