This week is the first site-specific post for the "Study Abroad" series, and by popular demand, it will be focusing in on the United Kingdom and Ireland.
Before I share all of the awesome information some of the wonderful CF readers as well as some of my own friends have given me from their experiences, I want to make two quick notes:
All of the information here is taken from advice I have received–it is not a binding set of rules for how to dress in these locations! These are simply some helpful suggestions on what articles of clothing have proved most functional and worth that valuable packing space for those who have traveled abroad.
Because of the nature of these posts–which are trying to cater to such a large crowd of people going to all different places within the United Kingdom and Ireland–I am forced to generalize. However, I do understand that fashion is different not just in the different countries but also in the different regions of each country. Therefore, please feel free to correct me or add more detail in the comments if you think your specific location in the United Kingdom follows different fashion "rules" or subscribes to a different way of dressing that I did not mention!
Now, on to the advice!
Layer, Layer, Layer (Yes, that many layers)!
One of the things recommended to me from all of my sources (who are all amazing girls, credited at the bottom of this article) was to bring clothes that you can layer. This allows you to have more variation in your wardrobe (and more space in your suitcase) than simply packing a lot of shirts, dresses, etc. that have to be worn on their own. This is also essential since you will be there for the change from colder to warmer weather.
For ideas on what pieces to bring for layering, check out my Study Abroad: Part I article!
Add in Accessories
In the original post, I know many people commented on the importance of accessories when studying abroad. Accessories are essential because they can take an outfit from day to night and add variety to your wardrobe. Considering the limited room you have to pack, accessories are definitely a great way to make up for the lack of clothing you can bring! Here are some accessories that were recommended to me as being hot in the UK and Ireland right now: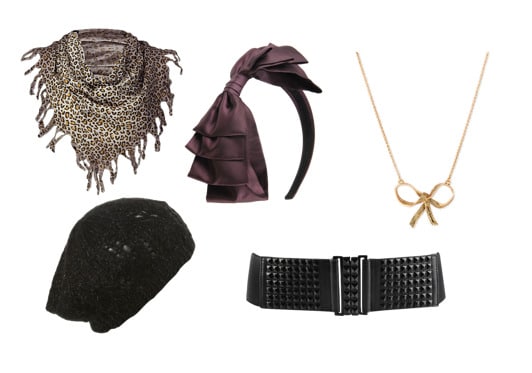 Product Information: Leopard Print Scarf: Buckle, Hat: Topshop, Bow Headband: Forever 21, Studded Belt: Forever 21, Necklace: Nordstrom
Another general consensus from former study abroad-ers in the UK and Ireland was that scarves are essential, which makes sense since the winters there tend to be a bit chilly! One student told me that leopard print is huge there as well, and I think the scarf above is such a cute way to incorporate the pattern into your daily look.
Along the same lines, slouchy knit hats (which I have a well-documented love for!) are great for the cooler weather. I have also seen/been told that these hats are trendy in the UK and Ireland, as well as more structured ones in dark colors for a slightly more eclectic menswear look.
For a super girly daytime look or a fun night look, over-the-top headbands are great pieces to bring with you. They add excitement to an otherwise plain outfit and can be tailored to fit your personal style–this one has a huge bow in a pretty muted color, but you can get ones with flowers, neons, feather, or whatever else you love!
While looking through various UK and Irish street style blogs, I noticed that many girls really pulled their looks together using waist-cinching belts. From studded ones (like the one pictured above) to more traditional leather ones, belts are another smart way to change up your looks without taking up too much suitcase space.
Finally, don't forget to bring along your favorite jewelry staples. Interesting necklaces, bracelets, and rings not only do wonders for your outfit but also act as conversation starters for all of the new people you will meet!
Classic Coats
The general consensus of my study abroad sources was that pea coats and trench coats are the way to go in the UK and Ireland. These coats are great staples to have anyway, so they are definitely smart investments!
Trench coats look chic in solids and add a cheeky element to any outfit in a print, while pea coats are preppy-perfect in dark or bright colors. No matter what type you decide, these are two basics that I have been told are "essential" in the UK and Ireland and are great to have for colder weather pretty much anywhere you go.
Sure-Bet Shoes
I have heard many mixed things about what shoes to wear in the UK and Ireland, but one characteristic was common in every suggestion: comfort! Most suggested bringing a nice, dependable pair of boots, as well as a pair of flats that work for class or for going out and sneakers for any major excursions. Converse shoes are apparently pretty popular there and are available in so many colors, so they may be a smart buy if you need a new pair of sneakers.
Another suggestion I commonly received was to limit the number of heeled shoes you bring due to the difficulties they cause when you're trying to strut across cobblestones. An amazing pair of shoes will be decidedly less adorable if they cause you to limp!
Lastly, as I said in the original post, don't forget to bring along shoes for warmer weather! Sandals are tiny and don't take up much room in your suitcase. They are also useful in the winter to throw on if you are just walking around your dorm.
If you happen to be a shoe-a-holic like me, I would try to take the clever advice of one CF reader, who said she was able to pick her pairs by "choos[ing] the pairs you want to bring, cut that in half, and then pack those." This is especially smart if you think you might want to buy more shoes while you're abroad. (I know I plan to!)
Rain, Rain, Here to Stay
The idea of dressing for rainy weather was a recurring worry in my previous posts. Unfortunately, I once again have received some mixed answers to the question of rain gear or no rain gear.
So while an umbrella is an absolute MUST (check out my CF Fabulous Finds: Marc by Marc Jacobs Umbrella post for my personal favorite, as well as those of your fellow readers), donning rain boots is a bit more subjective. While it seems like some people do wear rain boots in particularly bad weather, many seem to prefer water-proofing their daily beloved boots/shoes.
My overall suggestion on this matter is not to bring a rain coat or rain boots with you. I would absolutely make sure your coat is waterproof and spray your shoes to ensure they hold up in rainy weather instead. Rain boots are typically rather bulky, so I think it would be best to forgo packing them and instead buy a pair abroad if you find you really need them.
Shop-spiration
One of my favorite things about reading all of the responses was seeing what you guys suggested for websites and shopping spots in the United Kingdom (unfortunately I only received these sort of tips for England but the sites/spots suggested were so great I wanted to include them).
I have always loved the crazy cool style of British blog star Susie Bubble, and some of you suggested her site to see what's hot in the UK as well (http://stylebubble.typepad.com). Another fabulous site a reader suggested ishttp://streetstylelondon.blogspot.com. In her words,
Here is a great blog that not only talks about street style, but also less touristy areas of London that you definitely want to get around to visiting."
Many who traveled to London also suggested shopping at Portobello Road, which is full of great vintage finds!
My Study Abroad Sources
I just wanted to take this time to thank the lovely girls who have given me all of the wonderful advice you see above. I have chosen this advice from the detailed comments, e-mails, or messages from Amanda from NYU, Carolyn, Mo, Lauren, and Amanda! All of these girls have either studied abroad or live/have lived in the UK or Ireland, so they truly know what they are talking about.
Be sure to thank them in the comments as well! They all took out so much time to help you guys from their experience.
What do you think?
Do these tips fit in with your travel experience? Have you noticed these trends in the UK countries and Ireland as well? Do you have any additional tips that you think are important? Do you know of any other websites or shopping spots that are great for those going to the UK or Ireland? Tell us in the comments!
Also, keep the e-mails and comments coming for advice for other countries! Next week, I will be looking at France, Spain, and Germany (each will have its own little section since they were all pretty much tied for popularity following the UK), so e-mail me at whatdoiwearthere AT gmail DOT com with any tips for these places!