As college students, we are one of the most targeted age groups out there for advertisers. Everything from furniture to clothing to beauty products is specifically packaged and aimed at us, which would be so much better if most of us weren't living on such tight budgets!
Therefore, in this bi-weekly column I'll let you know about some products that I think are really worth spending your money on. I'll be looking at pieces that I think are essential for college students, great bargain finds, and things that I just love!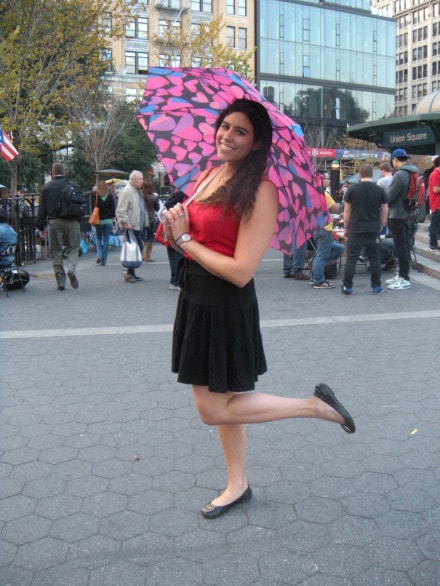 To begin, this week I'll be looking at an important and functional accessory that is often overlooked: the umbrella.
As college students, we are forced to endure rainy weather in order to get around, which makes durable raingear essential. And I would have been significantly less fashionable—and wetter!—braving those rainy days without the help of the trusty Marc by Marc Jacobs umbrella I was lucky enough to discover at the Marc Jacobs Accessory Store last year!
Why I Love It:
While I know a designer umbrella may sound ridiculous to suggest as a budget-friendly buy, I swear it's not as crazy as it sounds:

First, the umbrella costs under $20, which is a pretty fair price for an umbrella. Most reliable umbrellas retail for around $20 now, so it's just about what you would pay for any department store umbrella.

Second, you can buy it in a bunch of cute patterns and colors. The one in the picture above—modeled by my lovely roommate—is decorated with adorable hearts, but they also sell them in leopard print, paisley, and many other prints.
Having an umbrella with a fun print is a great way to add excitement to your typical rain boots-and-jeans rainy-day look. It also cheers me up a little to be a bright spot on the street amongst a see of big, bulky black umbrellas!

Third, and most importantly, this umbrella really works! And when I say works, I mean it is the perfect size (just big enough for you and maybe one other person to squeeze under), will not flip inside out (because that is the ultimate problem I have had in the past with other umbrellas), and absolutely will not break no matter how bad the weather gets (it has held its own battling New York City winds!).
In my experience, this umbrella has held up better than any other my friends have had. Besides that, it is also so much cuter than your average umbrella! From the pattern down to the easy-to-grasp plastic handle, it is the perfect addition to any bad-weather outfit.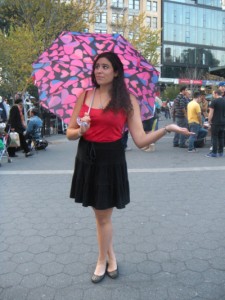 Rainy days are tough enough, from devising a splash-friendly ensemble to smoothing down your frizzing hair while trying to navigate campus with a floppy hood hanging over your eyes. This umbrella will ensure you look fashionable, put-together, and all around fabulous while you brave the weather throughout your day!
What Do You Think?
Do you have an umbrella that has really worked for you?
What do you think of this Marc Jacobs one as far as style goes?
Is cute rainy day style important to you?
What other accessories do you add to your outfit to battle bad weather?
Share your thoughts in the comments below!
And if you have any product ideas you think deserve a spot in "CF Fabulous Finds," let me know! We may feature yours in the next edition.