A few weeks ago, CF reader Katie commented:
"I just got accepted to a study abroad program in Europe for the spring semester, and the first thing I thought about was how do I pack to go abroad? And I thought… I should ask Colleen. So what do I wear there? I have no idea what the temperature will be like and how I should go about packing for all occasions that may come up when I can only bring two suitcases.

Please help and write a post about this!! I think a lot of people would benefit from it!!"
After reading all of your comments last week, I definitely think Katie was right. It seems like a lot of us, including myself, are going abroad next semester and are starting to worry about the thought of packing our lives up into only TWO suitcases for four or so months!
Yikes!
However, I realized that there is no way I can cover all of the clothes needed for studying abroad in just one article since we are all going to different places. Therefore, I decided to split this post up into multiple parts.
This week's post is about study abroad clothing basics, pieces that will work most places that you will enter in cold weather and leave in spring. I have included some key must-bring pieces, as well as some study abroad tips and tricks!
For the next few installments, I'd like to personalize the articles for specific study abroad destinations CF readers are going to. So if you are planning on going abroad, tell me your planned study abroad location in the comments! Whichever sites are named the most will be the ones I highlight in the series.
Take-With-You Tops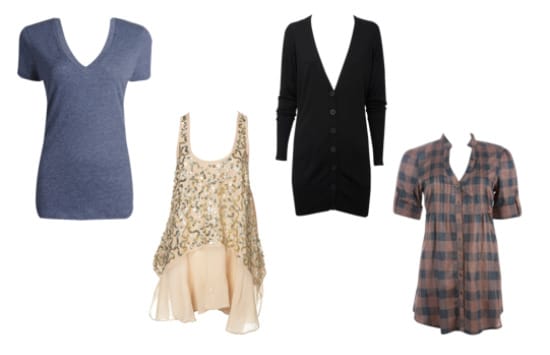 Product Information: V-neck Tee: Forever 21, Sequin Front Top: TopShop, Black Cardigan: Oasis-stores.com, Plaid Tunic: Charlotte Russe
The most important thing to think about when packing clothes for travel is versatility! Since you don't have a lot of packing space, you want to make sure you can get a lot of wear out of all the pieces you bring.
This basic v-neck is great for the days you just want to be comfortable but still look cute. It would also be a good choice to wear on the plane since you definitely want something casual and easy. (For more tips on what to wear when traveling, check out What Do I Wear There? Airplane Outfits and Tips.) You can also change this up by adding a vest, cardigan, scarf, etc. when it is colder.
The next top I suggest bringing is your favorite going-out tank top. I love this gorgeous one from TopShop, which would be perfect for going out in cooler weather under a blazer or on its own in the spring. It is also a good versatile piece since it's nice but not too fancy–if needed, you could pair it with a cardigan or sweater and wear it during the day.
Another necessary top is a basic cardigan in a neutral color. This will go with anything and can be worn under a coat in the winter or over a sundress as it gets warmer.
Finally, pack a tunic top that you can wear with jeans or with leggings to vary your look. This plaid one is especially useful because you can also wear it unbuttoned over a simple tank for yet another outfit!
Must-Bring Bottoms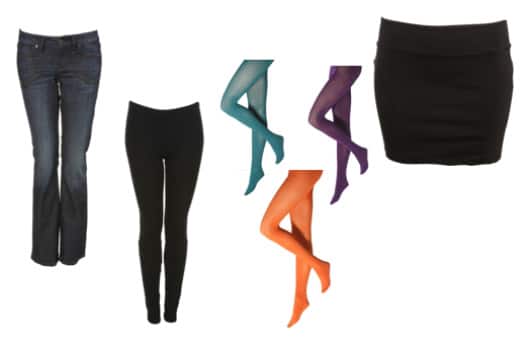 Product Information: Bootcut Jeans, Black Leggings: TopShop, Colored Tights: Sockshop.co.uk, Black Skirt: Missselfridge.com
This area is slightly more personalized for each traveler. While I suggest that everyone bring at least one of the above, if you hate leggings or are not a fan of wearing tights, stock up on the other items instead (or suggest what you would bring instead in the comments)!
As far as bottoms go, the number one item to bring is your favorite pair of jeans! Wearable in most weather, jeans are ideal for class, weekend trips, and days spent simply exploring. Definitely only bring pairs you have broken in, as new jeans may prove to be uncomfortable and stiff.
Leggings are another great staple to pack with you, especially since they take up such little room! A simple black pair can be worn day or night under pretty much any color, layered under dresses, etc.
For slightly warmer nights, bring a couple pairs of tights. Basic black is always a smart choice, but since tights are so compact, feel free to also slip in some fun pairs (such as the colored ones seen above or patterned ones). Tights allow you to bring your spring dresses and skirts into winter, so they are definitely a smart choice!
While many people swear by the "little black dress," I happen to be obsessed with the "little black skirt" instead! I have a plain one from American Apparel that I seriously wear everywhere–it's great with tights and a flannel for class or with a fun top for a night out! I love the side panels on this one, as they ensure a flattering fit.
Other Outfit Essentials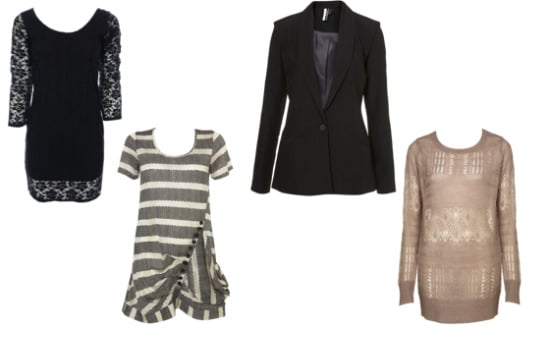 Product Information: Lace Dress: Missguided.co.uk, Stripe Dress, Blazer, Sweater: TopShop
As much as I love my black skirts, I definitely do not mean to diss the little black dress! This is a must-bring, especially if you find one with a pretty lace pattern like this. It can be worn anywhere from a dinner with some new foreign friends to a night time event to a night out on the (new) town!
I also suggest bringing a good "day" dress for days when you may be taking a trip with your classmates and want to look a little nicer. I am in love with the interesting construction of this striped dress–it's totally fun and original! The simple design and coloring will also carry you through both winter and spring with appropriate accessories.
As I mentioned earlier, a blazer is a really smart piece to invest in this season and bring with you when you go abroad. It can be dressed down for class or dressed up for work or going out. Black is probably the best color to get this in, as that is the most acceptable color if you plan on wearing it for work.
Finally, in addition to the cardigan I suggested above, bring along a simple sweater. This is another great item you can easily throw on in the morning before class that will still keep you looking cute. A more lightweight sweater like this one is ideal since you can layer it over a heavier long-sleeved shirt in the winter for warmth or over a tank top on a chillier spring day.
Stuff-In-Your-Suitcase Shoes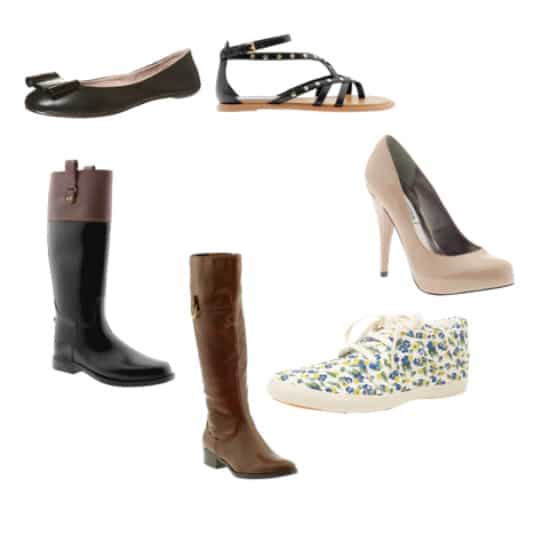 Product Information: (Clockwise from top left) Bow Ballet Flat: TopShop, Gladiator Sandals, Nude Pumps: Piperlime.gap.com, Floral Sneakers: TopShop, Brown Boots: Piperlime.gap.com, Rain Boots: Banana Republic
Note: I know these may seem like a LOT of shoes to bring given luggage space issues, but I wanted to show a large array since this is a general post. Don't feel like you have to pack all of these!
Going in the same order as the Product Information above, I'll start with the ever-essential ballet flat. Great for work or nicer functions, a ballet flat will not take up much room in your suitcase and will add class to any outfit.
While it may seem crazy for many of us to think of wearing sandals with the weather we have right now, one of the tough parts of packing for study abroad is remembering to anticipate that warmer weather. Therefore, you'll want to bring along a pair of your favorite sandals for when the spring weather comes!
Since you'll undoubtedly want to go out at night to nicer places at least once, bring along a great–and comfortable!–pair of heels. Nude pumps are currently my favorite heels, as they go with everything and are unexpected compared to basic black pumps.
In contrast to the heels, you'll want to bring along a pair of super comfy, flat sneakers for the days when you really want to go exploring and see all of the sights. Remember that just because they are sneakers does not mean they cannot be cute–printed sneakers are everywhere lately and are a great addition to a regular jeans and tee-shirt outfit!
For the weather right now, your favorite worn-in boots are a must! I suggest wearing these on the plane since they will take up the most room in your suitcase. Make sure to bring a pair that you can wear with jeans, tights, and leggings to get maximum use out of them.
Finally, if you happen to be going to a rainier climate, you'll certainly want to be prepared with a pair of rain boots. These black and brown ones are super sleek and the rubbery material will even allow you to fold them when you go to pack!
Some Study Abroad Tips
Don't bring anything you have never worn! The last thing you want is to waste space on something that ends up being uncomfortable, ill-fitting, or simply unnecessary. Try everything on before you go.
Be sure to stock up on your favorite brand name beauty products, as they may not be available overseas.
Look at fashion blogs from the place you are going for some outfit inspiration as you are packing. This will also help you see what is appropriate to wear there, as well as what is in style.
As I have mentioned throughout the article, don't forget to look ahead! Just because it is cold now does not mean it will be when you leave in May.
On that note, try to pack lighter pieces that are easy to layer. These will take up less space than bulkier items and layering your clothes will give your outfits more diversity.
Bring along plenty of accessories: jewelry, scarves, hats, and hairpieces–since you cannot bring lots of clothes, these will allow you to add something new and different to your looks.
Leave space in your suitcase for all of the fabulous purchases you will make!
What Do You Think?
Have you gone abroad? If so, leave us some suggestions! Since I have not yet gone, I would absolutely love to hear the opinions of experienced travel abroad students on what is great to bring or any other tips you have!
And don't forget to tell me where you are studying abroad in the comments if you would like your destination to be possibly featured in the upcoming week!