One of my favorite things about writing this column for CF so far is hearing about all of the awesome things you guys are doing! This week, Bosa emailed us about an exciting adventure she has planned, asking:
"I'm flying to Australia for Christmas and I have 3 short and 1 long haul flights to sit through. What can I wear that's very comfortable, but still stylish? I don't want to arrive looking like a slob. Thanks!"
As much fun as vacations are, the long, long flights are definitely difficult! And deciding on what to wear is even tougher—you want to show up looking chic but you need to be comfortable for your flight and all of your transfers as well!
For this article, I created two comfy but cute outfits that will get your travel-outfit inspiration going. Even if you're not flying, these are still great for lengthier car rides, bus rides, and other means of travel.
In addition, I included a list of some general travel "do's and dont's" that will make sure your trip is as fabulous as your outfits!
Look One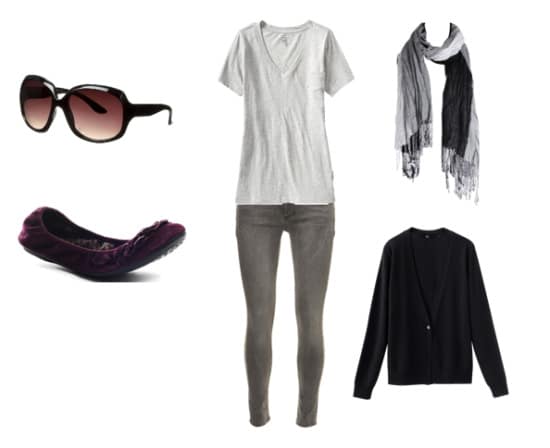 Product Information: Tee: Old Navy, Gray Skinny Jeans: TopShop, Cardigan: Uniqlo, Scarf: Piperlime.com, Sunglasses: Target, Purple Flats: Heels.com
This is my ultimate cool, casual and comfortable look for long trips! Simple cotton v-neck shirts are always flattering and classically stylish. Pair your v-neck with your favorite jeans. I'm personally a fan of skinny jeans like these great gray-wash ones, but I know not everyone is, so feel free to substitute your favorite style! Make sure to choose jeans that you have worn before and that you know are not going to dig and poke into you after hours of sitting – comfort is key!
For accessories, I highly suggest bringing along a cardigan sweater. Even if you are going to a warmer destination, planes are typically air-conditioned and therefore cooler, and you never know what airport temperatures will be like. A lightweight scarf is also a great item to bring for this reason!
Just like jeans, you need shoes that aren't going to be uncomfortable after a few hours of wear (and that you could potentially run around in if anything happened to go wrong). I love these flats – the deep purple color is so gorgeous with the look's otherwise monotone colors, and the elastic band ensures that they will be comfortable and not cause blisters.
I also suggest packing a pair of sunglasses in your carry on, for as cute as your outfit may be, it is inevitable that such a long flight is going to leave you looking a little less than fresh (look below for some of my tips on how to look your best!). Sunglasses are great to disguise tired or dry eyes.
Look Two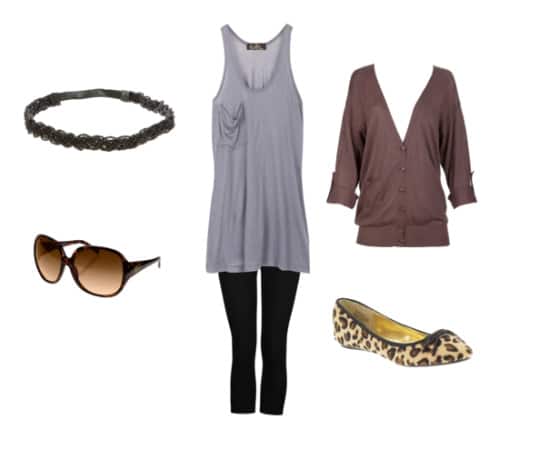 Product Information: Silk-blend Tunic: Net-a-porter.com, Leggings: Tillys.com, Oversized Cardigan, Braided Headband: Charlotte Russe, Leopard Flats: Piperlime.gap.com, Sunglasses: 15dollarstore.com
This look is slightly trendier than the first but just as flight-friendly!
I love the tunic's adorable oversized pocket and draped style. Also, its fabric is a silk blend, which means it will definitely be really comfortable. Wear basic black leggings underneath for ultimate comfort (jeans can be substituted if leggings aren't your style, just make sure they're dark wash).
Once again, I suggest bringing a cardigan in case you run into any cold temperatures. This one picks up on the draped style of the tunic, while the button-up detail keeps the look from becoming sloppy. Leopard print flats pick up on the brown color of the cardigan and add some personality to the look!
If you're like me, your hair has the tendency to look not-so-perfect after hours on a plane, especially if that time includes sleeping! Therefore, try pulling your hair back in a simple, messy bun with a pretty headband. This will help hide any greasy roots and give your hair some volume, too.
Once again, don't forget to throw on a pair of sunglasses–for this look, a brown, oversized style will match well. Everyone else in the airport will be wondering which celebrity just stepped off the plane!
Travel Fashion & Beauty Dont's
Stay away from wearing a lot of jewelry or shoes that are difficult to get on and off–all of these things need to be removed during security, and you don't want to hold up the line!
As stylish as they may be, avoid wearing pieces with lots of studs/metal detailing, as they could potentially set off the metal detector.
Refrain from using too many scented products before going on the plane. You don't want the smell to bother those around you in an enclosed space.
Don't wear too much makeup, as it will most likely either start to irritate you (especially eye makeup) or get runny after hours on a plane.
Travel Fashion & Beauty Do's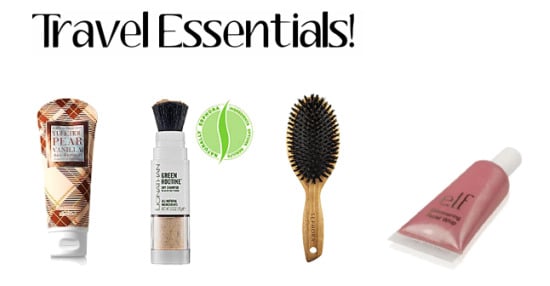 Product Information: Pear Vanilla Hand Moisturizer/Anti-Bacterial Lotion: Bath & Body Works, Dry Shampoo Brush-On Hair Powder, Boar Brush: Sephora, Shimmer Makeup: Eyeslipsface.com
Try to bring some snacks with you–plane food is notoriously gross!
Bring a heap of fashion magazines along to keep you entertained and help inspire your vacation shopping choices.
Take some eyedrops with you in your purse. This is especially important if you wear contacts, as planes have very drying atmospheres.
Along the same lines, bring moisturizer with you for both your face and hands. The one I have listed above in "Travel Essentials" is great for hands because it is an anti-bacterial lotion as well! Important Note: Anything that is in opaque packaging (such as this hand lotion) must be put into a small, clear container or it will be taken by security. Check your flight company's website for their exact guidelines.
Fix your just-sat-on-a-plane-forever hair with dry shampoo. This one a great choice because of its easy, turbulence-proof applicator. Also it's Sephora-approved for being "green"! Don't forget to bring along a brush to help work the dry shampoo into your hair. A boar bristle brush is great for this because it helps move natural oils around in hair, which will decrease grease and add shine.
Bring along a tiny tube of makeup that multitasks–this creamy pink highlighter looks great on eyes, cheeks, and lips!
What Do You Think?
Do you have any great advice for long flights or lengthy trips in general? Are there any items–clothing, beauty, or otherwise–that you highly suggest bringing along? Any other suggestions on making Bosa's trip as enjoyable as possible? Let us know below!
And as always, let me know if you have any "What Do I Wear There" questions. Yours may be featured in next week's article!