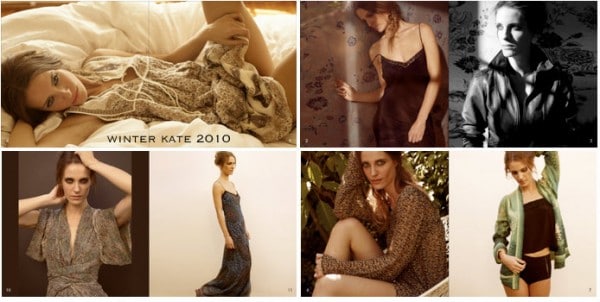 Last month, WhoWhatWear did an article on Nicole Richie's Winter Kate clothing collection. And although the website still leaves a lot to be desired, it's obvious that the socialite-turned-mom has created a line sure to win the hearts of Hollywood.
Her debut collection, which she dubbed Winter Kate after her daughter's two middle names, is comprised of effortless pieces—including print-silk bed jackets, breezy blouses, and suede fringed vests—that are a love letter to the inspirational haute-hippie looks we've come to expect from the multi-tasking mom. – WWW
The looks are hippie-chic and balance decadence with everyday comfort. The pieces have a vintage feel and can easily be dressed up or down to take you from day to night.
My mission for the week was to recreate Richie's looks from Winter Kate on a college-girl budget – with each piece under $25! Although Forever 21 and Charlotte Russe are great go-to's for affordable fashion, don't forget the sale racks at Free People and Urban Outfitters – they capture the Winter Kate bohemian vibe perfectly.
Boho Dresses
Nothing says hippie-chic quite like a floor-length maxi dress or a subdued paisley print – and Nicole incorporated both into her Winter Kate collection. As the weather gets warmer, there's nothing better than slipping into a comfortable dress and reading in the shade or taking a walk down to the beach. Although sundresses are a popular trend, Richie takes it to a new level with inspiration from the '60s and '70s – you're sure to stand apart from the crowd of bright, tight sundresses!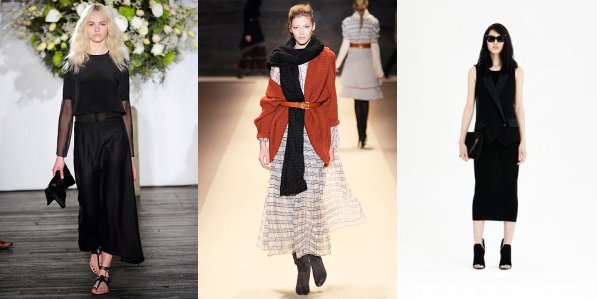 Product Information: Forever 21, Old Navy, Free People, Charlotte Russe, Forever 21
Get the Winter Kate look:
Who needs jewelry or perfect makeup? To capture the laid-back, effortless style in the Winter Kate ads, just focus on your dress and a plain pair of sandals. No need to go over-the-top; it's all about the natural beauty!
Rather than a fitted dress or crazy embellishments, look for small details that really make the piece look intricate. A ribbon around the hem or lace trim can really add to a dress without looking like you're trying too hard to get attention.
Lingerie-Inspired Pieces
The Winter Kate collection incorporates lots of thin silk, sheer fabric, and lace accenting. Although lingerie-inspired looks have been in season, Richie's collection shows the alternative to celebrity favorites like tight corset dresses. Loose camis and rich sweaters are flirty and lingerie-inspired – while still remaining classy. Made up of fabrics and fits that aren't mainstream, the looks are definitely unique and sure to garner a few compliments from your friends!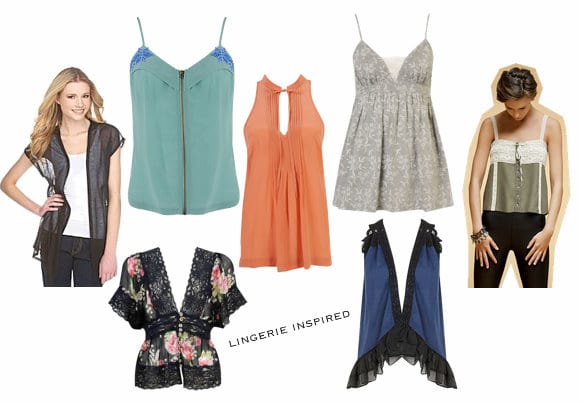 Product Information: Dillards, Forever 21, Forever 21, Forever 21, Forever 21, Forever 21, Rachel Roy
Get the Winter Kate look:
Although Nicole's lookbook is gorgeous, we can't exactly go to class in a silk cami set and cropped robe. Instead, focus on balancing one lingerie piece with something more structured or tailored. Think a silk tank with a blazer, or a white tee with a sheer sweater.
For a night out, have a little bit more fun with the trend. Try a thin dress with tights or a lace tank with your favorite bandage skirt.
Everyday Comfort
As young girls, let's face it – most of us live in jeans most days. Getting up early for your 8 a.m. class to pick out an outfit when you can throw on your favorite pair of jeans and a tee in 5 minutes? You'll probably lean towards the jeans. Fortunately, Nicole Richie's collection is all about effortless comfort with a vintage feel, and jeans paired with pretty tops fit perfectly into that mantra. With the tops below being under $25, it's definitely worth it to stock up on a few for those early morning classes!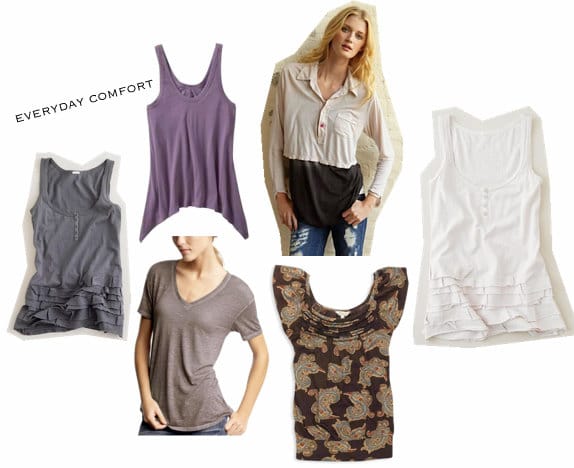 Product Information: J. Crew, Old Navy, Gap, Free People, Forever 21
Get the Winter Kate look:
Think classic colors – no neon pink or bright teal. Browns, grays and subdued purples and pinks will give you that perfect vintage look.
Stay away from skin-tight tops and go for loose comfort. A staple of vintage tops is their worn-down fabric that's thin and sometimes almost sheer. Thing tops look good baggy and won't make you feel like a slob.
Tying it All Together
So, what do you think of Nicole's collection? Do you like the bohemian inspiration or was J. Crew more your style? Have you already tried the maxi dress trend? How about lingerie inspired pieces?
Your feedback and opinions influence our articles, so we always want to hear from you! Be sure to leave a comment.