I noticed Lauren walking on campus in a relaxed outfit with adorable chunky-heeled Mary Janes and I thought to myself, "what an interesting combination!" Her bohemian style is ultra casual, yet she finds ways to make this outfit dressy. She pairs easy silhouettes with unexpected pieces to give her ensembles a unique look.
Lauren's advice to looking flawless all the time is to wear whatever you want and you will shine as your beautiful self. Well said, Lauren!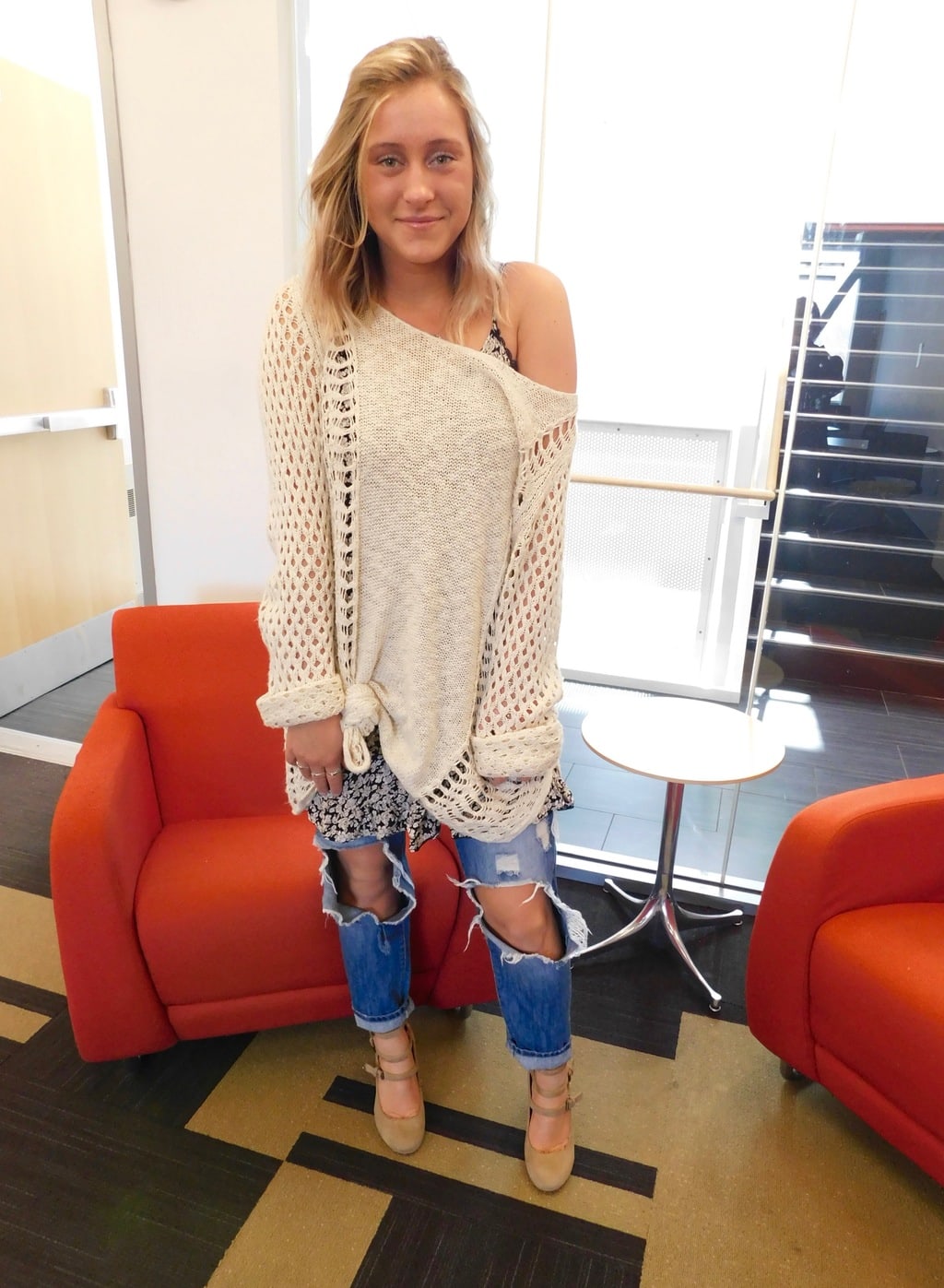 Lauren 101
Name: Lauren
School: Jefferson University
Major: Fashion Merchandising and Management
Year: Junior
Hometown: Stanford, VA
Let's Talk Fashion
Who or what inspires your style? "My style always depends on my mood, how I feel that day, the setting I am in, and it's always changing. I would say my everyday style is more on the bohemian side, as it's relaxed and oversized."
Where do you like to shop? "My favorite places are off-price retailers like T.J. Maxx or Marshalls. My favorite part of shopping is the hunt and never really knowing what you are going to find."
How would you describe your sense of style? "My style is more shabby chic and relaxed. My go-to is ripped up jeans and an oversized sweater. But no matter what, I am always in heels. Shoes are my favorite part of an outfit."
Why did you choose this particular outfit? "This outfit is my ideal go-to [look], with my ripped up boyfriend jeans, a layered oversize sweater, and a pair of strappy heels. This is one of my favorite sweaters because it is so versatile; I can throw it on with jeans or wear it as a dress itself."
What fashion advice would you give to other students looking to improve their style? "Just be yourself when you [get] dress[ed]. Don't go on trend, just wear what makes you feel comfortable and beautiful."
What are your favorites trends right now? "The spring comeback of the '70s trends. I love bellbottoms and long, flowing sleeves."
Do you have any favorite fashion designers? If so, who? "Nicole Richie for House of Harlow [1960]. She is my everyday role model and I love her style."
What do you do for fun? Do you have any unique hobbies or interests? "I work a lot which is kind of what I do for fun because I love my job. I work as a wedding coordinator and also as a receptionist at a hair salon. When I'm not working, I love just hanging out with friends and relaxing. I also love to travel. I was able to study abroad last semester and now all I want to do is travel the world. I got to see so many different cities and countries, but there is still a lot more to go and see. My favorite place so far [is] China. If I could go back [there, I would in a second]."
If you could raid anyone's closet, who would it be and why? "Nicole Richie again. She is my idol and I would live in her closet if I could."
Elements of Lauren's Outfit
1. Sweater + Dress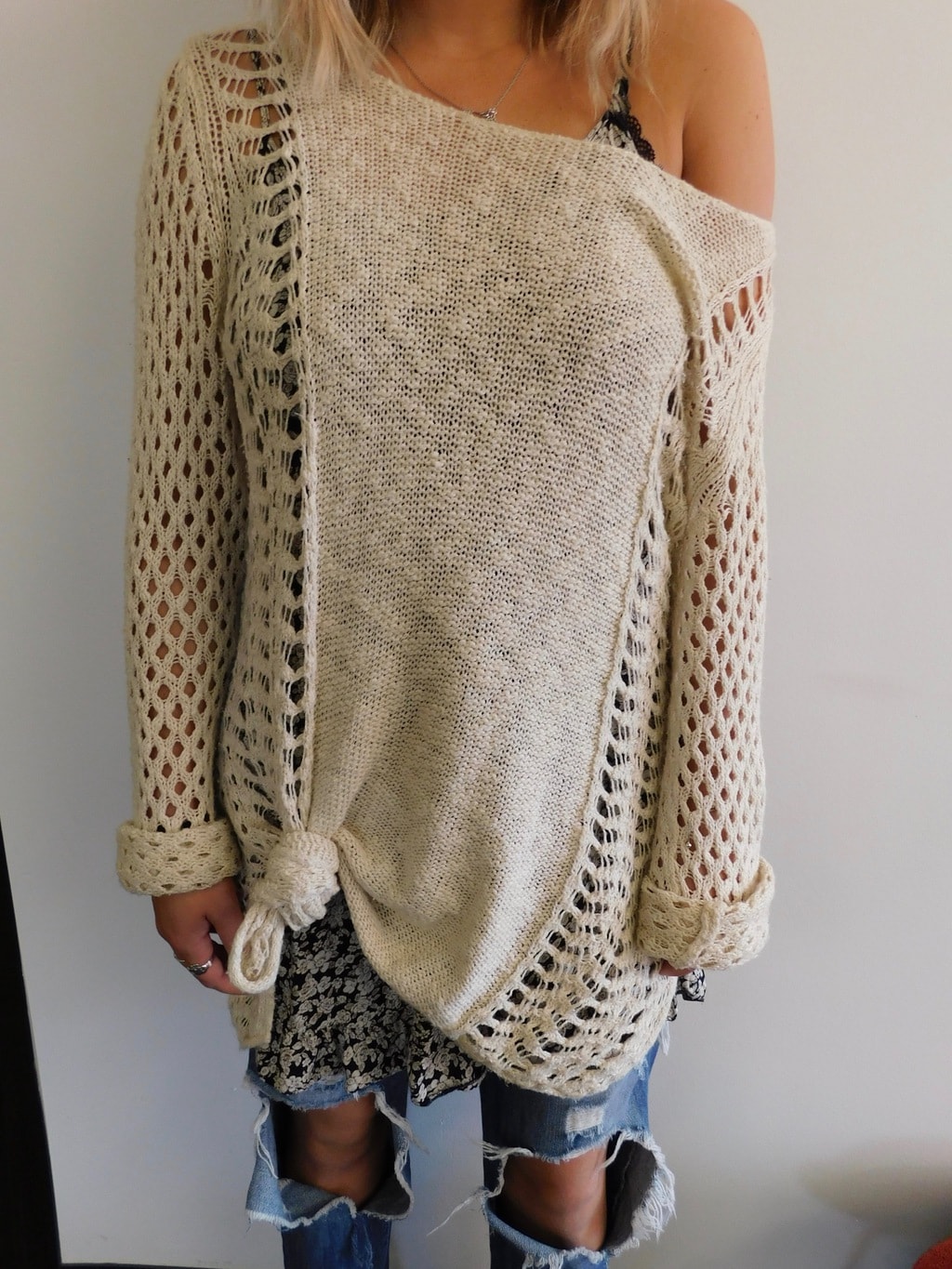 Lauren's Lucky Brand sweater is the ultimate style for layering. Its loose silhouette and open knit are so versatile. Since it is off-the-shoulder, it is also perfect for warm spring days.
Under her sweater, Lauren layered a floral sleeveless dress to add some extra oomph to the look. This is an interesting way to add a touch of spring to an outfit but still stay warm when winter is lingering a little.
2. Distressed Jeans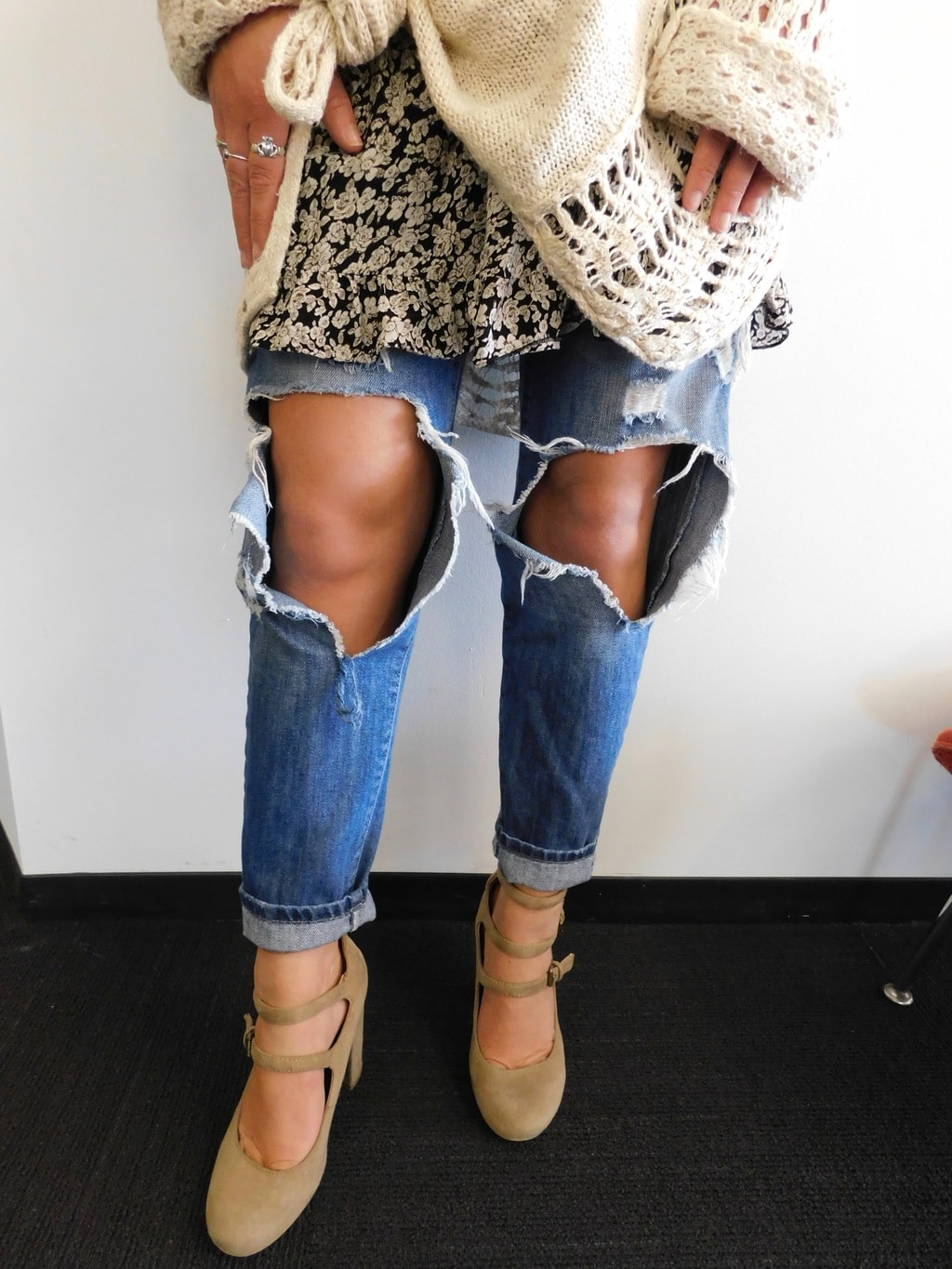 These ripped up boyfriend jeans are super shredded. Distressed jeans are great for spring, since your legs are covered but you can still show some skin. This particular style goes so well with Lauren's relaxed vibe.
3. Strappy Heels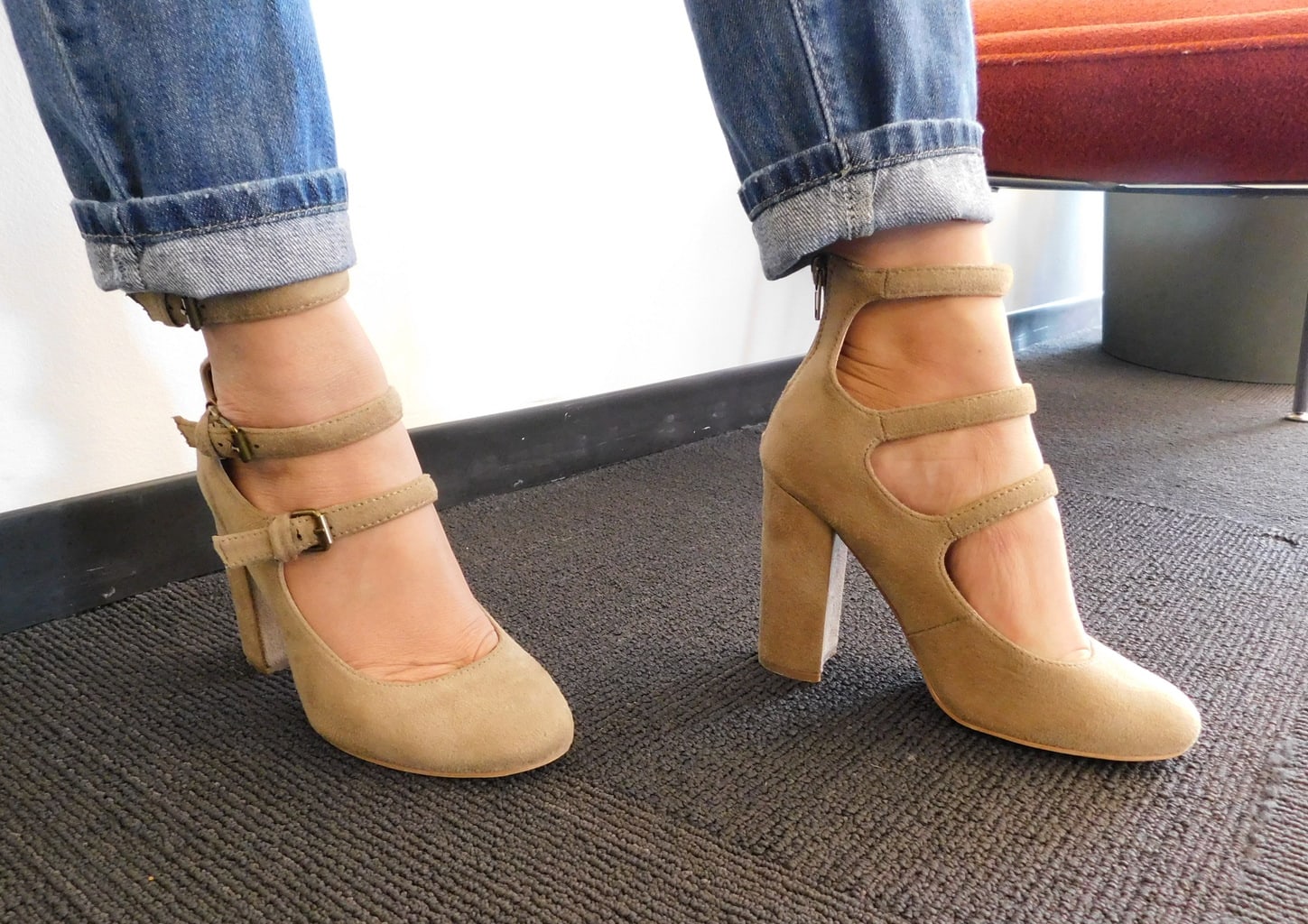 An awesome pair of shoes always tops off the perfect outfit. These nude strappy heels show off just how expertly Lauren can craft a look. Their classic color and style makes them a slam dunk.
Now we want to know what you think!
Would you wear Lauren's relaxed look? Are you also loving the hippie vibe? Comment below and share your thoughts with us!