This post may contain affiliate links, which means we may receive a commission if you purchase through our links. Please
read our full disclosure here
.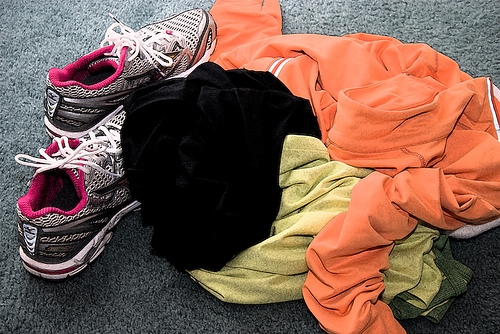 In preparation for my 2013 "Go to the gym" resolution, I went out and bought a lot of cute, sporty gym clothes. However, with a busy school schedule, I never actually got around to wearing them for their intended purpose.
So what we're going to do today is take a piece of clothing you would wear at the gym – or maybe when you're just lounging around, who am I to judge? – and try to build a campus-appropriate everyday outfit around it. Some of you may be gasping in horror, but hear me out! It actually is possible to style a pair of sweatpants (or hoodies, or sneakers, etc.) into a fashion-forward look… without looking like you're "wearing sweatpants to class", if that makes sense.
I decided to follow the same pattern I used in my last post: Start with a piece and slowly add up until you reach the desired result. Ready? Let's go!
1. Pick the sporty piece you'd like to use.
The idea here is to choose something that looks good on you and can be worked into a casual, but interesting outfit. Yes, you are wearing sweatpants, but no, you are not wearing them because you were too lazy to put something else on. The key word here is not "effortless", but "stylish".
Example gym clothes that work for casual wear:
Here are some athletic pieces that could easily be worn on a daily basis without people judging you for not wearing "real" pants: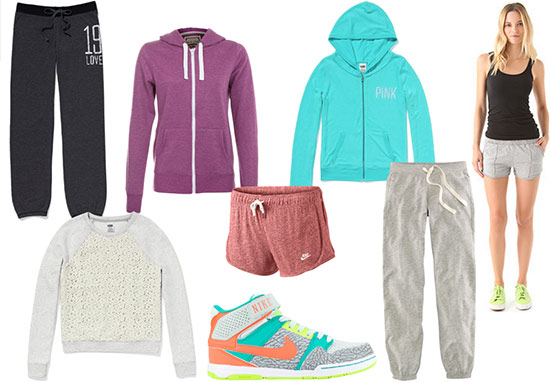 Products: Black Sweats, Purple Hoodie, Blue Hoodie, Grey Shorts, Grey Sweatshirt, Coral Shorts, Sneakers, Grey Sweats
All of these pieces are made from quality materials, but what you really need to worry about is the fit: these are made for people to run in them, to sweat in them and to feel comfortable doing so. That means that they are a bit slouchy and not exactly figure-hugging, so that's something you have to work around.
A real-life example:
Now I'll show you exactly what I mean… on myself! To give you the full effect, I chose a pair of sweatpants that I sometimes wear around the house, which I thought would be relatable for every college girl.
Now, if I were an active person who jogged or at least went to the gym every now and then, this is what I'd wear: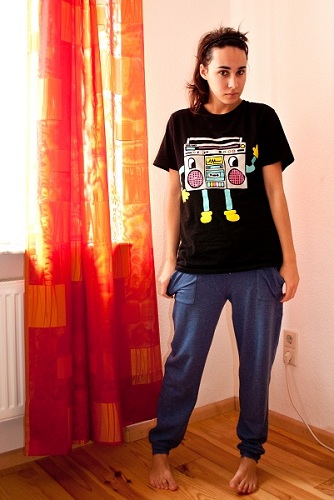 But since I'm not, this is what I wear while spending my days eating junk food and watching TV series. But I digress.
2. Start building your outfit around this piece.
When wearing sweatpants during the day, you need to go for a slightly dressier look: your goal should be contrast.
My first move was to change the top – I put on a plain, white, tight t-shirt in order to create a balanced silhouette. I tucked it in and added a grey belt with the idea of making the pants seem less gym and more city. As you'll see, I stuck with a rather muted color scheme this time.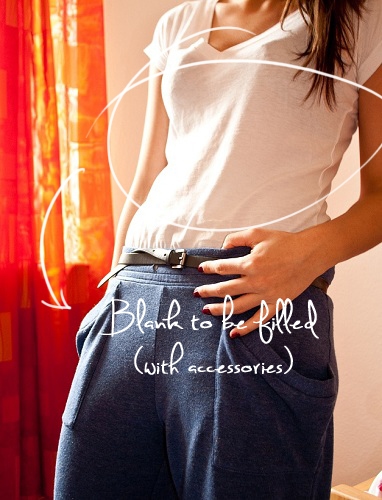 3. The risk-move
This is where I've had my doubts. As I said, our goal is contrast so I thought that the best way to achieve this was by wearing a pair of shoes that were the complete opposite of the pants. I went with low, grey heels – very comfy and college-appropriate.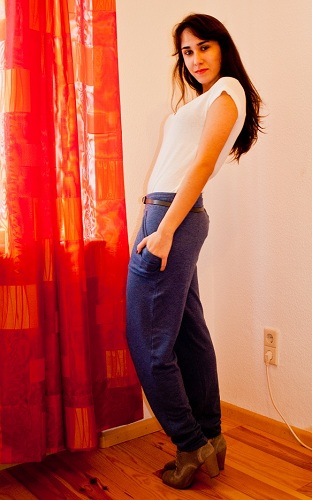 At this point I also did my makeup and let my hair down, since my outfit was almost complete. In the last step I added the finishing touches – you know exactly what I am talking about!
4. The grand finale
Of course, it's time for the accessories!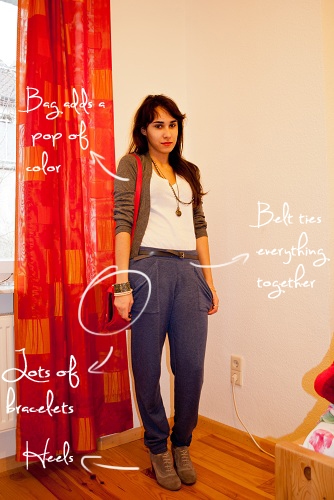 I piled on necklaces: the t-shirt was plain, so I needed something to cover that white area because the eye was drawn to it and it made the whole outfit seem unbalanced. On top of everything, I wore a cardigan. (Rolled-up sleeves make everything look better.) The only bold color I'm wearing is red – in the bag – but I would say it's enough, along with the orange lipstick, to brighten the entire look.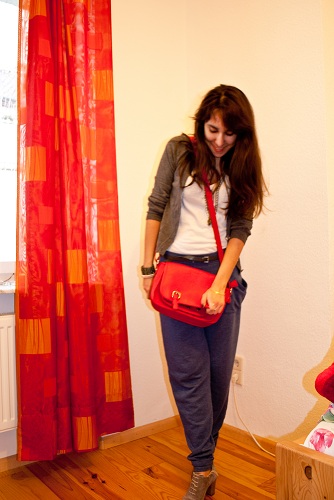 Your turn!
How would you reinterpret athletic wear? Would you wear my outfit and if not, why not? Do you dare style your "lazy day" pieces into a fashionable look? I am very, very curious to hear your opinions!