This post will show you how to style loungewear and activewear in your wardrobe and how to create unique outfits with your gym clothes.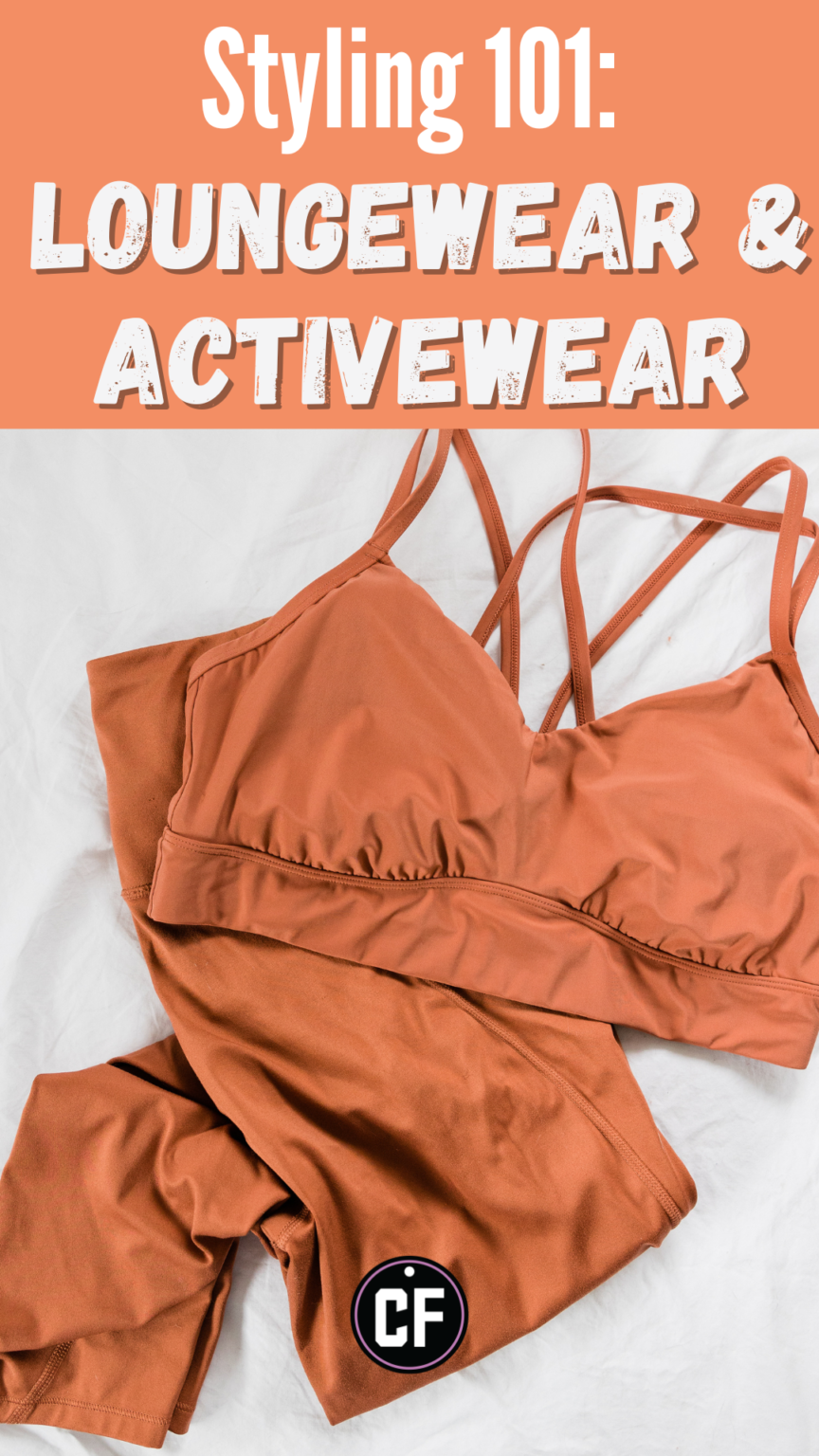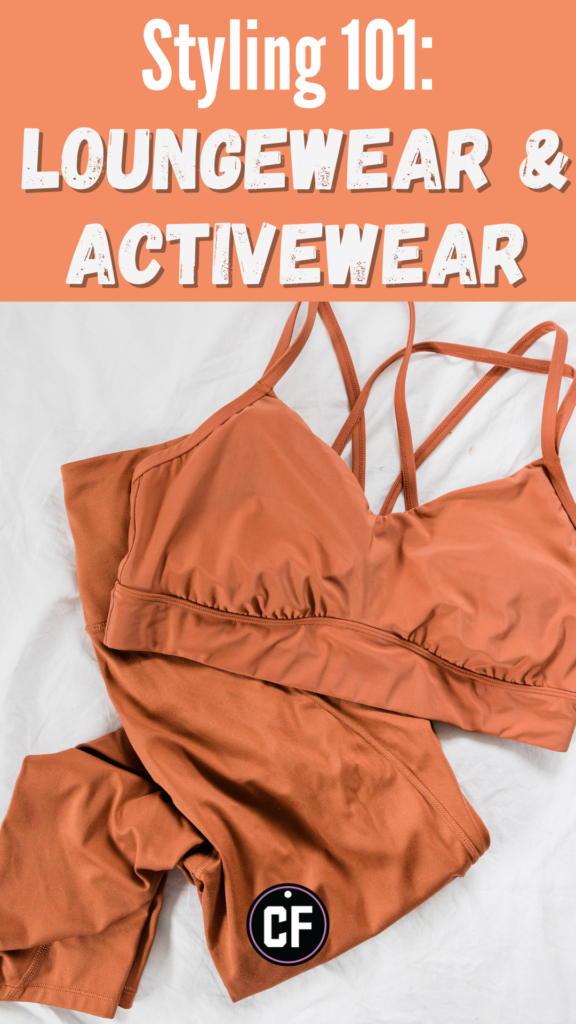 Fashion is fun. Styling an outfit is a fantastic way to get your creative juices flowing. But, sometimes (and for some of us), it can be overwhelming. Look, I get it. It's a fast-paced, ever-changing industry. Trends and styles come and go in the blink of an eye. It can be too much to handle if you're dipping your toes into the pool of fashion for the first time.
I'm here to help.
In this new series, I'll give you styling advice on some of the most confusing and difficult styling areas. I'll outline all my tips, tricks, and hacks to help you create amazing outfits. Also, I'll exemplify everything in three degrees of difficulty so it can be easier to see what you can do.
This week, I'll give you all the tips and tricks on how to style loungewear and activewear.
Related reading: Our Favorite College Loungewear Essentials
What *is* up with loungewear and activewear?
Loungewear and activewear are considered informal clothing. They're meant for very different things, technically, as you can see in the names. Loungewear is any type of clothing that's meant for indoor use, i.e., lounging at home. On the other hand, activewear, or sportswear, is clothing worn for sport or physical exercise.
What they have in common is usually why we use them indistinctly from these technicalities: both loungewear and activewear are meant to be comfortable. They are so comfortable that we now see them as default casual wear for every day. (See: Athleisure.)
Nowadays, we all own tons of cute loungewear and activewear to style and use on many occasions. Occasions that go beyond going to the gym or staying at home. That's what we'll explore today.
How to Create Outfits with Loungewear and Activewear Pieces: Tips, Tricks, & Hacks
So, how do we style loungewear and gym clothes beyond their intended purpose? How do we elevate them and introduce them to our "normal" closet?
Bring in tailored pieces. This is the easiest way to elevate loungewear and activewear. Add a blazer, trousers, or loafers and boots.
Details make a difference. For example, hiding the elasticated parts of your favorite joggers will take them from loungewear to a pair of loose pants. A jacket or shirt is very casual and comfortable, but add shoulder pads, and it will give a more structured look to everything. Pay attention to those details and use accessories, hemlines, sleeves, or shoes to transform an item.
Layering will always be your friend. When you are trying to make loungewear and activewear more everyday pieces, layering with more tailored or elevated items will give them a different look and feel from their original purpose.
When in doubt, go for sequins, glitter, and metallics. We associate shiny clothing items with going out or glamorous events; they're not seen as casual. So, naturally, they're the best items to add when trying to elevate the most everyday items we own.
Think differently. My best advice here is to think about loungewear and activewear as just another cool item in your daily rotation and not as their intended purpose. Go beyond the "this is for exercising" or "this is for staying at home"; think of them as an item you have and build a look like you would any other day.
How to Style Loungewear & Activewear: Outfit Examples
Easy – Outfit #1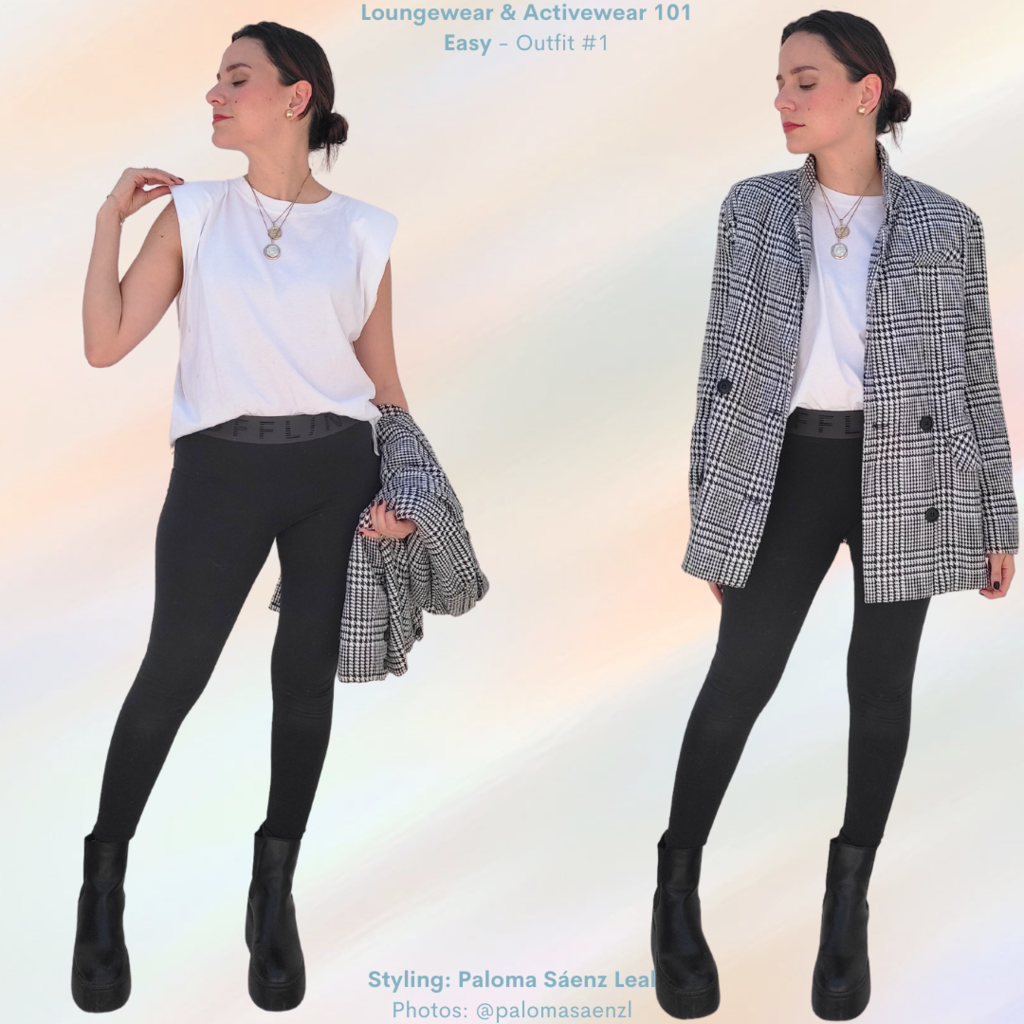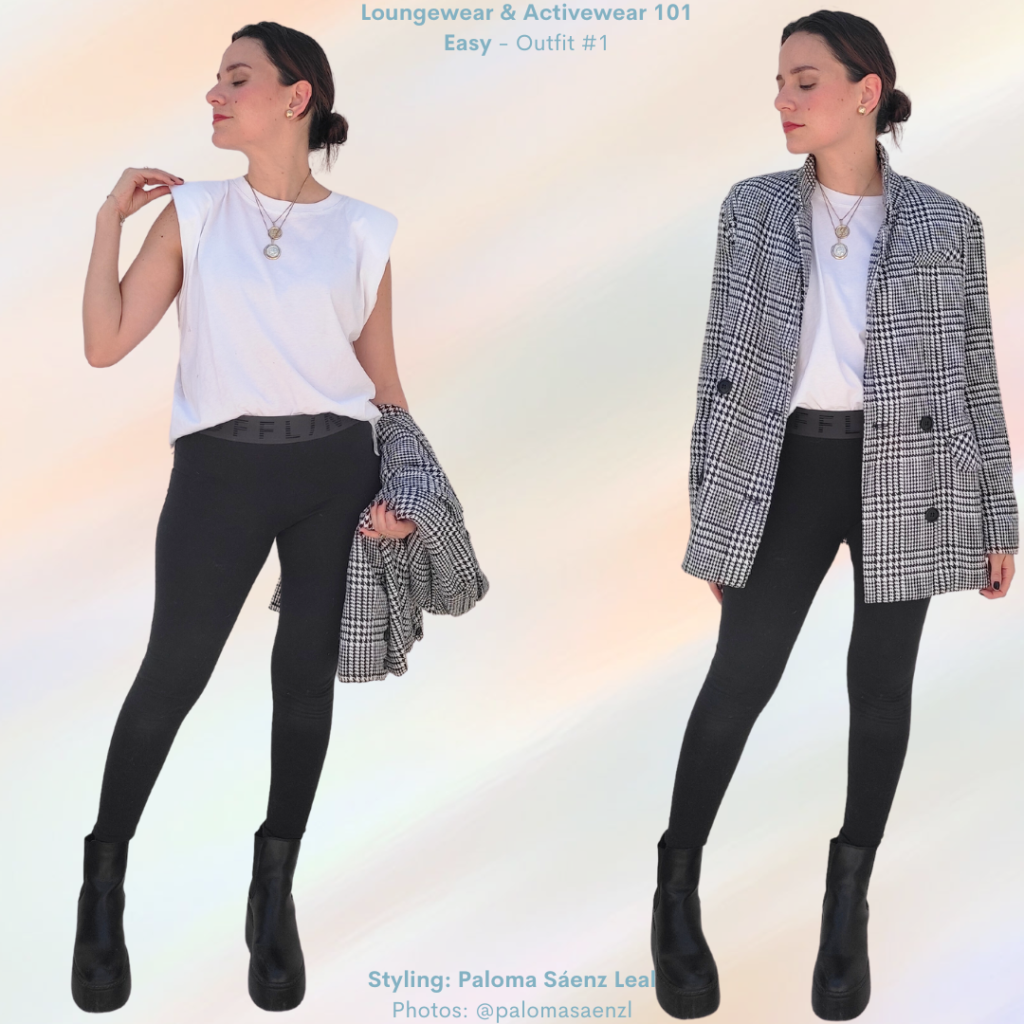 For my first look, I wanted to tackle an outfit combination we've all worn: leggings and a simple tank top. I've worn a version of this while doing chores and doing the laundry, but it isn't a look I reach for when I have to go out. It's the sort of look I change out of before I leave the house.
To transform it into a stylish look, I paired my black leggings with a white tank top with shoulder pads. Usually, I would add sneakers and leave it at that, but this time I tucked in the shirt a bit. Then, I wore a pair of black platform boots and a gold layered necklace. Finally, I added the item that transforms the look: an oversized houndstooth blazer in black and white.
I like how this one turned out. These leggings are not for exercising; they're just for comfort, so I tend not to wear them out. They don't have the same structure as activewear leggings, so they are comfortable but might not snatch everything as they should.
But adding the blazer covers anything that might make me uncomfortable, the shoulder pads elevate the tank top and blazer, and the boots bring in the modern and sleek feel I wanted.
Easy – Outfit #2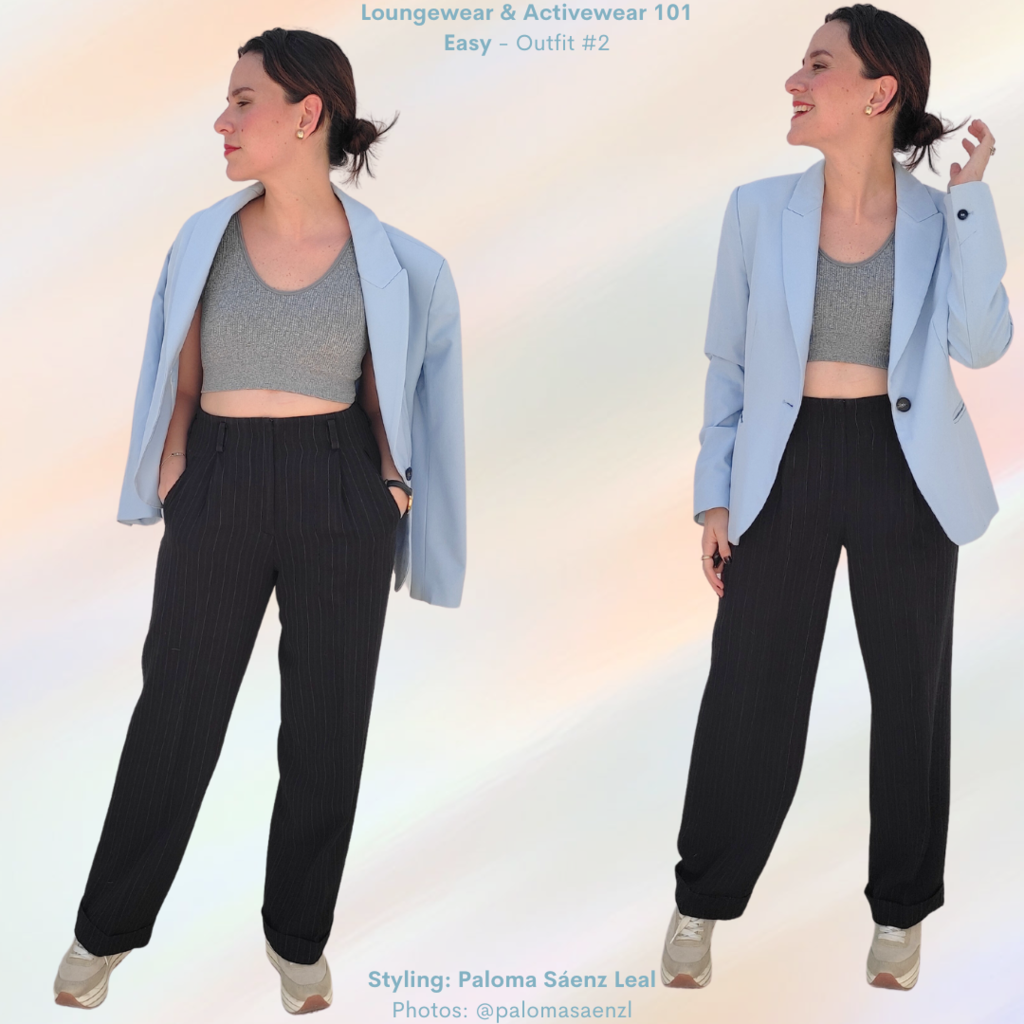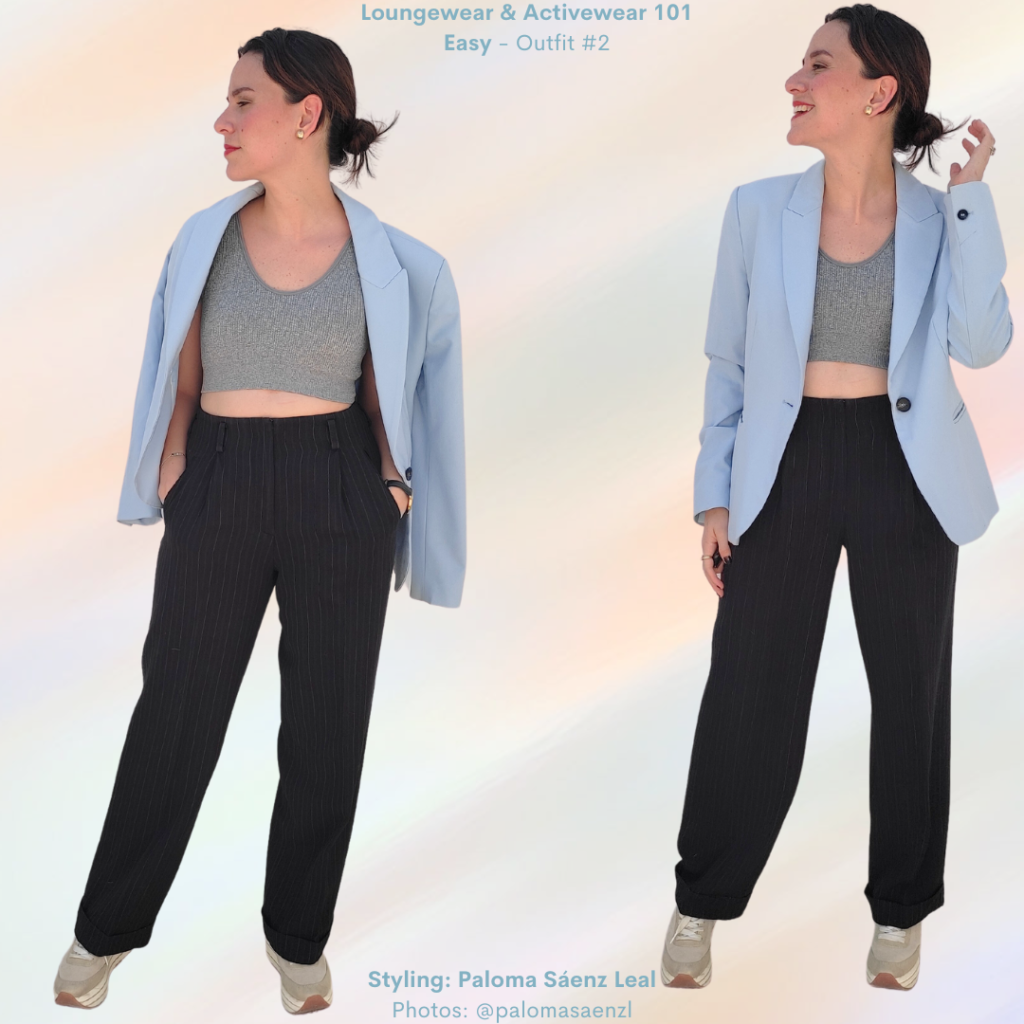 For my second look, I wanted to elevate one item we all probably have and might struggle to transform into something else. That item is a neutral sports bra. Sports bras, especially black and grey ones, really look like athletic wear.
With this sort of item, instead of fighting it, I decided to create a look that would benefit from the casualness of the bra. For this look, I wore a grey sports bra and paired it with a pair of pinstripe black trousers. Then, as I did in the first look, I threw on a blazer — this time in a sky-blue shade. Finally, I decided that a pair of platform sneakers in beige with golden accents would complement the outfit well.
The sports bra adds a casual touch to an otherwise office-appropriate look. While I wouldn't wear it like this to work, I would wear this outfit on the weekend or for going out. You could always swap the bra top for a blouse or tank to make this a cute work outfit.
Medium – Outfit #3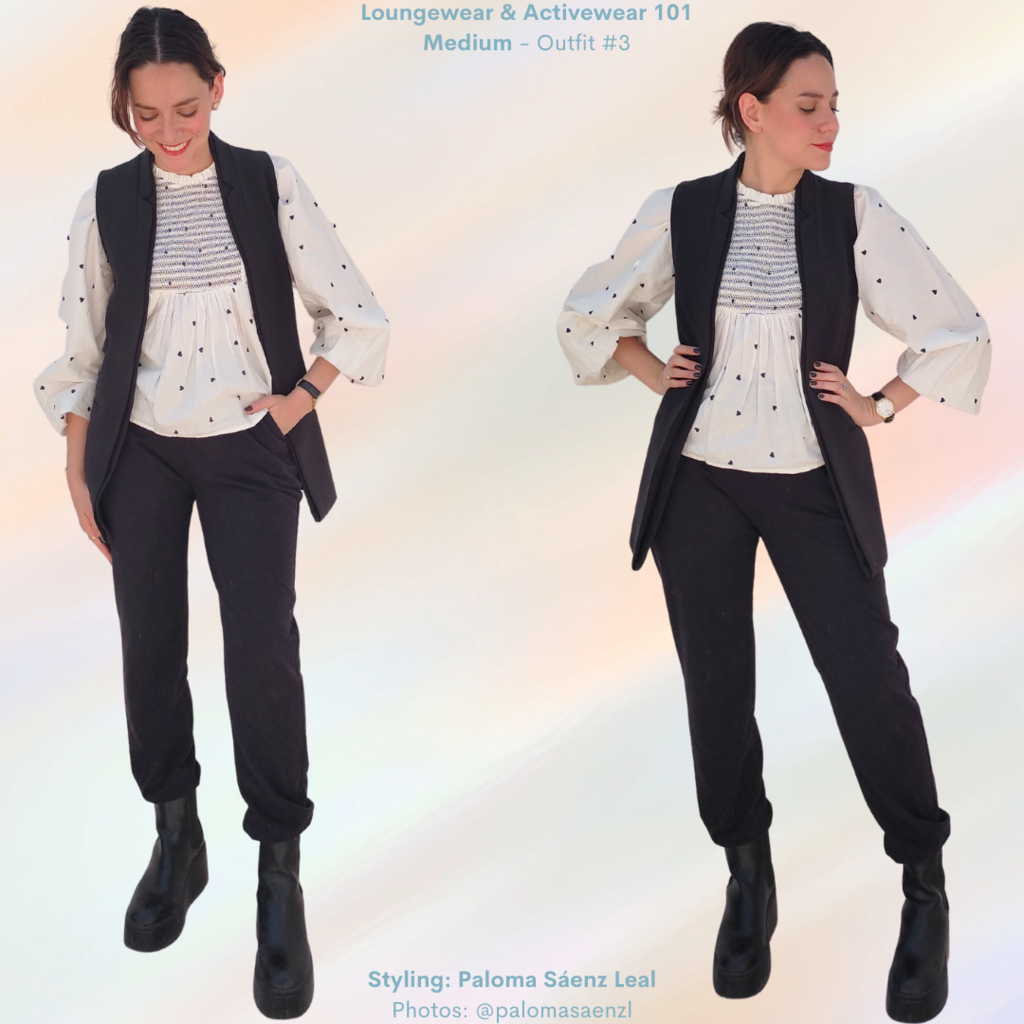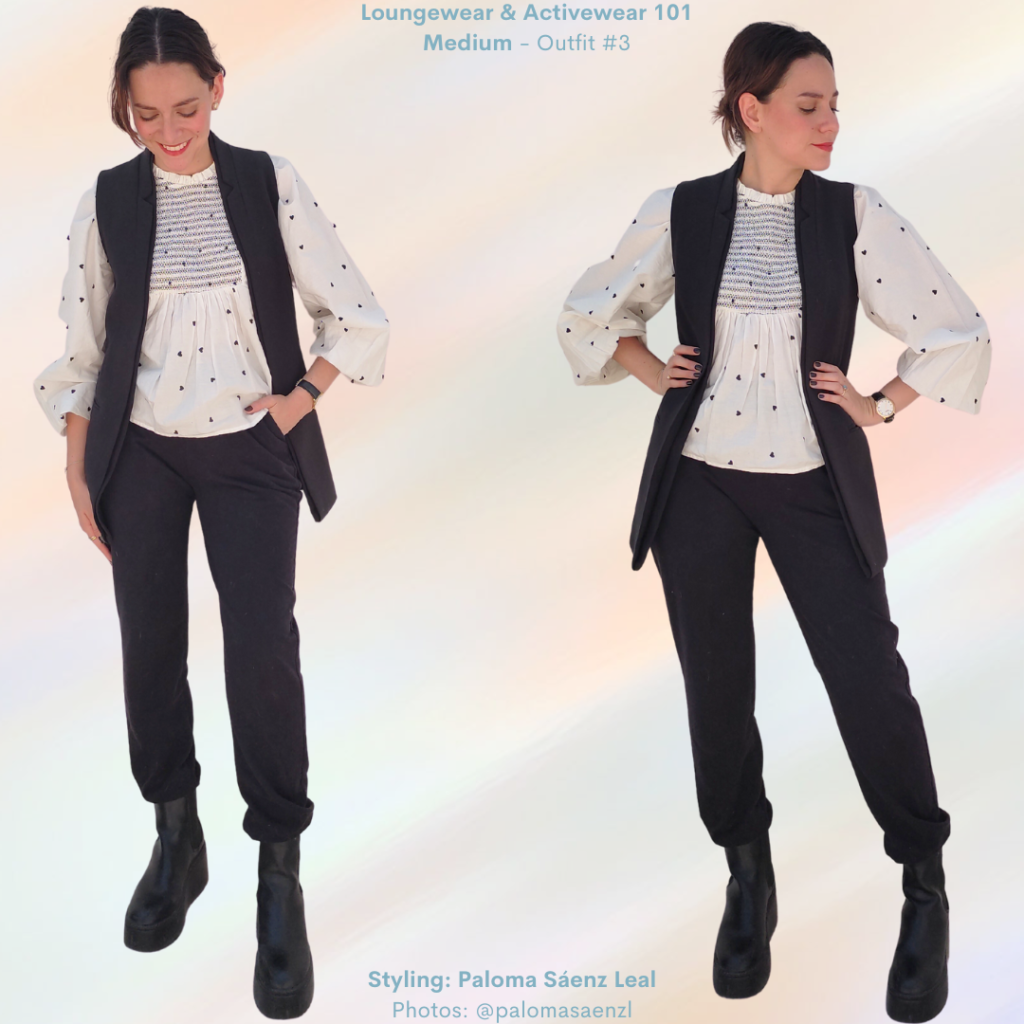 Now, how could you create a more formal look with loungewear? The key is to add tailored pieces and pay attention to details that might make the look feel too casual. So I challenged myself and styled a pair of neutral joggers.
To start the look, I wore a pair of black joggers. They have elastic both on the waistband and the ankles. Then, I added a black and white blouse with balloon sleeves and a heart pattern. To layer the blouse and add some tailoring to the look, I threw on a black vest. Finally, I wore the same black platform boots from the first look to finish it up.
Would you have noticed these were loungewear joggers if I didn't tell you? This is a prime example of how to style loungewear into a regular outfit.
The key with this look is to cover those details that scream "LOUNGEWEAR." Thanks to the fit of the blouse, the elasticated waistband was covered up, and the boots are the perfect length to cover the elastics on the ankles. With those details covered up, the joggers are just loose-fitting black pants.
Medium – Outfit #4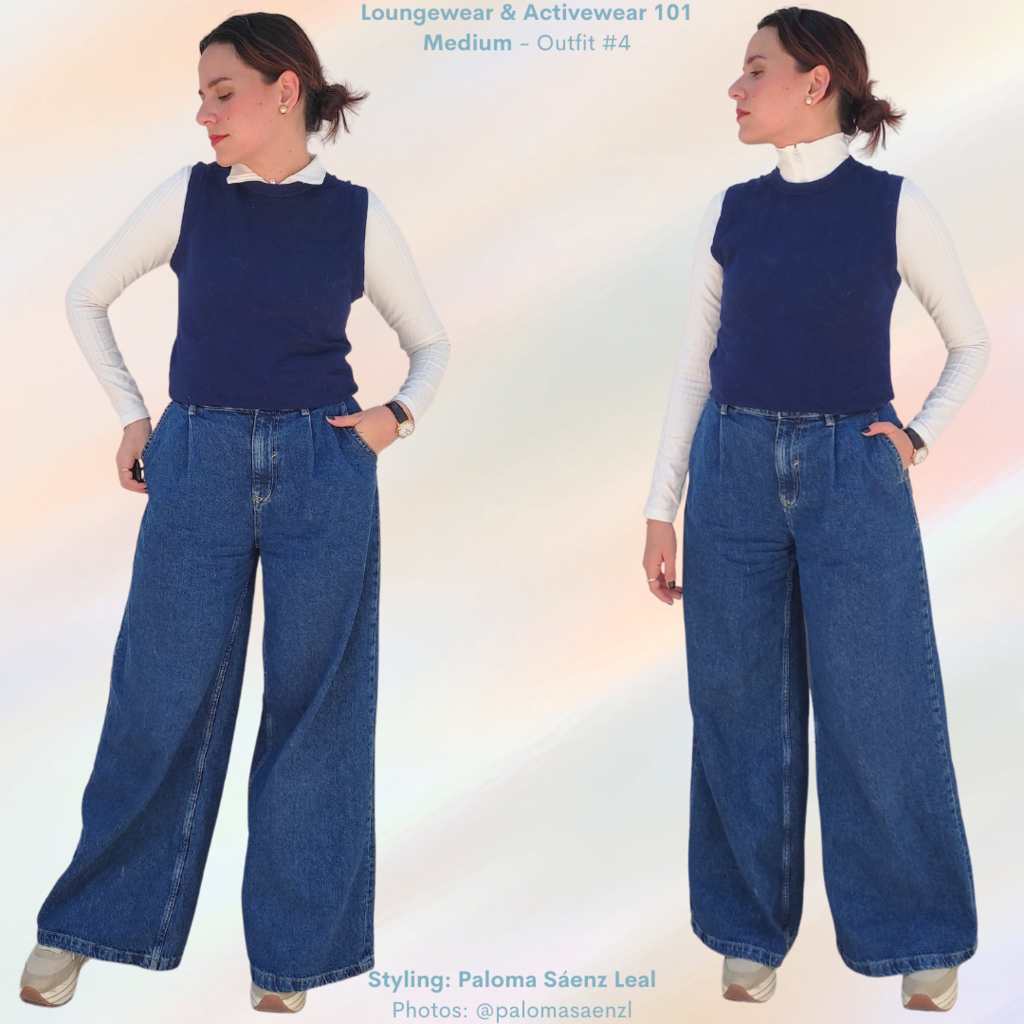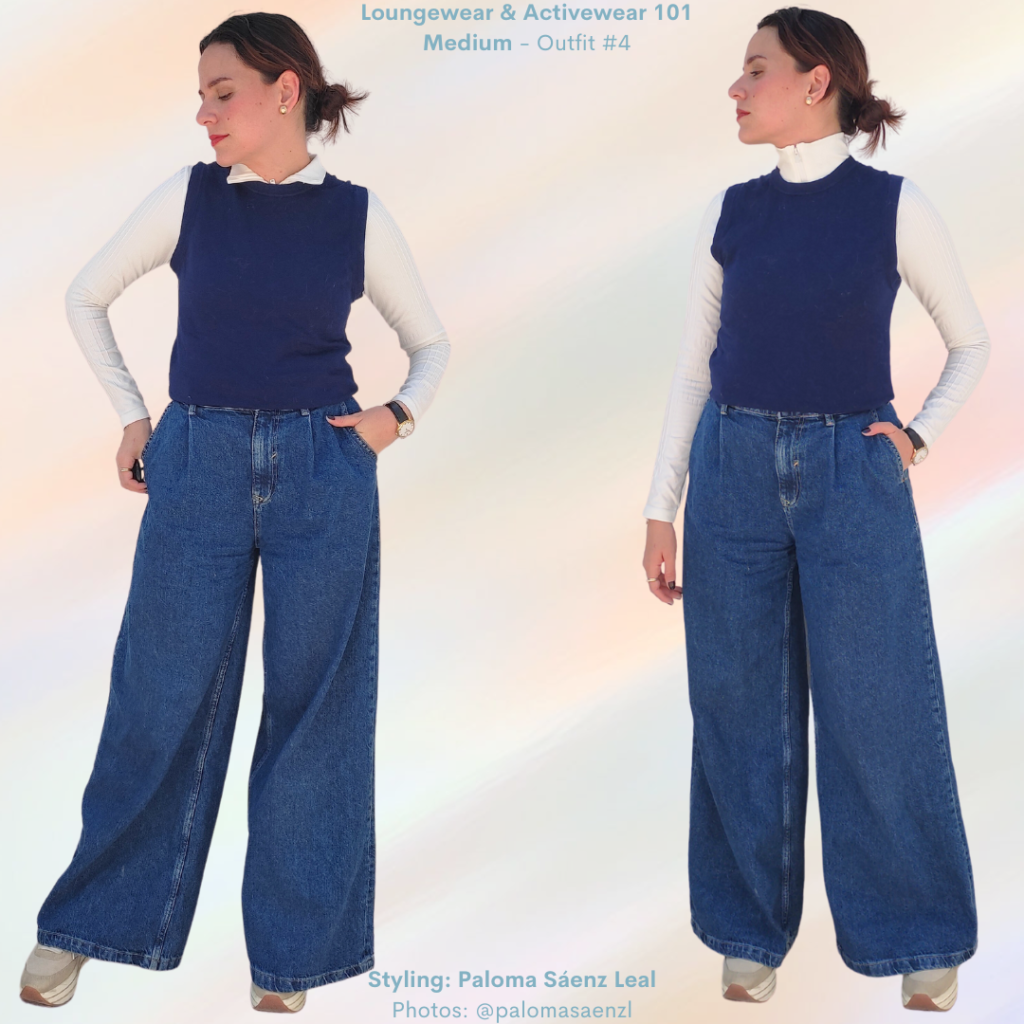 What's another activewear item that almost everyone has, but it's so "athletic" you cannot see it in any other environment? That is a running sweatshirt or something similar. How can you incorporate something like that into a casual look? The answer is layering.
Take a look at the outfit I created. Can you spot the sweatshirt? For this look, I started with a white running sweatshirt and paired it with wide-leg jeans. Over the sweatshirt, I threw on a navy blue knit tank top to wear as a vest. To cinch my waist, I tucked in both the sweatshirt and the top. With these jeans, I need to wear some type of heel or platform, so I chose my platform sneakers.
As you can see, it looks like I have a shirt or a turtleneck under the blue top — you wouldn't guess this was running attire. The great thing about these sweatshirts is that they are fitted and easy to layer. I challenge you to style them yourself — you might be surprised at what you find!
Difficult – Outfit #5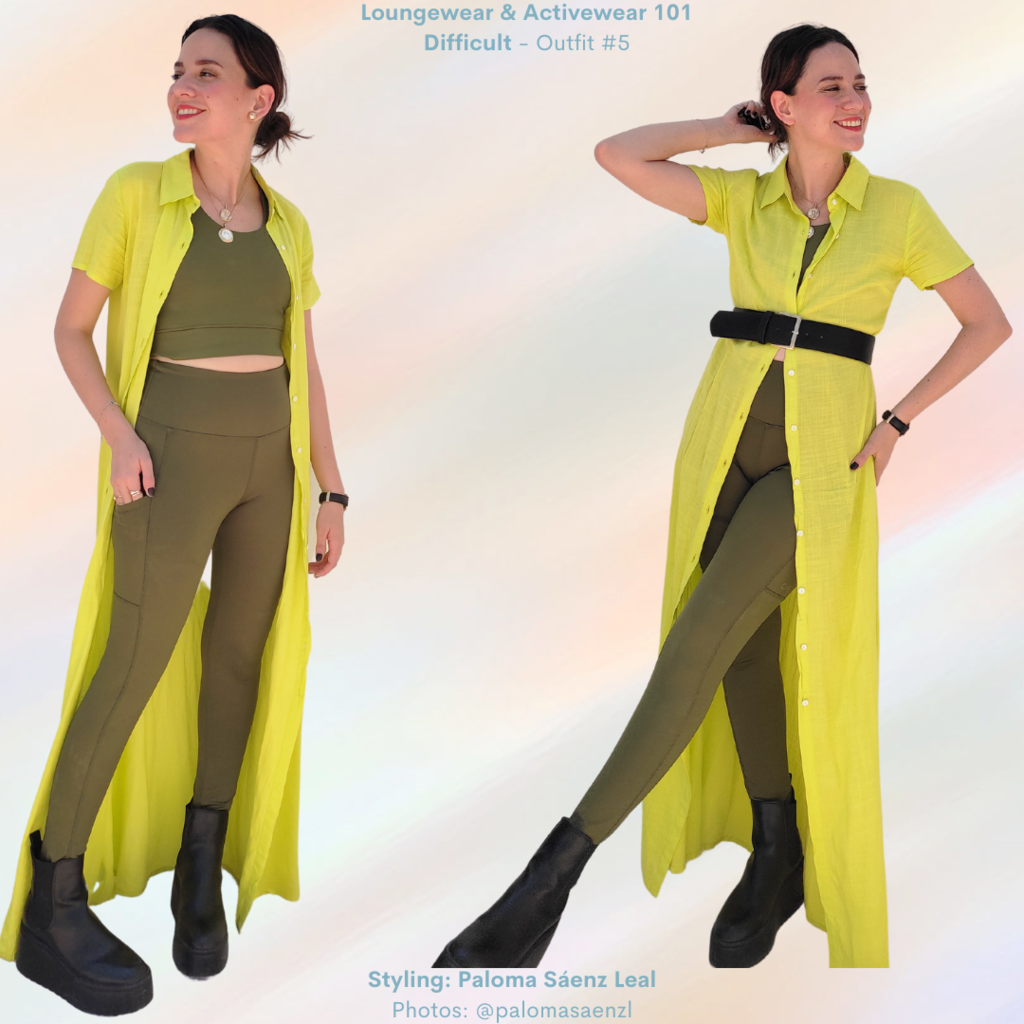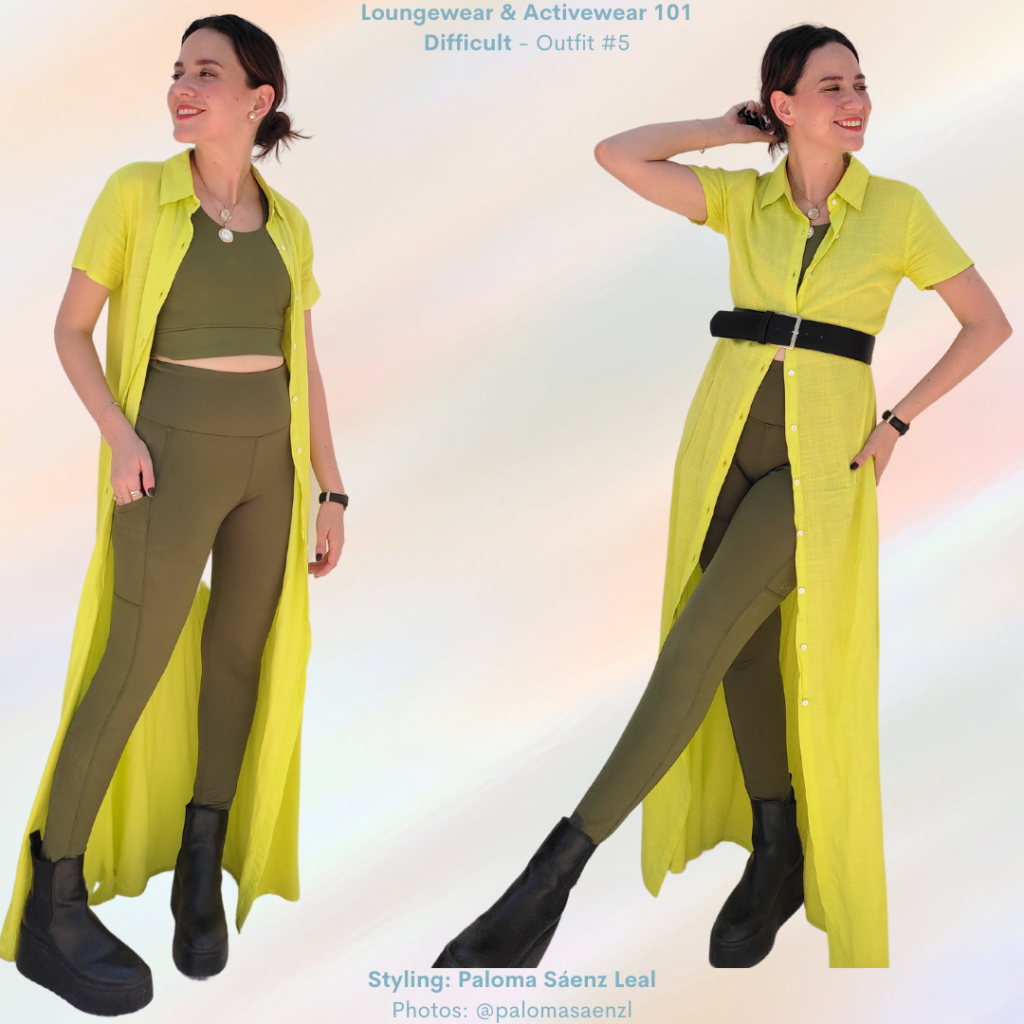 Athletic sets are the cutest yet most difficult items to yank out of the gym clothes style. The seams, the hidden pockets, the material, everything is obviously made for exercising and sports. Here's where all of my previous advice can combine.
For this look, I wore an olive green athletic set as a base. I decided on this set because of the color and the top's cut. Then, I added a long, bright yellow shirt dress. The dress is way too long for me, I actually need to cut the hem, but that gave me the perfect length and opportunity to wear my black platform boots once again. To accessorize, I added a layered gold necklace. As a second styling option, I added a wide black belt to the outfit.
The styling is what makes this look work outside of a gym or running errands. The length of the dress serves two purposes. First, it's the sort of layer that covers the seams of the leggings and the pockets. And second, the fit and style of it is more formal, with the buttons and collar bringing an elevated look. Finally, the set has the potential to look like a jumpsuit with a strategically placed wide belt.
Difficult – Outfit #5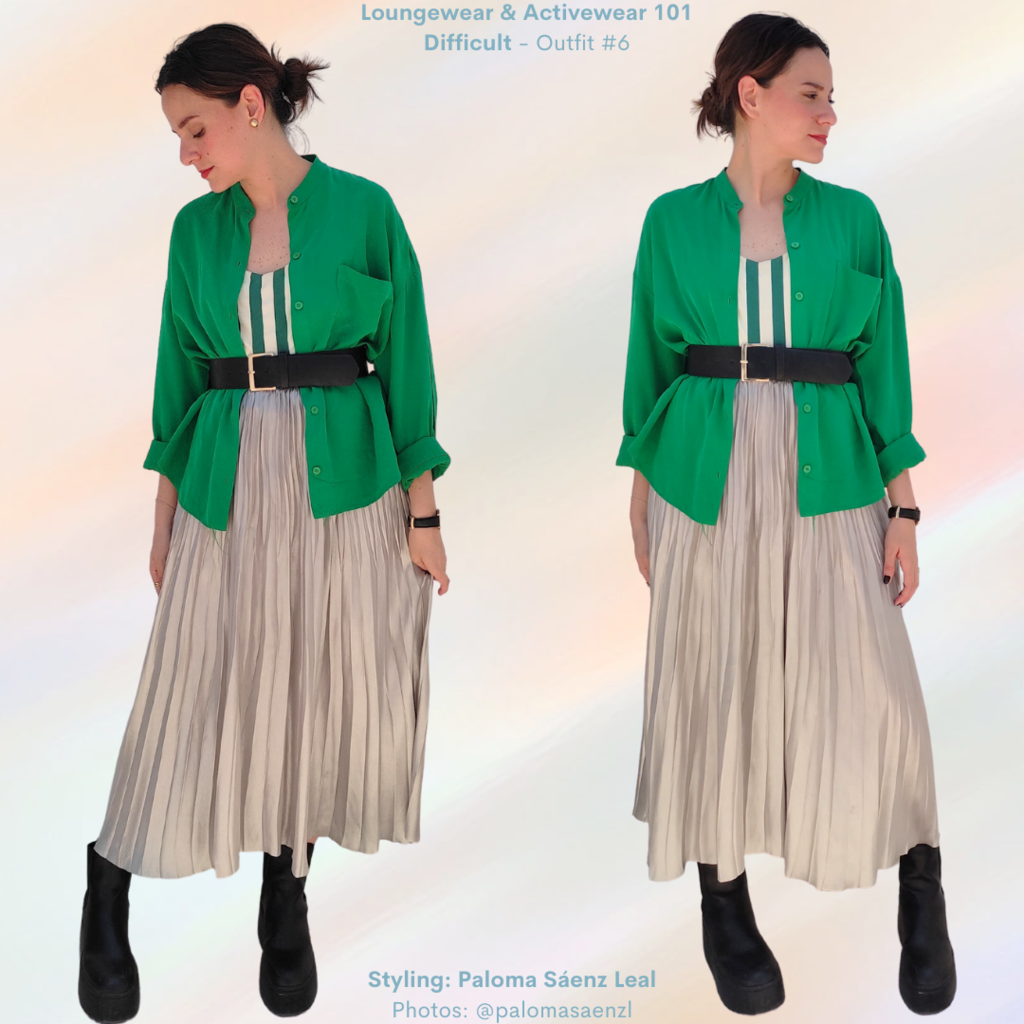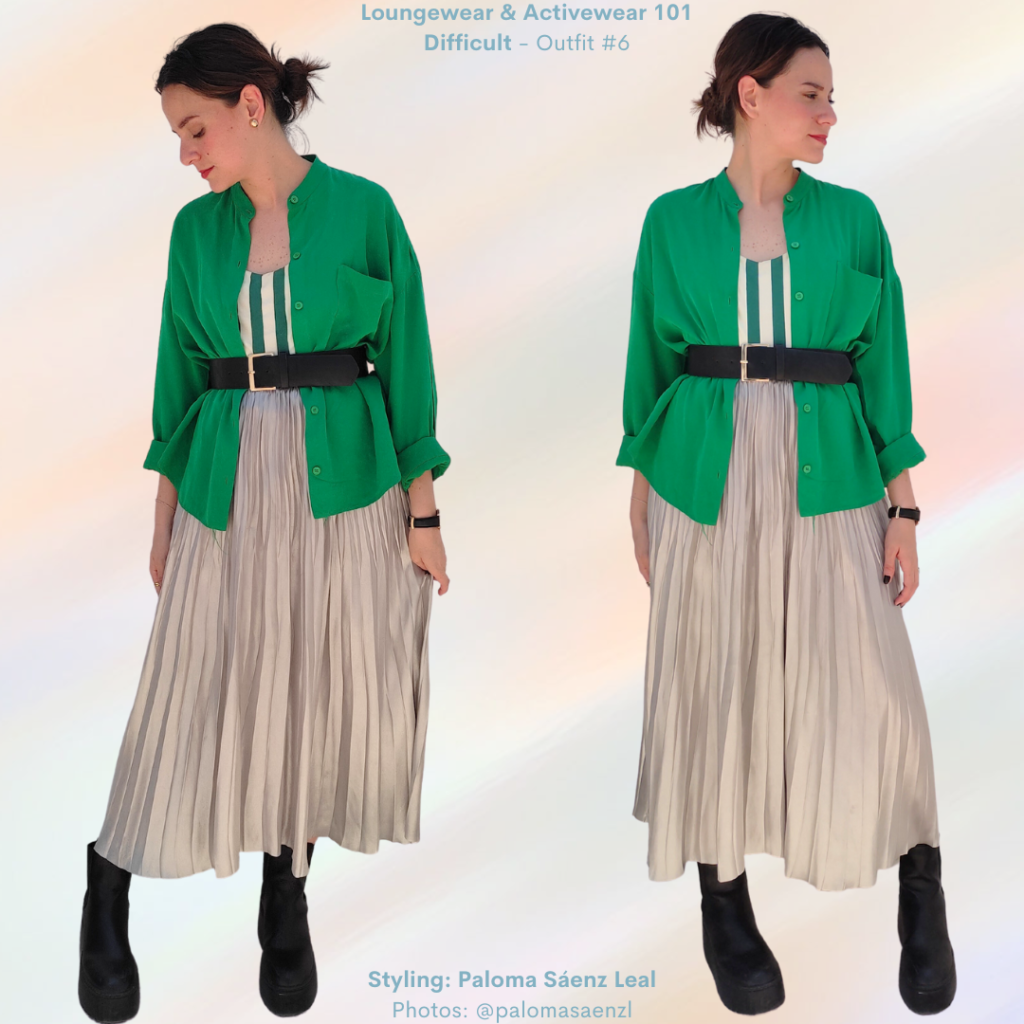 For my final challenge, I chose an item that could be both the easiest to incorporate into an everyday outfit and also the most difficult. That item? A swimsuit. We all know swimsuits are just one degree of separation from bodysuits and can easily be used as such. But the thing is, they have a particular type of fabric and fit. That degree of separation can be challenging.
For my look, I chose my most swimsuit-looking swimsuit. It is a one-piece, round-neck, low back, swimsuit with vertical stripes in green and white. To make the transition easy, I wore a silver midi skirt. Then, I layered on a green shirt and cinched it with the same black belt I used for the previous outfit. For shoes, I needed black to tie in the belt with the rest of the look, so I chose my platform black boots.
There were two specific details I needed to cover up so my swimsuit would function visually as a bodysuit. The first one was the low back. Since the skirt is high-waisted, you can see that the low back of the swimsuit doesn't end at the waist, which makes it look off.
The second detail is that it has thick straps meant to keep the swimsuit in place. Bodysuits don't have to have these because they usually have buttons, zippers, and clasps in other areas that keep them in place. The shirt and belt help cover those details, and the metallic fabric of the skirt helps elevate the whole outfit.
Related reading: How to Style a Swimsuit Based on Your Body Type
Final Thoughts
My favorite way of optimizing someone's closet is to find pieces they already have and teach them how to multiply the way they use them — especially if they have limited space and their budget for shopping is even more limited. Incorporating items like running sweatshirts or swimsuits into your wardrobe opens the door to many possible outfits for various occasions.
Hopefully, this guide will help you shop inside your closet and find new ways to wear your most comfortable items. From leggings to pajama sets, anything can be transformed with just a few tweaks and the correct styling. Trust me, I wore a pajama set to a holiday party, and it honestly looked amazing.
What Do You Think of My Guide to How to Style Loungewear & Activewear?
Would you wear your loungewear or activewear to go out? Do you already do it? What are your tips if you do? Do you have any styling questions you want me to tackle next? Let us know in the comments below!