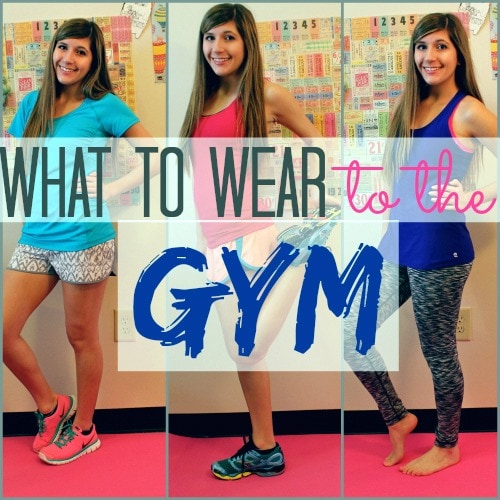 I had planned to write up a post on cute gym clothes next month, but since this is my most requested article ever, I couldn't wait to show you! Usually I photograph three outfits per article, but since this is a special thank you for so many requests, I decided to unload my entire athletic drawer to show you guys what I wear to the gym.
Sit back and enjoy. Unless otherwise stated, all of the clothes are from TJ Maxx, because their gym clothes will not weigh your budget down. Lift heavy, spend little, grasshoppers.
Why Dress Cute to the Gym?
That's a question that seems to come up a lot, so I thought I'd explain why I choose to do so:
It's motivating. If I buy cute athletic clothes, I'm going to the gym so I can wear them. If I feel like I look good, even when I'm dying doing triceps dippers, it helps. Fake confidence until you have it. If I'm dressed like a yoga teacher, I feel more confident. It's as simple as that.
But what is most important is to wear what you're comfortable in and what you enjoy wearing, whether you're in the gym or outside of it. If people don't like it, ignore them. Again, it's as simple as that.
Now, let's get to the looks. Scroll down to see them all!
1. The Basics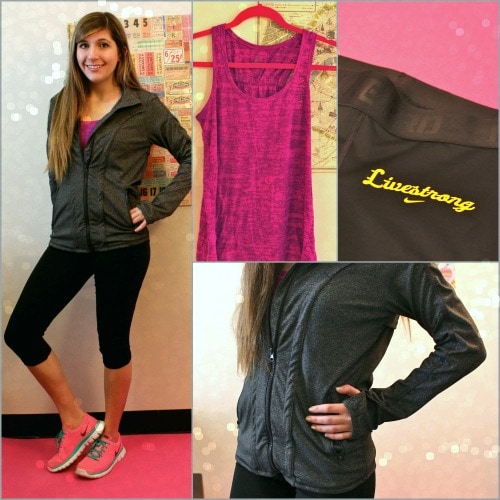 If there was one outfit I would suggest you buy, it's the basics. Virtually all classes at the gym can be conquered in capris, a long tank top, and a jacket for coming and going. I love jackets with thumb-holes. They makes me feel like a superhero.
These Nike capris are from a factory store sale. I highly, highly suggest going to factory outlets instead of big sporting goods stores, because you can save mucha moolah (always check the clearance section!). The wide, Nike Pro waistband is the world's comfiest waistband outside of the land of pajamas.
2. More Modest (Good for Weight Lifting)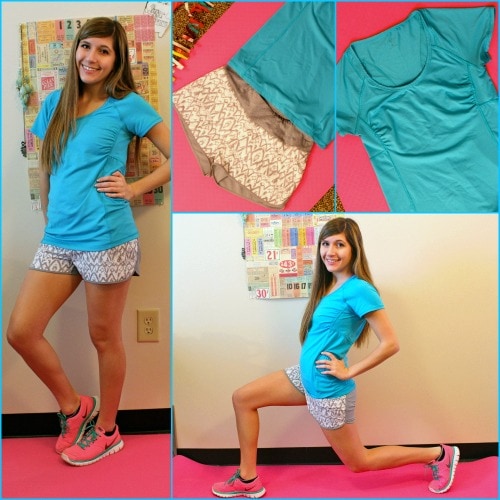 CF reader Avery requested a workout outfit that was on the less revealing side because her TAs and professors work out at her gym (awkward). A great way to stay a little more modest is to wear a shirt with small sleeves instead of a low cut tank. I wore running shorts because they're not super tight, but feel free to wear capris instead.
The ruching around the bust of this teal top is flattering if you're on the small-chested side like myself (let's be real, sports bras don't help in that department), and is visually more interesting than a regular, plain t-shirt. The top is made from a sweat-wicking material, and allows the skin to breathe. Ah, breathe skin! Take in oxygen, little baby pores!
This outfit would be ideal for pumping iron.
You may be thinking: "Do you even lift?" And to that I say, "Why yes, in small amounts. I also carry all the grocery bags in one trip."

3. Mix and Match Colors (Cardio)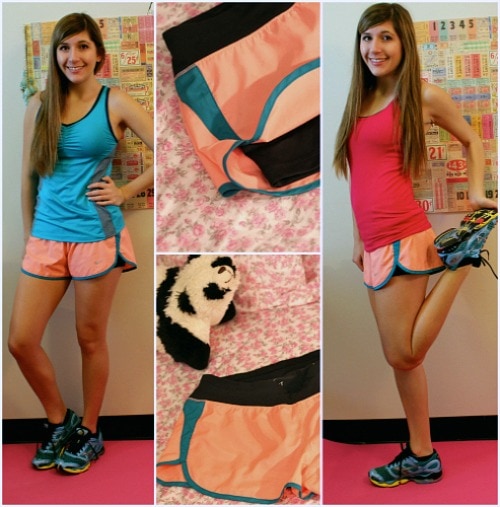 Colors never have to match. Period. Mixing and matching is awesome, especially at the gym. Both of these shirts are from TJ Maxx, and the salmon ("Tart Deco" colored shorts for all you Essie polish lovers) are from a Nike factory outlet.
These shorts also have built-in black bike shorts, so no matter if you're doing plié squats, cycling, or some crazy yoga move, you'll be covered. Literally.
I wore both of these outfits to cycling class recently. Nothing embarrassing happened, which makes these outfits a win in my book.
4. Florals & Corals (Yoga & Pilates)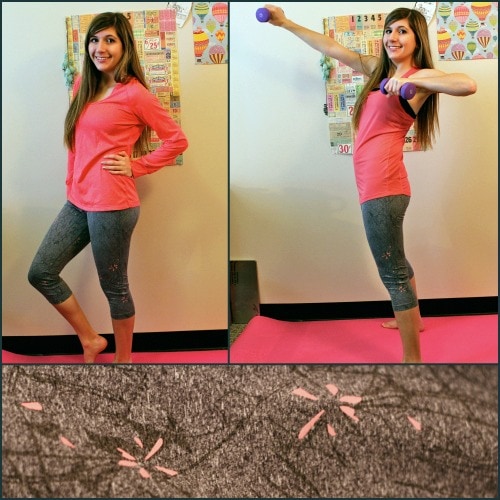 Who says you can't dress girly at the gym? I wanted to include a long-sleeved shirt for the few, the dedicated, the early-risers who get up before the sun when it's still chilly. (That's not me, in case you're wondering.)
I love capris year-round. During the Deep South Snow Freak-Out of 2014, I wore capris under jeans, sweat pants, and yoga pants, so I could just whip off my pants when I got the gym. That's how lazy I am.
5. Try Something New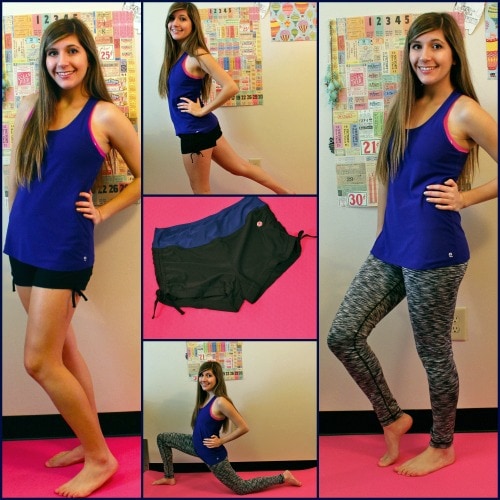 Sometimes, college girls, myself included, forget that there are shorts besides running shorts. Mixing it up with fresh details and funky patterns is a great way to spice things up.
I love these shorts with the side bows and side gathering, but since they are on the short side, adding a pair of tight, compression shorts underneath can give you peace of mind when you're rocking that Warrior 2 position.
Patterned leggings make me feel like I could pass for a yoga teacher. But only outside of class, because once you see me doing any form of exercise you'll see how wobbly and uncoordinated I am.
We Can't Forget Shoes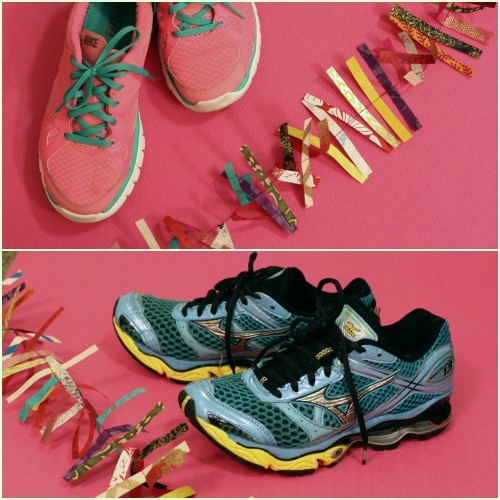 Gym shoes are arguably the most important part of these ensembles. If you're going to splurge on one gym-related thing, I'd suggest shoes. Why? Well, if you're like me, and your feet are so arched they're practically McDonald's Golden Arches, working out in poor-fitting shoes can be painful.
These Mizuno Wave Rider shoes are built for those us with arches reaching to the sky, and are excellent running shoes. These have lasted me for years.
These pink and teal Nikes, from Rack Room Shoes, feature a comfortable "Fit Sole." I wanted a tennis shoe that was tighter and smaller than my Mizunos, which can sort of slide during burpees (my arch nemesis) and other training-type exercises.
Your thoughts?
Thank you to everyone who requested this article! Which of these outfits is your favorite? What do you wear to the gym? Also, I would love to hear what you want to see next, so send me your suggestions!