This post will show you what to wear to the gym, with tips and gym outfit ideas.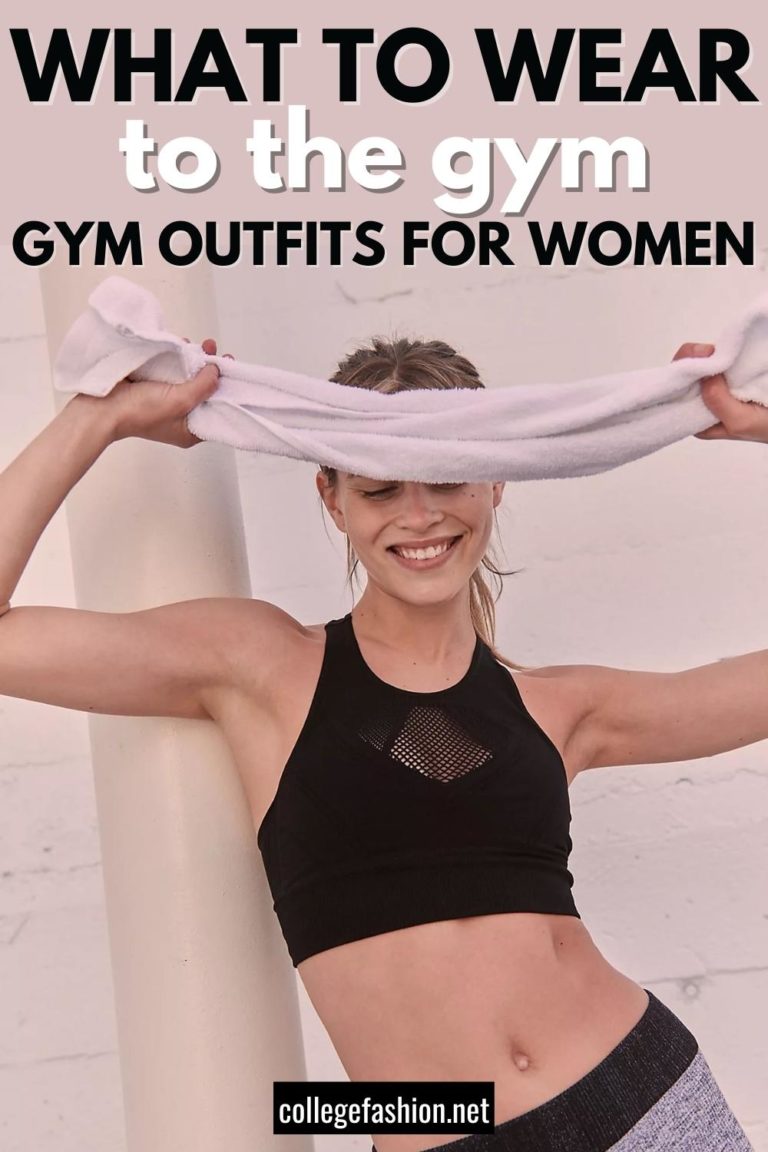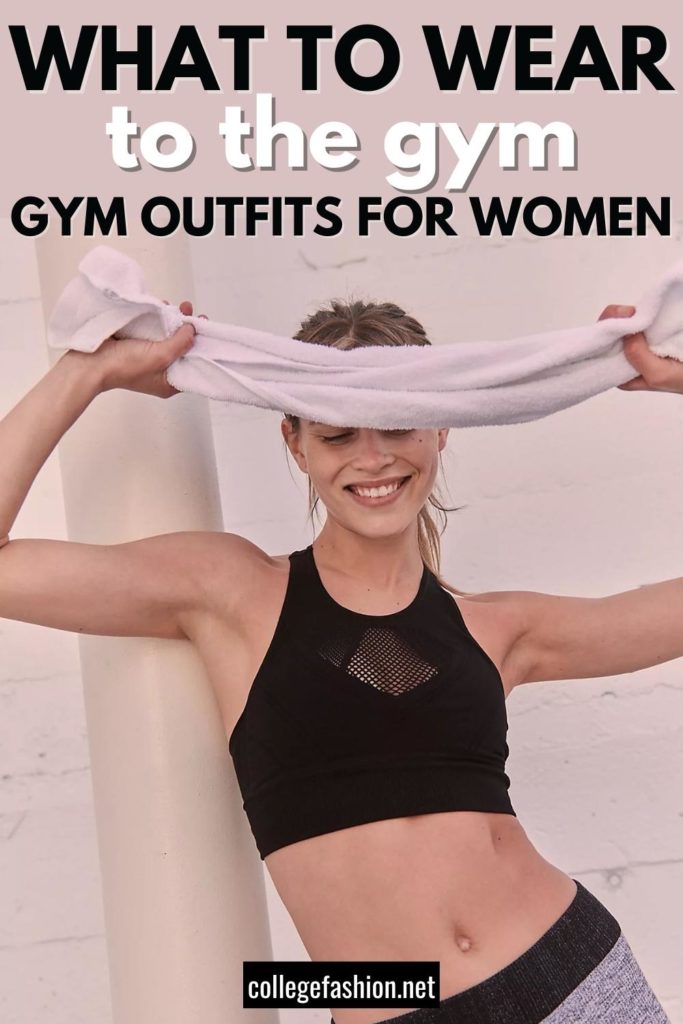 IDK about you, but I'm much more motivated to work out when I'm dressed in a cute gym outfit. There's just something about looking put together that feels motivating when it's time to hit the gym or a workout class.
Don't get me wrong; there are plenty of times when I work out in a baggy t-shirt and old sweats. But the days I wear a coordinated workout set or some sleek leggings just hit different. (Bonus points if I rock a cute hairstyle.) I feel more confident in my body, more energized to exercise, and more motivated to perform my best!
It turns out there's some psychology behind the "look good, feel good, play good" philosophy, so you may know what I'm talking about and have experienced it yourself.
So, if you're wondering what to wear to the gym that's going to be as feel-good and fashionable as it is functional, this is the guide for you. I'm sharing my favorite stores to shop at for activewear, along with tips and gym outfit ideas that are on-trend yet totally practical (and won't break the bank, either).
Whether you're weight-lifting, running, yoga-ing, or Hot Girl Walking, you'll feel like your best self in these gym outfit ideas.
Related reading: Athletic Outfits for Women: Get Fit in 10+ Looks for All Types of Athletics
Where to Shop for Gym Clothes
If you're looking to upgrade your workout 'fits and are in need of some new threads to wear to the gym, here are some of the best places to shop for athletic clothing:
For more places to shop, see our guide to The 25 Best Athletic Wear Brands for Women, and don't miss our guide, Athleta vs. Lululemon: Which is Better?.
How to Style a Gym Outfit: Tips for Dressing for the Gym
Always prioritize comfort and functionality above everything. Opt for clothing that you feel comfortable in, rather than self-conscious! You don't want to feel like you're fussing with your outfit instead of being able to focus on your workout entirely.
Ditch the jewelry. Avoid wearing long, dangling necklaces, oversized earrings, or multiple rings. Not only will these items affect your workout (like getting caught on a machine –– ouch), but you'll also run the risk of accidentally losing or damaging them at the gym.
Opt for clothing with lightweight and/or stretchy fabric for maximum movability, plus good coverage (when in doubt, do a squat test in front of the mirror before heading out).
Don't forget your hair tie or hair clip –– there's nothing more annoying than constantly getting hair in your face when you're trying to work out!
Gym Outfit Ideas
Need some inspo when it comes to getting dressed for the gym or your workout? Check out these gym outfit ideas that are fashionable and functional, and get ready to work out in style!
Cute Gym Outfit Idea: Matching Workout Set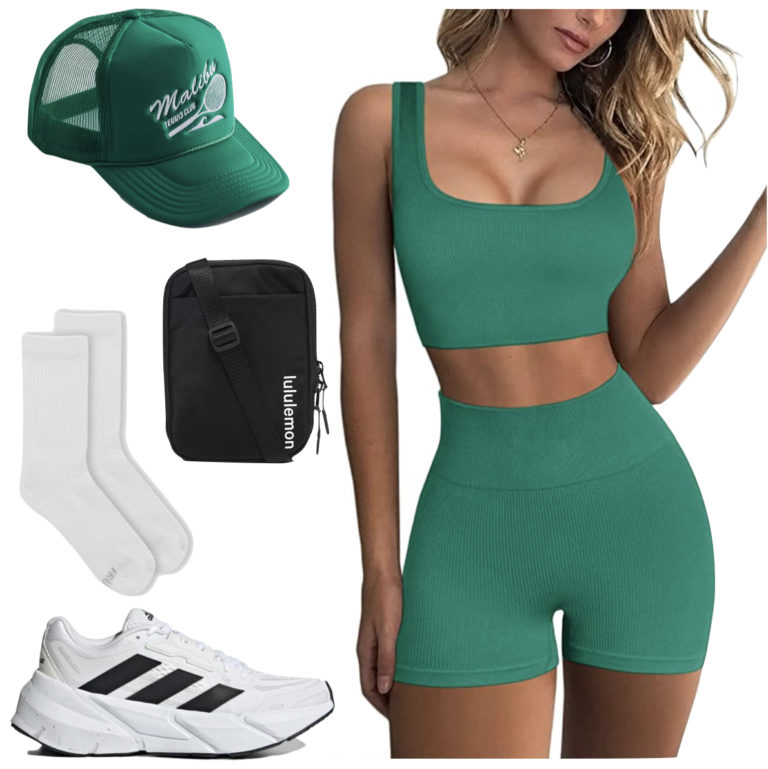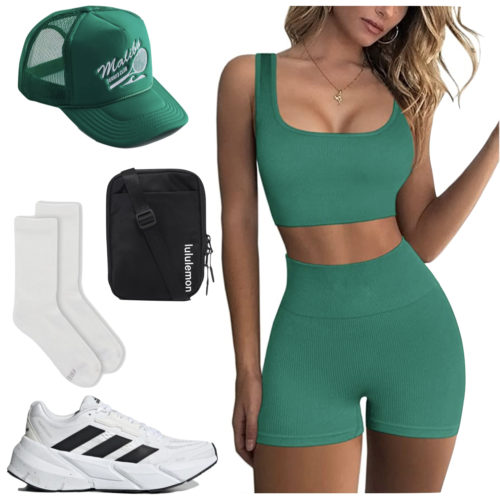 Products: Shorts and Top Set, Hat, Bag, Socks, Sneakers
Meet the Hot Girl Walk uniform: a colorful matching workout set, which includes a cropped tank top and high-waisted bike shorts, plus a fun hat, crossbody bag, and sneakers.
Even if you aren't walking and are hitting the gym instead, this workout set has got you covered with its two layers of stretchy, seamless, ribbed fabric (meaning it isn't see-through) which features compression and moisture-wicking abilities. The set comes in over 20 different colors, has more than 3,000 5-star reviews, and is under $30, making it a total score.
I adore this emerald green hue, which matches this graphic print trucker hat for a trendy, coordinated look. Add in a sporty crossbody bag; this one doubles as a belt bag, is made from water-repellent fabric, and allows easy access to small necessities like your phone and earbuds.
Complete the outfit with a pair of running shoes and some white crew socks.
Minimalist Outfit Idea (Bike Unitard)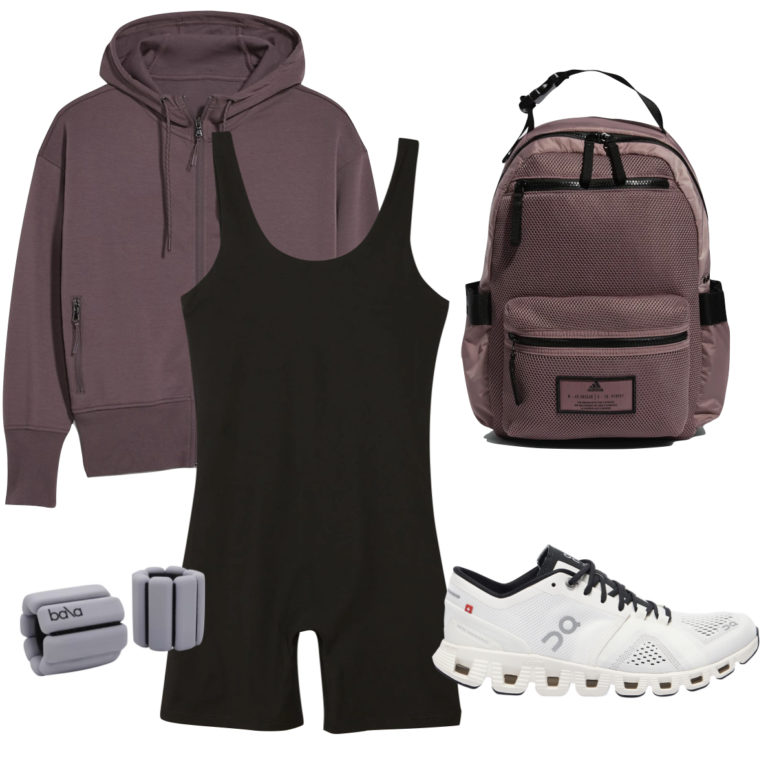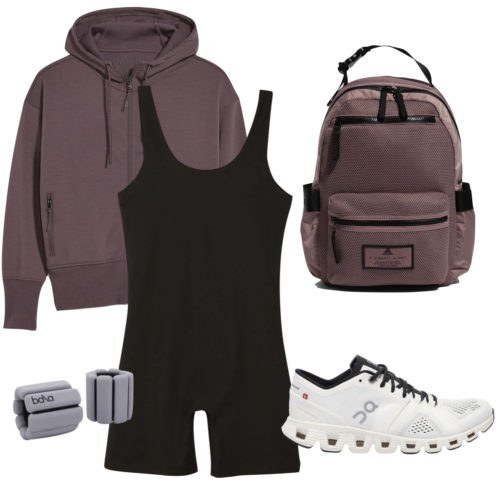 Products: Unitard, Hoodie, Backpack, Weighted Bangles, Sneakers
Bike unitards, fitted rompers, onesies… whatever you call these, they are one of the hottest clothing trends this year. And for good reason! If you love wearing leggings, imagine wearing a pair that covers your entire body –– talk about comfortable.
Bike unitards are perfect for the summertime since they feature bike shorts and are usually sleeveless. Plus, they make getting dressed easy since you don't need to worry about matching a separate top and bottoms.
While these aren't necessarily the best for ultra high-impact activities, they are great for walking, running/cardio, pilates, cycling, and weight lifting. This one features a built-in bra and sweat-wicking fabrication that is made with sustainable materials.
Wear it alone, or wear a hoodie on top like this zip-up hoodie made from a soft, breathable fabric with four-way stretch for maximum movability and zippered pockets with a sporty mesh lining.
This training backpack matches the hoodie perfectly and is made from a lightweight material with plenty of compartments to carry your workout gear easily. It is also made with recycled materials and can be carried in three different ways, including as a crossbody bag.
Accessorize the look with some weighted bangles. Just kidding! But these weighted bangles, which can be used as wrist and/or ankle weights, are practically considered an accessory with their sleek design and many stylish color options.
Leggings and a Lightweight Jacket Outfit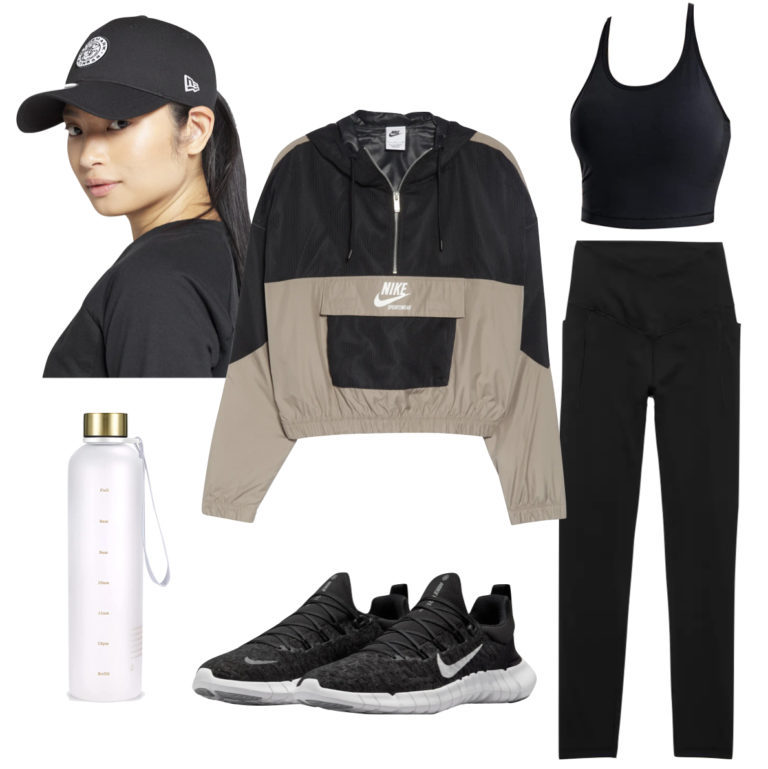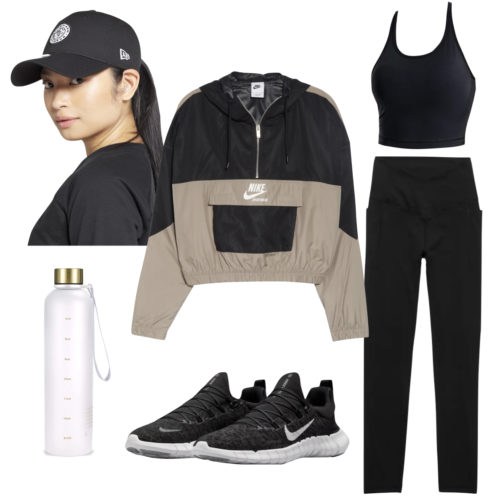 Products: Leggings, Mesh Jacket, Bra Top, Hat, Water Bottle, Sneakers
Get down to business in a sleek, functional gym outfit featuring one of my favorite pairs of athletic leggings.
These budget-friendly leggings feature a high crossover waistband with a V-seam for an ultra-flattering fit and pockets (a must!). The legging's buttery smooth fabric offers good coverage and medium support that will hold you in while still feeling weightless. They are also fast-drying, so don't worry about getting your sweat on!
Keep the outfit simple with a black longline sports bra top with removable bra cups, wireless design, and stretchy, sweat-wicking fabric. A lightweight jacket like this two-tone mesh windbreaker with a hood and roomy front pocket is ideal for wearing while starting and ending your workout.
Don't forget your running shoes, water bottle with a convenient carry strap, and a sporty hat to keep your hair out of the way.
Summer Gym Outfit Idea (Shorts & Windbreaker Set)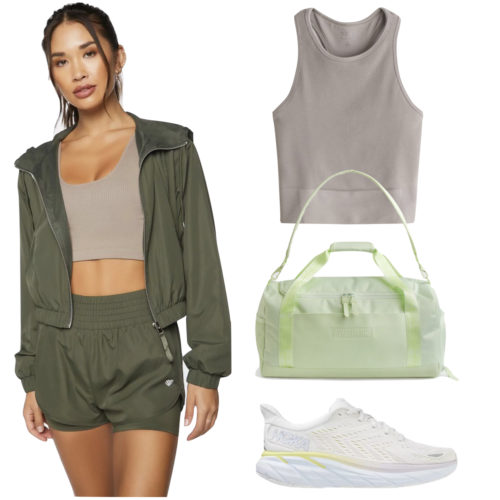 Products: Shorts, Windbreaker, Tank Top, Bag, Sneakers
Double-layered shorts are going to be your BFF at the gym. Floaty and lightweight on the outside, with additional coverage and compression on the inside, shorts like these are a must-have for working out. They'll ensure that you don't accidentally show more skin than you intend to when exercising and look extra cute when worn with a matching windbreaker jacket. This coordinating olive green active jacket has sporty details like a hood, elasticized trim, and mesh interior.
Wear this set with a sports bra and a ribbed tank top made with active seamless fabric and a wide bottom band that will stay put as you move.
Throw all your workout gear in this perfectly sized gym bag with comfy padded carry handles and a zip wet pocket that is ideal for stashing any sweaty clothing post-workout or a swimsuit.
Flared Leggings Outfit
Why not try a pair of flared leggings for your workout? These have an "unpinchable" three-layer waistband, mesh inner lining, and no side seams for ultimate comfort.
I'm obsessed with this longline racerback sports bra with breathable mesh detailing at the bust and back, including a super cute heart design. It offers moderate support, and as a bonus, its seamless fabric is created from sustainable materials.
Help keep your hair in place with a sweat-wicking headband, and carry your yoga mat in this handy gym bag with a yoga mat holder plus an independent shoe compartment. It comes in a few different colors and sizes, and is waterproof, too!
Neon-Colored Outfit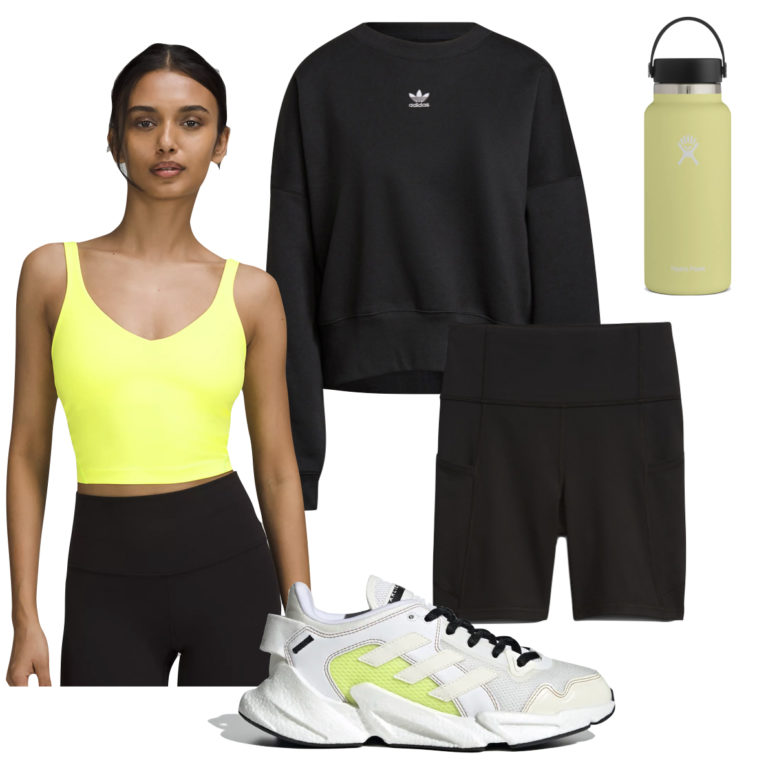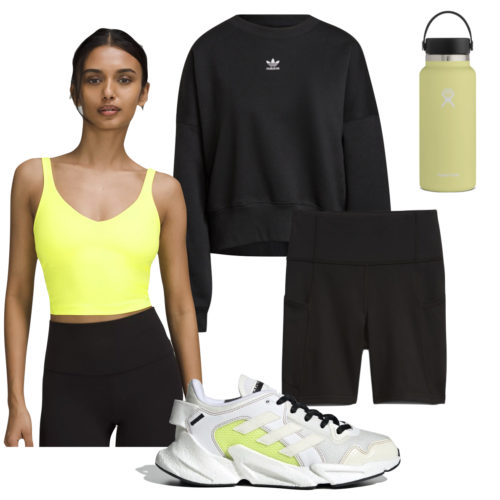 Products: Top, Shorts, Sweatshirt, Sneakers, Water Bottle
Go for maximum visibility with a neon-colored gym outfit. Pops of bright color or shades of neon will take your activewear up a notch and are a good idea if you're jogging or biking outdoors.
A pair of black high-waisted bike shorts (these have pockets and moisture-wicking fabric) are boldened with a neon-colored tank top that's made for movement. This cropped tank with a built-in shelf bra is ultra soft with a weightless feeling and features four-way stretch for shape retention. Best of all, it matches these Adidas x Karlie Kloss sneakers with a pop of neon yellow for an eye-catching touch.
If you get chilly, throw on a sporty crewneck sweatshirt, and stay hydrated by bringing along a matching Hydro Flask bottle.
Joggers Outfit
Tbh, I live in athletic joggers. They are so comfortable, whether you're running errands or actually working out.
This lightweight pair has over 9,000 5-star reviews, comes in various colors, and is budget-friendly. With a tapered silhouette and smooth, wide waistband, these look sleek rather than frumpy, which can sometimes be the case with regular sweatpants. Pair them with a t-shirt, or for colder weather, this marled gray long sleeve gym top with thumb holes.
When it comes to accessories, it's all about functionality. For example, this may look like your standard baseball hat, but it actually features an innovative elastic back similar to a hair tie that allows you to wear your hair in different styles, including a high ponytail! Additionally, this water-resistant phone crossbody bag is ultra convenient for stashing your phone (plus your earbuds in the smaller detachable pouch).
Bring the look together with a pair of navy training sneakers.
Best Underwear for Workouts
Now that we've figured out what to wear, let's take a second to discuss workout underwear.
Things like panty lines, non-breathable fabrics, and sweating in your daily bra are just a few things that may keep you from working out in comfort. And the last thing we need is any more excuses!
So to avoid these issues, here are some gym underwear recommendations to wear underneath your outfit:
Best Sports Bras
A good sports bra is arguably one of the most essential items for working out.
Without a decent sports bra, you'll get no support when running, jumping rope, dancing at a Zumba class … or just moving in general. Even if you lift weights, there is nothing comfortable about moving and lifting in a regular rigid bra with wires.
These bras from RunningGirl on Amazon have thousands of positive reviews and are so cute! Plus, they're ultra-affordable and come in tons of colors.
Best Gym Panties
When you're working out, the last thing you want to worry about is underwear that shows through your clothes or, worse, is uncomfortable because it's not breathable.
Here are some seamless, breathable styles to solve those woes:
Cute Gym Bags
To finish off your look, it helps to have a cute gym bag. While most of the outfits above include bags, we're here to help with some additional recommendations. No matter your gym fashion aesthetic, we've got you covered:
How cute is this workout bag from Baleine? It's super affordable (around $20 as of today) and comes in a bunch of colors to fit your aesthetic. It even has a separate compartment to keep dirty gym clothes and shoes away from your other items.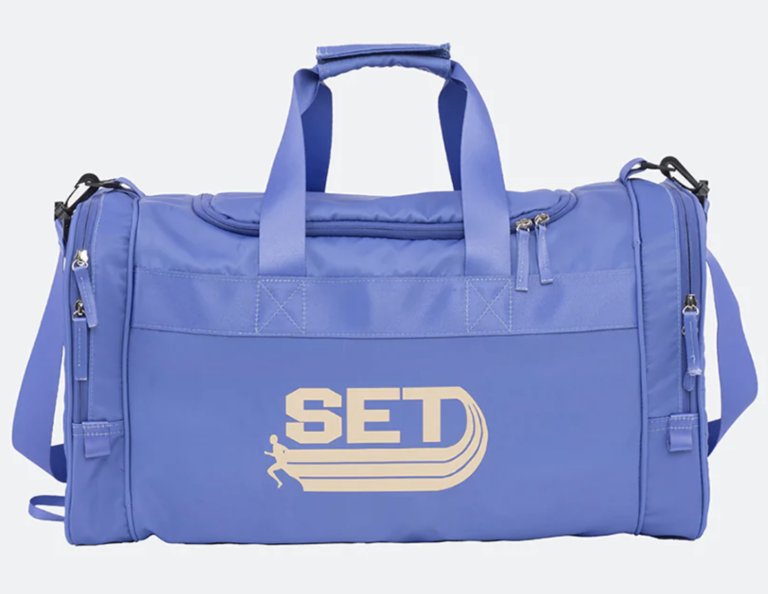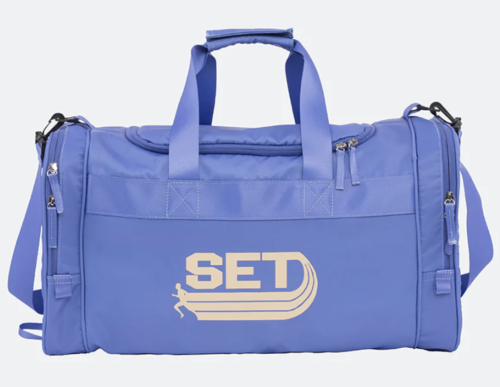 Set Active is a super popular brand right now. You have probably seen their workout clothes at your local gym, but did you know they make gym bags too? This one is $25 and comes in a trendy blue shade to add a pop of color to your gym outfits.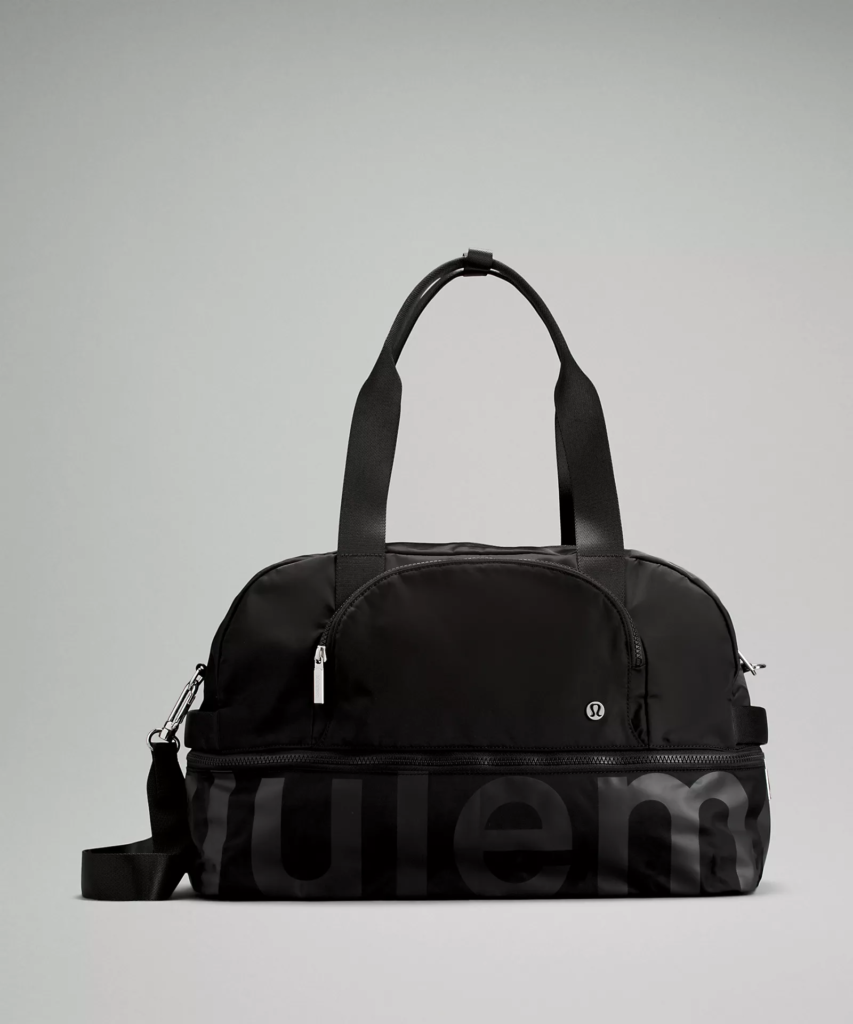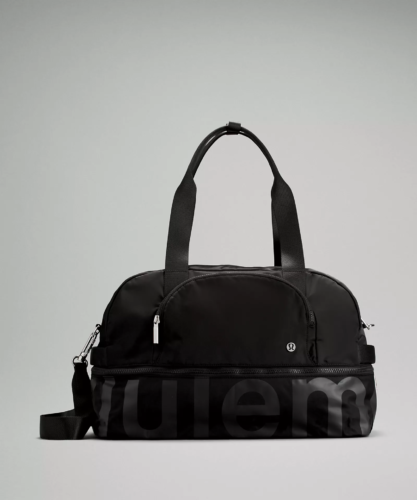 Obviously, we had to include at least one bag from Lululemon. While their trendy crossbody bag is sold out everywhere, their larger gym bags are just as cute. This one comes in three different colors to fit your style and will easily hold all of your essentials.
What do you think of our gym outfit ideas?
Would you wear these gym outfits? Which look is your favorite? Leave a comment and let us know!