This post may contain affiliate links, which means we may receive a commission if you purchase through our links. Please
read our full disclosure here
.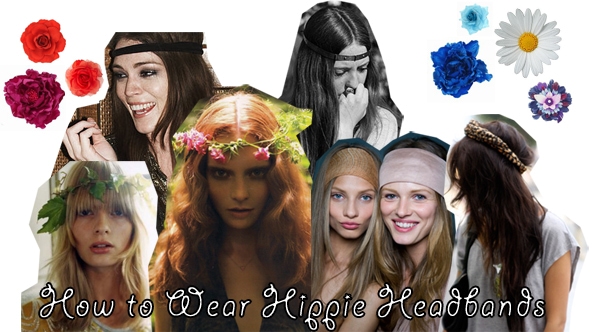 I'll openly admit it: I love hippie headbands. They're so cute; you just slip them on your head and instantly you look straight out of Woodstock! Maybe it's just me trying to reawaken my inner flower child, but when I put one on, I instantly feel ten times cooler and more stylish. What's more, these headbands are the ultimate outfit upgrade (and bad hairday lifesaver)- don't feel like piling on oodles of jewelry, but still wanna look boho-chic? Just pop on one of these gems and you're golden.
With summer finally here, there's no better time than now to take these babies out for a test drive. Wanna see some of my favorites and what I'd pair them with? Scroll on down!
Thin Headbands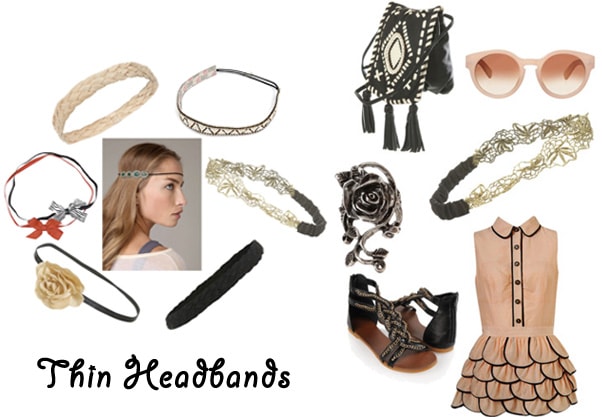 (Left Headbands: White Braided, Center Headband, Bow, Floral, Black Braided, Embellished, Beaded)
(Outfit: Nap-sack, Ring, Sandals, Sunglasses, Headband, Dress)
We'll start off with the classic thin headband. Small but mighty, these little babies pack a style punch and add impact to any outfit. Whatever color or embellishment you choose, this look will give you a delicate yet edgy look.
For my outfit example, I picked out this awesome gold-embellished headband with gorgeous leaf detailing and paired it with this amazing ruffle dress in a soft salmon color. Then I tossed in some cool zippered gladiator sandals, some really cute retro sunglasses, a floral ring, and a black woven napsack to keep all your stuff together. Overall, it's a look fit for a stroll through the French countryside- or, you know, that park by your house works too.
Thick Headbands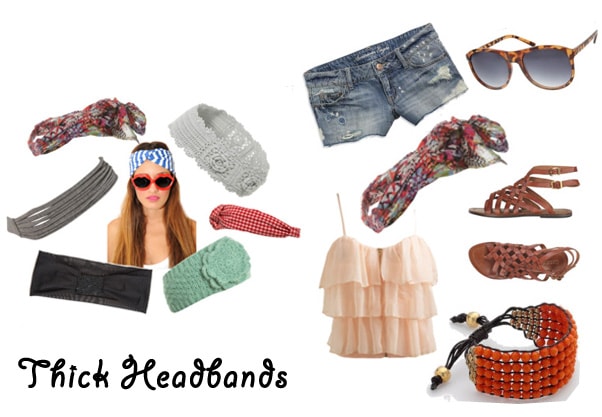 (Left Headbands: Blue Striped, Silk, Grey Cutouts, Black Rhinestone,Green Crochet, Checkered Red, Crochet)
(Outfit: Shorts, Headband, Tank, Sunglasses, Sandals, Bracelet)
Next up we have thick headbands. The opposite of thin headbands, these babies add a bit more edge and make more of a statement than our former accessory. If you don't have an actual headband to pull off this look, be creative (and save money) with this trick: take a cool silk scarf and wrap it around your head to serve as a makeshift headband.
I picked out a fabulous tribal-esque silk headband to start off outfit number two. Pair it with a cute ruffle tank, denim cutoffs, and strappy sandals, then slip on the shades and bracelet I found. This is a great beach outfit or day-festival look as you'll look cool while standing in the heat.
Miscellaneous Headbands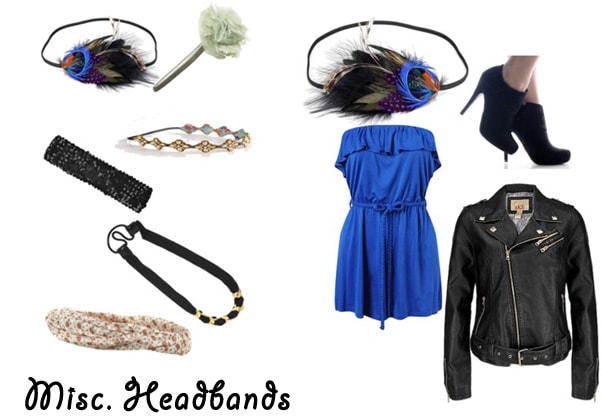 (Left Headbands: Feather, Green Floral, Beaded, Sequin, Black and Gold, Floral)
(Outfit: Headband, Dress, Heels, Jacket)
Finally, to pull everything together, I made a miscellaneous category for headbands thick, thin and in-between. I love the floral headband style as well as the feathery Native American-esque headbands; they'll add whimsy to your outfit without being too over-the-top.
For my last outfit example, I went for a night look and paired the aforementioned feather headband with an electric blue tube dress. I love how the colors of the feathers and dress play off of each other. If you get chilly or need to wrap up, I also added a badass leather jacket with plenty of studs and zippers. And finally, to top off the outfit, I picked out some adorable ankle booties to give your legs some length and keep you looking snazzy. This look is perfect for a late date in the city or a night on the town; walk out in this and you'll be sure to turn heads.
Thoughts?
What do you think? Would you rock the hippie headband or are you gonna pass? What about style? Do you prefer thick or thin? How'd you like the outfits I put together? Whatever your thoughts, let me know in the comments!