We've all seen those cute little cropped corset tops at places like Forever 21 and Urban Outfitters for a couple of seasons now. What I originally thought was a passing fad apparently has some staying power, and this season, I fully intend to buy one of these tops for myself. However, one question remains:
How can I rock a tiny bra-esque top without it being a little too — well — revealing?
Now, don't get me wrong — I'm not opposed to showing a little skin. After all, you're only young once, and I'm a full supporter of taking fashion risks. On the other hand, we all know there is a fine line between looking hot and looking trashy, and it's easy to lose sight of what is appropriate.
If you're also facing this fashion dilemma, we're here to help! After a bit of research and a lot of experimenting, I came up with three foolproof ways to wear a cropped corset top that are stylish, cute, and completely wearable for a college-aged girl. Let's get right to it!
1. Wear it with a skirt.
One of the main issues with cropped corset tops is the amount of midriff it reveals. While some are comfortable showing several inches of stomach, I know many of you would probably feel more comfortable rocking just a peek-a-boo sliver of skin, or getting the look of a cropped corset without actually showing any of your stomach.
This is why pairing a cropped corset with a skirt gives you the best of both worlds — skirts, especially when belted, give you the freedom to adjust how much skin you're showing.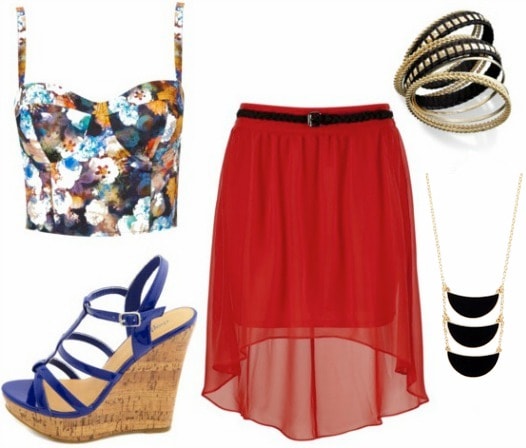 Top, Skirt, Shoes, Bracelets, Necklace
The look above would be perfect for an outdoor concert, a night out with your girlfriends, or even on a date with your significant other. Pair a cropped floral print corset with a belted high-low skirt, and use the attached belt to let the skirt hit wherever you feel comfortable. Finish with a pair of wedges and cool jewelry. Très chic!
2. Pair one with high-waisted shorts.
High-waisted shorts and jeans are another great option if you like the look of a cropped top, but also want a little extra coverage.
There are tons of high-waisted shorts and pants on the market right now, from mid-waist styles to very, very high-waisted cuts, so a perfect, flattering pair is out there for you. You just have to be willing to experiment! I particularly love the nautical style high-waisted shorts I've been seeing lately — how cute would those look with a swimsuit?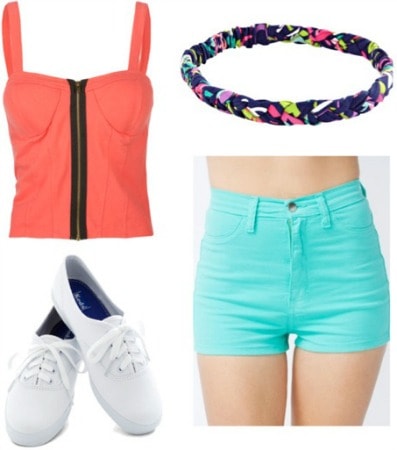 An outfit like this would be perfect for a day at a fair, amusement park, picnic, or any summertime activity where it will be hot and you'll be outside for a long time. This particular corset top is cut more like a tight tank top, and will look very cute paired with colorful shorts. Finish with a pair of canvas sneakers and a hippie headband.
3. Add a jacket.
Another great way to wear a cropped corset is underneath a blazer, cardigan, army, or leather jacket. Not only will it look street-chic and cool, but you can remove the jacket throughout the night if you start to feel really daring.
This style also comes in handy if the temperature drops or you aren't sure where the night's plans will take you!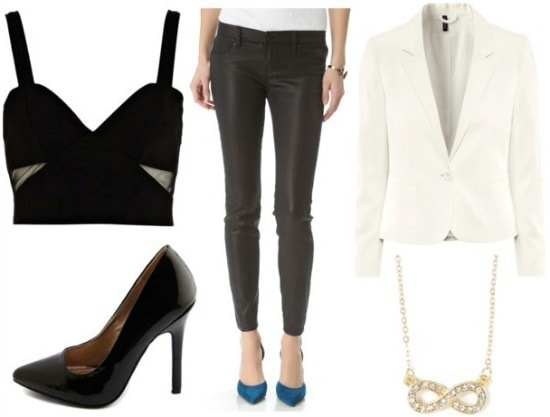 Top, Jacket, Pants, Shoes, Necklace
Coated denim is one of my favorite trends this year. You'll look super hip wearing some coated jeans with a cropped corset top, and can then add any jacket you like depending on what you'll be doing.
For this look, I chose a crisp white blazer for a very chic night out look, but a military-inspired parka would look great at a concert, while a leather jacket is a stylish go-to for pretty much any fun, casual event! Finish the look with a sleek pair of heels and a delicate charm necklace.
What Do You Think?
Do you own any cropped corsets? Have you seen them in stores? How would you style this piece? Are there any other trends you've noticed that seem hard to style? What other fashion problems have you encountered lately? Leave us a comment and tell us what you think!