This post may contain affiliate links, which means we may receive a commission if you purchase through our links. Please
read our full disclosure here
.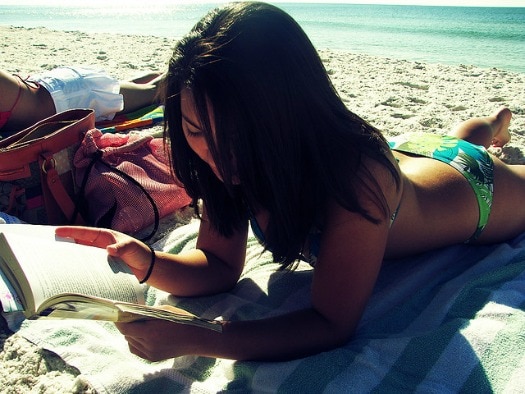 With April winding down, I've got one thing on my mind: the glorious, free-spirited days of summer. It's crazy how everyone just naturally has so much more energy during the summer to get out and do things! Even if you have an internship or classes lined up for June and July, there are still plenty of long weekends (and late evenings!) you can use to celebrate the season.
For this post, I thought it'd be fun to create a few outfits based on some of my favorite summertime activities. Of course, you might have to adjust these to the norms that make sense where you're from, but think of these as starting point to get you inspired. Let's dive right in!
1. Baseball Games
The Great American Pastime is pretty much a summer staple, no matter what part of the country you're from! Whether you're at a Major League, Minor League, or even a little league baseball game, you're sure to have a blast. The minor league team in my hometown runs food and drink specials during weeknight home games. They originally did this to draw an audience, but now weeknight games are even more fun than weekends because they draw the college and young adult crowd!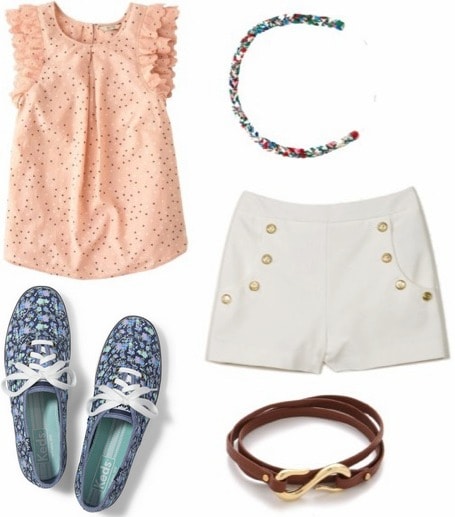 Blouse, Shorts, Headband, Bracelet, Shoes
For baseball games, I like to dress cute enough to be able to go out afterwards if the mood strikes, but no so fancy that I look out of place at a ballpark. A cute blouse and tailored shorts strike that perfect balance. You'll likely be trekking across large parking lots and up and down stadium stairs, so casual canvas sneakers are a practical, yet trendy choice. Finish with a bracelet and a girly headband.
2. Picnics
Is there anything more romantic than the notion of a summer picnic with a special someone? Even if you're perpetually single (like me!), there are still plenty of reasons to stop by the deli section of our favorite grocery store, grab an old blanket, and set up camp at a shady park. (That's shady like plenty of trees, not a questionable park. Safety first!)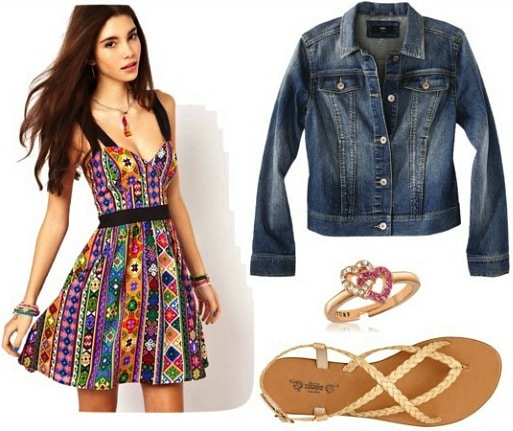 Being outside surrounded by nature always triggers the Instagram obsession inside of me, so I generally like to wear something cute and photo-op-worthy to outdoorsy events. A breezy day dress like this one will look beautiful in the sun, plus this colorful print is on-trend for summer. Slap on a flat pair of sandals so you can walk freely in the grass, then add a jacket or cardigan if you're out past dark. Accessorize with a simple ring.
3. Swimming
We may be landlocked around here, but in Oklahoma, everyone celebrates Memorial Day, the Fourth of July, Labor Day, and even regular weekends with a trip the lake. It gets hot out here — and I mean SWELTERING — so being able to feel the wind and water splash refreshingly across your face is an absolute must if you plan on spending the day outside.
Whether your local body of water is an ocean, a river, or even the swimming pool in your BFF's backyard, it's easy to look stylish but still wear something practical for the occasion.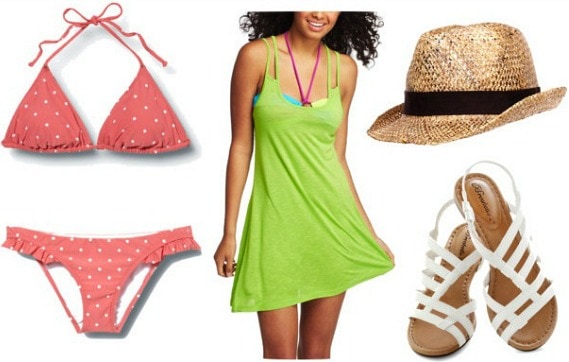 One of the most important things to remember when going to the lake, beach, or on a float trip on the river is to wear a pair of shoes that will stay strapped to your feet. We've all seen a pair of shoes accidentally get washed away in the water, and we can all agree that limping along rocky, hot, or uneven terrain barefoot is nothing short of miserable. Choosing a cover-up is an important choice, too. I love versatile styles like the one pictured — it's fancy enough to work at parties, but still causal enough to fit in at your lake or at neighborhood pool. Lastly, add a straw hat to amp up the style and keep the sun off of your face.
4. Movie Marathons
Last year in Oklahoma, we had over 100 days in a row where it reached over 100 degrees. Yes, it was as miserable as it sounds.
On days when it's too hot to even leave the comfort of your home's air conditioning, you need a solid game plan to keep yourself entertained. As if I really needed an excuse to watch TV all day! If you're the worldy, well-rounded type, you'll try to sneak a book or newspaper in there — or if you're like me, watch a documentary, and call it your day's worth of enrichment.
Leggings, Shirt, Hoodies, Shoes
This outfit will be super comfy all day, but also looks appropriate in case you need to run errands…or answer the door when the pizza delivery guy arrives! I'm totally team leggings as pants as long as you pair them with a semi-long top. A t-shirt and boyfriend hoodie definitely fit that bill. Slip on some lime green sneakers to complete this look.
Thoughts?
What do you think of these outfits? What summertime activity do you look forward to most? Do you have an internship this summer, or do you get to enjoy some downtime? What books or television shows are you going to catch up on this summer? Leave a comment and tell us what's on your mind!