After my last post, I received several requests for a post on how to style a high-low skirt. So this week, I'm working with an asymmetric hemline skirt that has a busy pattern and is made from a very light material, like most high-low skirts we're seeing in stores now.

With these types of skirts, it can be difficult to decide what to wear on top. Of course, the obvious choice would be a fitted top, tucked in, but I'm here to show you that you can combine a high-low skirt with a multitude of different tops to create many distinct looks. Even though they might not look it, these skirts are extremely versatile. Check out how I styled my high-low skirt below:
1. Break the rules
Normally, when wearing a high-waisted, voluminous, flowy skirt, "the rules" say you should wear something fitted on top, to maintain a balanced and flattering silhouette. I wanted to see what would happen if I did the complete opposite, so I grabbed a casual, loose t-shirt and tucked it in the skirt.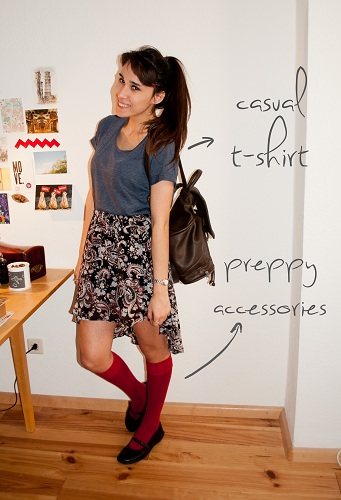 I was very pleased with the result. This is the type of outfit that is casual and comfortable, while still looking pretty and put-together. I'd probably wear this outfit for a casual day of college classes.
Now, of course, you can modify this to fit your style! If you have a belt that goes with the rest of your ensemble, I would suggest adding it, but if your skirt — like mine — has an elastic waistband, a belt isn't necessary (though still cute). And don't keep things too minimal; you're allowed to go over the top with such a fashionable skirt! Graphic tees, and multicolored or patterned t-shirts would work just as well as my basic one. Experiment!
2. Girly as girly can get
Since high-low skirts are usually made from lightweight fabrics, they often have a very delicate feel, which inspired my next outfit.
For this look, I went with a very light color palette, even though I usually go for darker colors. I put on a pair of white tights to help fight off the cold, and also layered a wool vest over my pink top. I think that vests are underestimated: the right one can keep you as warm as a light jacket, and as long as the sun is shining, there's no need to worry about your arms freezing.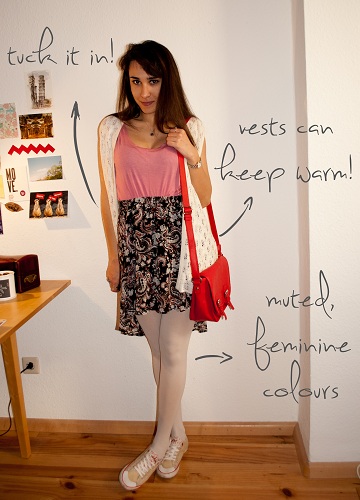 3. Try a risky combination
In my case, this meant trying the mixed prints trend – I am not a print-mixer by nature!
I decided to pair my skirt with this blouse after taking a good look at both pieces: Not only were the colors similar, (white and red on both pieces) but the polka dot pattern was also more subtle, which nicely balanced the bold print of my skirt. Rather than competing with the skirt, the polka dot top ended up complementing it nicely.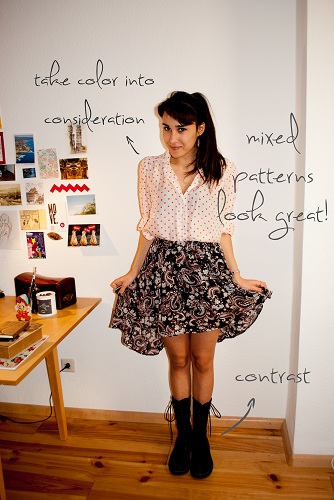 As for the shoes, what can I say? Doc Martens are always my go-to shoe. However, I think that these skirts are extremely adaptable as far as footwear is concerned, so feel free to wear whatever you love to wear. I'm sure it'll work out perfectly!
One more thing: if you go with mixed patterns, try to keep the accessories to a minimum: tiny earrings, a simple watch — things that don't run the risk of becoming overwhelming — are key.
4. Are you cold?
When the temperature drops, you have to cover up! But just because it's chilly out there, that doesn't mean that you can't wear a flowy skirt. You just need to style it right.
The key here is to protect your legs by wearing some warm tights. (Add some over-the-knee socks if you have to.) Also, don't underestimate the power of warm shoes here: The sun might be shinning, but trust me, your feet will be frozen by the end of the day if they aren't covered.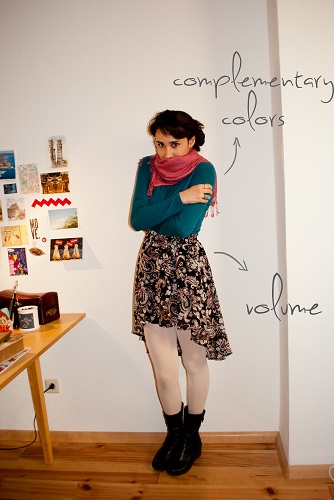 While simulating being chilled to the bone, I opted for a symmetric silhouette — as you can see, the volume of the skirt is balanced by the bulky scarf. I also chose relatively dark colors on top since my tights are so light and bright. If you wore dark tights, I'd recommend going lighter on top for contrast.
5.  Play with fabric textures
I mentioned this concept when talking about outfit number 2, but this time I took it further: A very light piece can work great with a bulkier one, but it all depends on how you wear it.
This time, I wondered if I could pull off this cream sweater, especially considering that it wasn't something that you could tuck in nicely, like the other tops I tried. However, contrary to my expectations, it definitely wasn't impossible to wear. The pullover hung nicely over the skirt, which I then combined with black tights and boots.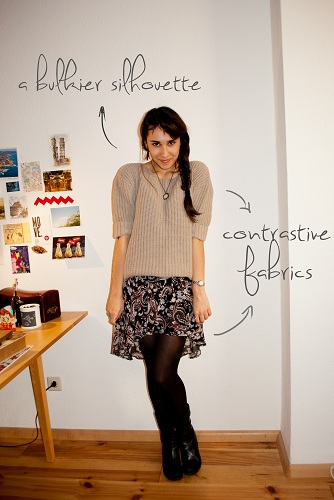 As you can see, this outfit looks balanced. That's because the darker bottom half is contrasted by a light top, creating a visually pleasing effect.
This outfit ended up being my favorite of the bunch because it fit my personal style the best. I cannot stress this enough: It is important to know what you like if you want to create good outfits! Because I thought this outfit looked too plain on its own, I chose a not-so-delicate necklace and wore my hair in a side fishtail braid — changing your hairstyle every once in a while is fun and can contribute to your overall look!
3 More Tips for Rocking a High-Low Skirt:
Outerwear: If it is colder outside, you'll want to wear a jacket, which can be tricky with this kind of skirt because even though the outfit might look great form the front, from behind, it can seem be a bit off. My suggestion would be to either go for a cropped, waist-length jacket (leather is my favorite!) or choose a trench or long coat that is the same length as the longest part of the skirt.
Solid colors: If you have, say, a red or a bright blue skirt, it can be tricky to style, but that doesn't mean that you can only pair it with muted colors. Dare to choose a piece of clothing that is also colorful, but not competing with the skirt: Pastels can work well or – if you want something bolder – go check out the color wheel and opt for complementary shades. (See our guide to matching colors in your outfits for tips!)
Style: This skirt proved to be highly adaptable for any style. (Rock, hippie, girly, preppy – you name a style, this skirt works with it.) You just need to be creative and have faith in your own judgement. If you think it looks good, and you feel good in it, chances are everyone else will think the same!
Now, let me know what you think!
Overall, I found this high-low skirt to be quite easy to style and adapt for many types of weather and multiple occasions. As always, I am anxious to hear what you think of it. Did you like the outfits? What would you have done differently? Also, if you have any suggestions for my next post, leave a comment and I'll try to make it happen!